---
USA. 1993.
Crew
Director – Jim Wynorski, Screenplay – Mark Sevi, Producer – Gary Schmoeller, Photography – J.E. Bash, Music – Chuck Cirino, Special Effects – Class A Special Effects (Supervisor – Ron Trost), Creature Effects – Magical Media Industries (Supervisors – Dave Barrett & James Conrad), Production Design – Jeannie M. Lomma. Production Company – Ghoulies Four Productions Inc.
Cast
Peter Liapis (Jonathan Graves), Barbara Alyn Woods (Kate), Stacie Randall (Alexandra), Bobby Di Cicco (Scott Mancuso), Raquel Krelle (Janine Michaels), Tony Cox (Ghoulie Dark), Arturo Gil (Ghoulie Lite)
---
Plot
Alexandra conducts a Satanic ceremony to raise the demon Faust but things go wrong and two ghoulies inadvertently emerge. Jonathan Graves, now a L.A. police detective, is thrown into the midst of this when both Alexandra and the ghoulies come wanting the crystal he wears around his neck.
---
This was the fourth and last of the low-budget series of films begun with Ghoulies (1985). Ghoulies IV brings back Peter Liapis, the young Satanist hero from the first film, although Charles and Albert Band, producers of the other films are no longer involved. The director's chair has been taken by low-budget hack director Jim Wynorski. (See below for a full list of Jim Wynorski's other genre films).
The Ghoulies themselves are slightly better creations this time around. They are now dwarf-sized and played by actors rather than puppets. The ghoulies are not particularly well tied to the film, which is more about Peter Liapis and Stacie Randall's witch fighting for the crystal.
Worse though is Jim Wynorski's attitude, which clearly indicates that he is taking none of the film seriously. The ghoulies spout hip colloquialisms – the first thing they say upon arriving is "You know, man, I don't think we're in Oz anymore." At the end, they bid goodbye to the audience: "See you later folks, we'll be back in Part II."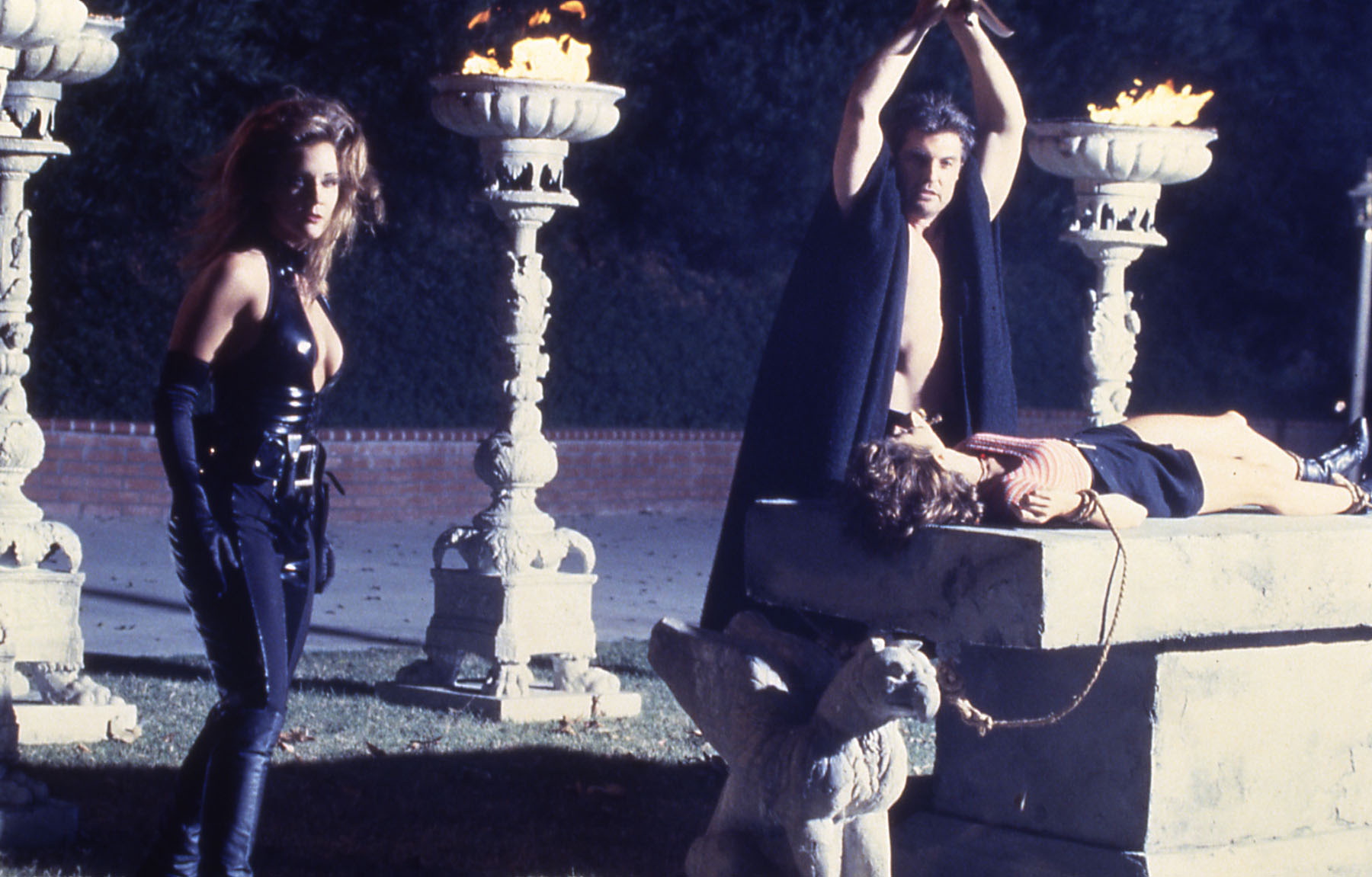 The other Ghoulies films are:– Ghoulies (1985), Ghoulies II (1987) and Ghoulies III: Ghoulies Go to College (1991).
Jim Wynorski's other genre films are:- The Lost Empire (1983), Chopping Mall (1986), Deathstalker II (1987), Not Of This Earth (1988), The Return of Swamp Thing (1989), Transylvania Twist (1989), The Haunting of Morella (1990), Sorority House Massacre II (1990), Sorority House Massacre 3/Hard to Die/Tower of Terror (1990), 976-Evil II (1991), Scream Queen Hot Tub Party (1991), Munchie (1992), Dinosaur Island (1994), Munchie Strikes Back (1994), Sorceress (1995), The Wasp Woman (1995), Vampirella (1996), The Pandora Project (1998), Storm Trooper (1998), The Bare Wench Project (1999), Desert Thunder (1999), Bare Wench Project 2: Scared Topless (2000), Crash Point Zero/Extreme Limits (2000), Raptor (2001), Thy Neighbor's Wife/Poison (2001), The Bare Wench Project 3: Nymphs of Mystery Mountain (2002), Gale Force (2002), Project Viper (2002), Bare Wench Project Uncensored (2003), Cheerleader Massacre (2003), More Mercy (2003), The Curse of the Komodo (2004), Gargoyle (2004), The Thing Below (2004), Alabama Jones and the Busty Crusade (2005), Bare Wench: The Final Chapter (2005), Komodo vs Cobra (2005), Sub Zero (2005), The Witches of Breastwick (2005), The Witches of Breastwick 2 (2005), A.I. Assault/Shockwave (2006), Cry of the Winged Serpent (2006), Bone Eater (2007), The Breastford Wives (2007), House on Hooter Hill (2007), Cleavegefield (2009), Fire From Below (2009), Vampire in Vegas (2009), Monster Cruise (2010), Dinocroc vs Supergator (2010), The Hills Have Thighs (2010), Camel Spiders (2011), Gila (2012), Piranhaconda (2012), Hypnotika (2013), Scared Topless (2013), Sexually Bugged (2014), Shark Babes (2014), Water Wars (2014), Scared Topless (2015), A Doggone Christmas (2016), Sharkansas Women's Prison Massacre (2016), Cobragator (2018), Attack of the 50 Foot CamGirl (2022), Bigfoot or Bust (2022), Giantess Battle Attack (2022) and Murderbot (2023).
---
Trailer here
---