---
Crew
Director – Robert Fuest, Screenplay – James Ashton, Gabe Essoe & Gerald Hopman, Producers – James V. Cullen & Michael S. Glick, Photography – Alex Phillips Jr, Music – Al De Lory, Photographic Effects – Film Effects of Hollywood (Supervisors – Linwood G. Dunn & Don W. Weed), Special Effects – Federico Farfan, Thomas Fisher & Carol & Cliff Wenger, Makeup Effects – The Burman Studio, Production Design – Nikita Knatz, Technical Advisor – Anton Szandor LaVey. Production Company – Sandy Howard Productions.
Cast
Tom Skerritt (Tom Preston), Ernest Borgnine (Jonathan Corbis), William Shatner (Mark Preston), Eddie Albert (Dr Samuel Richards), Joan Prather (Julie Preston)
---
Plot
After his father is melted into a pile of goo and his mother abducted from the family ranch, Mark Preston goes to confront Satanist cult leader Jonathan Corbis. In 1680, Corbis was burned at the stake by Mark's ancestors. Corbis has returned and wants back the book listing the collection of souls that the Prestons took from him. Mark challenges Corbis to occult combat for the return of his family's souls but Corbis defeats him. Next, Mark's brother Tom tries to sneak into a ceremony where Corbis is attempting to raise Satan so that he can steal back The Devil's Rain, the container of collected souls that gives Corbis his power, in order to free the family.
---
The Devil's Rain was one of the more lunatic and dire among the films jumping on the mid-70s deviltry bandwagon inspired by the successes of Rosemary's Baby (1968) and The Exorcist (1973). (See Films About Devil Worship for a more detailed listing).
The Devil's Rain was directed by Robert Fuest who had made an auspicious splash with the sublimely droll The Abominable Dr Phibes (1971) and before that the little seen psycho-thriller And Soon the Darkness (1970). After the lesser sequel Dr Phibes Rises Again (1972), Fuest floundered with the uninspired Michael Moorcock adaptation The Final Programme/The Last Days of Man on Earth (1974) and then totally washed up with this disaster. Apart from an episode of the obscure horror anthology Three Dangerous Ladies (1988?), The Devil's Rain was Robert Fuest's last effort released to cinema screens. The last anybody heard of Fuest, he was directing all-but forgotten made-for-tv movies like Revenge of the Stepford Wives (1980) and The Gold Bug (1980).
The Devil's Rain is usually referred to in Golden Turkey terms. It gives the impression of being written and directed with a haphazard indifference. It fails to make any sense on a narrative level. It starts abruptly in the middle of action and seems to leave a stack of exposition out. There are other times it is complete nonsense – like all the lecture room talk about hypnotism and how it affects one's ESP level.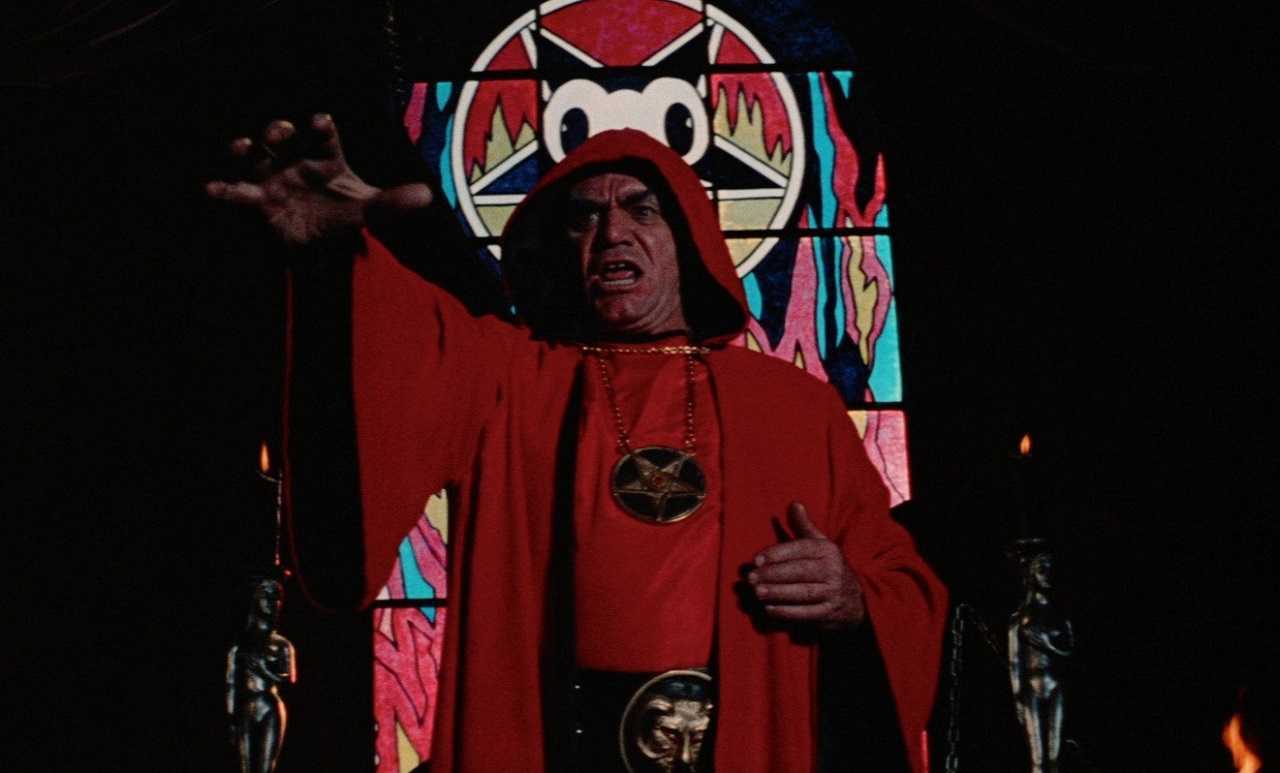 The film's level of preposterousness is heightened by many unintentionally funny touches. The hollow eye effects look silly. The film's piece de resistance in terms of lunacy is the climax, which involves most of the cast being melted down into goo. When one considers it, it is an amazingly silly way to end a film. The silliest moment in the film comes during the Satanic ceremony when Satan, who looks just like a man wearing a Devil mask, pops out of some flames and rumbles in a deep voice: "Who calls me out of The Pit?"
There is also the absurd miscasting of rugged everyman type Ernest Borgnine. Borgnine always portrays characters that seem a little soft in the head and does all his acting with his bug eyes – and here he does nothing whatsoever in suggesting he is a charismatic Satanist cult leader. (A real Satanist leader, Anton Szandor LaVey, turns up to give the whole farrago a seal of legitimacy – and in doing so probably did his own cause no amount of harm).
The film certainly has an impressive cast lineup, including William Shatner not long after Star Trek (1966-9) and before he began to put the pounds on, and the great and underrated Tom Skerritt. Other names such as Ida Lupino and Keenan Wynn are billed but hardly appear at all. The film is supposed to contain John Travolta's screen debut – he is one of the Satanists but his face cannot be spotted at all beneath the hoods and masks despite credits billing.
---
---