---
Crew
Director/Screenplay – Burr Steers, Based on the Novel by Jane Austen & Seth Grahame-Smith, Producers – Marc Butan, Sean McKittrick, Brian Oliver, Natalie Portman, Annette Savitch, Allison Shearmur & Tyler Thompson, Photography – Remi Adefasarin, Music – Fernando Velazquez, Visual Effects – &Company (Supervisor – David Isyomin), Cinesite (Supervisor – Simon Stanley-Clamp), Labyrinth Cinematic Solutions (Supervisor – Sid Jayakar), Phosphene (Supervisor – John Bair) & Rampage VFX, Special Effects Supervisor – Chris Reynolds, Prosthetic Makeup Supervisor – Mark Coulier, Production Design – Dave Warren. Production Company – Cross Creek Pictures/Sierra Pictures/Madriver Pictures/QC Entertainment/Allison Shearmur Productions/Handsomecharlie Films/Head Gear Films.
Cast
Lily James (Elizabeth Bennet), Sam Riley (Colonel Fitzwilliam Darcy), Jack Huston (George Wickham), Matt Smith (Parson William Collins), Bella Heathcoate (Jane Bennet), Douglas Booth (Charles Bingley), Charles Dance (Mr Bennet), Sally Phillips (Mrs Bennet), Lena Headey (Lady Catherine de Bourgh), Ellie Bamber (Lydia Bennet), Millie Brady (Mary Bennet), Suki Waterhouse (Kitty Bennet), Emma Greenwell (Caroline Bingley)
---
Plot
It is England of the early 19th Century where the country has been overrun by a zombie apocalypse. At the fortified Longbourn House, the Bennet family live by modest means where Mr Bennet hopes to find suitable marriages for his five daughters, all of whom have been to China to undergo martial arts training to deal with the undead. A function at Longbourn is interrupted by Colonel Fitzwilliam Darcy who detects that one of the guests has become bitten by a zombie and despatches her. Elizabeth, the second eldest of the Bennet daughters, finds Darcy to be rude and unpleasant in this and several subsequent encounters. In between the search for marriage prospects for the daughters among the other eligible bachelors in the area and fighting off the zombie threat that is increasingly overwhelming the countryside, Elizabeth is surprised to find that Darcy has become attracted to her.
---
Seth Grahame-Smith had a publishing hit with Pride and Prejudice and Zombies (2009). The idea – of taking a literary classic that was in public domain and throwing it together with incongruous modern elements – was dreamed up by Jason Rekulak, an editor at Quirk Books. The book became a hit, spending a year on the bestseller lists. This was quickly followed by a prequel Pride and Prejudice and Zombies: Dawn of the Dreadfuls (2010) and a host of other mash-ups, including Grahame-Smith's Abraham Lincoln, Vampire Hunter (2009) and works from other authors such as I, Scrooge: A Zombie Story for Christmas (2009), Sense and Sensibility and Sea Monsters (2009), Emma and the Vampires (2010), Android Karenina (2010), Jane Slayre (2010), Little Vampire Women (2010), Little Women and Werewolves (2010), Mansfield Park and Mummies (2010), Queen Victoria: Demon Hunter (2010), Robinson Crusoe (The Eerie Adventure of the Lycanthrope) (2010), Romeo and Juliet and Vampires (2010), Wuthering Bites (2010), Grave Expectations (2011), The Meowmorphosis (2011), William Shakespeare's Star Wars (2013) and The Adventures of Huckleberry Finn and Zombie Jim (2015).
Seth Grahame-Smith has gone onto a number of other works and has since expanded onto film – he wrote the script for Tim Burton's Dark Shadows (2012) and The Lego Batman Movie (2017), as well as produced It (2017), The Lego Ninjago Movie (2017), Child's Play (2019) and It: Chapter Two (2019) and created the R.L. Stine tv series Just Beyond (2021- ). There was also Timur Bekmambetov's terrible Burton produced adaptation of Abraham Lincoln, Vampire Hunter (2012), which missed everything that was fun about the original. Grahame-Smith was announced to direct the film version of The Flash (2023) but departed over creative differences.
In a wider context, this game of wacky mash-up and/or conceptual collusion is something that was going on in the zombie film since the mid-2000s. We haven't yet had had the zombie film mashed-up with other films, although there has been Romeo and Juliet vs the Living Dead (2009), while the vampire film offered Bonnie & Clyde vs Dracula (2008). Nevertheless, there has been a steady stream of parody-titled zombie films since the latter half of the 2000s with the likes of Zombie Beach Party (2003), Dorm of the Dead (2006), Poultrygeist: Night of the Chicken Dead (2006), Zombie Cheerleader Camp (2007), Zombie Strippers! (2008), Attack of the Vegan Zombies! (2009), Stag Night of the Dead (2009), Big Tits Zombie (2010), Santa Claus vs. the Zombies (2010), Bong of the Dead (2011), Cockneys vs Zombies (2012), Pro Wrestlers vs Zombies (2014), Zombeavers (2014), MILFs vs Zombies (2015), Scouts Guide to the Zombie Apocalypse (2015) and Attack of the Lederhosen Zombies (2016). The problem is that the zombie film is fairly much played out as a genre – the zombie as a figure has become something cuddly – and in an increasing quest for something fresh and original, the genre is turning to self-parody and trying to throw zombies together with the least likely of things.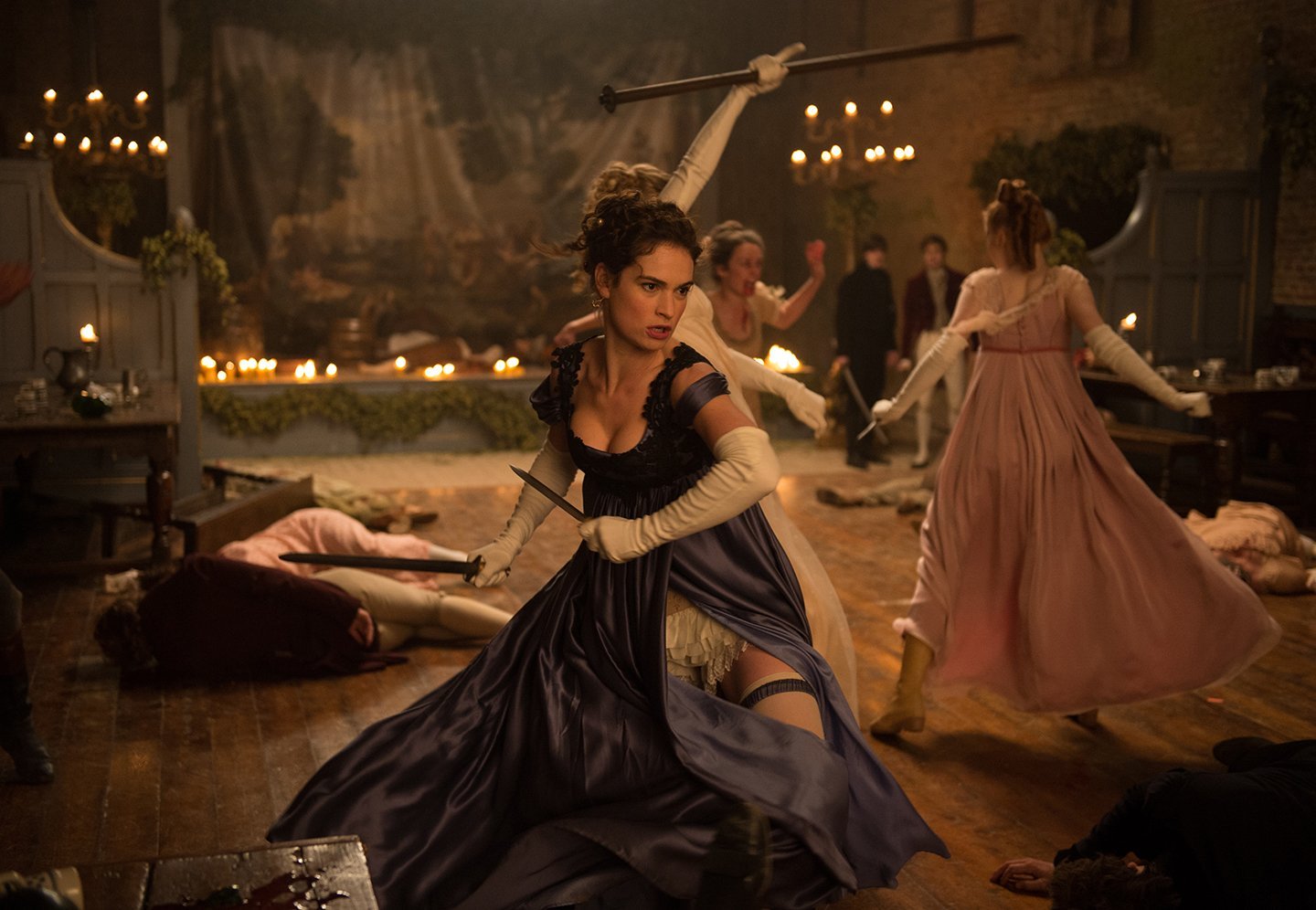 Jane Austen has not been free from the kind of postmodern game-playing. Although there had been earlier works, the vogue for Austen adaptations began in a big way with the lush BBC mini-series adaptation of Pride and Prejudice (1995) starring Colin Firth and saw most of her works adapted to the screen over the next few years. In the coming decade, what you might call the Austen sideways take began with the Bollywood interpretation Bride and Prejudice (2004); and was followed by the hilarious British mini-series Lost in Austen (2008) wherein a modern girl switches places with Elizabeth Bennet and ends up disrupting the story, as well as a similar subsequent US tv series Sex and the Austen Girl (2010); Austenland (2013) about a modern woman seeking romantic fulfilment in a Jane Austen recreation park; the Pride and Prejudice tv mini-series sequel Death Comes to Pemberley (2013); and various modernisations such as the films A Modern Pride and Prejudice (2011) and Scents and Sensibility (2011) and the tv series' The Lizzie Bennet Diaries (2012-4) and Emma Approved (2013-4). There has also been the surprising viral hit of the short parody video clip entitled Jane Austen's Fight Club (2010).
The film version of Pride and Prejudice and Zombies was originally to have been directed by David O. Russell of Three Kings (1999), Silver Linings Playbook (2012) and American Hustle (2013) fame but he pulled out over budget disputes. Elizabeth was originally to have been played by Natalie Portman but she departed along with Russell, although does retain a producer credit. To my dismay, the final director ended up being Burr Steers. I can't say I have liked any of Steers' previous films. He did appear with the well-received Igby Goes Down (2002) but thereafter drifted into insipid teen fantasy with the likes of 17 Again (2009) and Charlie St. Cloud (2010).
Pride and Prejudice and Zombies is a difficult balancing act. It takes two very different genres – the Regency romance of Jane Austen and the zombie film – and mashes them together. The gonzo zombie films mentioned above have been happy with merely colliding elements from different genres where the tone has been clearly parodistic and it doesn't matter whether one is an exaggeration. Pride and Prejudice and Zombies is another whole ballgame – it is stuck with not only having to get the balance right but to also nest it in a parody concept but play everything seriously. Thus the film gets brownie points just off the starting pitch for delivering a wacky parody concept with an admirable straight-face – Burr Steers and the cast resist any tendency to exaggerate or play with tongues in cheek. And against all indication otherwise, Burr Steers manages to get it. For the most part anyway.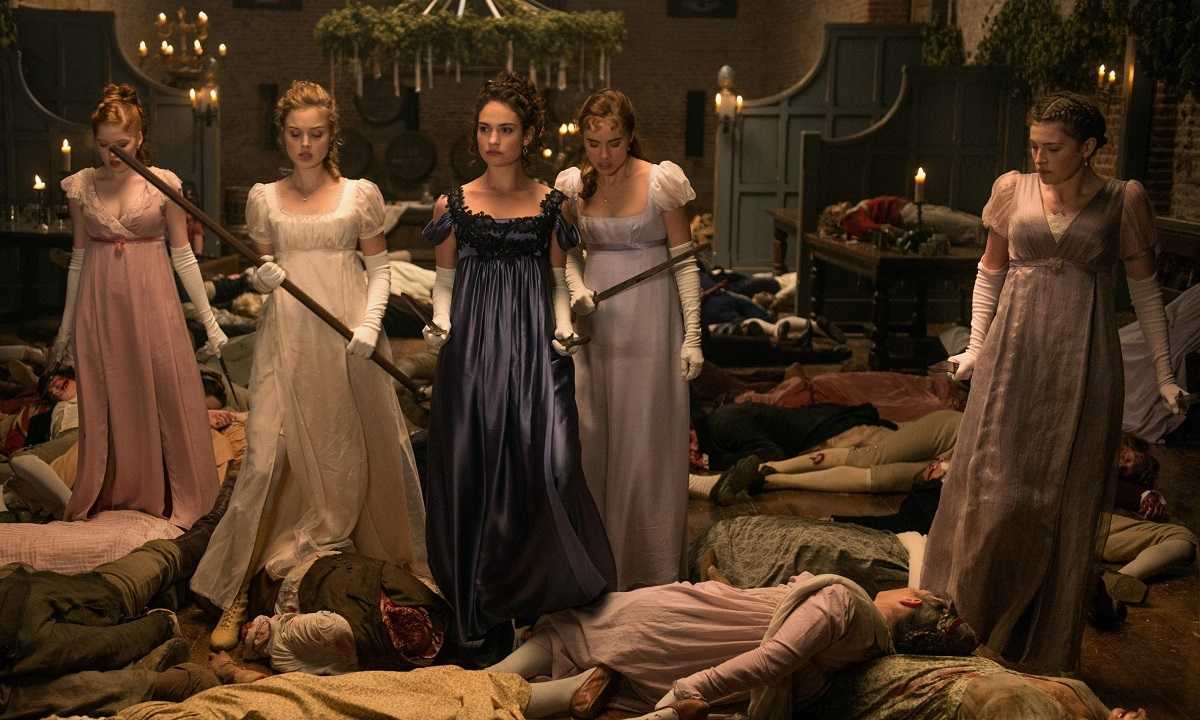 The formal dance of Jane Austen's dialogue and eloquently pithy zingers is always something that is difficult to get just right – in lesser hands, it comes across as starchy and pompous, needs a subtle touch to make it as barbed as it is and bring out the inherent romance of the story. When someone gets it right – like the BBC Pride and Prejudice or Ang Lee's Sense and Sensibility (1995) – it works with a lush beauty. In this regard, Burr Steers has the Regency setting impeccably outfitted with exquisitely dapper costuming, lush dinnertables and balls, and location work at various British stately houses but as Austen the film never fully soars. This is crucially the case when it comes to the film's Elizabeth and Darcy. Lily James looks the part and is the most alert of the girls of the show but never entirely emerges from the scenery. Sam Riley makes an appropriately taciturn and rude Darcy but his is also a stiff performance. The crucial failing of the film is that when the couple come together, it fails to set off any sparks on screen and lacks a whole lot of chemistry. But then you realise when you're thinking about matters like that, you need to pull back and stop taking your Jane Austen so seriously.
The balance of elements sometimes veers close to self-parody in Burr Steers' hands, often when Matt Smith's stumblebum of a Collins is on screen, but mostly comes out the winning side (and where Smith turns the initial gawky awkwardness of his performance around into an impish charm). You get the decided impression that Jane Austen would have furrowed her lip in polite disapproval at modern touches like the girls preparing for battle slipping daggers into Victoria's Secret garter belts worn without the benefit of any bloomers or chemises, or the confrontation between Elizabeth and Darcy, which turns into a full-on fight come flirtation with artful knicks of knife blades managing to suggestively slice open buttons of vest and d'colletage but mostly the film comes out on the winning side. And when it comes to scenes of the girls going into action in Regency gowns kicking zombie ass while wielding swords or swapping Austen dialogue while practicing martial arts moves, the film hits an irresistible appeal.
(Nominee for Best Adapted Screenplay and Best Makeup Effects at this site's Best of 2016 Awards).
---
---