aka Attack in L.A.
---
Crew
Director/Screenplay – Chad Ferrin, Producers – Chad Ferrin, Robert Miano, John Santos & Silvia Spross, Photography – Christian Janss, Music – Matt Olivo, Makeup Effects – Crystal Nardico, Production Design – Otto Werner. Production Company – Crappy World Films/Girls and Corpses Magazine.
Cast
Robert Miano (Wilco), Sean Samuels (Marshall Colter), Silvia Spross (Mona), Sebastian Fernandez (Scott Dobbs), Jeffrey Decker (Joseph Lode), Rich Lee (Charlie), Joe Pilato (Wilde), Scott Vogel (Eddie), Suzanne Sumner Ferry (Swallow), Francisco Ovalle (Mexican), Tim Halpin (Chain), Robert Rhine (Spade), Burt Culver (Hammer), Elli Rahn (Pecker), Kurt Bonzell (Wrench), Art Roberts (Twitch), Carson Nicely (David), Wolfie Trausch (Danny), Casey Powell (The Patient), Paul Louis Harrell (Wallace), Shaun T. Benjamin (Officer Spinell), Eddie Kehler (Officer Mitchum), Abraham Martinez (Pito), Peter Mendoza (Lefty)
---
Plot
Marshall, Scott and Joseph, three friends who are students at USC, head to downtown Los Angeles for a night out. After taking a wrong turn, they become lost in the disreputable areas where the homeless congregate. They get a flat tire after driving over a board with nails in it that has been deliberately left on the road. They are then surrounded by a group of homeless led by Wilco where they are stripped and dragged away to be killed. However, Marshall manages to make an escape. Nude, he desperately tries to survive pursuit by the homeless while running through the streets with little but his bare hands to defend himself,
---
Parasites was the sixth film from Minnesota-based director Chad Ferrin. Ferrin first appeared with the psycho film Unspeakable (2000), which received distribution through Troma, and then went onto The Ghouls (2003) about a journalist discovering zombies, the psycho film Easter Bunny Kill! Kill! (2006), Someone's Knocking at the Door (2009) about demonic rapists, the Death Row horror The Chair (2016) and subsequently the gonzo comedy Exorcism at 60,000 Feet (2020), the H.P. Lovecraft film H.P. Lovecraft's The Deep Ones (2020), Night Caller (2021) with a phone psychic against a serial killer and the True Crime Pig Killer (2022).
Chad Ferrin's previous films have been in the realm of outrageously over-the-top or gonzo horror; by contrast, Parasites is in the arena of harsh social realism (the film is even made by a production company called Crappy World Films). This is more than evident from the opening scenes touring the areas of Los Angeles where the homeless congregate and in the shooting that takes place in backstreets, alleyways, train yards and culverts that look rundown and derelict. And of course a central element of the film is that it features the homeless as pursuing nemeses.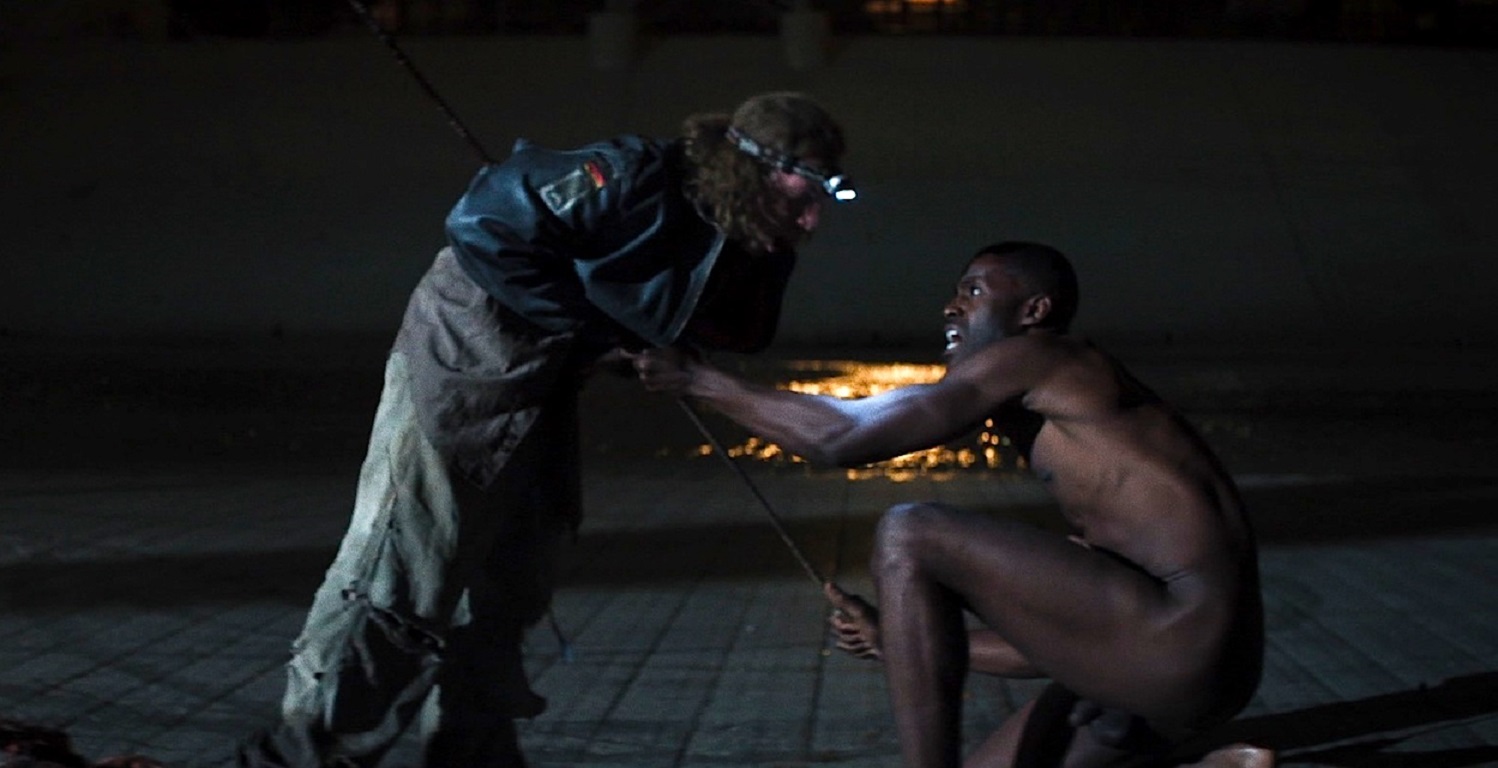 That said, the film's title referring to the homeless 'parasites' does make you balk somewhat. In regarding those who have fallen on impoverished circumstances, often through no fault of their own, as parasitic, not to mention showing them as murderous, you sense that the film's sympathies are not exactly on the liberal side of the fence. (The trailer also makes the claim that the film is based on a true story).
Parasites operates essentially in the same ways as a Backwoods Brutality film like Deliverance (1972), The Last House on the Left (1972) or The Texas Chain Saw Massacre (1974). Except where these others had regular city folk stray into the backwoods realm of hillbillies to be hunted and tortured, this has regular city folk stray into the urban realm of the homeless to be hunted and killed. Beyond that, the characterisation of the citybred innocents on a desperate run for survival and the pursuing forces who are shown as degenerate and sub-human are nearly identical.
The image of Sean Samuels pursued and having to defend himself with his bare hands reminds of a bunch of films derived from The Most Dangerous Game (1932) in which a person is hunted for their lives by a bored rich huntsman. There have been several variants such as Hard Target (1993) and Surviving the Game (1994) that have the homeless being hunted. However, Parasites takes Sean Samuels' survival run further than any of these ever did – at one point, he is forced to run from a pursuing dog while naked and with nothing to defend himself but his bare hands.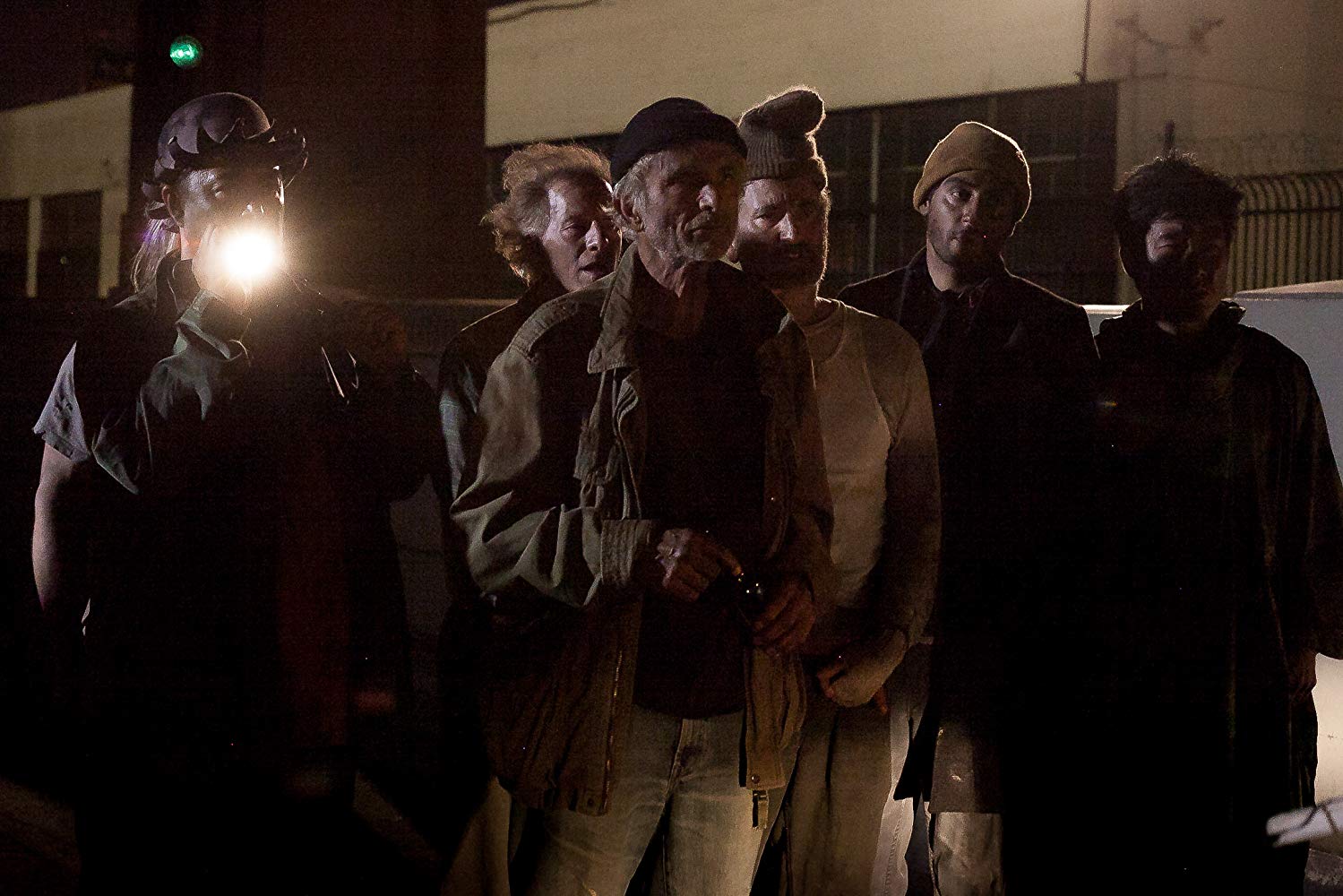 The score reminds of the synth work of John Carpenter, which in turn makes you think of Kurt Russell's run through urban hell in Escape from New York (1981) or the story of a cop station at siege from crazed gang elements in Assault on Precinct 13 (1976), which also felt like a Backwoods Brutality film transferred to an urban environment. Maybe you could also compare the film to Walter Hill's classic The Warriors (1979) with a couple trying to flee through hostile gang territory of night-time L.A. hunted on all sides.
Chad Ferrin produces a fairly solid film on all counts. It is shot with a harsh realism that gives it an undeniable impact during Sean Samuels' run for survival. Not to mention a less than happy ending that Ferrin has uplifted straight from Night of the Living Dead (1968).
---
---