---
Crew
Directors/Story – Phillip Escott & Craig Newman, Screenplay – Phillip Escott, Producers – Phillip Escott, Sean Langton & Craig Newman, Photography – Lucas Tucknott, Music – Josef Prygodzicz, Makeup Effects – Rebecca Hall. Production Company – 441 Films/Trebuchet Film Productions/Bang Post Production/Dogs of Annwn Films.
Cast
Danny Miller (Nicholas), Richard Pawulski (Danny Evans), Natalie Martins (Julia), Reece Douglas (Calvin), Grace Dixon (Danny's Mum), Gary Knowles (Danny's Dad)
---
Plot
Nicholas is deeply angered after Lisa, a girl he has been seeing, breaks up with him. Julia, a girl that likes Nicholas but he regards only as a good friend, makes up a story about Lisa having slept with the autistic Danny Evans. This so deeply angers Nicholas that he decides to go and sort things out with Danny. He drags his friend Calvin to join them with a bogus story about Danny being a paedophile and they need to teach him a lesson. Danny meanwhile has gone camping at the local lake as part of his Duke of Edinburgh wilderness survival award. Nicholas and the others track him down. They then begin a brutal assault on Danny where Nicholas is determined to kill him for having slept with Lisa.
---
Cruel Summer was a directorial debut for Cardiff-based friends Phillip Escott and Craig Newman. Both had made several short films together, while Escott had also made a number of documentary shorts for extras on dvd releases of horror films. Escott later went on to co-direct the documentary The Found Footage Phenomenon (2021).
Cruel Summer falls into a variety of grim horror stories, usually based on real-life, about teens going amok. See the likes of River's Edge (1986), Fun (1994), My Name is A By Anonymous (2011) and especially the films of Larry Clark – Kids (1995), Bully (2001) and Ken Park (2002). Likewise, Cruel Summer makes claim on the opening credits to be based on a true story – the end credits even include details of the prison sentences that the various instigators received. However, a reading of interviews with the two directors leads you to realise that the film is not based on any specific incident but is a composite loosely based on various incident they had heard/read about.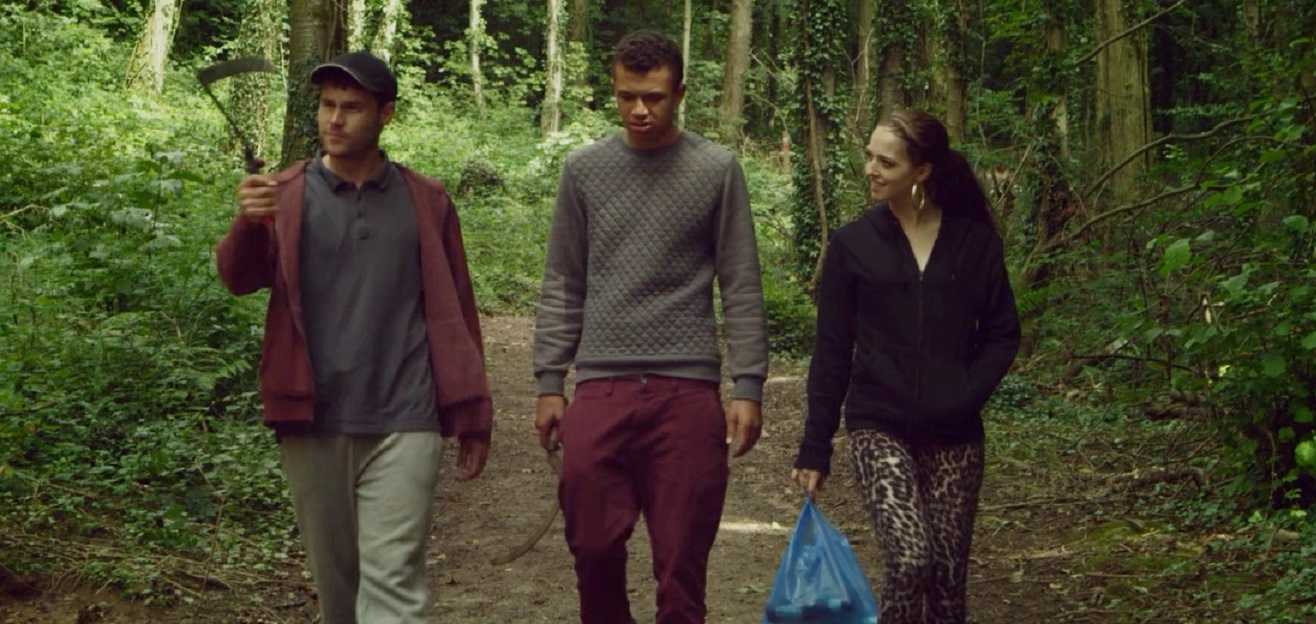 Cruel Summer deals with fairly raw and unsettling material – the bullying and murder of an autistic boy. The film has a fairly simple structure – the opening lets you know what is going to happen via brief glimpses. The rest of the show is then a flashback building up through the parallel stories of Danny Miller's growing anger and Richard Pawulski's idyllic walk through the woods and setting up camp by the lake until both parties meet in an explosive confrontation. The scenes at the end with the kids, principally Danny Miller, making fun of, humiliating and then brutalising Richard Pawulski are about as uncomfortable as it gets. The climactic scenes are not an easy watch.
All of the four principal actors create fine and well-played characters. Richard Pawulski plays the autistic boy sympathetically and without having to resort to cliches. Far more unsettling is Danny Miller's angry drive that fires the film up. An even better performance comes from Natalie Martins whose eagerness and willing manipulativeness when it comes to urging Miller on with what is an obvious lie proves rather alarming. About the only drawback is the heaviness of some of the accents, which, when added with frequent use of local colloquialisms, almost require subtitles to follow.
---
---