---
Crew
Director/Photography – Roel Reiné, Screenplay – Matthew Harvey & Dominic Morgan, Producer – Chris Lowenstein, Music – Trevor Morris & Jack Wall, Visual Effects – Cinemotion, Special Effects Supervisors – Alex Gunn & Rangsun Rangsimaporn, Production Design – Boontawee Taweepasas. Production Company – Interborough-Frelaine.
Cast
Scott Adkins (Wes Baylor), Robert Knepper (Jonah Aldrich), Ann Truong (Tha), Temuera Morrison (Madden), Rhona Mitra (Sofia), Jamie Timory (Landon Marshall), Sean Keenan (Tobias Zimling), Peter Hardy (Jacob Zimling), Adam Saunders (Esparto), Amarin Cholvibul (Win), Troy Honeysett (Jonny Sutherland), Sahajak Boonthanakit (The General), Gigi Velicitat (Maduka)
---
Plot
Top MMA fighter Wes Baylor accidentally kills his best friend Jonny Sutherland during a match. Six months later, Baylor has dropped out and is living as a fighter in street competitions in Bangkok. He is approached by Jonah Aldrich who offers Baylor half-a-million dollars to participate in a fight. Agreeing, Baylor is flown to Myanmar where he is then shocked to realise that what he has agreed to it a no-holds-barred competition where he will be pursued by various paying hunters. The hunt begins with the unarmed Baylor having to cross a hundred miles of jungle to the Thai border, while the hunters come after him with a heavy arsenal of weapons.
---
Hard Target (1993) was one of Jean-Claude Van Damme's biggest hits. It was made at the time when Van Damme crossed over from being a martial artist making kickboxing action films to becoming a big name star. It was also the first English-language film from Hong Kong director John Woo who fired it up with the pyrokinetic balletics that became his trademark. It was the action element that made the film – beyond that, the story was no more than an action movie variant on the oft-filmed The Most Dangerous Game (1932) about a lone man being forced to survive against hunter(s) with nothing but his bare hands.
Twenty-three years after the original came out, we now get a sequel with Hard Target 2. (Whether it is a sequel is a debatable question – there is no direct continuity between either film, this reads more as just as a re-run of the original with different actors and a different location). The surprise is why now? Do audiences remember the first film? If there was any market for a sequel, it would surely have been in the few years after the original came out where it would have been relentlessly sequelised in the same way that Van Damme's Bloodsport (1988) and Kickboxer (1989) were without him on multiple occasions.
Hard Target 2 comes from South African director Roel Reiné. Reiné has made a career out of making sequels to other people's films with the likes of Death Race 2 (2010), Death Race 3: Inferno (2012), The Scorpion King 3: Battle for Redemption (2012), The Condemned 2 (2015) and The Man with the Iron Fists 2 (2015), as well as original works such as Drifter (2008), Deadwater (2008), The Lost Tribe (2010), Dead in Tombstone (2013), Dead Again in Tombstone (2017) and Fistful of Vengeance (2022).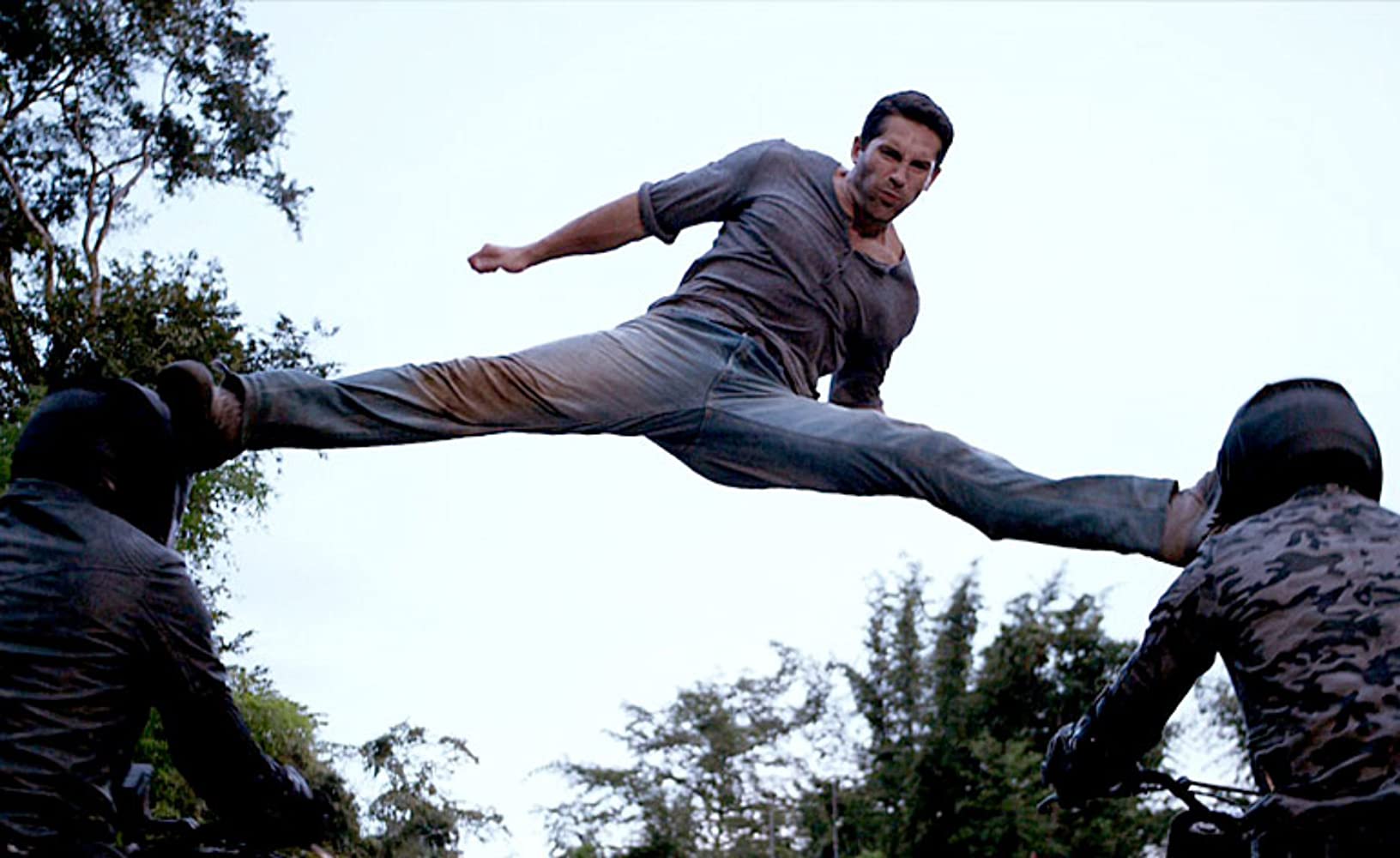 I liked the original. It wasn't a great film but John Woo's action balletics made it highly watchable. The unfortunate downside of Hard Target 2 is that Roel Reiné seeks to replicate John Woo's kinetic acrobatics but delivers almost nothing else. Thus the whole film consists of slow-motion shots of Scott Adkins kicking people, vehicles racing and skidding, explosions, slow-motion shots of bullets, arrows and shells being fired and so on. It feels like a film that has been conceived around its action sequences and then a plot loosely strung around these.
The unfortunate downside of this is that not a single one of the action sequences kick in with the kind of awe that makes you go "wow" like Woo did. Rather they sit there and wash over you in a brain-unengaged way. There is nothing to the sequences, no feeling that anything is at stake or where the outcome is not in doubt, no seat-edge intensity, nothing.
Scott Adkins has a reasonable likeability as the action hero. Robert Knepper gets into the villainy, although is largely defeated by the fact that the writing is utterly one-dimensional. The supporting cast is not uninteresting. There is Rhona Mitra, one of the most beautiful actresses in the world, who you wish had been given more to do. As it is, she struts through the film as though she is majorly pissed off at having to be there. Maori actor Temuera Morrison, not the most expressive of actors, lends solid support as Robert Knepper's taciturn henchman.
---
---