---
Crew
Director – Anna Foerster, Screenplay – Cory Goodman, Story – Cory Goodman & Kyle Ward, Producers – David Kern, Gary Lucchesi, Tom Rosenberg, Len Wiseman & Richard Wright, Photography (3D) – Karl Walter Lindenlaub, Music – Michael Wandmacher, Visual Effects Supervisor – James McQuaide, Visual Effects – Celluloid Visual Effects, Berlin (Supervisor – Michael Landgrebe), Cutting Edge (Supervisor – Rangi Sutton), Iloura (Supervisor – Josh Simmonds), Luma Pictures (Supervisors – Brendan Seals & Kevin Souls) & Supervixen, Special Effects Supervisor – Ondrej Nierostek, Creature Effects Supervisor – Todd Masters, Production Design – Ondrej Nekvasil. Production Company – Lakeshore Entertainment/Sketch Films.
Cast
Kate Beckinsale (Selene), Theo James (David), Tobias Menzies (Marius), Lara Pulver (Semira), Charles Dance (Thomas), Bradley James (Varga), James Faulkner (Cassius), Peter Andersson (Vidar), Clementine Nicholson (Lena), Daisy Head (Alexia)
---
Plot
Selene, accompanied by David, is in hiding, hunted by the vampire covens for the murder of the elder Viktor. The vampires now face a renewed threat from the Lycans led by Marius. David's father Thomas is approached by Semira, one of the elders of the Eastern Coven, and asked to persuade the council of the need to pardon Selene so that she can return and train the Death Dealers against the new threat. He is successful in his appeal and Selene makes a return. However, this proves to be a trap set by Semira who tries to kill Selene. Selene and David make an escape and take refuge with the Northern Coven, while dealing with the dual threat of Semira as she usurps power and as the Lycans close in.
---
Blood Wars is the fifth in the series of Underworld films. The series began with Underworld (2003), a directorial debut for Len Wiseman, which set in place the premise of the war across the ages between vampires and werewolves. It was also Wiseman who created the distinctive stylised action moves and slick Gothic poses. Wiseman made the subsequent Underworld: Evolution (2006) and oversaw as other directors made Underworld: Rise of the Lycans (2009) and Underworld: Awakening (2012).
Nobody critically or in the fannish circles I follow seems to like the Underworld films. I have yet to come across anybody who considers themselves a rabid fan, yet they continue to be made. I am baffled as to who the audience for the series is, which was clearly substantial enough for Blood Wars to be given a reasonable budget and obtain a theatrical release. For me, watching another entry in the Underworld series is like watching yet another season of a tv series that has well past its sell-by date, where the principals have left, where the show has shuffled its basics around in various combinations, removed or resurrected key characters, and involved so many twists that none of them seem to hold any surprise any longer. Think something like Happy Days (1974-84), The X Files (1993-2002, 2016-8) or Lost (2004-10) as they dragged themselves through their final seasons.
The Underworld series has progressed in a way that it has left me with zero interest in watching any further entries it puts out other than the completist drive to cover all genre material on this site. The series has stripped anything out that resembles more than the most minimal plotting, characters you care about or originality. All that is left is a handful of eminently forgettable action sequences, everybody dressed in designer black PVC and leather like they were attending a Goth nightclub, and a lighting scheme that has reduced the entire show to almost monochromatic black and midnight blue colours.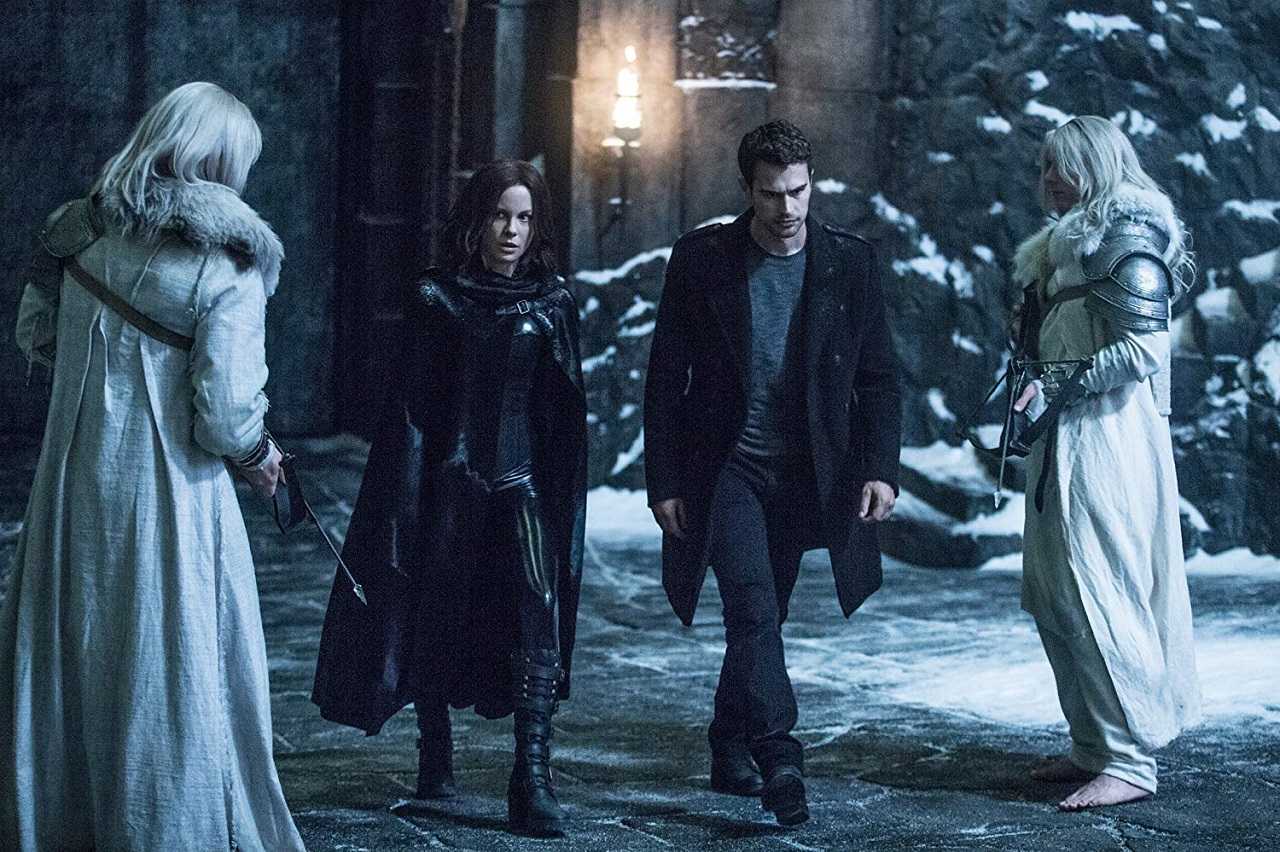 As with every film in the franchise, there is the ongoing war between vampires and lycans and much focus on the internecine politics of the vampires. The twists and convolutions of these are something that only die-had fans are likely to care about – I failed, for instance, to work out why Semira set up such an elaborate scheme to kill Selene – and one that also wipes out the vampires' entire defence force against the Lycans. I assumed the answer was that Semira was a holdover from the previous film who I had forgotten about but a little research reveals she is a new character, meaning that her actions exist in a complete motivational void. Continuity to the other entries is there when it suits the film, absent when it doesn't – the film remembers that Selene has a daughter, seems to completely ignore the fact that the last entry took place in the future.
The first film had an undeniable stylishness when it came out but the successive films have endlessly repeated the poses and moves without adding anything such that the films have become no more than tedium-inducing eye candy. Things pass by in a blur of motorcycle and car chases, swordfights and jumps through windows, all of which are so unmemorable I am struggling to remember a single one of them the morning after watching the film. Even the werewolf transformations are some of the shoddiest visual effects I can recall seeing in a big-budget film – it feels as though we were still in the 1990s when everyone thought morphing was a cool technological innovation.
---
---