---
UK/USA/South Africa. 2010.
Crew
Director – Roel Reiné, Screenplay – Tony Giglio, Story – Paul W.S. Anderson & Tony Giglio, Producers – Paul W.S. Anderson, Jeremy Bolt & Mike Elliott, Photography – John McKay, Music – Paul Haslinger, Visual Effects – Assembly Line, Cinepostproduction GmbH, Exozet Effects GmbH, IDFX Budapest, R-Team EOOD, Special Effects Supervisor – Cordell McQueen, Prosthetic Makeup Effects – CFX (Supervisor – Rob Carlisle), Production Design – Johnny Breedt. Production Company – Impact Pictures/Chestnut Ridge/Moonlighting Death Race Films CC.
Cast
Luke Goss (Carl 'Luke' Lucas), Lauren Cohan (September Jones), Sean Bean (Markus Kane), Danny Trejo (Goldberg), Ving Rhames (Weyland), Tanit Phoenix (Katrina Banks), Patrick Lyster (Warden Medford Parks), Fred Koehler (Lists), Deobia Oparei (Big Bill), Robin Shou (14K), Hennie Bosman (Xander Grady)
---
Plot
After she captures footage of a riot at Terminal Island prison, tv reporter September Jones goes to the CEO of the Weyland Corporation, which owns both the prison and the network, and points out that her coverage was one of the network's top ratings hits. Meanwhile, Carl Lucas is asked by crime boss Markus Kane to act as driver for a bank robbery. However, the heist goes wrong due to incompetent associates and Lucas is arrested following a high-speed chase with police. He is sentenced to Terminal Island where he finds that September Jones has been appointed media manager and is arranging the Death Match, to-the-death hand-to-hand gladiatorial combat between inmates for pay-per-view cable audiences. She takes a liking to Lucas and forces him to become a competitor despite his refusal to be involved. Seeking ever-higher ratings, she decides to create the Death Race where the inmates compete against each other in lethally armed and armoured vehicles. Meanwhile, fearing the Lucas will turn evidence against him, Kane has offered a million dollar bounty to the inmate that kills him.
---
Director Paul W.S. Anderson had a reasonable success with Death Race (2008). This was a remake of the Roger Corman produced black comedy Death Race 2000 (1975), although Anderson's version stripped all of the comedy elements from the original such as race where points are won by running people over and substituted a generic future prison scenario. Death Race 2 is a prequel that explains how the Death Race came to be and tells the origin story of the metal-masked Frankenstein character. Paul W.S. Anderson takes a producing role this time, Roger Corman is also credited as an executive producer and the film features return appearances from Fred Koehler and Robin Shou. Unlike Death Race, Death Race 2 was released directly to dvd rather than theatres.
The basic dictum for Death Race 2 has been to serve up what went before – but slightly differently. Luke Goss's jailed driver is cut from the same block as the tough, individualistic shaven-headed loner that Jason Statham played in the original. Lauren Cohan is another version of Joan Allen's tough, power-skirted warden in the original – although cast about thirty years younger (a former Miss Universe who was blacklisted for sleeping with all five judges in one of the more amusing lines) so that the film can now have Cohan trying to seduce the hero and others. The film starts out with the Death Race being hand-to-hand combat before the idea of car races is introduced, whereupon the latter third of the film becomes an essential repeat of the original amid much motorised mayhem.
Death Race 2 has generic direct-to-dvd sequel written over it. There is little in the handling of the aspects recycled from the original or the new elements that it any way distinguishes it. Certainly, in the initial scenes, Dutch born director Roel Reiné, a rising name in low-budget action films, distinguishes himself during the bank robbery getaway with a particularly slick and exciting car chase sequence where he shows an accomplished hand with the shots of cars skidding in slow-motion and of Luke Goss turning to pose in the midst of gunfire and walking away from explosions in slow-motion.
The film's other plus is the presence of Luke Goss. It is hard to believe that Goss and his twin brother were once the leads in the 80s boy band Bros. In the 2000s, Goss has become an actor and played various tough guys and villains in a variety of supporting roles throughout the 00s, even turned up as the monster in the tv mini-series Frankenstein (2004), and finally seems to be earning his leading man status here. With well-buffed 6'1″ frame, Goss certainly has the physique for an action movie hero. He also has a penetratingly intense charisma and ability to act as well as move. One sees no particular problem why he should not be inheriting more of the roles that Jason Statham (an actor who has far less acting ability in one's opinion) is unavailable for in future.
On a story level, Death Race 2 adds little – the original was so forgettable that it is hard to say if there was any fans out there who were burning to have their questions answered about how the Death Race came about or who Frankenstein was. Even then, Death Race 2 only answers these in the most routine and schematic way. After getting to the set-up of the Death Race, it then copies the first film in almost all of its moves. At this point, the action movie style that Roel Reiné demonstrated in the earlier scenes gets lost amidst generic car chase sequences.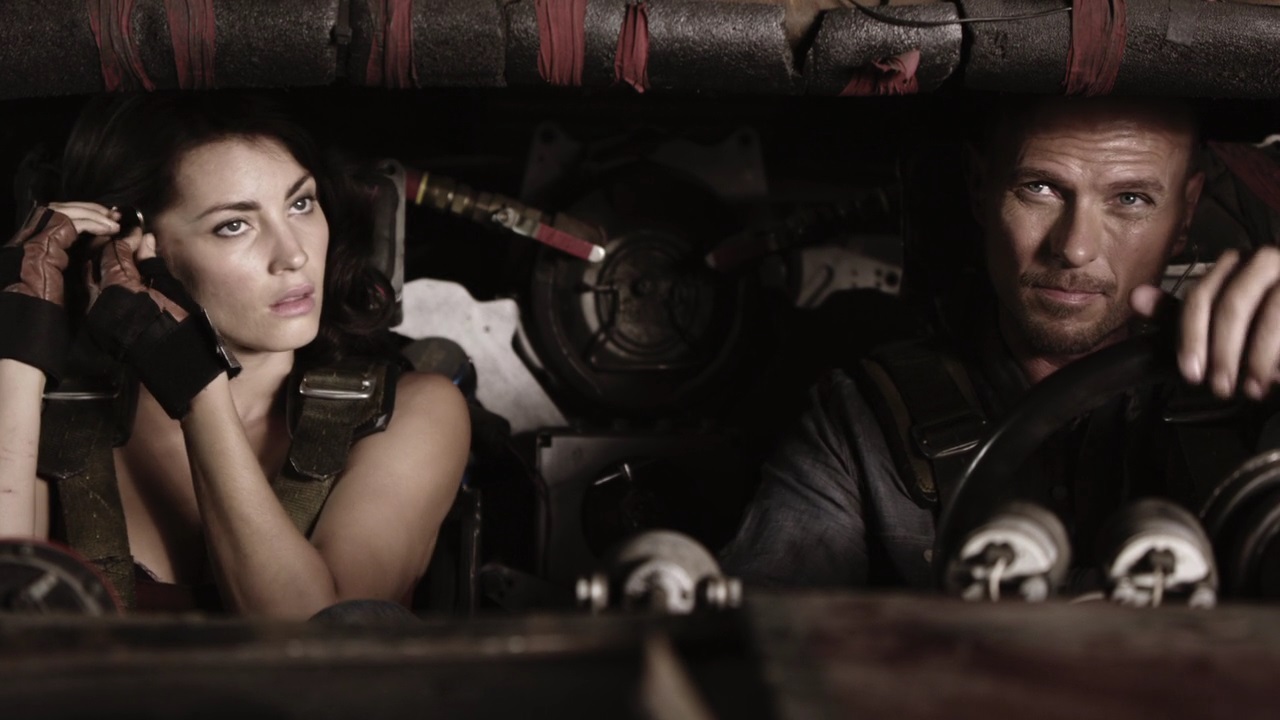 The climactic requirement that hero Luke Goss not triumph but instead be burned alive in a car crash and then resurrected as a monosyllabic, metal-masked monster is the reversal of all expectations that action movie heroism draws on. The film does try to compensate with an upbeat tone where the various villains of the show (Lauren Cohan, Sean Bean, the traitor among the pit crew) are despatched in a series of contrived circumstances.
Death Race 3: Inferno (2012) was a further sequel, also from director Roel Reiné and featuring Luke Goss, Danny Trejo and many of the cast from this film, followed by Death Race: Beyond Anarchy (2018). Roger Corman subsequently went on to conduct his own remake of the original with Death Race 2050 (2017) independent of these films.
Roel Reiné began making films with an action bent in the Netherlands and entered genre material with his third effort Drifter (2008), going onto the other genre likes of Deadwater (2008), The Lost Tribe (2010), The Scorpion King 3: Battle for Redemption (2012), Dead in Tombstone (2013), The Condemned 2 (2015), The Man with the Iron Fists 2 (2015), Hard Target 2 (2016), Dead Again in Tombstone (2017) and Fistful of Vengeance (2022). He has also produced the low-budget horror films Blackwater Valley Exorcism (2006), Brutal (2007), Bear (2010) and Wolf Town (2010).
---
Trailer here
---