aka Train to Busan 2; Train to Busan Presents Peninsula
---
Crew
Director – Yeon Sang-ho, Screenplay – Park Joo-Suk & Yeon Sang-ho, Producer – Dong-ha Lee, Photography – Hyung-deok Lee, Music – Mowg, Production Company – Next Entertainment World/Redpeter Films.
Cast
Gang Don-won (Jung-seok), Lee Jung-hyun (Min-yung), Lee Re (Joon-i), Koo Kyo-hwan (Captain Seo), Kwon Hae-hyo (Elder Kim), Kim Min-jae (Sergeant Hwang), Kim Doo-yon (Chul-min), Lee Yee-won (Yu-jin), Kim Kyu-baek (Private Kim), Hwang Yeong-hee (Taxi Woman), Jang So-yeon (Jung-seok's Sister), Moon Woo-jin (Dong-hwan), Bella Rahim (Major Jane), Geoffrey Giuliano (Hong Kong Boss)
---
Plot
As South Korea is overrun by zombies, the soldier Jeong-seok drives his sister and her family to Incheon to board a ship of refugees. However, as the ship departs, a man on board has been bitten and rapidly infects the other refugees, including Jeong-seok's sister and her son. Four years later, South Korea has been walled off by its neighbours. Jeong-seok and his brother-in-law Chul-min are living in Hong Kong experiencing an interminable wait to be accepted for refugee status. They are offered a deal by a local gang boss – an operation that involves returning to Incheon and retrieving a truck containing 20 million US dollars in return for which they will receive half. The team are smuggled in through the quarantine zone and find the truck. However, the operation starts to rapidly go wrong as someone fires rockets at them and they crash. Jeong-seok is saved by two children who live in the ruins with Min-wung. Jung-seok realises that Min-wung is a woman who was pleading for help that he passed on his way to the port four years ago but chose to ignore. Meanwhile, Chul-min has been captured by former soldiers who were abandoned in the quarantine zone and stage games where they pit survivors against zombies. When the group's leader Captain Seo discovers the satellite phone and learns about the truck of money, he realises the possibility for escape.
---
South Korean's director Yeon Sang-ho had enormous international success with the zombie film Train to Busan (2016). Prior to that, Yeon Sang-ho had worked as an animation director with the likes of The King of Pigs (2011) and The Fake (2013). He subsequently made the psychic powers/superhero film Psychokinesis (2018). At the same time as he made Train to Busan, Yeon Sang-ho also released Seoul Station (2016), an animated prequel. He then returned to make a live-action sequel with Peninsula, known as Train to Busan 2 or Train to Busan Presents Peninsula in some parts. The film was scheduled for release at the 2020 Cannes Film Festival, which ended up being cancelled due to the Corona Virus outbreak, although the film did subsequently see theatrical play in some parts of the world. He subsequently went on to make the tv mini-series Hellbound (2021).
I was somewhat sceptical as I sat down to watch Peninsula. The zombie film has become so overrun with low-budget copies since the revival of the genre in the early 2000s that it feels as though it has exhausted all original ideas, especially after we have had a decade of almost every permutation that zombies can be put to being served up on a weekly basis in tv's The Walking Dead (2010- ). From the 2010s onwards, people started turning to gonzo title mash-ups and wacky conceptual collusions but even these have started feeling as though they are creatively exhausted. (See Zombie Films for a more detailed overview of the genre). Train to Busan succeeded not through necessarily being a particularly original variation but by the sheer energy and enthusiasm with which Yeon Sang-ho directed the exercise.
The question when it comes to watching Peninsula is – is the mix we had in Train to Busan sufficient to work a second time over? The good news is that Yeon Sang-ho has a far more interestingly original plot this time again – one where a ragtag team of people from the fringes of society are recruited to travel into a zombie-infested quarantine zone and retrieve an item. This is a premise that is derived from John Carpenter's Escape from New York (1981).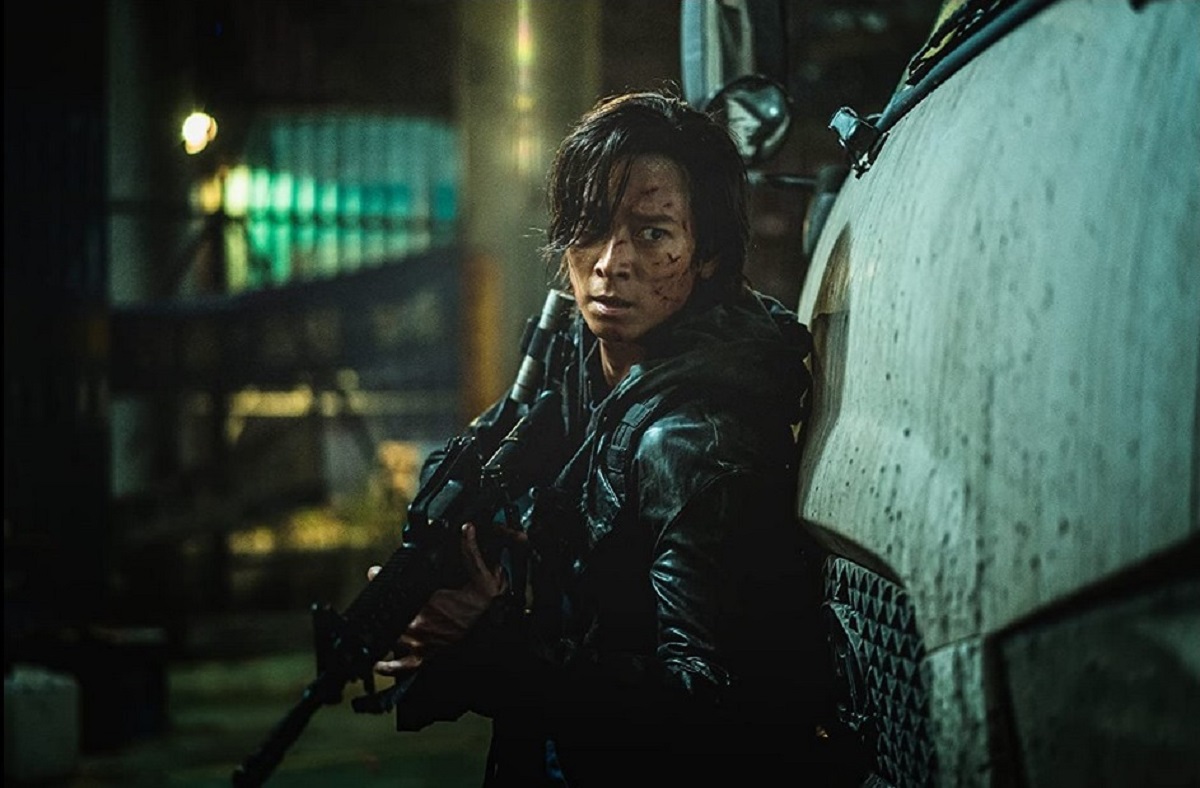 The zombie genre has appropriated the basics of Escape from New York on several occasions with the likes of Battle of the Damned (2013), Pandemic (2016) and Redcon-1 (2018). In particular, one is reminded of Neil Marshall's Escape from New York copy Doomsday (2008), which has a similar plot about an expeditionary team venturing into the quarantine zone and encountering survivors where none were expected, as well as similar scenes with the survivors placing the captured into death games and a climactic vehicle race to get to freedom. Ten months later, the same essential premise of the heist into the zombie infection zone was used in the very similar Army of the Dead (2021).
This certainly seems a more promising story than Train to Busan. Yeon Sang-ho sets it up well after a long lead-in. There is suspense as the team venture into the ruins of Incheon – some of the visual effects of the devastated city look flat but every so often there are out of this world images like Kim Doo-yon passing the glass-front of a building as it is suddenly lit up by moonlight revealing a writhing mass of zombies pressed against the window.
Predictably, the whole operation starts to go wrong. Things surprisingly enough kick into high gear with the introduction of the kids. Yeon Sang-ho tosses in an incredibly kinetic floor-to-the-pedal vehicle chase as the kids flee the zombie horde in an SUV – it's a scene where even Lee Yee-won's remote-controlled toy car is engaged in stunt racing. The pace of some of the middle flags where the scenes with Kim Doo-yon forced to fight zombies in an arena are less interesting. Nevertheless, Yeon Sang-ho gets it together for more breathless stunt racing at the climax and sets it up in a way where we are cheering on the various parties in their ferocious, nail-biting struggle to make it to freedom.
---