---
Crew
Directors/Screenplay – Scott Beck & Bryan Woods, Producers – Mark Fasano, Todd Garner, Eli Roth, Ankur Rongta & Vishal Rungta, Photography – Ryan Samul, Music – tomandandy, Visual Effects – Eye Spy (Supervisor – Jose Marra), Outpost VFX (Supervisor – Marcin Kolendo) & Van Dyke Visual Effects (Supervisor – David Van Dyke), Special Effects – Tolin FX (Supervisor – Steve Tolin), Production Design – Austin Gorg. Production Company – Broken Road/Nickel City Pictures.
Cast
Katie Stevens (Harper), Will Brittain (Nathan), Lauryn McClain (Bailey), Andrew Caldwell (Evan), Shazi Raja (Angela), Schuyler Melford (Mallory), Phillip Johnson-Richardson (Ty)
---
Plot
Harper, a university student at Carbondale, Illinois, is dragged out on the town for Halloween Night by three sorority sisters. In a club, they meet two other guys. Afterwards one of the guys picks up a flyer advertising an extreme Halloween haunt and suggests they go there. They head to the remote location and enter. Inside they are subject to a series of disturbing scenarios and assaults where they are not sure what is part of the act or whether they are witnessing people being tortured for real.
---
Haunt comes co-produced by Eli Roth who should need no introduction as the director of Cabin Fever (2002), Hostel (2005) and The Green Inferno (2013), among other works. The directors/writers are the team of Scott Beck and Bryan Woods who had previously made the not uninteresting Found Footage horror Nightlight (2015) but were mostly riding on the big hit of their script for A Quiet Place (2018), as well as its upcoming sequel A Quiet Place Part II (2020).
There have been a number of horror films over the last few years that have been set around Halloween haunts – the likes of The Bates Haunting (2012), Hayride (2012), 6 Degree of Hell (2012), The Scarehouse (2014), The Funhouse (2015), Charlie Charlie (2016), House of Purgatory (2016), Scariest Night of Your Life (2018), even a comedy with Hans Crippleton: Talk to the Hans (2014). In particular, there was The House October Built (2014), a Found Footage effort about filmmakers searching for extreme haunts that was popular enough it led to a sequel, as well as the quite good Hell Fest (2018).
All of the abovementioned Halloween haunt films have a conceptual issue. That is that most of them get permission to shoot in actual Halloween haunt attractions and spend their time taking in the various pop-up effects and jumps that the show has designed. The problem then becomes that it is impossible to differentiate between the jumps that the film is showing as a matter of course of depicting the Halloween haunt and those where it tries to be an actual horror film and create scenes of tension and tries to shock us. The theatricality of the surroundings blurs any dividing line.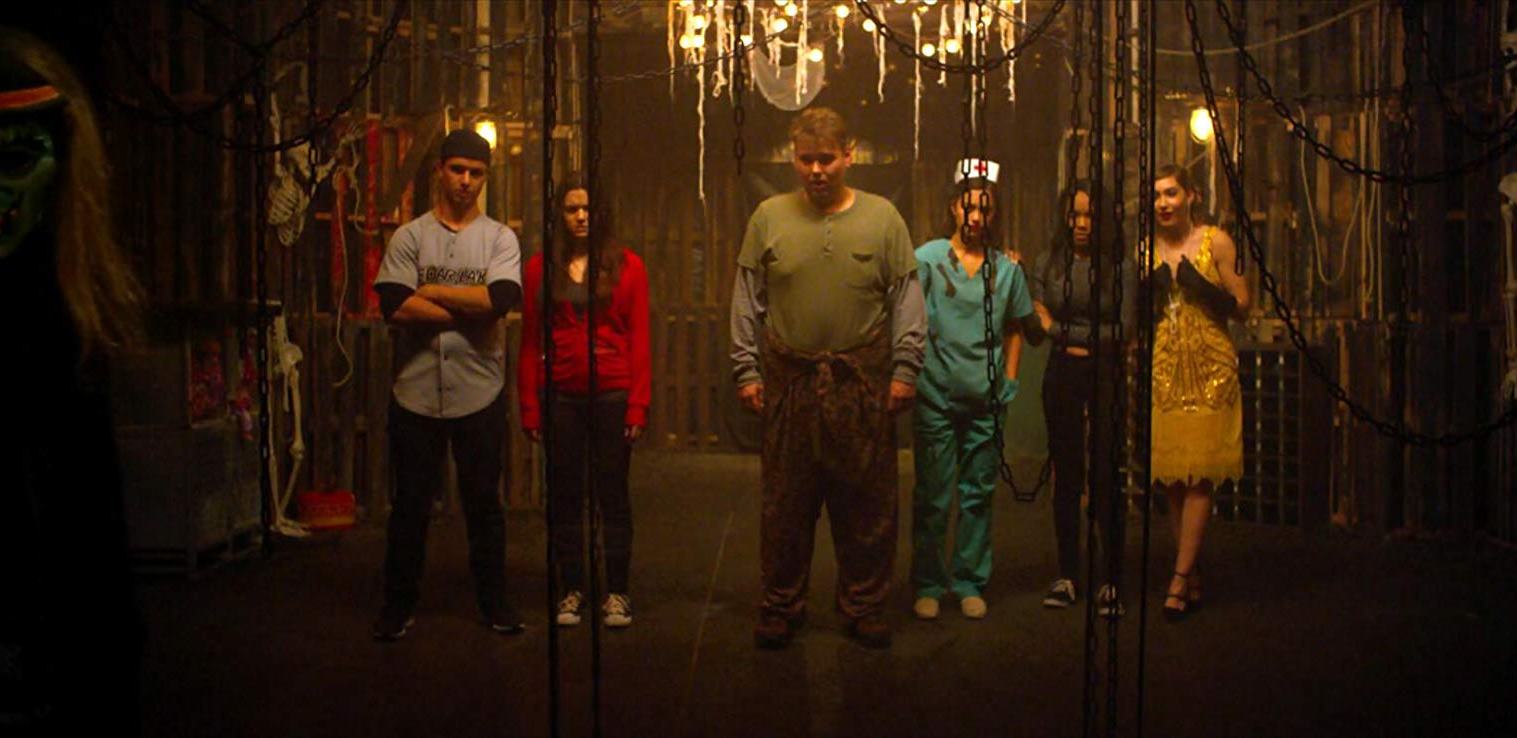 The good news is that Beck and Woods don't fall into this trap. We have the odd pop-up skeleton and vignette in the background but the film is not a parade of Halloween haunt jumps. In other words, the horror effect is not drowned out by the background of the show. That leaves Beck and Woods free to develop suspense and a sense of dread about what it is the characters will encounter as they enter each new room.
The film is constantly playing with a sense of reality and illusion – are we really watching people being tortured or is it part of the show? What about when we see Schuyler Melford being tortured – is that part of the act too? When they appeal for help to a masked figure who says they only work there, is this person an actual employee or part of the act too?
This game of reality and illusion is well sustained for at least half the film, which for me meant that Haunt was heading potentially towards 2½ or three stars. The great disappointment of the film comes in the latter half where Beck and Woods abandon these games and simply have the characters hunted around the maze by various figures and trying to find a way out. Here the film simply slips into being another formula horror film by the numbers and does nothing remarkable.
---
---