---
Crew
Director/Screenplay – Shelagh McLeod, Producers – Jessica Adams & Sean Buckley, Photography – A.A. Scott McClellan, Music – Virginia Kilbertus, Visual Effects Supervisors – Sam Javanrouh & Helen Thach, Production Design – Helen Kotsonis. Production Company – Buck Productions/JA Productions Inc./Telefilm Canada/Ontario Media Development Corporation/The Movie Network.
Cast
Richard Dreyfuss (Angus Stewart), Lyriq Bent (Jim Williams), Krista Bridges (Molly Williams), Colm Feore (Marcus Brown), Richie Lawrence (Barnie Williams), Graham Greene (Len), Karen LeBlance (Eliza Anderson), Art Hindle (Joe), Judy Marshak (Nurse), Jennifer Phipps (Alice), Joan Gregson (Frannie), Mimi Kuzyk (Liz), Jeff Douglas (Security Guard), Mike Taylor (Born Leader)
---
Plot
75 year-old Angus Stewart is a retired civil engineer who lives with his daughter Molly, her husband Jim and grandson Barnie. On tv it is announced that billionaire industrialist Marcus Brown is going to launch Ventura, the first commercial spaceflight, and a competition is being held for a member of the public to go into a draw to win a seat aboard the flight. Barnie urges Angus to enter but he is above the 65-year-old cut-off age. At the same time, Jim and Molly make the decision to sell up the house and place Angus into a retirement home. On inspiration, Angus decides to enter the Ventura competition and is surprised when his name is selected as one of the final candidates. Everyone reacts with amazement, while Barnie urges Jim to support Angus and create a fake birth certificate for him. As the competition nears, Angus with his knowledge as a civil engineer becomes certain that the flight will end in disaster because the runway is built on unstable ground.
---
Astronaut was a directorial debut for Shelagh McLeod. McLeod was born in Canada but has been working as an actress in the UK since the late 1970s. Almost all of her work has been on British television where she has appeared in shows such as The Professionals (1978-83), The A-Team (1983-7), Lovejoy (1986-94), Poirot (1989-2013), The Young Indiana Jones Chronicles (1992-3), Peak Practice (1993-2002) and Holby City (1999- ) to name but the most well-known.
There has been a huge upsurge in realistic space mission films in recent years following successes such as Gravity (2013) and The Martian (2015). You could easily be mistaken in thinking that Astronaut is another of these but it is not. It does depict a space mission, delves somewhat into the science (or at least engineering) surrounding the flight. On the other hand, the launch is only very briefly depicted at the end – we get a couple of shots of the ship heading down the runway and taking off and of Richard Dreyfuss in his spacesuit inside but the film never actually ventures into orbit nor for that matter even depicts the Ventura in flight.
Essentially what we have is a film about a space mission that never leaves the ground. In other words, it is a film about the aspiration of making it into space rather than one that actually does go into orbit or depict the spaceflight its character is determined to board. Indeed, you cannot help but draw parallels between Astronaut and one of Richard Dreyfuss's most famous roles in Close Encounters of the Third Kind (1977) – in both films, albeit more than forty years apart, Dreyfuss plays a character obsessed with joining a spaceflight where his singular fixation with this goal causes considerable upset to his family but he nevertheless persists. The climaxes of both films is him being having won through and boarding the ship to be carried off to the stars (although in neither film do we see what happens once the ship leaves the ground).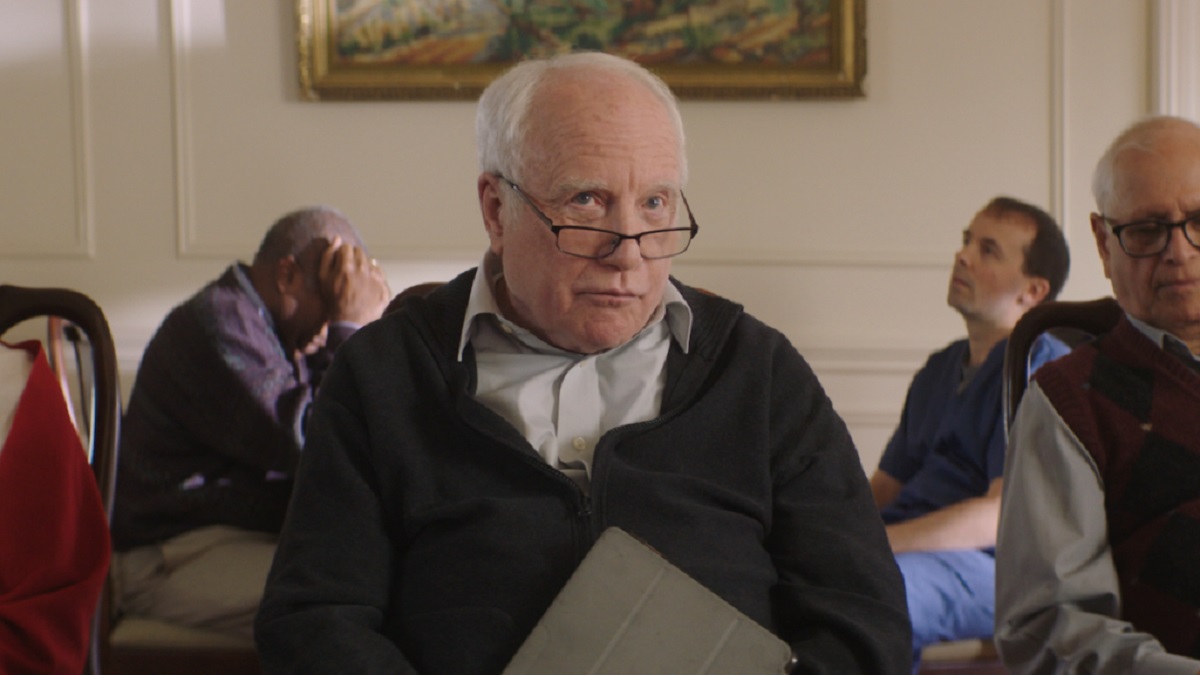 Rather than Gravity et al, which are films about the space mission and the nuts and bolts of realistic space travel and the problems encountered there, Astronaut exists in a mini-genre of what could be called Aspirational Spaceflight Films. You could cite other examples such as Space Cowboys (2000) about the determination of a group of aging astronauts to get back into space one last time and The Astronaut Farmer (2006) with Billy Bob Thornton as a farmer who decides to build and launch his own rocket. You could probably even throw the real-life based The Right Stuff (1983) and Hidden Figures (2016) into this same mini-genre. In all of these, space effectively acts as a glass ceiling – the ultimate aspirational goal – and the film celebrates the toughness, resilience and persistence of its protagonists as they fight the hurdles in their way to make it to their goal. All of these films do eventually get up into orbit but the drama of each film is more about the journey to get there than what happens when they do.
In reality, Astronaut is a world apart from films like Gravity and The Martian. They are effects driven films based around realistic science, whereas Astronaut is mostly a film about getting old and a senior chasing a dream. It sits more in the company of films made for the retirement crowd such as The Bucket List (2007), The Best Exotic Marigold Hotel (2011), I'll See You in My Dreams (2015) and Wild Oats (2016). Much of the film is centred around the mundane stuff of Richard Dreyfuss settling into the retirement home and life there, his reluctance to give up the donkey reserve his late wife squandered their savings on. When it develops its drama, Astronaut goes in predictable places – championing the outsider in his ridiculous dream; the disappointment of his flubbing the big interview; his persistence with warnings of disaster that he sees but the big company cannot.
These scenes are boosted by the always reliable Richard Dreyfuss (who at 71 is actually younger than the character he plays) and is on top form especially in the scenes playing off Graham Greene as an apparently stroke ridden fellow retiree. The character played by Greene, a (Canadian) Indian actor, who is revealed to be electively mute reminds much of Will Sampson in One Flew Over the Cuckoo's Nest (1975) – although where you keep expecting Astronaut to embrace Cuckoo's Nest's theme of anti-authoritarianism, it is more mild, makes a few token grumbles rather than advocates systemic rebellion and eventually accepts the retirement home as an enjoyable place.
---
---