---
Crew
Director/Producer – Robert Aldrich, Screenplay – Henry Farrell & Lukas Heller, Story – Henry Farrell, Photography (b&w) – Joseph Biroc, Music – Frank De Vol, Art Direction – William Glasgow. Production Company – Associates and Aldrich,
Cast
Bette Davis (Charlotte Hollis), Olivia de Havilland (Miriam Deering), Agnes Moorehead (Velma Cruther), Joseph Cotten (Dr Drew Bayliss), Cecil Kellaway (Harry Wills), Mary Astor (Jewel Mayhew), Victor Buono (Big Sam Hollis), Bruce Dern (John Mayhew)
---
Plot
1927 in Hollisport, Louisiana. John Mayhew is about to elope with Charlotte, the daughter of tough Southern patriarch Big Sam Holliss. As Mayhew sits waiting for her, he is attacked and hacked apart with a meat cleaver. Charlotte is believed to be the murderer but is acquitted for lack of evidence. Now, 37 years later, and Charlotte lives alone and half-demented in the gloomy old family mansion. When the house is threatened with a demolition order, Charlotte calls on her detested cousin Miriam for help. At the same time, the past comes back to haunt her and she starts seeing disembodied limbs all over the house, driving her over the brink of madness.
---
Hush … Hush, Sweet Charlotte was director Robert Aldrich's follow-up to his previous hit What Ever Happened to Baby Jane? (1962). Here Aldrich returns to the formula that made Baby Jane a success, bringing back stars Bette Davis and Victor Buono, screenwriter Lukas Heller, musician Frank De Vol and art director William Glasgow. The Baby Jane connection is something that would have been even further emphasised by the recasting of Joan Crawford.
Alas, Sweet Charlotte befell the bitter rivalry between the dueling egos of Davis and Crawford. Davis apparently went out of her way to taunt and upstage Crawford at every opportunity – Crawford responded by signing into hospital, claiming illness, where she stayed for several weeks, causing the stalled film's budget to wildly escalate before the studio made the decision to fire Crawford and replace her with Olivia de Havilland.
Sweet Charlotte also reuses much of the same formula of Baby Jane – the victim suffering most of their life for a crime they didn't commit; the big, old house as a dark, gloomy hold of secrets and a symbol of mental decay; and the corpulent sensationalism in watching the physical destruction of former box-office stars, particularly here that of once silent screen star Mary Astor. Tacked onto the formula is also a subtext about the Fall of the South – Sweet Charlotte is almost Tennessee Williams Gothic.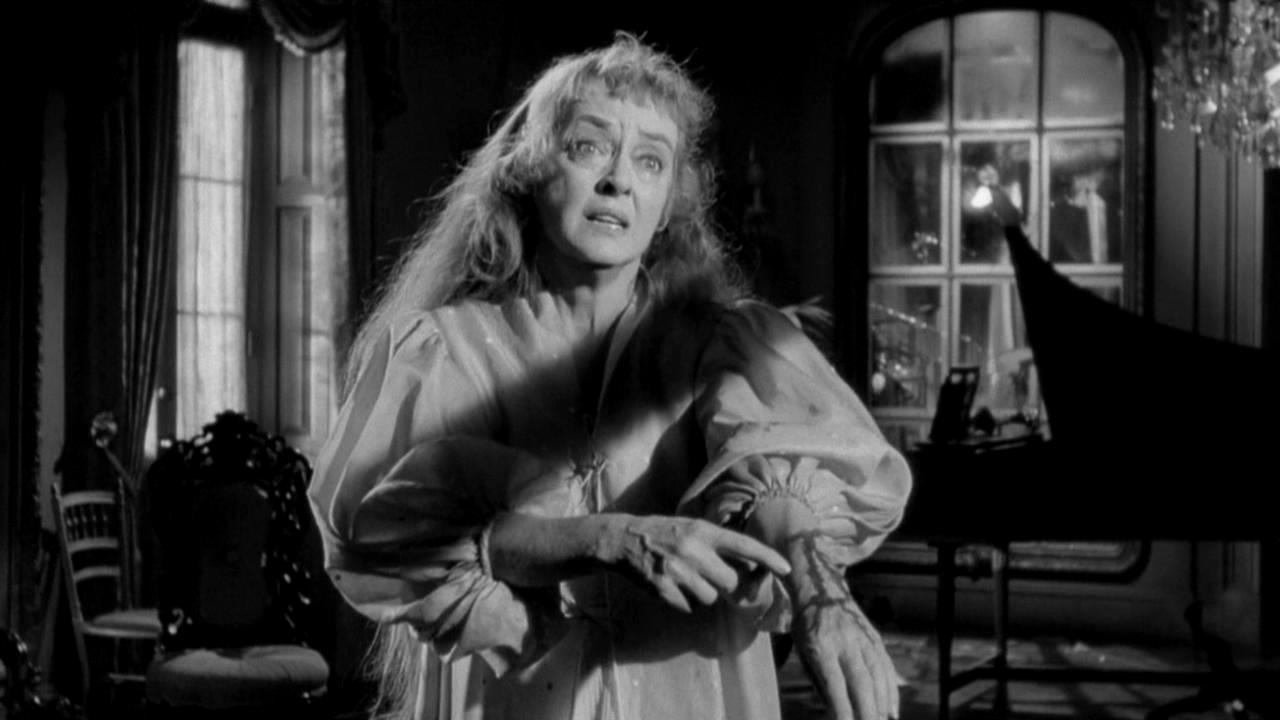 The plot is not-entirely satisfactory. The shooting of Joseph Cotten is stolen from Les Diaboliques (1955) and coincidence is stretched somewhat – but it is still light years ahead of the tawdry William Castle and Jimmy Sangster competition that was being made around the same time. In fact, Hush … Hush, Sweet Charlotte is, on the whole, a better film than What Ever Happened to Baby Jane was.
Robert Aldrich pulls some fairly strong shocks. The graphic decapitation and hacking up of Bruce Dern in the pre-credits opening is sensational stuff. Unfortunately, Aldrich pulls his best shock first and leaves one waiting half the rest of the picture to get to more. However, it does come – the head rolling down the stairs; the suspensefully built scene with Agnes Moorehead trying to rescue Bette Davis; the scene with the dead body that slides down the wall into view as Olivia de Havilland tries to get rid of a visiting Cecil Kellaway at the door; the hallucinatory appearance of Joseph Cotten back from the dead in muddied dinner-suit and the pan up back up to the top of the stairs to a trail of muddy footprints at the end of the scene and with it the jolting realisation that what Bette Davis is experiencing is not an hallucination after all. There is some fine black-and-white photography – one might be well mistaken for thinking that the sun never shines in the South.
Rafter-rattling overacting is again the call of the day. As she did in What Ever Happened to Baby Jane?, Bette Davis tarts it up again in sly style. This time she is on the receiving rather than the giving end, reduced to crawling down stairs and barking and whimpering. Unfortunately, when Agnes Moorehead starts getting into it all too it does seem a little excessive. However, Olivia de Havilland is excellent, playing with a measured genteel that is suddenly and very effectively turned on its head to reveal a cold ruthlessness.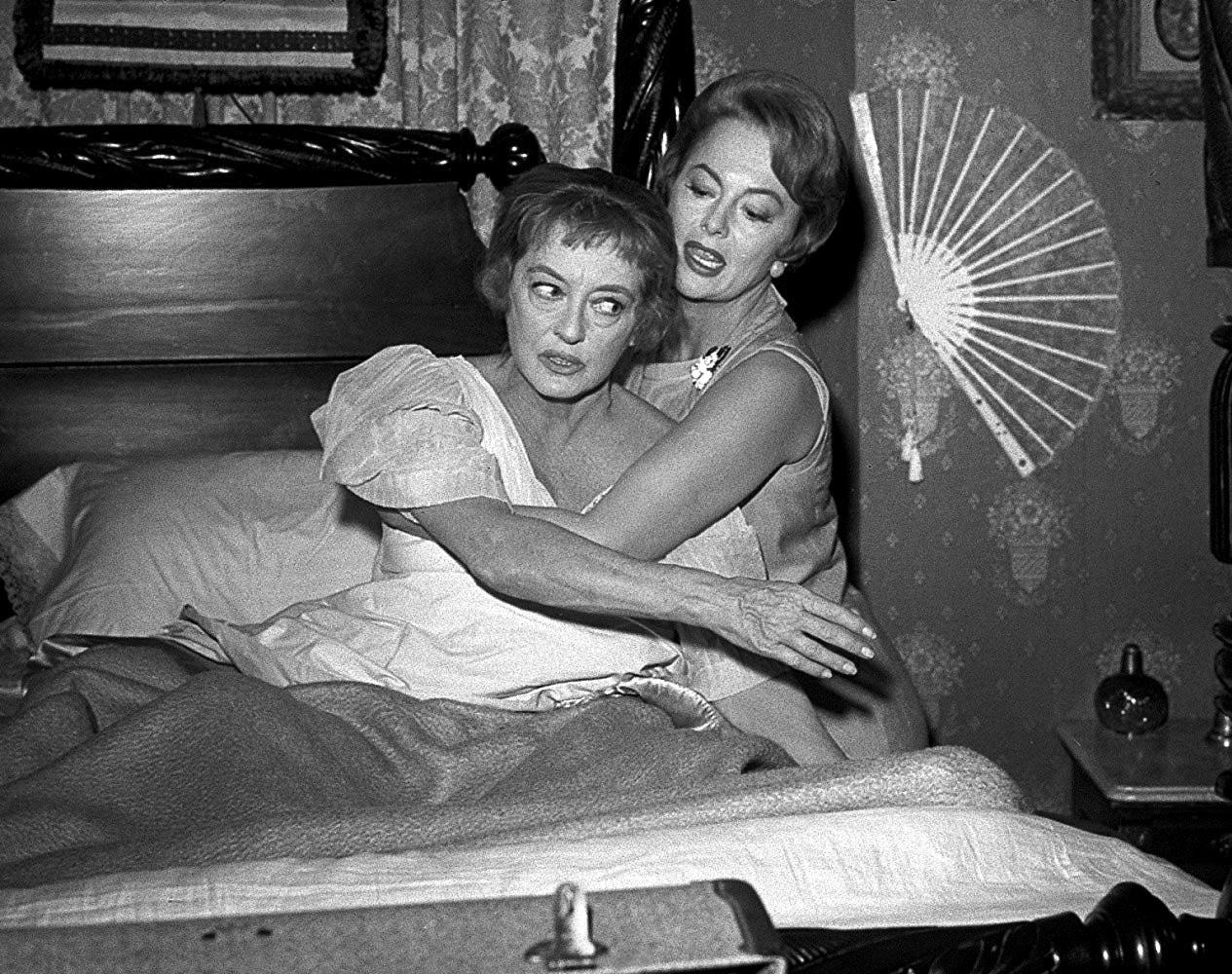 The making of Hush … Hush, Sweet Charlotte was depicted in the first season of the tv series Feud (2017– ), which concerned the Joan Crawford-Bette Davis rivalry, with Jessica Lange as Joan Crawford, Susan Sarandon as Bette Davis and Alfred Molina as Robert Aldrich, and showed several scenes of the making of the film and detailed the fallout.
Robert Aldrich went onto complete a trilogy of these Batty Old Dames films with the less well-known What Ever Happened to Aunt Alice? (1969) featuring Geraldine Page and Ruth Gordon, although this time he only took a producer's credit. Aldrich made several other films of genre interest, including the quasi-sf Mickey Spillane adaptation Kiss Me Deadly (1955), which is perhaps one of the finest of all Hollywood film noirs, and the nuclear missile silo hijacking thriller Twilight's Last Gleaming (1977). He also produced Bert I. Gordon's Picture Mommy Dead (1966) where the spirit of Zsa Zsa Gabor haunts her daughter from out of a painting.
---
Trailer here
---