---
USA. 1972.
Crew
Director/Screenplay – John Farris, Producer – Jack Clement, Photography – William R. Johnson, Music – Bill Justis, Art Direction – James Tilton. Production Company – Southern Star Productions.
Cast
Agnes Moorehead (Delilah Charles), Patricia Carmichael (Luddy Dublin), Dennis Patrick (Alonzo Charles), Michael Ansara (Morgan Charles), Ruth Baker (Buffy), Robert Gentry (Richard), Will Geer (Ray Jurroe), Anne Meacham (Grace), Elizabeth Eis (Ellen), John Marriott (Marshall), Anne Gibbs (Young Luddy)
---
Plot
In Nashville, Tennessee, Luddy Dublin is released from prison after serving a sentence for having killed her mother back in 1946. While sketching people playing a game of football in a field, she is hit by the ball. People rush to her aid. When she says she has no home to go to, Richard and Ellen take her with them back to Southhall Mansion where Ellen works as a nurse to aging matriarch Delilah Charles. Luddy is allowed to stay on and is given a job tending Delilah. Delilah gathers the rest of the family and announces that she only has a few months left to live. Considering all of them to be useless, she has decided to will the house to the state. However, she has discovered the location of $600,000 that was hidden somewhere on the estate by her father during the Civil War. She now issues the challenge that whoever finds the money can have it. This sets the gathered family members on a hunt. However, in the midst of this, someone starts killing the various relatives.
---
Dear Dead Delilah was the one and only film directed by John Farris who is better known as a horror author. Farris has published over 40 books since 1956 and is still at work today in the 2020s in his eighties. His most famous work was The Fury (1976), which was later filmed by Brian De Palma as The Fury (1978) with a script by Farris and to which Farris wrote three book sequels in the 2000s. Other Farris works have been adapted to the screen as the non-genre Because They're Young (1960) and the tv movie psycho-thriller When Michael Calls (1972). Dear Dead Delilah however was the one and only occasion on which Farris stepped into the director's chair. The film was not widely seen and poorly received.
Dear Dead Delilah falls into the genre of Batty Old Dames, Grand Old Dame or Hagsploitation films. These became popular for several years after the success of What Ever Happened to Baby Jane? (1962), which featured an aging Bette Davis and Joan Crawford going bonkers. The common feature of these films was former big name Hollywood stars past their prime playing parts intended to show up their less glamorous sides and with them going mad in grand style. (For a more detailed listing of these see Grand Dame Guignol).
In this case, the film featured Agnes Moorehead who was best known at the time as the stepmother Endora on tv's Bewitched (1964-72), although had a career going way back to Orson Welles' Mercury Theater and had received four Oscar nominations (but no wins) for regular dramatic roles, including the Baby Jane follow-up Hush … Hush, Sweet Charlotte (1964). Dear Dead Delilah was one of the very last roles Moorehead appeared in before her death of cancer in 1974, which she was believed to have been contracted on the set of the John Wayne film The Conqueror (1956) that was shot on a former atomic test site.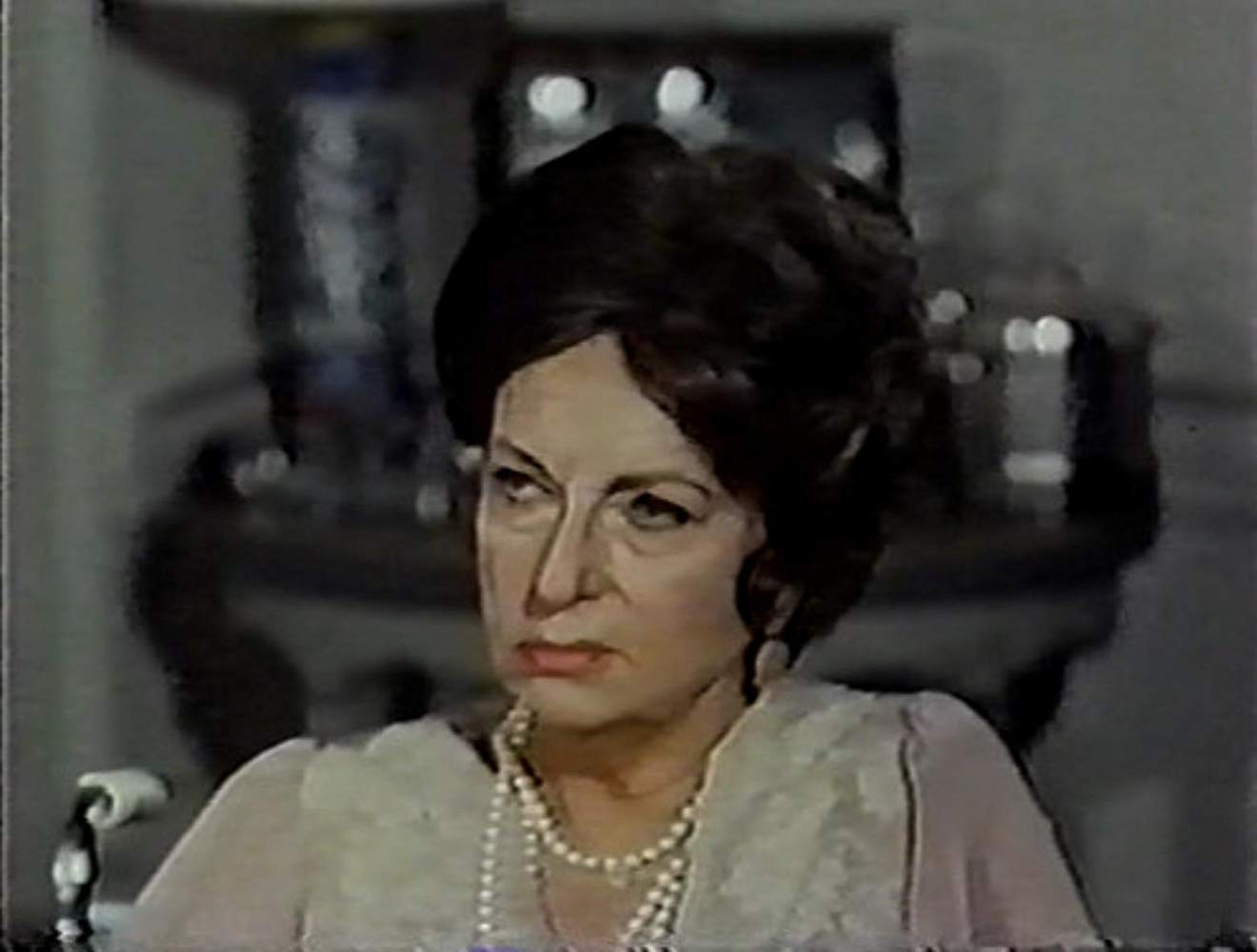 To split hairs, Dear Dead Delilah isn't quite a Batty Old Dames film in that Agnes Moorhead never goes mad or kills anyone; she merely sits around in her wheelchair delivering autocratic commands and withering comments. The plot itself falls more into the one favoured by some Agatha Christie works and the genre likes of The Cat and the Canary (1927) about relatives hunting for a treasure or an inheritance as someone among the party bumps them off one by one.
Dear Dead Delilah is not a very good film. It gets off a good opening with Anne Gibbs sitting making herself up for a dance before the camera moves back to show a severed arm in the hall and then a dead body with its face lying across the stove. Elsewhere though, it feels like John Farris has not mastered the basics of direction and fails to engage with what is happening very well.
The film looks as though it is shot on a low budget – although I was watching a grainy and faded low resolution copy pulled down from YouTube so it is not always easy to be able tell some of the details due to the quality of the print. The film does pick up slightly in the second half once the relatives start being bumped off – particularly the wonderfully schlocky scene where Anne Meacham is decapitated by a polo player with his stick – but you suspect that a more experienced director could have made a far better job of it.
---
Trailer here
---