---
Crew
Director/Story – Jonathan Darby, Screenplay – Jonathan Darby & Jane Rusconi, Producer – Douglas Wick, Photography – Andrew Dunn, Music – Christopher Young, Special Effects Supervisor – David A. Kelsey, Makeup Effects – Alterian Studios (Supervisors – Tony Gardner & Wesley Wofford), Production Design – Michael Johnston & Thomas A. Walsh. Production Company – TriStar Pictures.
Cast
Gwyneth Paltrow (Helen Baring), Jessica Lange (Martha Baring), Johnathon Schaech (Jackson Baring), Nina Foch (Alice), Hal Holbrook (Dr Franklin Hill)
---
Plot
Helen goes to spend Christmas with her boyfriend Jackson Baring at his family home, the Kilronan stud farm. There she meets Jackson's domineering mother Martha. After she and Jackson return to New York City, Helen discovers that she is pregnant and they decide to marry. Martha then comes to see Jackson, telling him that she is thinking about accepting an offer to sell up Kilronan, even though the offer is well below its true value, because she can no longer manage the farm on her own. Helen is then attacked by a rapist. Afterwards, she suggests to Jackson that they move to Kilronan and take over managing the property. However, after they move in, Martha starts to increasingly interfere and take over Helen's life. Helen tries to stand up against this but Jackson dismisses anything critical that Helen tries to say about his mother. As she starts to dig into Martha's past, Helen realises that Martha is planning to kill her and take the baby.
---
Hush is a film that should have been made in the 1960s as part of the psycho films that came out after the huge success of What Ever Happened to Baby Jane? (1962). Baby Jane created a mini-genre of films featuring past-their-prime actresses showing their age in all its no-longer-glamorous glory and letting themselves go completely bonkers. What Ever Happened to Baby Jane succeeded in reviving the careers of Bette Davis and Joan Crawford, while other films amid the fad brought back various actresses that had been at the height of glamour of the 1930s and 40s. Being made as this type of film in the 1990s, Hush feels like an antique.
The middle-aged actress at the centre of Hush is Jessica Lange, a six-times Oscar nominee and twice winner for Tootsie (1982) and Blue Sky (1994). The 49 year-old Lange gives a spectacularly campy performance where she lets herself go totally over the top with outrageous regard. It is a performance that is truly fascinating to watch in its hammily theatrical lack of restraint. Mindedly, Hush seemed to presage a career turnaround for Lange and she subsequently went on with such gregarious disregard to become one of the mainstays of the tv series American Horror Story (2011– ).
Jessica Lange's performance is something that is equally matched in the direction and especially the writing from Jonathan Darby, whose only other directorial outing to date has been The Enemy Within (1994), a dull tv movie remake of the excellent political thriller Seven Days of May (1964). The plotting comes with a melodramatically overwrought ludicrousness – how it is revealed that Jessica Lange hired a stable hand to attack and rape Gwyneth Paltrow; where Gwyneth finds secret nurseries set up in the stables; or where she sits down to dinner as Jessica Lange feeds her a dessert filled with a horse drug that will force birth contractions. The ending, which hinges upon pretend phone calls to lovers and brake clutches dramatically dropped on the kitchen floor, has an equally histrionic silliness.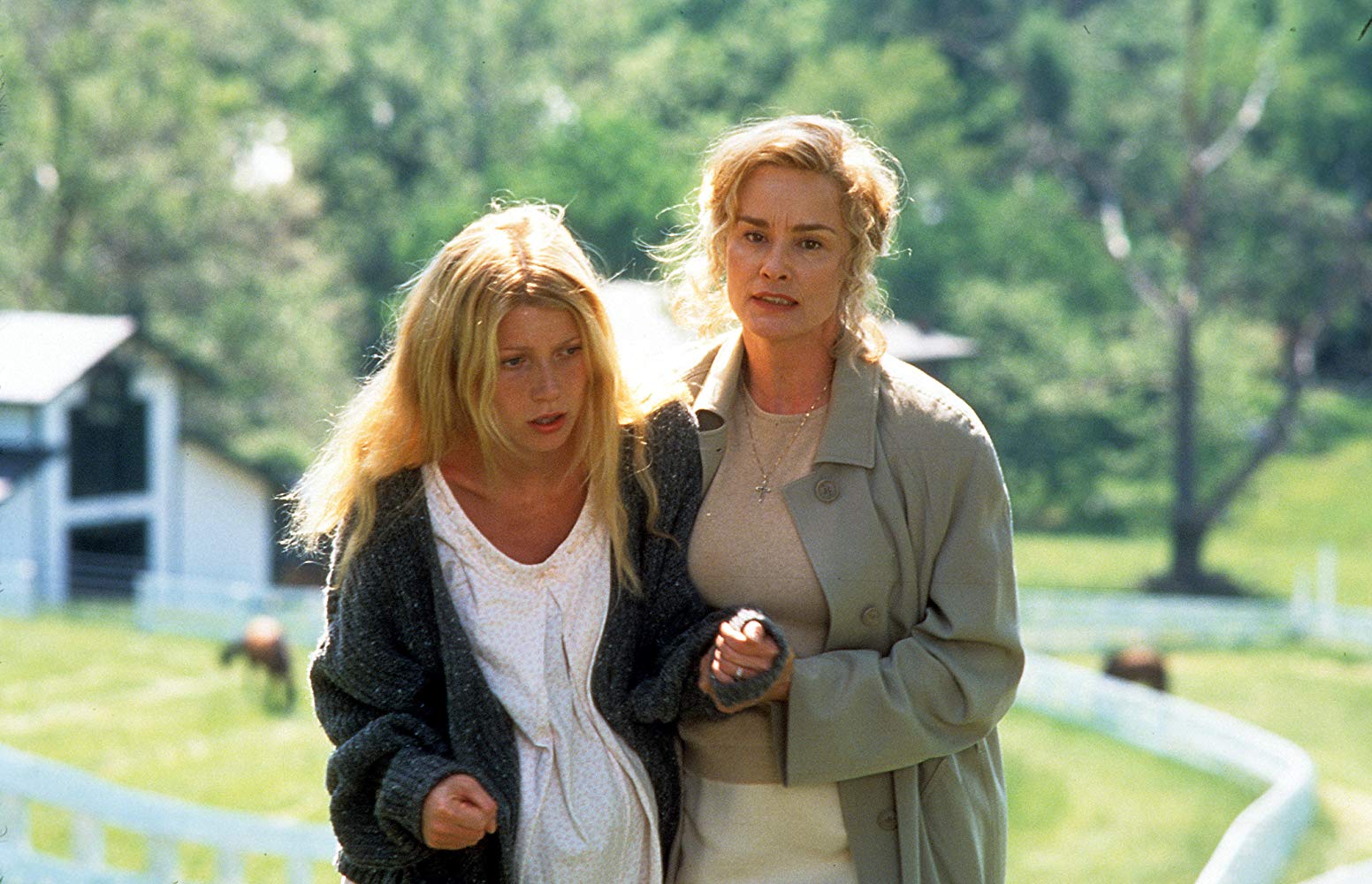 Alas, Jonathan Darby's direction is far too tame and Hush fails to fly with any of the Grand Guignol luridness that the original Baby Jane copies of the 1960s had. A scene where Jessica Lange threatens Nina Foch but merely leaves her in a steambath with the heat turned up when we keep expecting her to kill Foch is extremely tame as the expectations of this genre go.
Although there is a certain nastiness to the scenes where Gwyneth Paltrow starts giving birth and Jessica Lange sits back and does her knitting, doing nothing to relieve Gwyneth's pain and then leaves her to haemorrhage to death after the baby is born. (The one other film of the 1960s that Hush reminds of is Rosemary's Baby (1968) with its horror of pregnancy themes and its paranoia of a pregnant wife believing that the people around her are conspiring against her but being unable to get her husband to believe what is happening).
Hush should not be confused with the similarly titled films such as the road movie psycho-thriller Hush (2008) or the fine Mike Flanagan thriller Hush (2016).
---
---