---
Crew
Director/Screenplay – Patty Jenkins, Producers – Mark Damon, Donald Kushner, Clark Peterson, Charlize Theron & Brad Wyman, Photography – Steven Bernstein, Music – BT, Music Supervisor – Howard Paar, Special Effects Supervisor – Philip Beck, Production Design – Edward T. McAvoy. Production Company – K-W Productions/Denver & Delilah Films/VIP Medienfonds 2/MDP Filmproduktion.
Cast
Charlize Theron (Aileen Wuornos), Christina Ricci (Selby Wall), Bruce Dern (Tom), Lee Tergesen (Vincent Corey), Annie Corley (Donna), Scott Wilson (Horton/'Last John'), Pruitt Taylor Vince (Gene/'Stuttering John'), Marco St John (Evan/'Undercover John'), Marc Macaulay (Will/'Daddy John')
---
Plot
In a Daytona Beach gay bar, Selby, a shy lesbian, meets Aileen, a coarse woman who claims that her truck has broken down. Selby buys Aileen a beer and then offers her a bed for the night, even though Aileen insists she is not gay. The two soon become good friends and then lovers. Aileen tells Selby that she works as a prostitute. One of Aileen's johns then beats her and she responds by shooting him with a gun. She takes the john's car and money, which is enough for her and Selby to move into a motel together. Aileen tries without success to get a job to support the two of them. As they run out of money, she is forced back into prostitution and killing men for their money.
---
Monster is based on the life of serial killer Aileen Wuornos. Aileen Wuornos, who was incorrectly labelled "the first female serial killer", was executed in Florida in October 2002, charged with killing seven men, after picking them up as a highway prostitute and shooting them. Wuornos and many of the bizarre elements surrounding her ten year wait on Florida's Death Row became of enormous fascination to the public, helped in a good deal by Nick Broomfield's two documentaries Aileen Wuornos: The Selling of a Serial Killer (1992) and Aileen: Life and Death of a Serial Killer (2003).
Monster joins a mini-fad that has grown over recent years for independently financed biopics of famous serial killers. This has included the likes of Ed Gein (2000), Dahmer (2002), Nightstalker (2002), Matthew Bright's quite amazing Ted Bundy (2002), Gacy (2003), Evilenko (2004), The Hillside Strangler (2004), Starkweather (2004), The Zodiac (2005), Karla (2006), Lonely Hearts (2006), Ed Gein: The Butcher of Plainfield (2007), Zodiac (2007), The Alphabet Killer (2008), B.T.K. (2008), Drifter: Henry Lee Lucas (2009) and Freeway Killer (2010).
Of these, Monster has become the most famous, propelled into the spotlight as a result of Charlize Theron's multiple award winning performance. Probably if Monster did not have such acclaim, it would have languished like all the other aforementioned serial killer biopics in margins of arthouse and video releases. If anything, what Monster feels like it owes inspiration to is not these other serial killer biopics but Boys Don't Cry (1999). Both films feature gay love stories about girl-girl soulmates living on the margins of society; both films are based on true stories; and both were made by a woman director – indeed, the lead actresses in both films won an Academy Award for their role.
After its considerable breakthrough success, Monster received some criticism for its supposedly dubious authenticity. The worst of these was a scurrilous segment of 20/20, which slammed the film for not consulting the families of the victims and even Charlize Theron for not thanking the victims' families in her Academy Award acceptance speech. Although, when interviewed, all that some of the victims' families had to object to was that their murdered family member was not portrayed sympathetically and that was Aileen Wuornos was. It was a ridiculous piece of tabloid journalism that seemed determined to rake muck when none existed. Swept under the carpet in the piece was one of the producers' perfectly reasonable objection that the names and details of the victims were changed for legal reasons – the usual "characters portrayed bear no resemblance to persons living or dead" – and the simple good taste of not wanting to offend families.
What seems even more interesting is what the 20/20 piece left unquestioned – whether the families accepted it or not, Aileen Wuornos's history as a freeway prostitute was established beyond a doubt, so the question that lingers is what were their family members doing consorting with prostitutes? The great blind spot of the 20/20 piece seemed more to do with a refusal of the families to accept that loved ones might have a secret life consorting with prostitutes. Indeed, the families' outrage seems driven more by the same eye-for-an-eye mentality behind much so-called 'sensible sentencing' and pro-death penalty proponents – of angry victims refusing to see people accused of crimes as sympathetic or even human.
Contrary to all of this, Monster is very accurate to the facts of the Aileen Wuornos case. It should be pointed out that all of the abovementioned serial killer biopics change the name of their victims, so this seems a not unreasonable dramatic licence to extend to it. Elsewhere the filmmakers go so far as to shoot on location at some of the motels and even the real life bar where Aileen Wuornos was apprehended.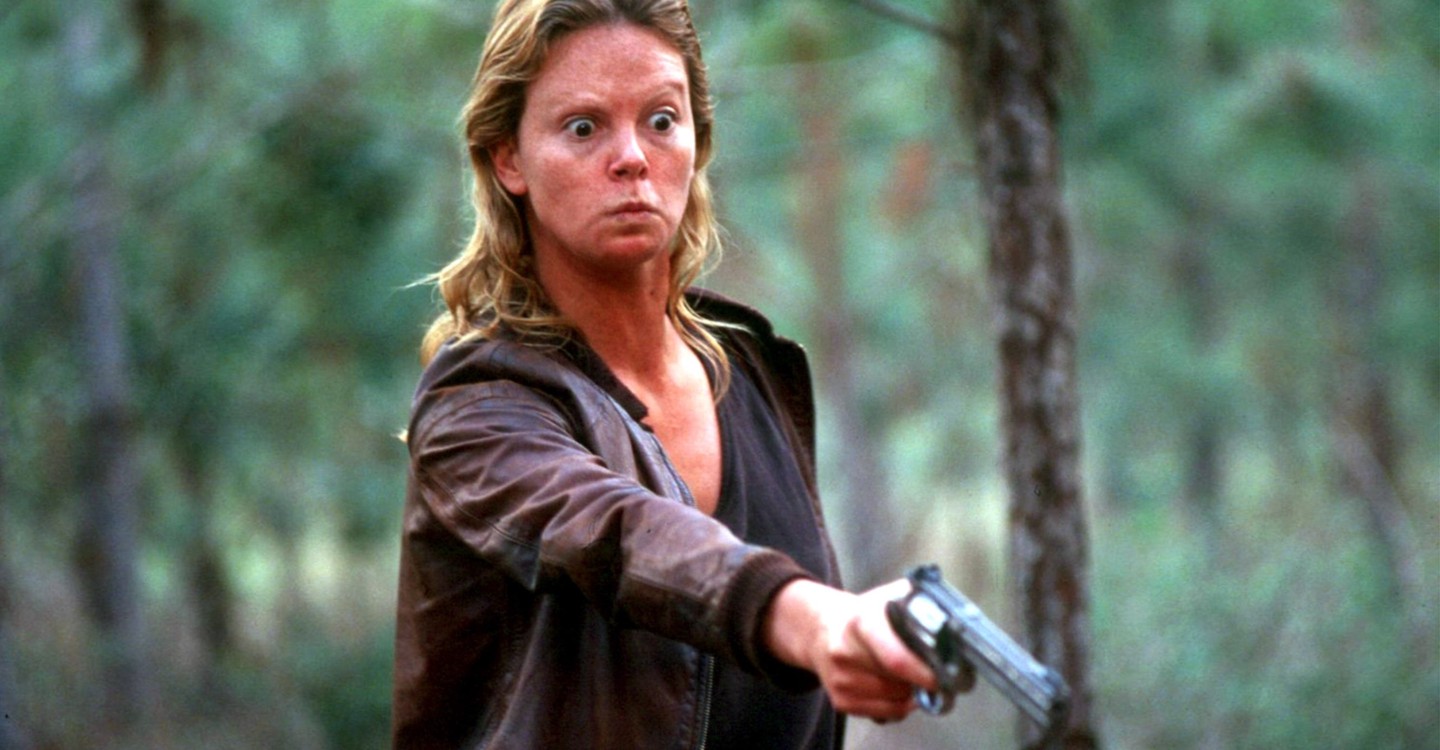 The aspects where Monster verges from the facts the most are the ending. The film is perhaps too sympathetic to Christina Ricci's Selby (in real life Tyria Moore). Wuornos's biographers are divided on Tyria Moore, as to whether Moore willingly sold Wuornos out and betrayed her in court or whether, as the film shows, she did so under pressure from the FBI to make a deal for immunity from prosecution. Certainly, the scene where we see Charlize Theron's Wuornos talking to Christina Ricci her from a jailhouse phone, while accurate to the real conversations, was in reality something that took place over several months where Tyria Moore broke down Wuornos's suspicions about being taped to get her to confess. Certainly, this is something that in its premeditation of action shows Tyria Moore in a far less sympathetic light.
Of course, the one other thing that Monster does not go into is some of the bizarreness of the happenings during Aileen Wuornos's wait on Death Row – her dope-smoking trial lawyer Steven Glazer who Wuornos found after a tv ad where he advertised himself as 'Dr Legal'; how she was legally adopted by Born Again Christian horse breeder Arlene Pralle in 1991, where Pralle subsequently appeared on various talkshows on Wuornos's behalf, while also claiming money for appearances, and how she eventually persuaded Wuornos to put herself right with God by pleading guilty to the murders. Also, Patty Jenkins portrays Wuornos too sympathetically – Charlize Theron's performance certainly never comes across with the genuine madness that we see in Nick Broomfield's documentaries.
However, what Patty Jenkins and Charlize Theron do do is portray Aileen Wuornos's mindset with a great deal of conviction – seeing how her killing spree came about as a dual result of her enacting her hatred against men for their abuse of her, and secondly simply out of socio-economic need – a desire not to hook but equally an inability to hold down a real job. The best scenes in Monster are those where we see Wuornos wavering in her decision – where she picks up Pruitt Taylor Vince's john, who proves to be a shy married man who is doing this for the first time and she cannot go through with killing him; or Scott Wilson who proves not to be a john at all but a Good Samaritan with a pregnant daughter and where we see her traumatised at having to kill him because he is a witness.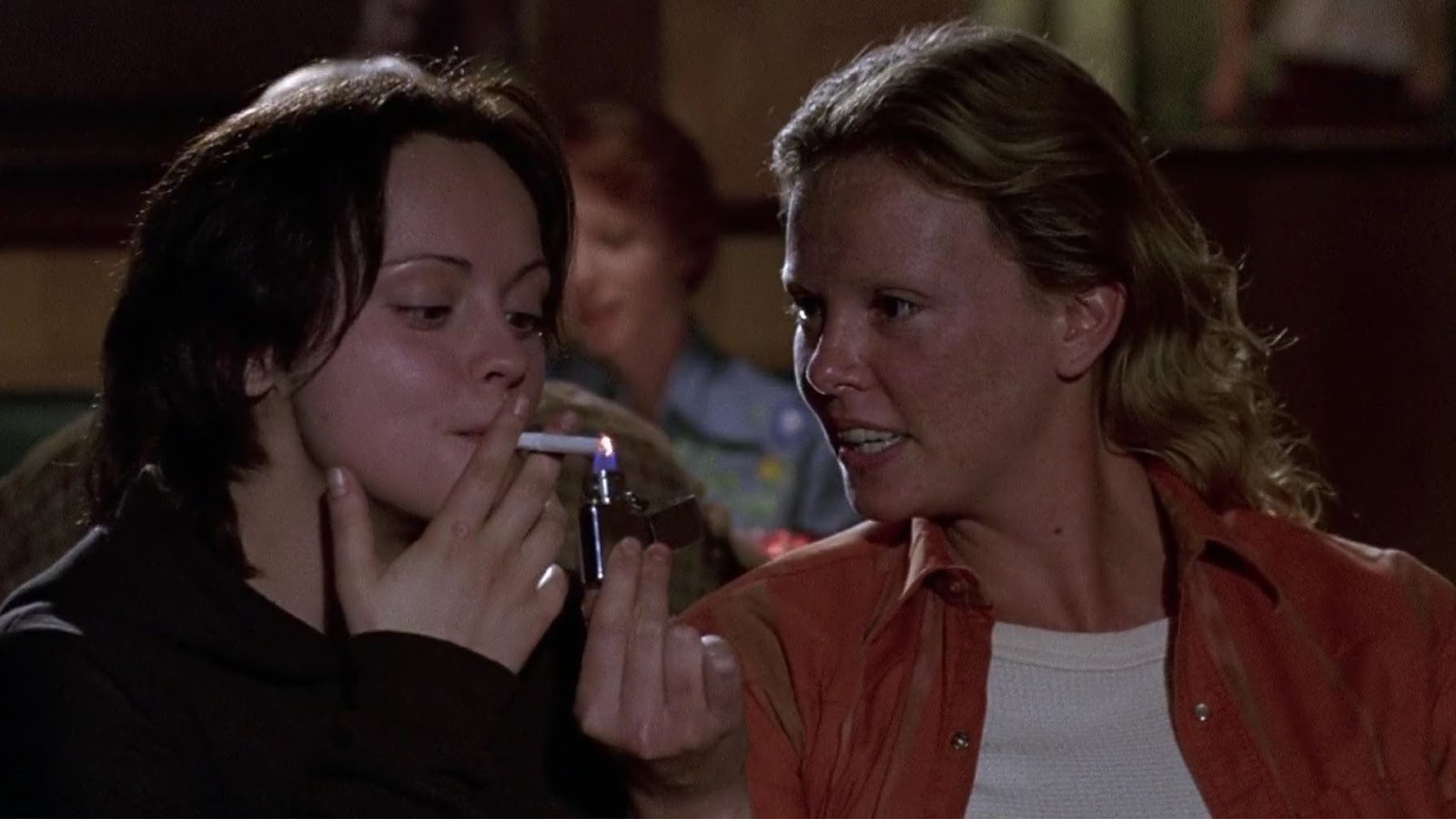 Contrary to what the families of the victims might think, Patty Jenkins does an excellent job of portraying the victims as three-dimensional people – showing some as sadistic abusers of women and others as decent people. You might compare Monster to some of the other fictional stories where abused gun-toting women take revenge – Death Weekend/The House by the Lake (1976), Day of the Woman/I Spit on Your Grave (1978), Thelma and Louise (1991), Dirty Weekend (1992), Baise-Moi (2000) or Enough (2002). In most of these other films, the victims are painted as irredeemable and the avenging women as justly aggrieved; whereas here the victims seem three-dimensional and are shown as a panoply of both abusers and decent people, while the avenging woman's motives are not at all black-and-white.
As almost every major awards event – some fourteen according to the film's promotional poster – has acknowledged, Charlize Theron gives a magnificent performance. I must admit up to this point, I was not a huge fan of Theron. Her roles – in films such as The Devil's Advocate (1997), Mighty Joe Young (1998), The Astronaut's Wife (1999), The Cider House Rules (1999), The Legend of Bagger Vance (2000) and The Italian Job (2003) – had always seemed like standard blonde Hollywood starlet, a creation more of the publicity machine and an army of fashion glamoristas than any native acting talent. Most of these roles could have been played by any A-list star, so little did Theron imprint any distinction and individuality on them.
Monster, in which Theron notedly took a producing role, is one occasion where she vindicates herself. She has clearly modelled her performance closely on the Wuornos that we see in Nick Broomfield's documentaries. At first, this becomes somewhat affected, but eventually we soon absorb ourselves in the character – the mark of her accomplishment being that what we see up on screen we wholly believe as being Aileen Wuornos, not Charlize Theron playing the part.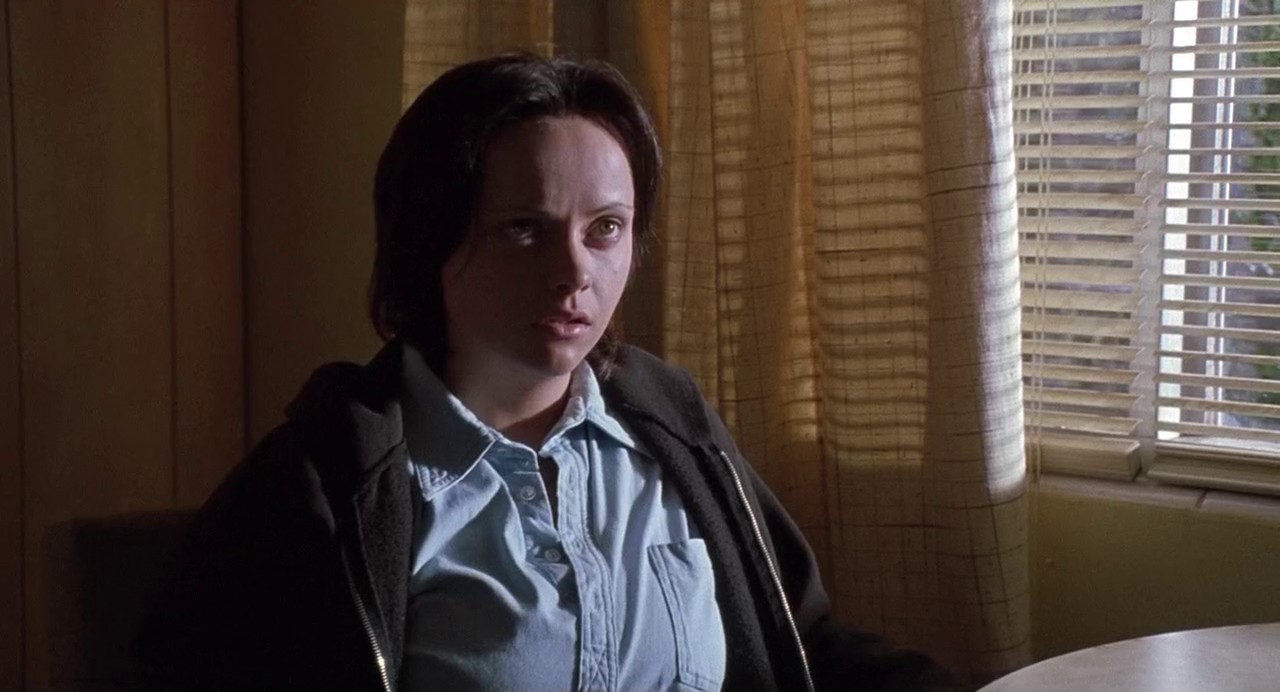 Christina Ricci is almost completely overshadowed by Theron, nevertheless gives a strong and sympathetic performance, even if in another of the film's dramatic licenses Ricci is a far cry from the solidly built and very butch-seeming Tyria Moore in real life.
Aileen Wuornos was also depicted on screen in the film Mass Murder (2002). Aileen Wuornos: American Boogeywoman (2021) tells of her younger years where she is played by Peyton List, while her ghost (played by Lily Rabe) turned up in the Devil's Night episode of American Horror Story: Hotel (2015).
One of the great disappointments is that so far Patty Jenkins has failed to follow up the acclaim enjoyed by Monster or any of the numerous offers that must have come her way. She was set to return with Thor: The Dark World (2013) but ended up being replaced. She subsequently enjoyed enormous success directing the big-screen version of Wonder Woman (2017) and its sequel Wonder Woman 1984/WW84 (2020).
(Winner in this site's Top 10 Films of 2003 list. Winner for Best Actress (Charlize Theron) and Nominee for Best Adapted Screenplay and Best Supporting Actress (Christina Ricci) at this site's Best of 2003 Awards).
---
---