USA. 1951.
Crew
Director – Alfred Hitchcock, Screenplay – Raymond Chandler & Czenzi Ormonde, Adaptation – Whitfield Cook, Based on the Novel by Patricia Highsmith, Photography (b&w) – Robert Burks, Music – Dimitri Tiomkin, Special Effects – H.F. Koenekamp, Art Direction – Edward S. Haworth. Production Company – Warner Brothers.
Cast
Farley Granger (Guy Haines), Robert Walker (Bruno Anthony), Ruth Roman (Ann Morton), Patricia Hitchcock (Barbara Morton), Laura Elliott (Miriam Haines), Marion Lorne (Mrs Anthony), Leo G. Carroll (Senator Morton), Robert Gist (Detective Hennessey), Howard St. John (Captain Turley)
---
Plot
On a train journey to Washington D.C., tennis pro Guy Haines meets Bruno Anthony who invites Guy to join him in his compartment. As they talk about the problems in their lives, Bruno idly mentions his plans for the perfect murder. He suggests an exchange – he murder Guy's wife Miriam who refuses to allow Guy a divorce so he can marry Ann Morton and that in return Guy murder Bruno's controlling father. Each of them would have an alibi and there would be nothing to connect them beyond their meeting on the train. Guy thinks this is crazy. Bruno then follows Miriam to a fairground and strangles her. Afterwards, Bruno starts hounding Guy, urging him to complete their agreement by murdering his father. When Guy refuses, Bruno makes his life into a nightmare and tries to pin the murder of Miriam on him.
---
Strangers on a Train is usually ranked up there as one of Alfred Hitchcock's greatest films – indeed, it currently ranks among the Top 250 Films on the Internet Movie Database. It came following a decade where Hitchcock had been steadily producing a series of exceptional thrillers with the likes of Rebecca (1940), Suspicion (1941), Saboteur (1942), Shadow of a Doubt (1943), Lifeboat (1944), Notorious (1946) and Rope (1948). Still ahead for him over the next few years would be the move into colour and the time when Hitchcock delivered some of his very best works – Dial M for Murder (1954), Rear Window (1954), To Catch a Thief (1955), Vertigo (1958), North by Northwest (1959) and, of course, Psycho (1960) and The Birds (1963).
Strangers on a Train is adapted from a 1950 novel of the same name by Patricia Highsmith, best known elsewhere for the series of novels that became The Talented Mr Ripley (1999). The script is co-written by Raymond Chandler, author of classic pulp detective novels such as The Big Sleep (1939), Farewell, My Lovely (1940) and The Long Goodbye (1953), as well as the screenplays for Double Indemnity (1944) and The Blue Dahlia (1946). (Apparently, Chandler disliked Hitchcock – so much for the seeming marriage of two of the great thriller names of the era).
In any more pedestrian a thriller, the set-up would be little more than a business-exchange but under Hitchcock it is twisted into something darkly psychological. Robert Walker's performance is rather cocky but Hitchcock lingers on his obsessiveness, leavening it with humour in a way that proves unnerving. In one charming scene that hardly anybody else but a Hitchcock could play with such drollness, Walker sits describing the delights of murder to two old dowagers at a cocktail party, making a series of ever-so-charming eyerolls of disgust at the impractical suggestions they offer. (Part of you cannot help but wonder during these scenes if Robert Walker is a direct stand-in for Hitchcock himself who loved nothing more than to contrast the outrage the banality of polite society by holding dinner parties and playing elaborate pranks on his guests).
There is always at least one set-up that everyone remembers in a Hitchcock film – here it is the shot that closes across a tennis court filled with faces that turn back and forward in unison following the ball, all except for one in the midst of the crowd – that of Robert Walker staring into frame. There are a number of other excellent scenes – Robert Walker's pursuit of Laura Elliott through the fairground comes filled with flashy peripheral jumps as he creeps up on her from unexpected directions or menacingly steps out in front of her to offer to light a cigarette, while Hitchcock shows off, letting us watch the the strangling stylishly reflected off her fallen glasses.
Before such a thing became a cliche, Hitchcock sets up a good many shots of Robert Walker just standing sinisterly watching from across the street or at the top of the steps of the Jefferson Memorial. That said, even someone as masterful as a Hitchcock finds it hard to drum up much suspense from a tennis match that slows proceedings down about three-quarters of the way through. Nevertheless, Hitchcock brings everything together for a spectacular and exciting climax with Farley Granger and Robert Walker pursuing one another around a runaway fairground carousel.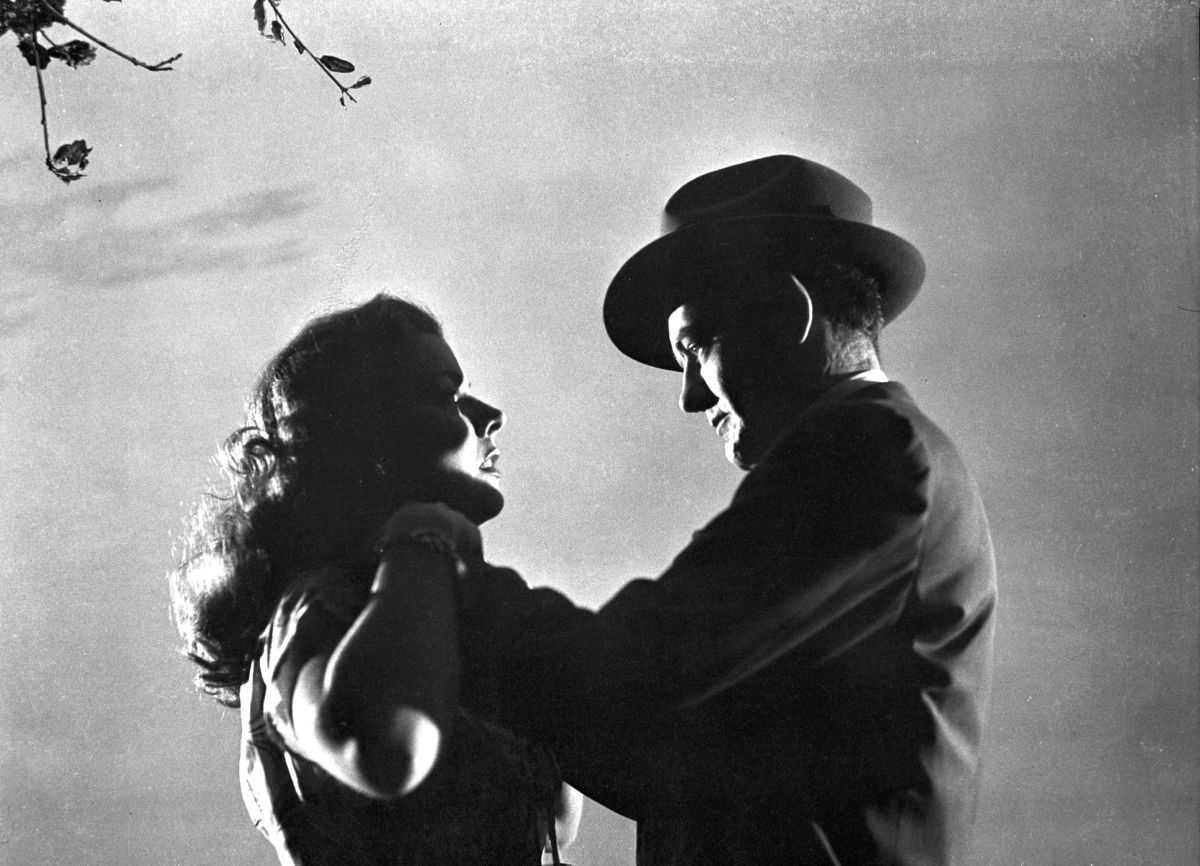 Robert Walker is all brash insouciance, rather effectively switching to play baby-faced innocent when it comes to acting deadly and psychopathic. On the other hand, Farley Granger plays everything at a nervous intensity and proves so cluelessly wet it is difficult to feel sympathy for him – even at the end, he is still begging Robert Walker to just tell the police what he did and set everything alright. Hitchcock's own daughter Patricia plays Ruth Roman's younger sister where Hitchcock feeds her some of the most deliciously dry lines. It is a great surprise that Patricia never went onto do much else in the way of acting.
Strangers on a Train was directly remade as the tv movie Once You Meet a Stranger (1996), albeit with a change of the sexes where Farley Granger was replaced by Jacqueline Bissett and Robert Walker by Theresa Russell. The basic premise has been copied in other films such as Once You Kiss a Stranger (1969), Throw Momma from the Train (1987) and Bad Influence (1990) and parodied in episodes of The Simpsons (1989– ).
Alfred Hitchcock's other films of genre interest are:– The Lodger: A Story of the London Fog (1927), Elstree Calling (1930), Shadow of a Doubt (1943), Rope (1948), Vertigo (1958), The Birds (1963) and Frenzy (1972). Hitchcock also produced, introduced and occasionally directed the anthology tv series Alfred Hitchcock Presents (1955-62). Hitchcock's life is depicted in the films The Girl (2012) and Hitchcock (2012).
---
---