---
Crew
Director – Lee H. Katzin, Screenplay – Theodore Apstein, Based on the Novel The Forbidden Garden by Ursula Curtiss, Producer – Robert Aldrich, Photography – Joseph Biroc, Music – Gerald Fried, Art Direction – William Glasgow. Production Company – Associates and Aldrich.
Cast
Geraldine Page (Claire Marrable), Ruth Gordon (Mrs Dimmock), Rosemary Forsythe (Harriet Vaughn), Robert Fuller (Mike Darrah), Joan Huntingdon (Julie Lawson), Mildred Dunnock (Miss Edna Tinsley)
---
Plot
When Claire Marrable's husband dies, she is informed by her lawyer that the entirety of his estate has been consumed by death duties. She is left penniless as a result. Claire finds a way of surviving by hiring a succession of widowed housekeepers, purloining their money on the pretext of investing it for them, and then killing them off. When Claire hires Mrs Dimmock as her latest housekeeper, she is unaware that Mrs Dimmock has come seeking clues to the whereabouts of her missing friend. As Mrs Dimmock starts nosing around and prying into Claire's secrets, a psychological game of wits ensues between the two of them.
---
Director Robert Aldrich had a huge success with What Ever Happened to Baby Jane? (1962). There Aldrich made a Grand Guignol melodrama out of pairing aging former stars Bette Davis and Joan Crawford against one another as deranged sisters. The success of What Ever Happened to Baby Jane? spawned a great many copies, all featuring aging actresses of the 1930s and 40s going bonkers in grandly rafter-rattling style. Both Crawford and Davis found new life injected into their careers as a result of Baby Jane. Robert Aldrich went onto make a further Batty Old Dames film with Hush … Hush, Sweet Charlotte (1964), which also featured Bette Davis and initially Joan Crawford, though she quit halfway through to be replaced by Olivia De Havilland.
What Ever Happened to Aunt Alice? followed Baby Jane and Sweet Charlotte and forms the third in a trilogy of these batty old harridan psycho-thrillers for Robert Aldrich. Unlike the other two films, here Aldrich takes only a backseat role as producer. He dispenses with Bette Davis and Joan Crawford (or for that matter Olivia De Havilland) and the equivalent roles are now inherited by Geraldine Page and Ruth Gordon.
Replacing Aldrich in the director's seat was Lee H. Katzin, previously a tv director. Unlike the other two films, What Ever Happened to Aunt Alice? makes the move into colour but otherwise it is the same business as usual for Aldrich. What Ever Happened to Aunt Alice? is equally as much fun as both Baby Jane and Sweet Charlotte were, even if it has not enjoyed the reputation that the other two have.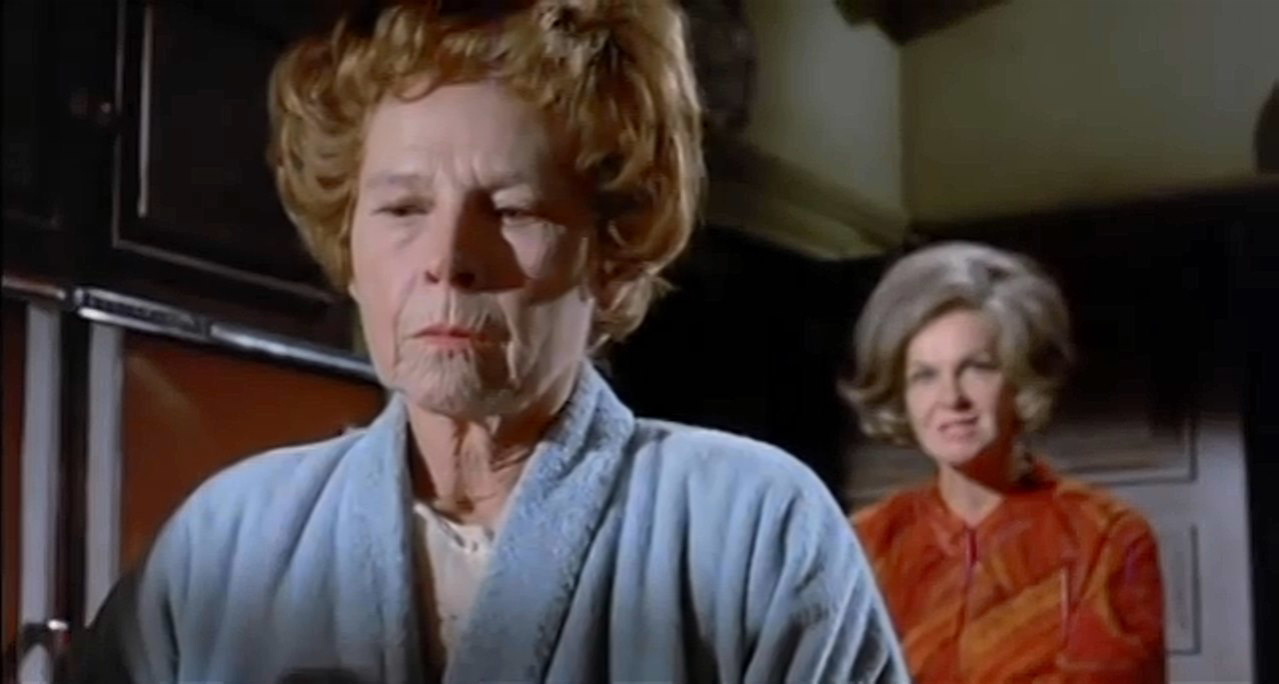 Geraldine Page plays slyly and nuttily over-the-top. She delivers the role with an arch Southern sophistication, all laced with a series of stinging sarcastic barbs. Indeed, she comes out something like A Streetcar Named Desire (1951)'s Blanche du Bois having been recast for a psycho film – which makes perfect sense when you think about it. The film's unabashed joy comes in seeing Geraldine Page placed up against the great Ruth Gordon and in watching the batty cat-and-mouse games as the two navigate around each other.
Ruth Gordon, a seasoned stage actress and playwright, had found sudden fame (at the age of 72) the year before as the next-door neighbour in Rosemary's Baby (1968) and a couple of years later would appear in the all-time black comedy classic Harold and Maude (1971). Gordon is absolutely marvellous – her wily, curious games with Geraldine Page are hilarious and she is extremely good when acting scared. The two completely dominate the show. Against them, the young leads are colourless, particularly the wooden Robert Fuller whose attempts to profess love to Rosemary Forsythe result more in unintentional laughter.
Robert Aldrich's two other batty old dames films, Baby Jane and Sweet Charlotte, were set in Old Dark House territory – gloomy mansions with looming shadows – and shot with high contrast black-and-white lighting. Contrarily with What Ever Happened to Aunt Alice?, Lee H. Katzin places Aldrich's patented Grand Guignol Gothic into a daylight setting – and moreover relocates it to the Arizona desert. To the mix, Katzin also adds a realism of jagged mobile camerawork and grainy film stock, an experiment that proves surprisingly successful.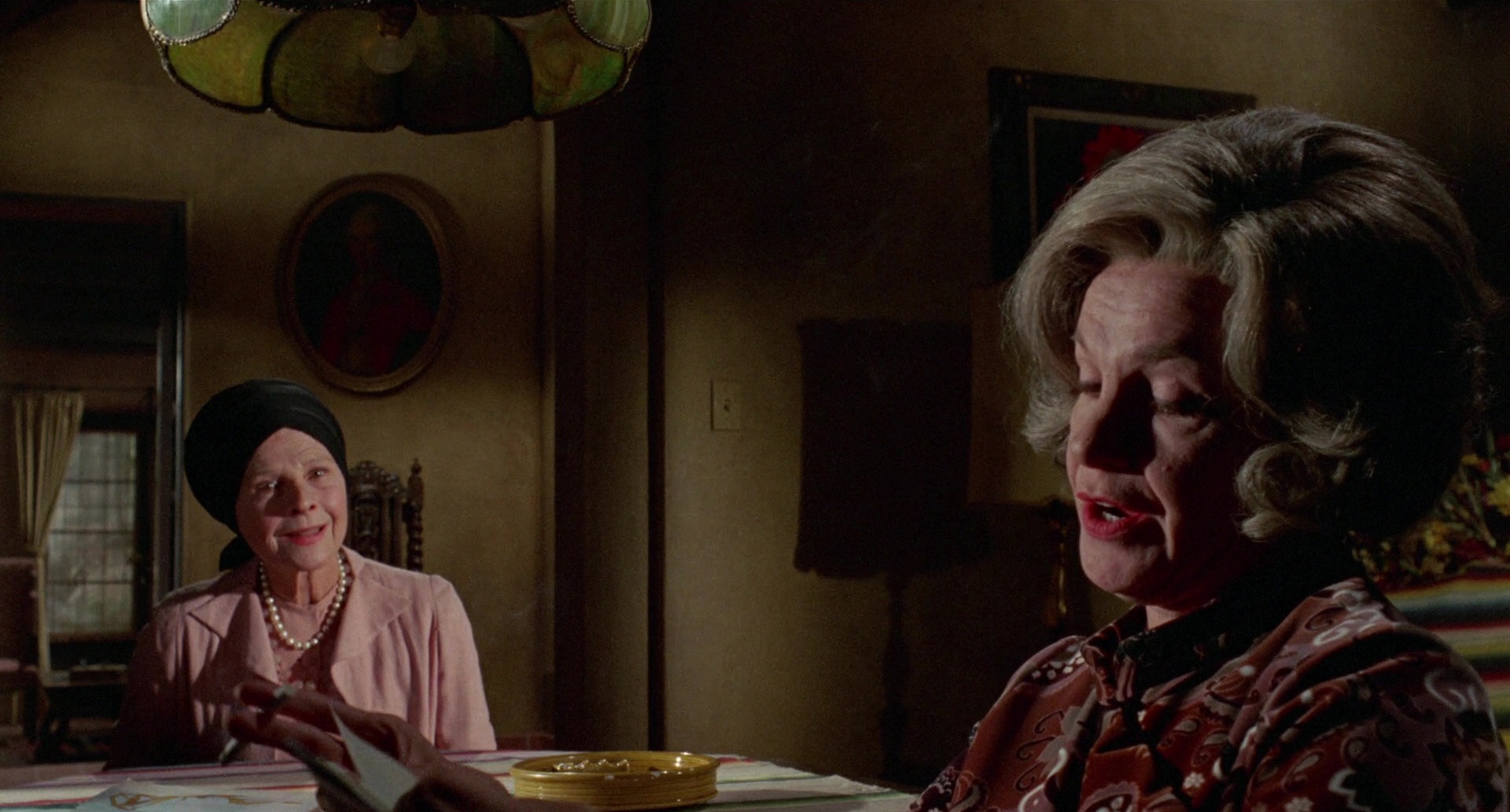 The joy of What Ever Happened to Aunt Alice? though is the suspense that comes in the prowling cat-and-mouse games between Geraldine Page and Ruth Gordon. Scenes like Ruth Gordon's sudden return to life in the car or her frenzied hunt for Robert Fuller's shoes are given a wonderfully edgy tension by Lee H. Katzin. The film also comes laced with a real sense of black humour – in particular, the cleverly ironic twist ending, which manages to make the film seem blacker than ever.
Director Lee H. Katzin spent most of his career, which lasted from the 1960s to the 1990s, working in television. He did direct one other theatrical films of genre note with the post-holocaust film World Gone Wild (1988), as well as the theatrically-released clairvoyance tv movie Visions (1972) and the Counter Earth tv movie The Stranger (1973). Elsewhere, Katzin directed episodes of shows such as Mission: Impossible (1966-73), The Mod Squad (1968-73), Space: 1999 (1975-7) and Man from Atlantis (1977-8).
---
---