---
Crew
Director/Screenplay – Osgood Perkins, Producers – Robert Menzies & Rob Paris, Photography – Julie Kirkwood, Music – Elvis Perkins, Visual Effects – Eggplant Pictures (Supervisor – Helen Thatch), Special Effects Supervisor – Ben Belanger, Production Design – Shane Boucher & Jeremy Reed. Production Company – Zed Filmworks/Go Insane Films/Paris Film, Inc.
Cast
Ruth Wilson (Lily Saylor), Paula Prentiss (Iris Blum), Bob Balaban (Mr. Waxcap), Lucy Boynton (Polly Parsons)
---
Plot
Lily Saylor takes a position in Greenberg, Massachusetts, working as a live-in care aid for the aging Iris Blum, a former horror writer. Iris is wandering mentally and keeps referring to Lily as Polly. Lily finds that Polly was the figure in Iris's most popular work The Lady in the Walls, which was based on the woman who used to live in the house in the 19th Century. Increasingly, Lily becomes certain that Polly's spirit lurks in the house.
---
This strangely titled film was the second feature from Osgood Perkins, sometimes also credited as Oz Perkins. While Osgood may not be a household name, his father certainly was. This was none other than Anthony Perkins, famous for the role of Norman Bates in Alfred Hitchcock's Psycho (1960). Prior to this, Osgood Perkins has a minor career as an actor – he first appeared on screen as a young Norman Bates in Psycho II (1983) and has small roles in everything from Six Degrees of Separation (1993), Wolf (1994), Legally Blonde (2001), Secretary (2002), Dead and Breakfast (2004) to Star Trek (2009). Osgood has also written the scripts for the thriller Cold Comes the Night (2013) and the horror films Removal (2010) and The Girl in the Photographs (2015). He previously made his directing-writing debut with the horror film The Blackcoat's Daughter/February (2015) and subsequently went on to make the extraordinary Gretel & Hansel (2020). Osgood's younger brother Elvis Perkins is also responsible for the film's score.
It becomes apparent with I Am the Pretty Thing That Lives in the House that Osgood Perkins is making a haunted house film. This is a genre that has become creatively exhausted in recent years. However, it is plain within the opening scene that I Am the Pretty Thing That Lives in the House is no ordinary haunted house film. One's attention is immediately captured by the vividness of the voiceover dialogue that Perkins writes – none more so than Ruth Wilson's quiet statement "A few days ago, I turned 28 years old. I will never be 29 years old."
Thereafter, the film absorbs one with the atmosphere that Osgood Perkins creates. The strong disclaimer that should be made is that the film moves with an incredibly slow pace. Most of the show consists of Ruth Wilson walking around the house and nothing much happening. Unusually, all of the atmosphere of the film is provided by Ruth Wilson's hauntingly written voiceover narration – even if I am not sure if I fully followed the way the film arrives at its end. What this does remind of is Rodrigo Gudiño's The Last Will and Testament of Rosalind Leigh (2012), which was similarly almost entirely a two person haunted house film of funereal pace that was driven by the voiceover narration. Indeed, it is not right until the end when we actually get a scene where Ruth Wilson actually sees something ghostly. Given the funereal slow pace of the rest of the film, the abruptness of what we see and the sudden jangling of the soundtrack serves to make us sit bolt upright in our seats.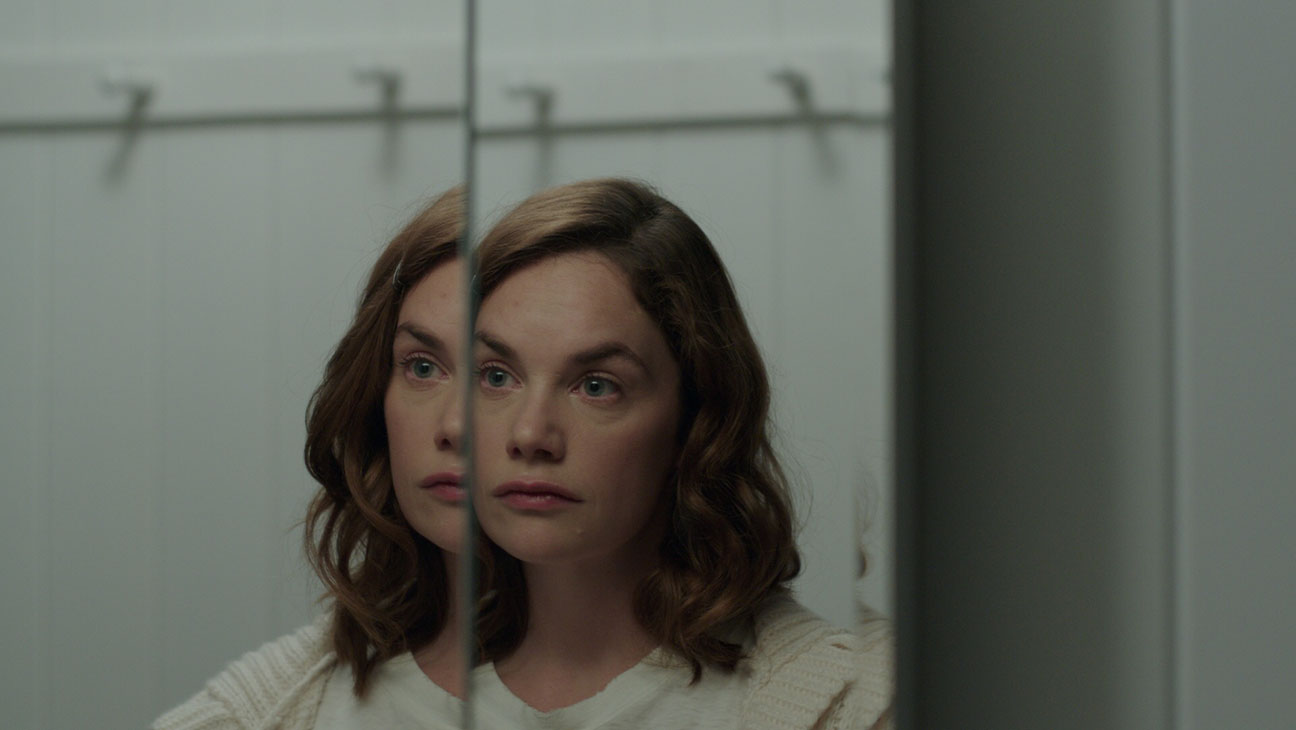 As the film started, I kept trying to think where I had seen Ruth Wilson before. After a quick look up on such matters, it became obvious – she is a British actress and was the female serial killer/confidante of Idris Elba in tv's Luther (2010-6) and as 313 in the mini-series remake of The Prisoner (2009). (Not long after the film was released, Wilson's profile began to rise in a big way). Not that you would recognise her here. She enters the film with naturally wild shock of red hair severely tied back and wearing a mustard yellow top, followed by a nurse's white uniform and thereafter usually a T-shirt, sweater and comfy bed socks or some variant. Moreover, here she is playing far quieter than with the calculating wildness she did on Luther and is no more than a mousy average modern girl.
The film is essentially only a two-person drama, apart from a couple of scenes featuring Bob Balaban. Aside from Ruth Wilson, the only other person present is Paula Prentiss. Prentiss is not a name so well remembered these days but was considered hot in the 1970s after appearances in films such Catch 22 (1970), The Parallax View (1974) and The Stepford Wives (1975). Even then, Prentiss plays most of her part through dementia leaving much of the film as a one-person show.
---
---