---
Crew
Director – Nic Mathieu, Screenplay – George Nolfi, Story – Ian Fried & Nic Mathieu, Producer – Jillian Share, Photography – Bojan Bazelli, Music – Tom Holkenborg, Visual Effects – Hy*drau*lx (Supervisors – Colin Strause & Greg Strause), Vitality VFX (Supervisor – Leong Wongsayun) & Weta Digital Limited (Supervisor – Erik Winquist), Special Effects Supervisor – Yves De Bono, Prosthetic Makeup Effects – Filefex Studio (Designer – Ivan Poharnok), Production Design – Tom Meyer. Production Company – Legendary Entertainment.
Cast
James Badge Dale (Dr Mark Clyne), Emily Mortimer (Fran Madison), Bruce Greenwood (General James Orland), Max Martini (Captain Sessions), Cory Hardrict (Alessio), Clayne Crawford (Sergeant Toll), Gonzalo Melendez (Captain Marco Cabrera), Ursula Parker (Sarl), Aaron Serban (Bogdan), Louis Ozawa Changchien (Sergeant Chen), Ryan Robbins (Comstock), Stephen Root (Dr Mindala)
---
Plot
Mark Clyne, a weapons researcher in Virginia, is flown to Moldova upon the request of the US military. There he is asked to explain a series of images that appear in the recordings from the imaging goggles he designed for use in combat. The recordings appear to show spectral figures attacking and killing soldiers. CIA agent Fran Madison is certain that the rebels have built some form of cloaking technology, while the locals call the figures aratare, the spirits of the dead. Clyne goes out with a field patrol to investigate, only for the entire unit to be obliterated by the aratare. Forced to flee, the survivors seek take refuge and try to find a means of fighting back.
---
Spectral is a production from Legendary Entertainment, a company that has become prominent in recent years with works that include Batman Begins (2005), Superman Returns (2006), 300 (2007), Watchmen (2009), Inception (2010), Man of Steel (2013), Pacific Rim (2013), Godzilla (2014) and Warcraft (2016), among others.
The film was a directorial debut for Nic Mathieu. Mathiue also came up with the story, which was turned into a screenplay by George Nolfi, previously a screenwriter with scripts like Timeline (2003), Ocean's Twelve (2004), The Sentinel (2006) and The Bourne Ultimatum (2007), as well as director of The Adjustment Bureau (2011). Despite clearly having a more than reasonable budget thrown at it and originally being intended for a theatrical release Spectral was dumped to Netflix.
Spectral comes with a high-concept premise. The idea of soldiers fighting ghosts is an intriguing one. Previously we've had soldiers and vampires – The Keep (1983), soldiers and werewolves – Dog Soldiers (1988), and plenty of examples of soldiers and zombies but to my knowledge this is the first time we've had soldiers and ghosts. Even after setting the premise up, Nolfi's script starts playing with it. James Badge Dale has a great piece of writing where he stands up and proclaims he is a scientist who believes in evidence and refuses to back either the CIA's insistence that the spectral figures can be dismissed as insurgents or the locals' belief in spirits. Thereafter, the script is constantly toying and playing with ideas, all the while driven by this scientifically-grounded determination to analyse the phenomenon.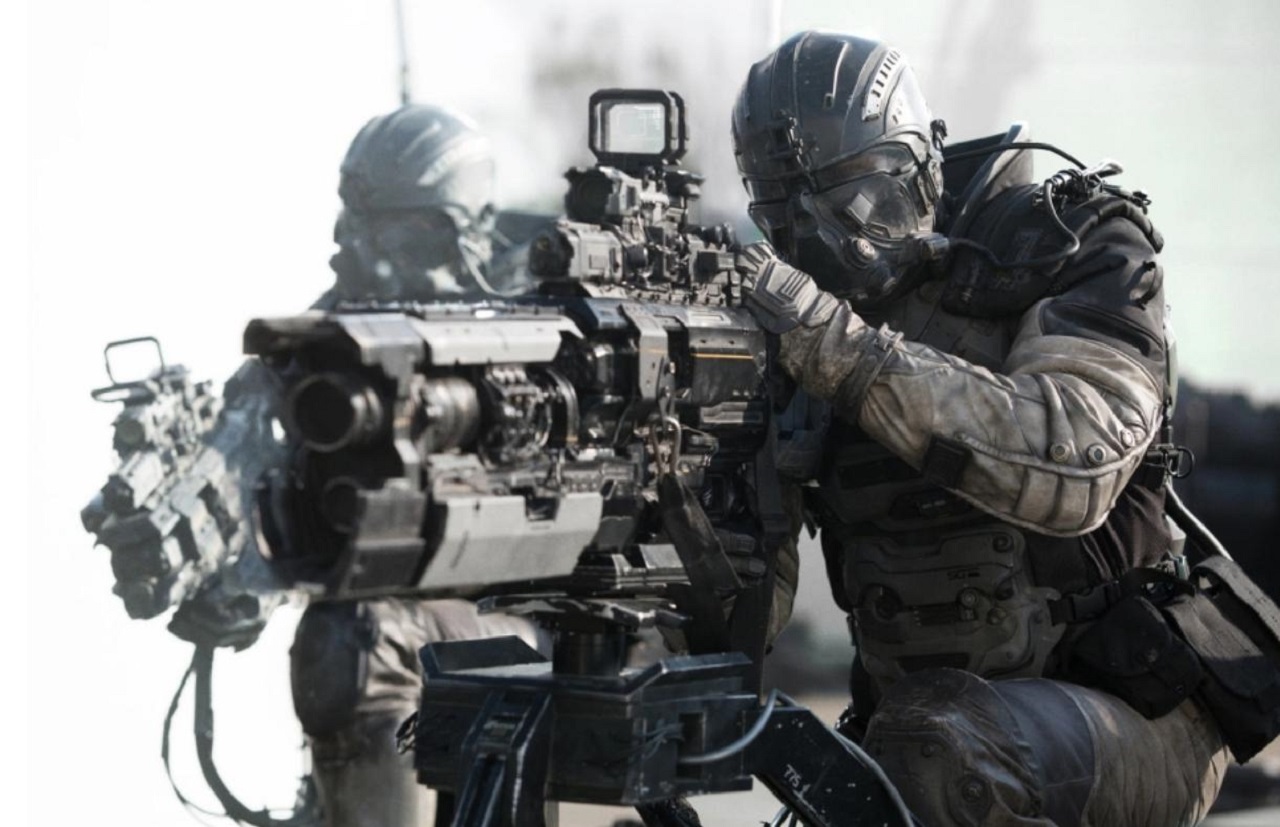 Nic Mathieu soon places us in the middle of a Black Hawk Down (2001) situation with the soldiers stranded and surrounded by enemy. From this point, the film becomes driven by a great deal of tension as Mathieu propels the film through a series of twists and turns as every refuge or source of help they seek is unexpectedly cut out from under them. There are even constant twists on the means of combating the aratare – they can be seen under a special projector but this is damaged and the party have to travel across several city blocks unable to see the creatures as they are being slaughtered wholesale. Throughout the scale of the film mounts until Mathieu arrives at a massively scaled climactic battle where the soldiers are holding off the creatures with weaponry as the others venture down into the power plant.
The eventual explanation places Spectral more in the realm of a science-fiction film than horror. Full marks to George Nolfi for contriving an explanation that involves the only occasion when Bose-Einstein Condensate has ever been used in a film. Bose-Einstein Condensate is a phenomenon that occurs very close to Absolute Zero temperatures (-273 degrees Centigrade or -459 Fahrenheit) and refers to the conditions there that allows gases to take on unusual properties akin to a new state of matter. The small problem with the use of the idea is that it refers to ways that matter forms at Absolute Zero. Above Absolute Zero, the condensate warms up and begins to behave as regular matter does again. Furthermore, the condensate has only ever been created at a quantum level in laboratory conditions and never more than a few hundred atoms.
We will ignore the difficulties there would be in creating enough of the condensate to build artificial bodies via 3D printers. However, the film has the aratare running around in daylight and room temperature conditions where anything made of Bose-Einstein Condensate would immediately revert to regular matter. The big climax of the film involves James Badge Dale venturing down into the complex and uncoupling a massive machine to destroy the creatures, where you cannot help but think that all that would have been needed for him to do this would have simply been turning on the central heating or opening all the windows in the building.
---
---