---
Crew
Director – Dominik Hartl, Screenplay – Dominik Hartl & Armin Prediger, Producer – Markus Fischer, Photography – Xiaosu Han & Andreas Thalhammer, Music – Paul Gallister, Visual Effects Supervisor – Lee Niederkofler, Special Effects Supervisor – Tissi Brandhofer, Makeup Effects/Creature Design – Chris "Creatures" Kunzman, Production Design – Florian Kaposi. Production Company – Fischerfilm.
Cast
Laurie Calvert (Steve Olsen), Gabriela Marcinkova (Branka), Oscar Dyekjaer Giese (Josh), Margarethe Tiesel (Rita), Karl Fischer (Franz), Kari Rakkola (Chekov), Martin Loos (Knaupp), Patricia Aulitzky (Hilde)
---
Plot
At a ski resort in the Austrian Alps, Franz is trying to get Russian businessman Chekov to invest in his invention of an artificial snow-making machine. However, Chekov accidentally ingests some of the chemicals used in the process and rapidly starts to become ill. Meanwhile, champion snowboarder Steve Olsen and his friend Josh are on the mountainside to film a scene where Steve skis down to meet a special guest. This ends in disaster when the impulsive Steve decides to do the run nude, only to find that the guest is a wheelchair-ridden young girl. Their funding is withdrawn and Steve, Josh and Steve's girlfriend Branka are abandoned on the mountainside. They take refuge at the mountainside chalet bar run by Rita, which is holding its end of season party. However, the infected Chekov starts biting everybody on the dancefloor and in rapid course Steve and the others are facing a horde of zombies.
---
Austria does not exactly stand out as a haven for horror cinema, although there have been some examples to emerge from there in recent years. Michael Haneke made the harrowing Funny Games (1997) there and in recent years there was the standout Goodnight Mommy (2014) and the chilling Michael (2011), while the gore film Blood Glacier (2013) did get some international play. A little bit of research shows the Austrian horror film has a history that includes efforts such as Hotel (2004), Dead in 3 Days (2006), Silent Bloodnight (2006), On Evil Grounds (2007), Vampire City (2009), Tartarus (2010), Blood City Massacre (2011), Necrophile Passion (2013), Biest (2014) and Therapy for a Vampire (2014), even if not many of these have enjoyed international play.
Attack of the Lederhosen Zombies is clearly intended to play into the gonzo zombie genre that has emerged in recent years – see titles such as Zombie Beach Party (2003), Poultrygeist: Night of the Chicken Dead (2006), Zombie Cheerleader Camp (2007), Zombie Strippers! (2008), Attack of the Vegan Zombies! (2009), Santa Claus vs. the Zombies (2010), Bong of the Dead (2011), Cockneys vs Zombies (2012) and Pride and Prejudice and Zombies (2016), among others. Although my complaint is that after offering up such a ridiculous and attention-grabbing title, Attack of the Lederhosen Zombies fails to feature anybody wearing lederhosen.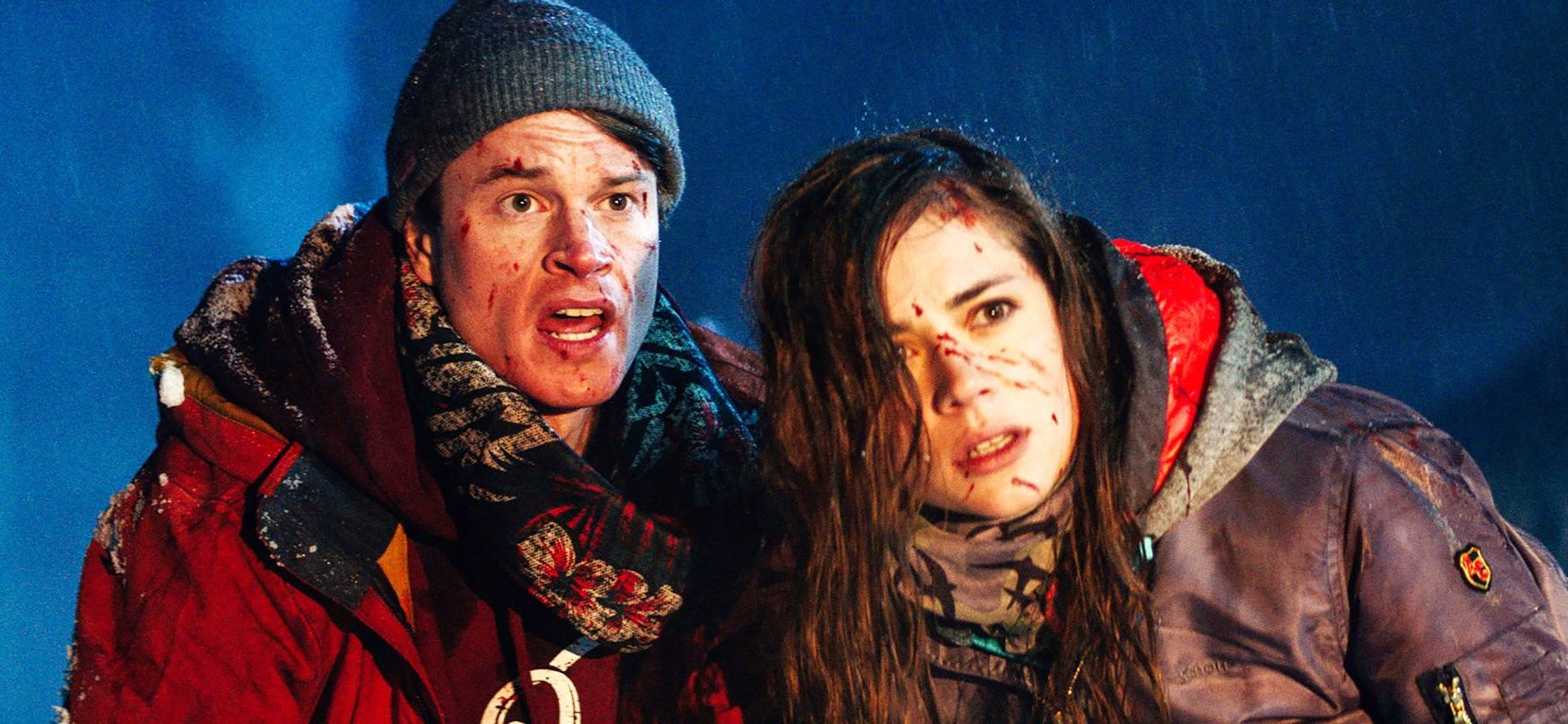 After a few introductory scenes that set up the characters and how the scenario begins, Dominik Hartl quickly skips forward to a full-blown outbreak set around the mountainside chalet as various of the characters defend themselves against the zombie horde.
Hartl's primary focus is on the comedy element, although the big complaint one would make about the film is that we have seen enough zombie comedies by now and there is nothing in these scenes that is particularly clever or outrageous. The one plus is that the gore and splatter effects are very accomplished.
The other complaint one would make is the miscasting of the central role. Laurie Calvert is cast as a character who has just one description – he is irresponsible and will do anything that is wild and crazy on impulse – but Calvert's playing is anything except that, as though Steve were just an anonymous preppie. By contrast, Gabriela Marcinkova in the role of his girlfriend gives a much more spirited reading and you cannot help but think would have made for a much better lead.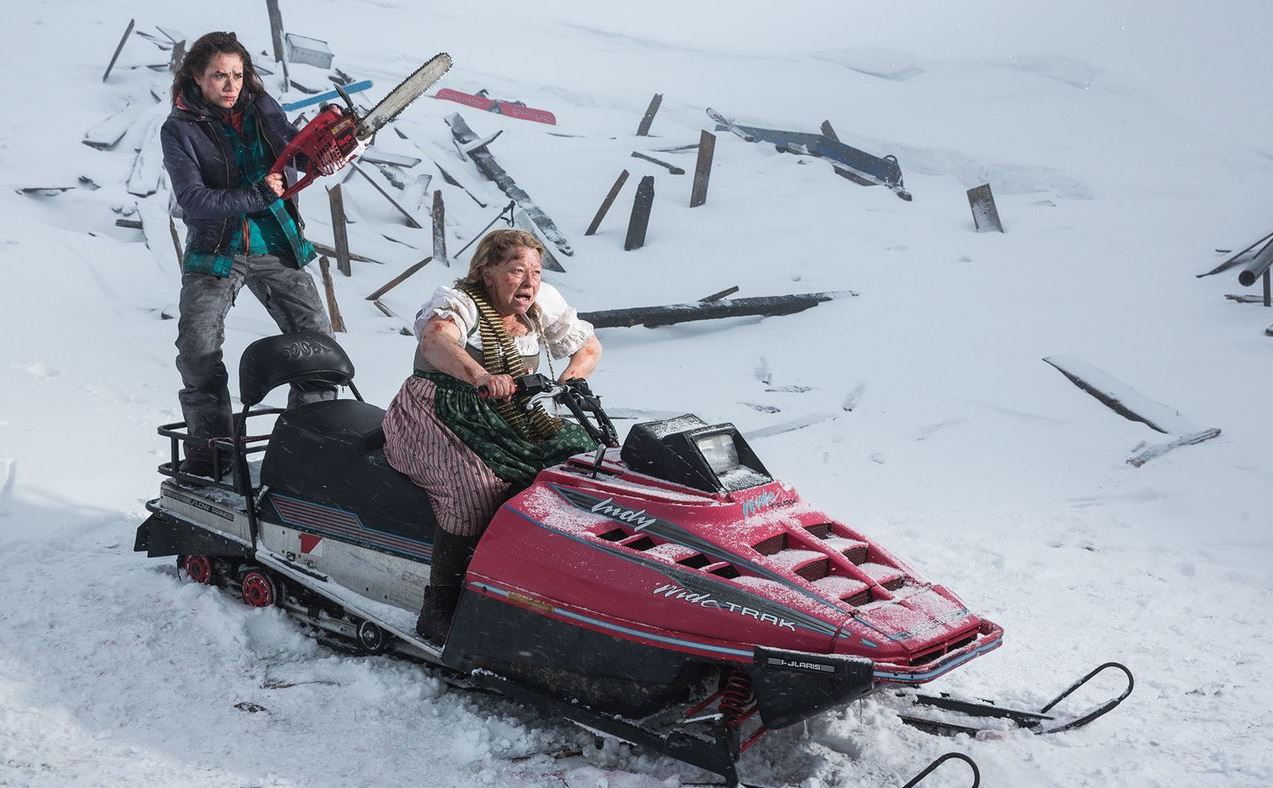 I was happy to dismiss Attack of the Lederhosen Zombies as just another wannabe zombie comedy driven by a fannish enthusiasm for the genre without much originality up until its last fifteen minutes when it suddenly redeemed itself. During the destruction of the chalet and the fight with the zombies on the side of the ski slope, Dominik Hartl goes for broke with the splatter and gore effects.
It is in these scenes that the film hits the stride of something approaching Hartl's stated source of inspiration Peter Jackson's Braindead/Deadalive (1992), which should be considered the first real gonzo zombie comedy. We get scenes with Laurie Calvert snowboarding down to slice the heads off zombies with his board; an eviscerated body with eyes left peering up out of its intestines; snowboards wielded to sever torsos; zombies churned up en masse inside snow blowers; faces sliced off and so on. This is all conducted with enormous vigour and creativity.
Director Dominik Hartl next went on to make the slasher film Party Hard, Die Young (2018).
(Nominee for Best Makeup Effects at this site's Best of 2016 Awards).
---
---