---
Crew
Director – Kevin Hamedani, Screenplay – Kevin Hamedani & Ramon Isao, Producer – John Sinno, Photography – John Guleserian, Music – Andrew Rohrmann, Digital Effects – Talos VFX, Special Effects – Tom Devlin, Makeup Effects – 1313fx, Production Design – Theresa Avram. Production Company – Typecast Pictures.
Cast
Janette Armand (Frida Abbas), Doug Fahl (Tom Hunt), Cooper Hopkins (Lance Murphy), Russell Hodgkinson (Joe Miller), Cornelia Moore (Cheryl Banks), James Mesher (Mayor Hal E. Burton), Bill Johns (Reverend Haggis), Ali Hamedani (Ali Abbas), Linda Jensen (Mrs Hunt), Andrew Hyde (Brian Miller), Victoria Drake (Judy Miller), Ryan Barret (Derek Blaine), Bill McQuaid (Dan Campbell), Irene Strauss (Mrs Happenstance)
---
Plot
In the idyllic American island town of Port Gamble, Frida Abbas, the daughter of an Iranian immigrant, has returned home, wanting to take some time away from her degree at Princeton. She goes out on a date with aspiring songwriter Derek Blaine, much to the disapproval of her father, who had just fired Derek as a dishwasher in his restaurant. While they are sitting talking in the car, Derek abruptly has his throat torn out by zombies. Meanwhile, Tom Hunt has returned to town for family dinner with his mother, bringing his boyfriend Lance Murphy with him. He fears coming out and telling his mother that he is gay. Just as he does so, his mother turns into a zombie from an infected bite. As they flee the zombie onslaught that suddenly overruns the island, they find the problem is just as much the prejudices of the townspeople. Frida is imprisoned by neighbour Joe Miller who blames the zombie outbreak on Islamic terrorists. Believing that Frida is part of a terrorist cell, he decides to torture her. Tom and Derek seek refuge in the church where the minister decides that this is Armageddon and the infected outside are being punished because they are sinners. When it is discovered that Tom and Derek are gay, it is decided that this must be cured with aversion therapy.
---
The late 00s has seen a great upsurge in the zombie film following the successes of films like Resident Evil (2002), 28 Days Later (2002), Dawn of the Dead (2004) and Shaun of the Dead (2004). Most of the modern zombie films have taken their cue from Shaun of the Dead and offer up tongue-in-cheeks zombie comedies and/or gonzo title collusions, which have included the likes of Zombie Beach Party (2003), Poultrygeist: Night of the Chicken Dead (2006), Attack Girls' Swim Team vs. the Undead (2007), Z: A Zombie Musical (2007), Ninjas vs Zombies (2008), Zombie Strippers! (2008), Attack of the Vegan Zombies! (2009), Romeo and Juliet vs the Living Dead (2009), Stag Night of the Dead (2009), Big Tits Zombie (2010), Santa Claus vs. the Zombies (2010), Bong of the Dead (2011), Abraham Lincoln vs. Zombies (2012), Cockneys vs Zombies (2012), Pro Wrestlers vs Zombies (2014), Zombeavers (2014), MILFs vs Zombies (2015), Scouts Guide to the Zombie Apocalypse (2015), Attack of the Lederhosen Zombies (2016), Pride and Prejudice and Zombies (2016) and Fat Ass Zombies (2020), among others. (For an overview of the zombie genre see Zombie Films).
The original zombie films of George Romero held potent metaphors of social criticism – Night of the Living Dead (1968) was seen as a response to the Vietnam War protests and Civil Rights movement in its vision of the world being turned upside down, while Dawn of the Dead (1978) held a satiric critique of consumerism. With occasional exceptions, the surge of zombie films in the 00s has been notable for their lack of social subtext. Zombies of Mass Destruction is one example that does leap onto the zombie film's potential for social critique with great deal of enthusiasm.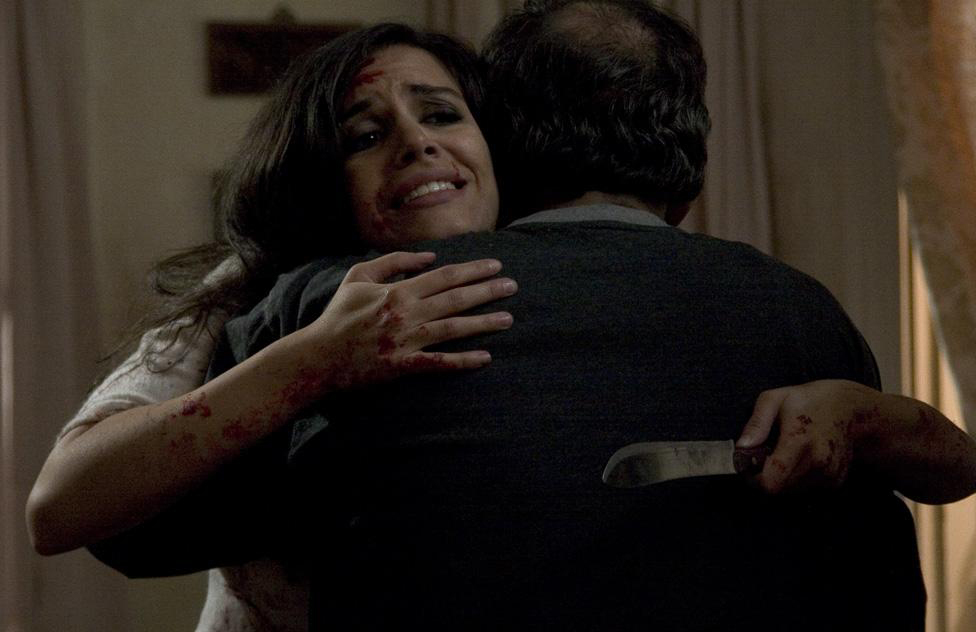 Debuting director Kevin Hamedani is himself Iranian-American and says that Zombies of Mass Destruction was fuelled by his feelings of being treated as a potential suspect by other Americans after 9/11. (There is no information available on whether or not Hamedani is gay). The film sets up an exaggeratedly idyllic parody of smalltown Americana and then takes sides with the disenfranchised – an Iranian-American girl (Janette Armand) who is tired of being seen as a non-American and a gay guy (Doug Fahl) who is trying to get it together to come out to his mother.
The film's idea is to treat these situations and the townspeople with comic amusement … and then suddenly introduce zombies. Unfortunately, this is presented in a way that is constantly hitting you over the head with its message-making. All of the points come as the type of satirical jabs that need to keep stressing everything loudly so that nobody misses everything – one lost count of the number of times that Janette Armand's character has to remind people that she is not an Iranian but an American.
This is not a zombie film with a biting social subtext; it is a film with messages to make in 26-point font type that has appropriated the zombie film to do so. The zombies essentially become a loose metaphor for anything that Kevin Hamedani wants to put in his target hairs – from American prejudices towards Arab-Americans, a critique of the Iraq War justifications and easy blaming of Islamic terrorism, an attack on the hypocrisy of the religious right and their absurd claims to be able to offer gay cures, while the end also takes on the establishment of Homeland Security. While I am fairly much on the same side of the political page Kevin Hamedani is in terms of promoting a culture of racial and alternate sexual tolerance and the dislike of what America turned into after 9/11, the points are so crudely overstressed that the film ends up switching you off.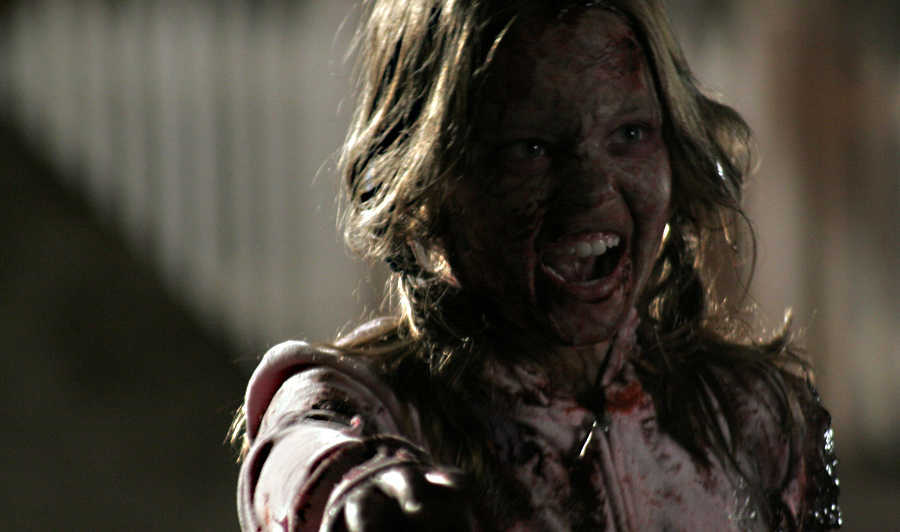 The film is in large part carried by its energy. Hamedani has enthusiastic fun with the splatter effects. The most effective scenes he pulls off are the carpet-pulling ones – a long scene where Janette Armand is out on a date with Ryan Barret and he professes his love for her, only to abruptly get his throat torn out by a zombie reaching in through the window.
There is an undeniable effectiveness to this because after such a long scene we don't expect something like that to happen. There is another equally effective scene a few minutes later where Janette Armand finds a lost little girl and takes her home, promising that "nothing bad is going to happen to you," only for the girl to be hit by a speeding driver as they cross the road.
The film's most effective scenes are those where Doug Fahl and boyfriend Cooper Hopkins are sheltering in a church where the reverend equates the zombie infection with sin and their survival with moral purity, only for the two of them to be exposed and it decided they have to be cured of their gayness.
---
---