---
Crew
Director – John McPhail, Screenplay – Alan McDonald & Ryan McHenry, Producers – Naysun Alae-Carew, Nicholas Crum & Tracy Jarvis, Photography – Sara Deane, Music/Lyrics – Roddy Hart & Tommy Reilly, Visual Effects Supervisor – Matt Cameron, Visual Effects – Black Flag VFX, Blazing Griffin VFX, Buzzbox VFX & Fix FX, Special Effects Supervisors – Wayne Bennett & Darren Wallace, Makeup Design – Maxine Dallas, Production Design – Ryan Clachrie. Production Company – Blazing Griffin/Parkhouse Pictures/Creative Scotland/Constellation Creatives.
Cast
Ella Hunt (Anna Shepherd), Malcolm Cumming (John), Sarah Swire (Steph North), Paul Kaye (Arthur Savage), Christopher Leveaux (Chris Wise), Marli Siu (Lisa Snow), Ben Wiggins (Nick), Mar Benton (Tony Shepherd), Sean Connor (Graham), John Winchester (Tibbsy), Janet Lawson (Mrs Hinzman)
---
Plot
As preparations near for the school Christmas pageant, teenager Anna Shepherd sets off for her school day, not noticing that the zombie apocalypse has started around her. As the town and school collapse into chaos, she and her friends come together to defend themselves from the zombie onslaught.
---
The zombie film underwent a major revival in the mid-2000s. Amid the deluge of mostly low-budget copies that followed, Shaun of the Dead (2004) led the way to a more comedic take. A great many imitators have followed in 'Shaun's footsteps and offered up gonzo takes on the zombie film and/or spoof conceptual collusions with the likes of Zombie Beach Party (2003), Zombie Cheerleader Camp (2007), Zombie Strippers! (2008), Attack of the Vegan Zombies! (2009), Big Tits Zombie (2010), Santa Claus vs. the Zombies (2010), Bong of the Dead (2011), Abraham Lincoln vs. Zombies (2012), Cockneys vs Zombies (2012), Zombeavers (2014), Scouts Guide to the Zombie Apocalypse (2015), Attack of the Lederhosen Zombies (2016), Pride and Prejudice and Zombies (2016) and Fat Ass Zombies (2020), among others.
Anna and the Apocalypse claims to be the first zombie musical, although surprisingly enough it is not the first to do so. This, as far as I am able to determine, was Song of the Dead (2005) and this was followed by Z: A Zombie Musical (2007) and the little-seen Eat Me: A Zombie Musical (2009). Shortly after Anna and the Apocalypse was made but before it was released internationally, there was also the Disney Channel musical Zombies (2018). The IMDB also lists more than two dozen short films with some variant of 'zombie' and 'musical' in their titles.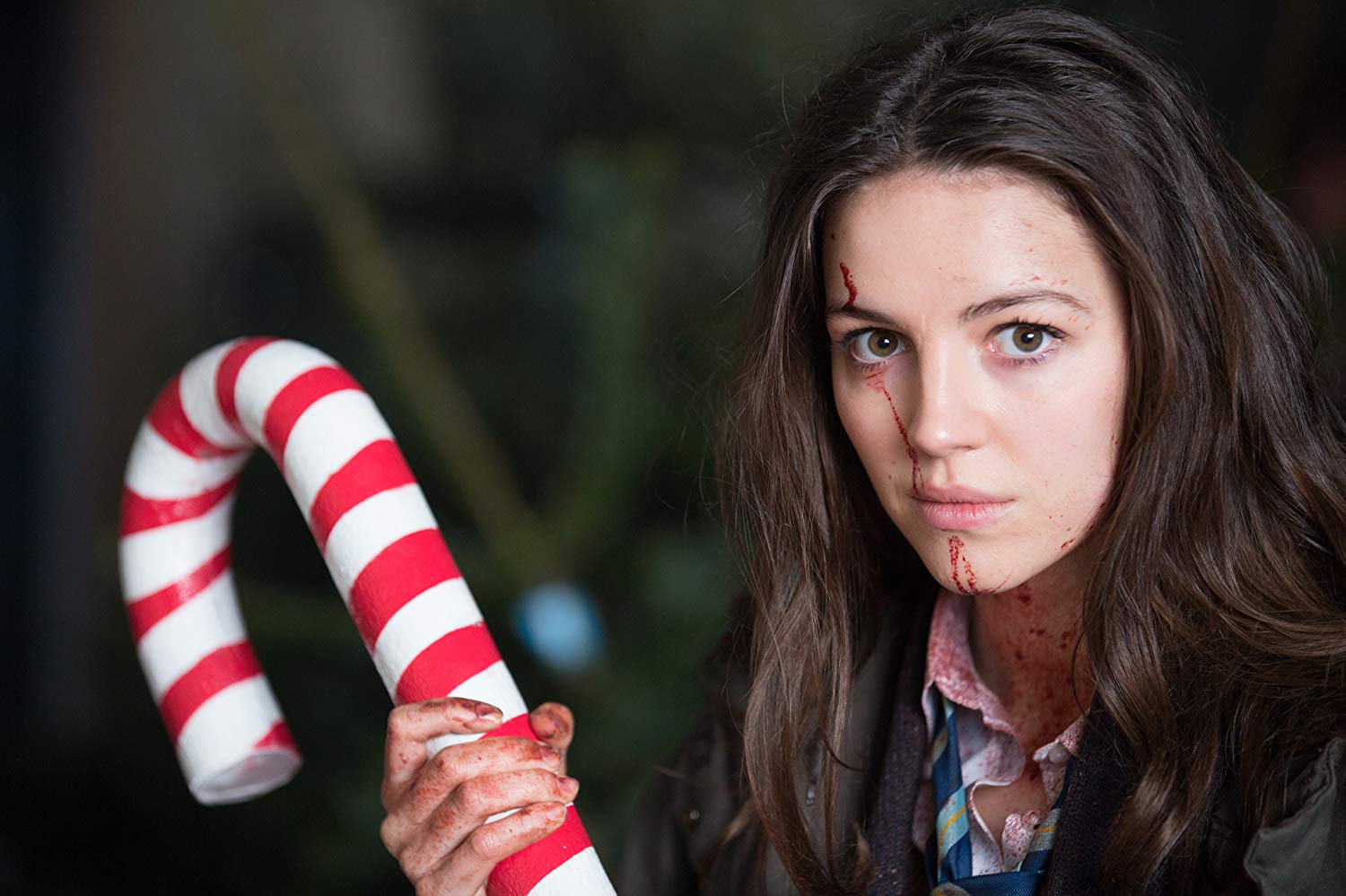 This version is based on Zombie Musical (2011), a 16-minute short film by Scottish filmmaker Ryan McHenry. This became a viral hit and McHenry laboured for several years to get financing to make a full-length version before he succumbed to cancer in 2013. The finished film was directed by John McPhail, a fellow Scot, who had previously made the romantic comedy Where Do We Go from Here? (2015)
I haven't seen any of the other zombie musicals so I have nothing to compare Anna and the Apocalypse to. On the other hand, it feels a mixed bag when viewed as either a zombie film or a musical. The zombie aspect feels entirely by the numbers. If you took the musical numbers out of the film, it would be an exceedingly ordinary zombie film merely about students defending themselves as zombies overrun a high school. The film does have a mild level of gore but things never get very apocalyptic.
Nor for that matter does Anna and the Apocalypse approach the wackiness of any of the entries in the gonzo zombie film. The one sequence that offers something mildly amusing is where four of the group make an escape through zombie-infested territory with an inflatable paddling pool turned upside down over their heads for protection – only for a zombified old lady to sit down where Sarah Swire is and wet her pants with Swire forced to huddle there with a plastic-covered puddle of urine on top of her.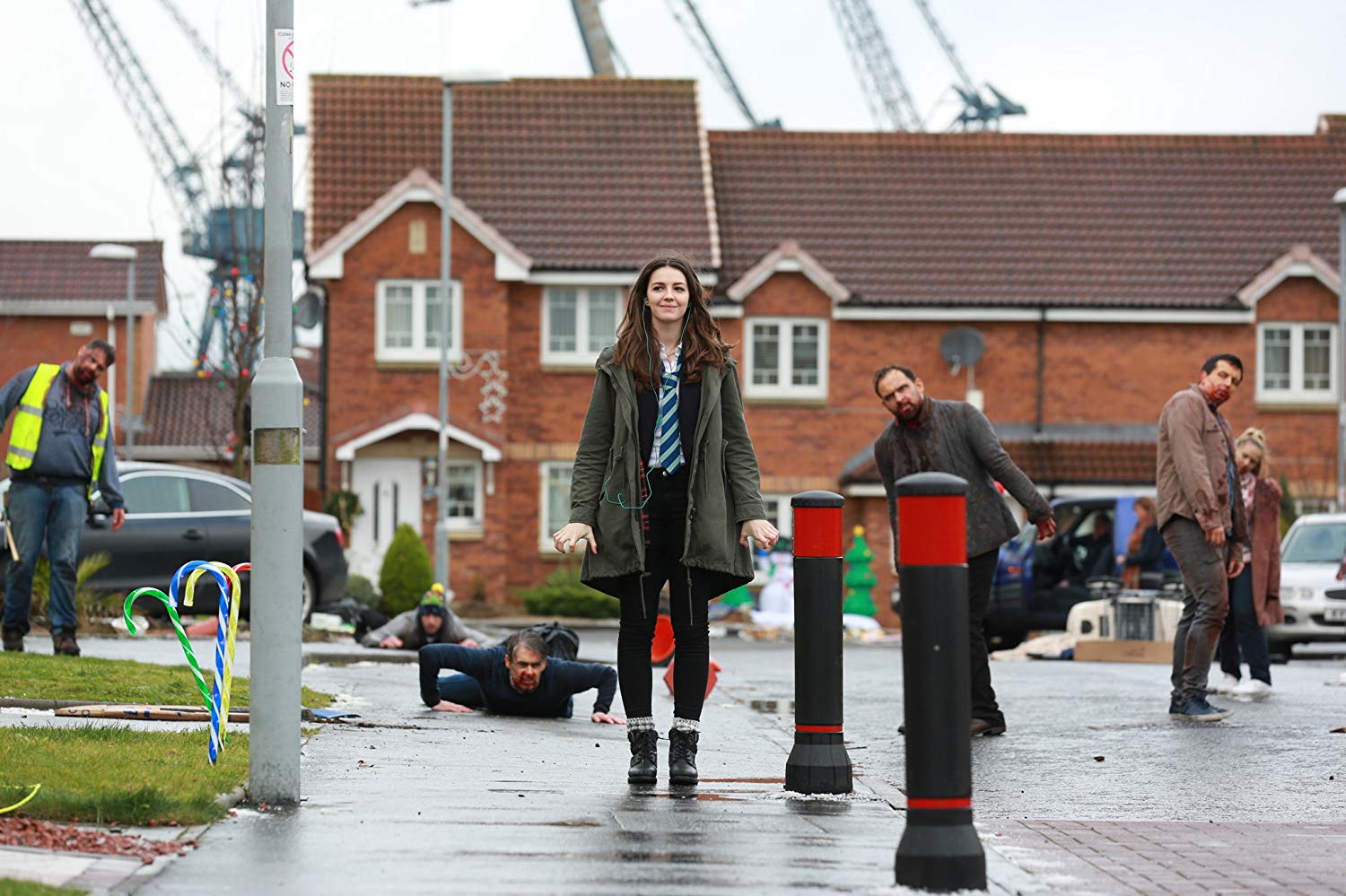 Equally, I must admit to being disappointed in Anna and the Apocalypse as a musical. I would have thought this was one area the film would have opened up and done something edgy. Instead, what we get is a soundtrack filled with bland and eminently forgettable pop tunes. Indeed, from a viewing of the film, you might get the impression that the only musicals the filmmakers were familiar with before this were High School Musical (2006) and sequels. It feels exactly 'Anna and the Apocalypse is trying to be a High School Musical knockoff but with the addition of zombies. And frankly pitching a genre-bending zombie film to a teenage demographic feels exactly like it is a severe miscalculation as to who the audience for the film would be.
The one scene where the film gets itself together is the one where Ella Hunt exits her house to head to school while singing a happy song about how it is a bright new day and life is full of promise oblivious as all around her the street is filled with crashed cars, burning buildings, people falling out of windows and zombies pursuing the living. It is here that John McPhail finally hits onto the gonzo sense of humour that Anna and the Apocalypse should have had. However, the rest of the film feels as though the material could have been pushed much further than it is and as such remains a wasted opportunity.
---
---