aka Beyond the Darkness; Buried Alive
(Buio Omega)
---
Crew
Director – Joe D'Amato, Screenplay – Ottavio Fabri, Story – Giacomo Guerrini, Photography – Aristide Massaccesi, Music – The Goblins, Set Design – Ennio Michettoni. Production Company – D.R. Mass Communications.
Cast
Kieran Canter (Francesco Koch), Cinzia Monreale (Anna Volki/Teodora Volki), Franca Stoppi (Iris), Sam Modesto (Kale), Lucia D'Elia (Hitch-Hiker), Anna Cardini (Jogger), Simonetta Allodi (Disco Girl)
---
Plot
Francesco Koch has inherited a countryside home following the death of his parents where he lives alone tended by his devoted housekeeper Iris. His girlfriend Anna Volki then dies. Francesco's hobby is taxidermy and so after the funeral he digs up Anna's body and brings it home. He removes the viscera and preserves her body, keeping it in a bed. Francesco picks up various other women – a hitch-hiker, a girl who twists her ankle while jogging, a girl he meets in a disco – but is forced to kill them when they discover his secret.
---
Blue Holocaust was one of the films from Italian director Joe D'Amato. D'Amato is regarded as the most prolific Italian film director of all time, having made nearly 200 films between the 1970s and his death in 1999.  D'Amato was born as Aristide Massacesi – he takes the cinematographer's credit here and on an number of his other films under that name – and hid behind over a dozen pseudonyms throughout his career. He worked in many genres, although it is for his extensive output of erotic/pornographic films that he is best known. (See below for Joe D'Amato's other genre films).
Blue Holocaust exists among a host of alternate titles – the literal translation of the original Italian title Buio Omega is Dark Omega. The film came from the period when D'Amato was working in the Italian exploitation genres of the day – he dipped his toes into the giallo, zombie, cannibal, sword and sorcery films and Mad Max copies that were popular during this period. Certainly, he was making far more coherent and better polished works than another contemporary like the vastly overrated Lucio Fulci. However, as with some of the strange combinations we ended up with such as the blend of porn and cannibal film in Emmanuelle and the Last Cannibals (1977), you suspect that D'Amato's real interest lay in making erotica.
The late 1970s/early 80s Italian cinema travels into what is perhaps the greatest extremes of any period of the horror film. This is the era of the notorious Cannibal Holocaust (1979) and a host of other cannibal and zombie films, which feature extremely graphic dismemberment and guttings, even the killing of animals on camera. Although Blue Holocaust is not a cannibal or zombie film, this push towards extremism dominated the Italian exploitation scene when Joe D'Amato was making the film.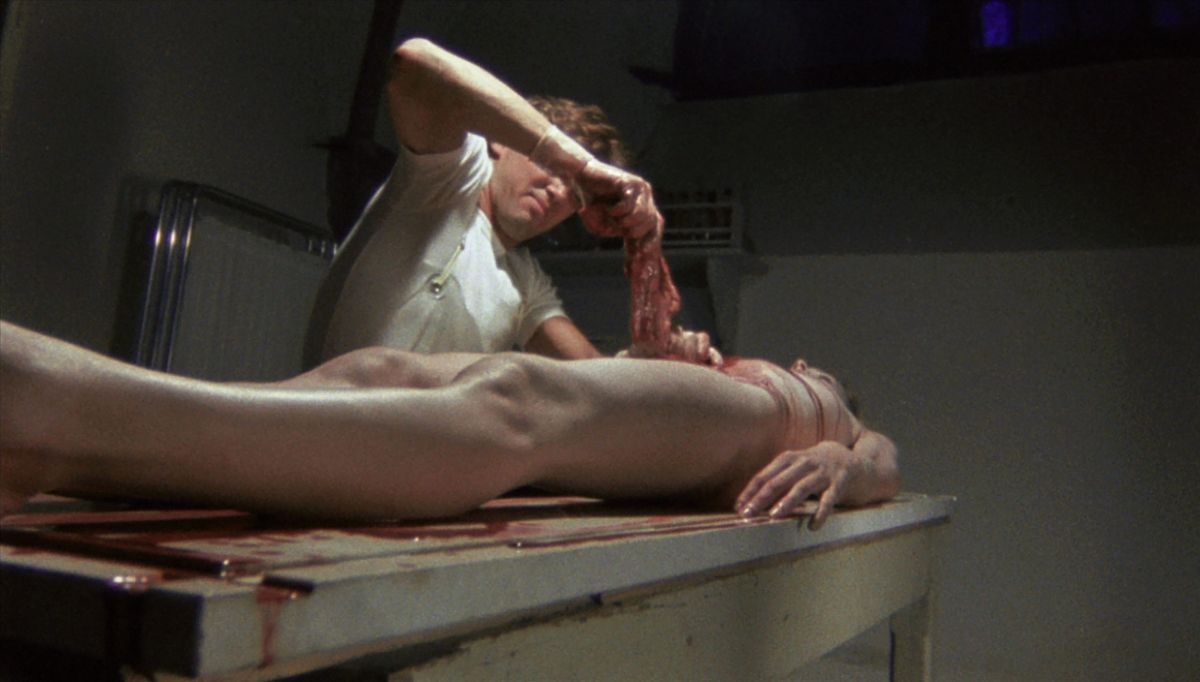 Boiled down to a level of plot description, Blue Holocaust might be a work about necrophile obsession – Riccardo Freda's Italian Gothic The Terror of Dr Hichcock (1962) comes to mind or perhaps Lamberto Bava's Macabre (1980), which came out not long after this. It is worth making contrast – these other two films similarly feature men obsessed with the bodies of dead women but here D'Amato places the focus on pushing the material to graphic extremes.
Like all of the more extreme films of this era of Italian cinema, Blue Holocaust exists in a variety of cut and uncut prints. The most controversial scene comes not long into the film where Kieran Canter digs Cinzia Monreale's body up from the graveyard. This is followed by an uncomfortable to watch scene where he cuts her body open, removes the organs, casually throws them into a bucket, inserts tubes up her nose and uses a syringe to pump out her blood, before replacing her eyeballs. The scene is made all the more effective by D'Amato's cool detachment – not to mention you get the feeling he has gone and talked to real embalmers to make sure his technique is correct.
There is another strong scene not long after where Kieran Canter and maid Franca Stoppi drag the body of the hitchhiker (Lucia D'Elia) into the bathroom, where he stands filling the bath with acid while Stoppi chops the head and limbs off the body and throws them into the bath to be dissolved.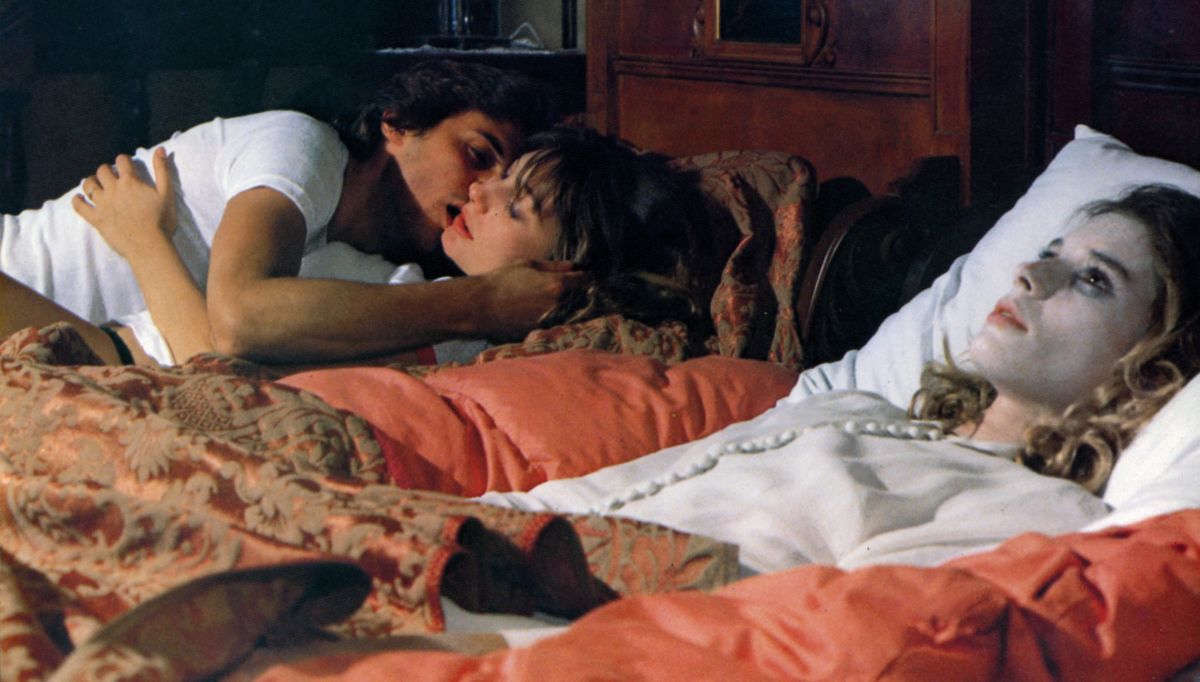 There is the rather perverse scene where Kieran Canter brings home a woman (Anna Cardini) who has injured her leg while jogging, bandages her and then starts to make out with her on the bed beside the one where Cinzia Monreale's preserved corpse lies, only for the girl to freak out when Kieran pulls the covers back so the corpse can watch them. The nastiest part of the scene is where Kieran bites a chunk out of Cardini's neck and then throws her body into the furnace and lights it only to realise that she is still alive.
There is the odd scene that seems schlocky – one where Kieran Canter holds Lucia D'Elia down and starts snipping her fingernails off, which seems pointlessly sadistic rather than the tone of perverse ghoulishness the rest of the film achieves. There is another shot that cuts from Kieran bringing Simonetta Allodi home from a disco to her face half-submerged in a bath where our assumption is that she has drowned or is in another bath of acid, before a pullback to show she is just having a bath. Mostly though this is a film where Joe D'Amato sustains an unusually perverse mood by simply taking a calm and clinical approach.
The film was directed by Joe D'Amato (1936-99), a prolific director in the Italian exploitation industry whose career was predominantly in pornographic films. His other genre films include:- the giallo Death Smiles on a Murderer (1973), the erotic/cannibal films Emanuelle and the Last Cannibals (1977) and Papaya, Love Goddess of the Cannibals (1978), Anthropophagus/The Grim Reaper (1980), the erotic/zombie film Erotic Night of the Living Dead (1980), the erotic/voodoo/cannibal film Sex and Black Magic (1980), Absurd (1981), the erotic/zombie film Porno Holocaust (1981), the sword and sorcery film Ator the Invincible (1982), the post-holocaust film Endgame (1983), Ator the Blade Master (1984), the post-holocaust film 2020: Texas Gladiators (1983), the Ator film Quest for the Mighty Sword (1989), Frankenstein 2000 (1992), Contamination .7/Creepers/Troll 3 (1993), the pornographic reincarnation film Chinese Kamasutra (1993), the pornographic Ghosts in the Castle (1994), the pornographic Marquis de Sade (1994), the pornographic Tarzan X (1994) and its sequel Tarzhard: The Return (1998), the pornographic ghost film Erotic Bluff (1995), the pornographic caveman film Homo Erectus (1996), the pornographic psycho-thriller Primal Instinct (1996), Hell's Angels/Demons of Lust (1997), Hell's Angels 2/The Seven Sexy Sins (1997) and Hell's Angels 3/The Devil's Lair (1998), a series of pornographic vignettes set in Hell, the pornographic Greek myth films Aphrodite: Goddess of Love (1997), Hercules: A Sex Adventure (1997), Olympus, Refuge of Gods (1997), Samson in Amazon's Land (1997), The Sexual Adventures of Ulysses (1998) and Love and Psyche (2000), Kamasutra (1997), a pornographic film with fantasy elements, the pornographic Queen of Elephants (1997) about a female Tarzan, a pornographic version of the story of the Phantom of the Opera with Phantom (1998), Elixir (1998), a pornographic film involving a youth serum, Eternal Desire (1996), a pornographic version of Highlander (1986), and Experiences (1999) and Experiences 2 (1999) about a woman sucked through her computer to participate in a series of erotic interludes across time.
---
---