---
Crew
Director – William Fruet, Screenplay – Don Enright, Based on the Novel Death Bite by Michael Maryk & Brent Monahan, Producers – John G. Pozhke & Maurice Smith, Photography – Mark Irwin, Music – Eric N. Robertson, Serpent's Theme – Tangerine Dream, Special Effects Director – Brian Warner, Makeup Effects – Stephen DuPuis, Carl Fullerton & Dick Smith, Art Direction – Gavin Mitchell. Production Company – Cinequity Corporation/Martin Erlichman.
Cast
Peter Fonda (Dr Thomas Brasilian), Oliver Reed (Jason Kincaid), Kerrie Keane (Suzanne Kincaid), Al Waxman (Warren Crowley), Gerald Parkes (Captain Novak), George Bloomfield (Reverend Thanner), Miguel Fernandes (Mendes), William Needles (Dean Franklin), Marilyn Lightstone (Dr Claire Rothman), Angus MacInnes (Deacon Tyrone)
---
Plot
Dr Thomas Brasilian, a university lecturer in psychology, is hired by billionaire Jason Kincaid. Kincaid tells Brasilian how he was bitten by a rare giant snake in South America and has had a psychic link to the snake ever since. His people have now captured the snake and are bringing it back to the US. Meanwhile, a religious sect hires Warren Crowley to follow the shipment and steal the snake. However, the attempts by Crowley's associates to open the crate end up with them killed by massive doses of snake venom. Crowley breaks into the university laboratory to steal the snake, only to inadvertently free it whereupon it runs rampant through the city killing all it encounters.
---
William Fruet is a Canadian director who made a modest output of genre films during the great period of Canucksploitation. Fruet first appeared with the fine Backwoods Brutality film Death Weekend/House By the Lake (1976) and went onto the likes of Search and Destroy (1979), Funeral Home (1980), Killer Instinct/Baker County, USA (1982), Killer Party (1986) and Blue Monkey/Insect (1987). Spasms was a troubled production. Financing dried up during production and it was not able to be completed as intended. Though promised for an initial theatrical release, the film was held up for two years and then eventually dumped to video.
Spasms was made during the air bladder makeup effects revolution of the early 1980s where films such as The Howling (1981), An American Werewolf in London (1981) and The Thing (1982) did remarkable things using makeup effects to show actors transforming into creatures with claws, fur and fangs erupting out in real-time. For a brief period, everyone was trying to copy the trend and the makeup effects artists on these films, Rick Baker and Rob Bottin, even became stars in their own right.
Spasms was one of the wannabes amid this air bladder makeup effects fad, although is clearly produced on a B-budget. There are a handful of minor snake bite scenes. The film's one major set-piece is a brief and rather silly sequence where Al Waxman is bitten and his skin swells up in massive pustules. The sequence was enough to make the front cover of Fangoria magazine.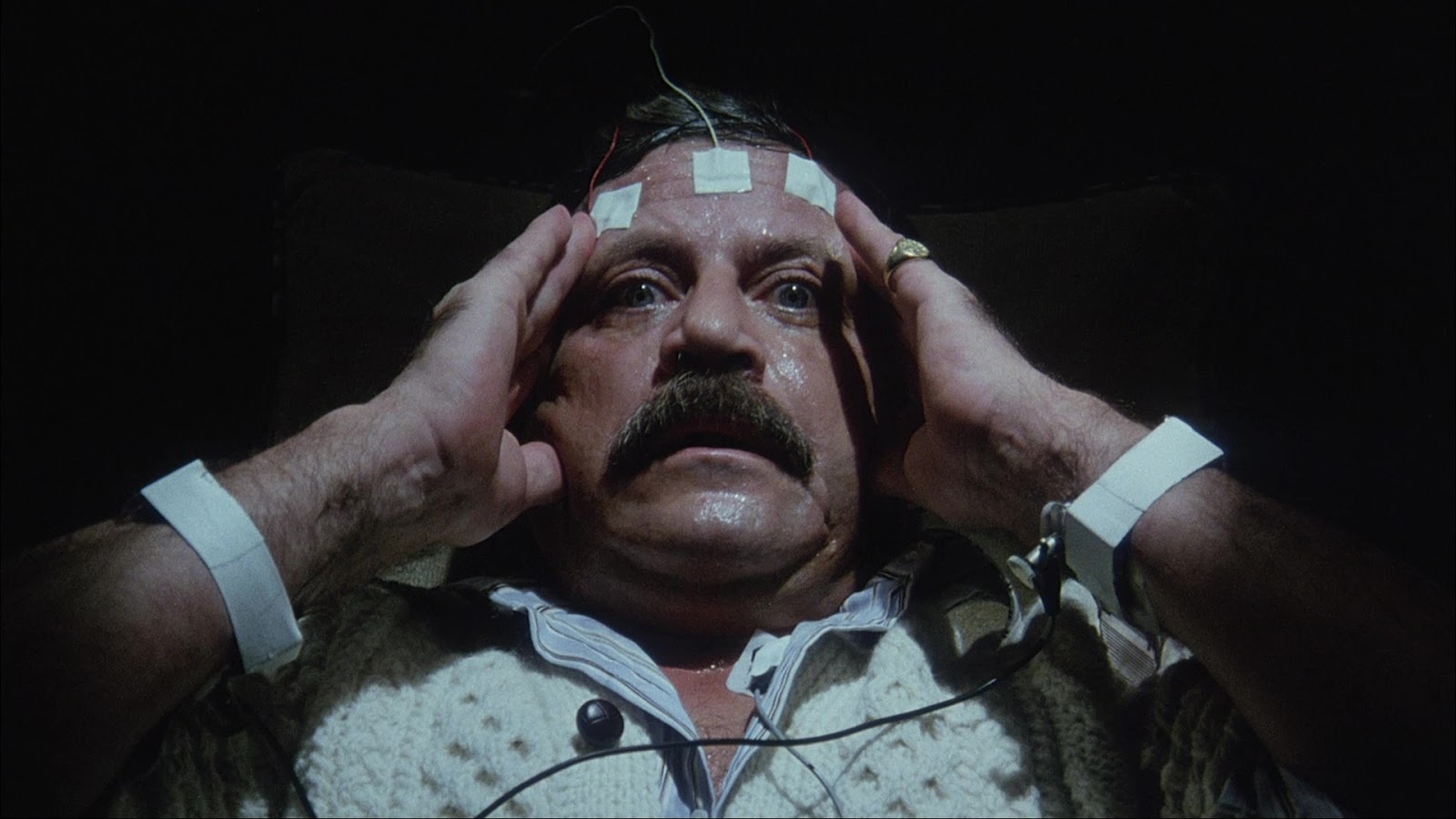 Outside of that one scene, which gave the film more attention than was probably due, Spasms is no more than a standard Animals Amok film. We get various scenes of the snake attacking people during the transport aboard the ship and after it escapes and then as goes amok in the US, although we never actually see the snake itself in any of these scenes. Instead we get various blue-tinted point-of-view shots of it rushing at people. The only actual appearance we get of the snake is a full-size one with it rearing up to fight Oliver Reed in the final scene (all no doubt due to budgetary reasons).
Spasms is shabby as a creature effects/Animals Amok film goes. This was fairly much par for the course for a good many films that were produced during the video era. However, what plummets the film into the realm of the ridiculous is the basic premise "Oliver Reed has a psychic connection with a giant snake." It fairly much sinks the film to a point of near-risible. And yet for all that, very little is actually made of the premise – just the snake setting out on a course to reunite with Reed.
Oliver Reed was a name star in the 1970s, particularly in his work with Ken Russell, but by the 1980s was appearing in some tatty horror films – see efforts covered here such as The House of Usher (1989) and Severed Ties (1992) – in order to pay the bills. You have to commend Reed as he makes a sterling effort to treat the material here seriously despite the silliness of the surroundings.
---
---