---
Crew
Director – Michael Dougherty, Screenplay – Todd Casey, Michael Dougherty & Zach Shields, Producers – Michael Dougherty, Alex Garcia, Jon Jashni & Thomas Tull, Photography – Jules O'Loughlin, Music – Douglas Pipes, Visual Effects – Ghost VFX (Supervisor – Ivan Kondrup Jensen), Mokko Studio (Supervisor – Dan Charbit), Weta Digital (Supervisor – Kevin Arthur Smith), Special Effects Supervisor – Brendon Durey, Creature Design – Adam Sims Co, Props & Puppets – Weta Workshop, Production Design – Jules Cook. Production Company – Universal/Legendary Pictures.
Cast
Adam Scott (Tom Engel), Toni Collette (Sarah Engel), David Koechner (Howard), Allison Tolman (Linda), Conchata Ferrell (Aunt Dorothy), Emjay Anthony (Max Engel), Krista Stadler (Omi), Stefania LaVie Owen (Beth Engel), Queenie Samuel (Jordan), Lolo Owen (Stevie), Maverick Flack (Howie Jr)
---
Plot
It is nearing Christmas for Tom and Sarah Engel and their two children. None of them are happy at the prospect of the arrival of their in-laws – Howard, his wife Linda and their three obnoxious children. To make matters worse, the hated Aunt Dorothy has invited herself along. As they settle down to dinner, the cousins find young Max's Christmas wish letter to Santa and taunt him by reading it out. Upset, Max tears the letter up and throws it out the window. They wake in the morning to find the entire area has been covered by a heavy blizzard. The teenage daughter Beth has failed to come back from a walk to her boyfriend's place the previous night. Tom and Howard go searching for her, only to be attacked by creatures. The return and barricade up the house but the creatures invade and snatch various of the group. The aging grandmother Omi warns that Krampus, the anti-Santa Claus who comes to punish the naughty, has been awoken.
---
While almost every second Christmas season sees the release of some Yuletide-themed film and even more in the way of insipid Christmas-themed made-for-tv movies, there is a whole sub-genre of anti-Christmas films. These range from the Gothic beauty of Henry Selick's The Nightmare Before Christmas (1993) to the gleeful mean-spiritedness of Bad Santa (2003) and my personal favourite, the various Futurama (1999-2003) Christmas specials with a killer robot Santa. Not to mention a bunch of Santa slasher films with the likes of Black Christmas (1974), Silent Night, Deadly Night (1984) and sequels, To All a Good Night (1980), Christmas Evil/You Better Watch Out (1980), Silent Night (2012), All Through the House (2015) and Good Tidings (2016). There have been other Christmas horror films too with the likes of Jack Frost (1997), Santa's Slay (2006) and Santa Claus vs. the Zombies (2010). There was also the Finnish-made Rare Exports (2010), which although it did not name its creature Krampus, taps the same idea of a malevolent anti-Santa Claus monster.
The legend of Krampus originates from Austrian-German regions and dates back to at least the first millennium. Characteristically resembling a Devil figure, Krampus has horns and cloven hoofs and often rattles chains. He is essentially the anti-Santa (or St Nicholas if you follow the Teutonic tradition) whose role is to punish the children who have been bad in the previous year, leaving lumps of coal in their stocking or even whipping and dragging them away in his sack.
Krampus is not a character who has been widely celebrated in English-speaking countries (although this is changing). As a result, there have not been many Krampus films, although there was the earlier Krampus: The Christmas Devil (2013), as well as the odd episode of Lost Girl (2010-6) and Grimm (2011-7). However, 2015-8 saw a sudden spike in Krampus films with the likes of Krampus: The Reckoning (2015), Krampus Unleashed (2016), Krampus: The Devil Returns (2016), Lady Krampus (2016), Mother Krampus (2017), Bigfoot vs Krampus (2021), Sister Krampus (2021), Return of Krampus (2022) and one of the stories in the anthology A Christmas Horror Story (2015).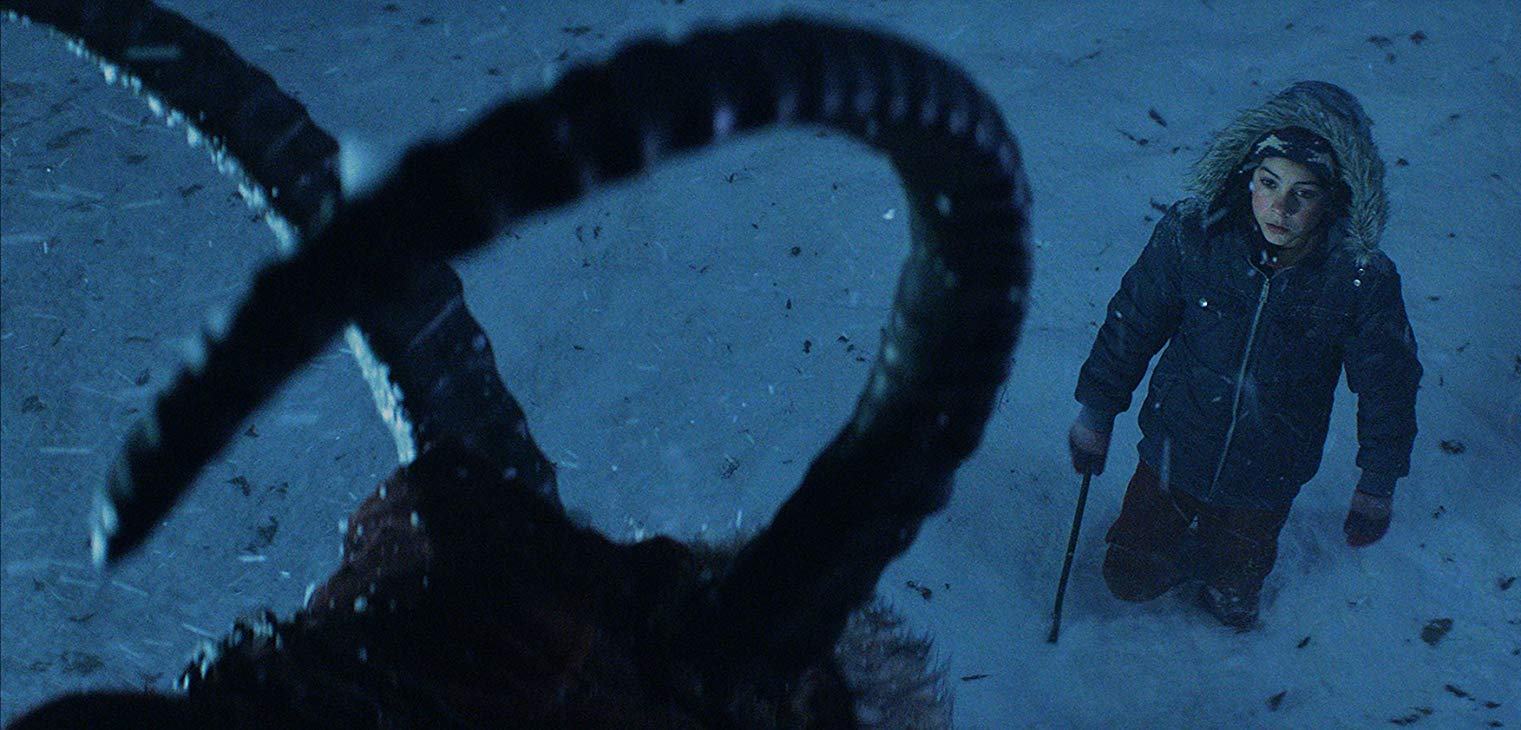 Krampus was the second directorial film for Michael Dougherty. Starting out as a screenwriter, Dougherty wrote Urban Legend: Bloody Mary (2005) and joined the Bryan Singer camp with the scripts for X2 (2003), Superman Returns (2006) and X-Men: Apocalypse (2016). Dougherty had previously made his directorial debut with the Halloween-themed anthology Trick'r'Treat (2008). Krampus oddly marks the second occasion he has ventured into holiday-themed horror, while earlier he had also made the short horror film Season's Greetings (1996). Dougherty subsequently went on to direct Godzilla, King of the Monsters (2019).
Krampus sets out to dig its teeth into the Christmas film. The first twenty or so minutes before the creatures appear is Michael Dougherty getting loose on the Christmas Get Together film – the sort where a dysfunctional family come together with quirky and comically abrasive effect and eventually reconcile their differences in the discovery of Christmas spirit – a perfect example of this might be Love the Coopers (2015), which turned up around the same Christmas season a couple of weeks earlier. Dougherty goes to town with the portrayal of the obnoxiousness of the in-laws, clearly setting them up as targets to be eliminated. On the other hand, none of this registers as particularly funny. The opening slow-motion scene of Black Friday shoppers rioting set to Christmas carols sets the film up with a promising satirical bite that never arrives.
The film takes its time to unveil its Krampus – we get several partial glimpses but no sight of the full creature until nearly right at the end, which comes as a disappointment. What we do get instead are a series of puppet and animatronic creations, which have been provided by Peter Jackson's Weta Workshop – Dougherty went down to New Zealand to shoot.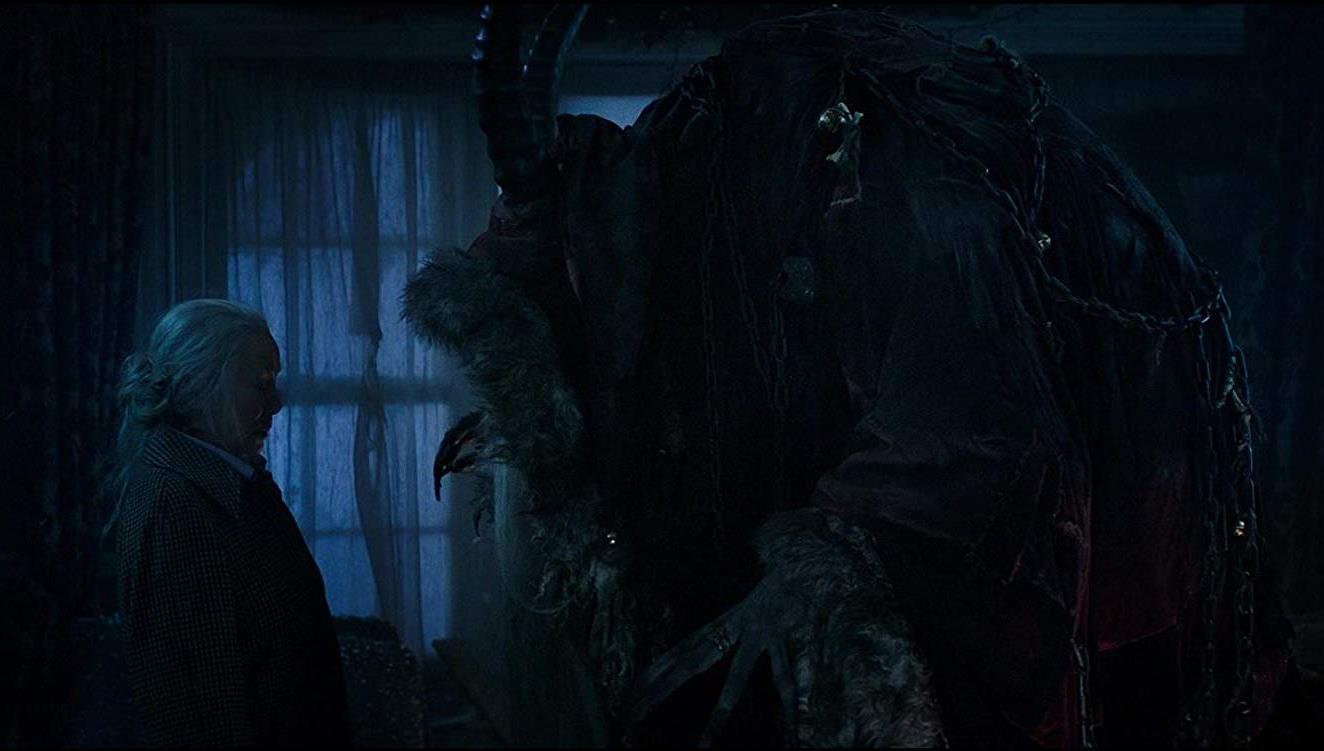 The film is at its most fun during a series of sustained attack sequences where the group are fighting off a giant jack-in-the-box/snake creature, killer gingerbread men, a toy robot, evil teddy bears and assorted dolls. It is here that Krampus hits the malicious bite that holds something of the demented glee of Gremlins (1984), the original anti-Christmas film that has undeniably influenced Dougherty.
On the other hand, this is the only moment where the film comes to life and the rest fails to live up to what you feel like it promises to do at the outset. Moreover, Weta's work feels less than it usually is – in many of the shots, the creatures comes across less as malevolent creations than they do just stiff and awkward puppets. While there is the one good scene with the family fighting off the various toys and David Koechner up against the gingerbread men, the rest of the scenes with the family being attacked have surprisingly little that stand out about them.
Krampus is not a particularly distinctive or memorable film but the surprise about it is that such a dark film was released right on the Christmas season – and moreover enjoyed reasonable box-office. [PLOT SPOILERS] It is striking to see families going from doing their Christmas shopping to sit down and watch a film that trashes family sentiment and ends with everybody in the film killed off. It would have been an extremely dark film to have ended at that point, although the film then pulls back to the safety of an All a Dream Ending, as though that is perhaps just too far a step for even it to go during the Christmas season.
---
---