---
USA. 2015.
Crew
Director – Christopher Landon, Screenplay – Carrie Evans, Christopher Landon & Emi Mochizuki, Story – Carrie Evans, Emi Mochizuki & Lona Williams, Producers – Andy Fickman & Todd Garner, Photography – Brandon Trost, Music – Matthew Margeson, Visual Effects – Atomic Fiction (Supervisor – Ryan Tudhope), Special Effects Supervisor – Ron Bolanowski, Makeup Effects Supervisor – Tony Gardner, Makeup Effects – Alterian, Inc., Production Design – Nathan Amondson. Production Company – Broken Road.
Cast
Tye Sheridan (Ben), Logan Miller (Carter Grant), Joey Morgan (Augie), Sarah Dumont (Denise), David Koechner (Scout Leader Rogers), Halston Sage (Kendall Grant), Cloris Leachman (Miss Fielder), Blake Anderson (Janitor), Nikki Koss (Chloe), Lukas Gage (Travis), Patrick Schwarzenegger (Jeff), Hiram A. Murray (Corporal Reeves), Drew Doege (Drunk Man)
---
Plot
A janitor at a laboratory comes across a zombie that a scientist is examining only to accidentally let it loose. In Deer Field, California, Ben and Carter are part of a boy scout troupe but are increasingly feeling that they are getting too old for it. They are trying to break the news that they want to quit the scouts to their friend Augie but have been putting off doing so in order not to hurt his feelings. They go on an overnight expedition into the woods but are planning to sneak away to a party. As they return to town, they discover it has been overrun by zombies. Joined by Denise from the local strip club, they desperately try to stay alive as the zombies come after them.
---
The zombie film has become legion during the 2000s following the successes of 28 Days Later (2002), Dawn of the Dead (2004) and Shaun of the Dead (2004). The latter half of the decade became filled with so many imitators in the field that it becomes a chore to have to keep up with them. The more creative among these started planting tongue in cheek and we have seen a series of deliberately absurd titles and/or conceptual collusions with the likes of Zombie Beach Party (2003), Dorm of the Dead (2006), Poultrygeist: Night of the Chicken Dead (2006), Zombie Cheerleader Camp (2007), Zombie Strippers! (2008), Attack of the Vegan Zombies! (2009), Zombies of Mass Destruction (2009), Romeo and Juliet vs the Living Dead (2009), Stag Night of the Dead (2009), Big Tits Zombie (2010), Santa Claus vs. the Zombies (2010), Bong of the Dead (2011), Abraham Lincoln vs. Zombies (2012), Cockneys vs Zombies (2012), Pro Wrestlers vs Zombies (2014), Zombeavers (2014), MILFs vs Zombies (2015), Attack of the Lederhosen Zombies (2016), Pride and Prejudice and Zombies (2016) and Fat Ass Zombies (2020), among others. (For a more detailed overview of the genre see Zombie Films).
Scouts Guide to the Zombie Apocalypse is one of the more mainstream releases amongst these (most of the others having gone direct-to-dvd). The title has a certain amusement when you read it and the trailer looked promising – the idea of scouts with their wilderness survival skills and naively youthful do-gooder mentality automatically being the best equipped to survive when the zombie apocalypse hit brings a certain smile to the face.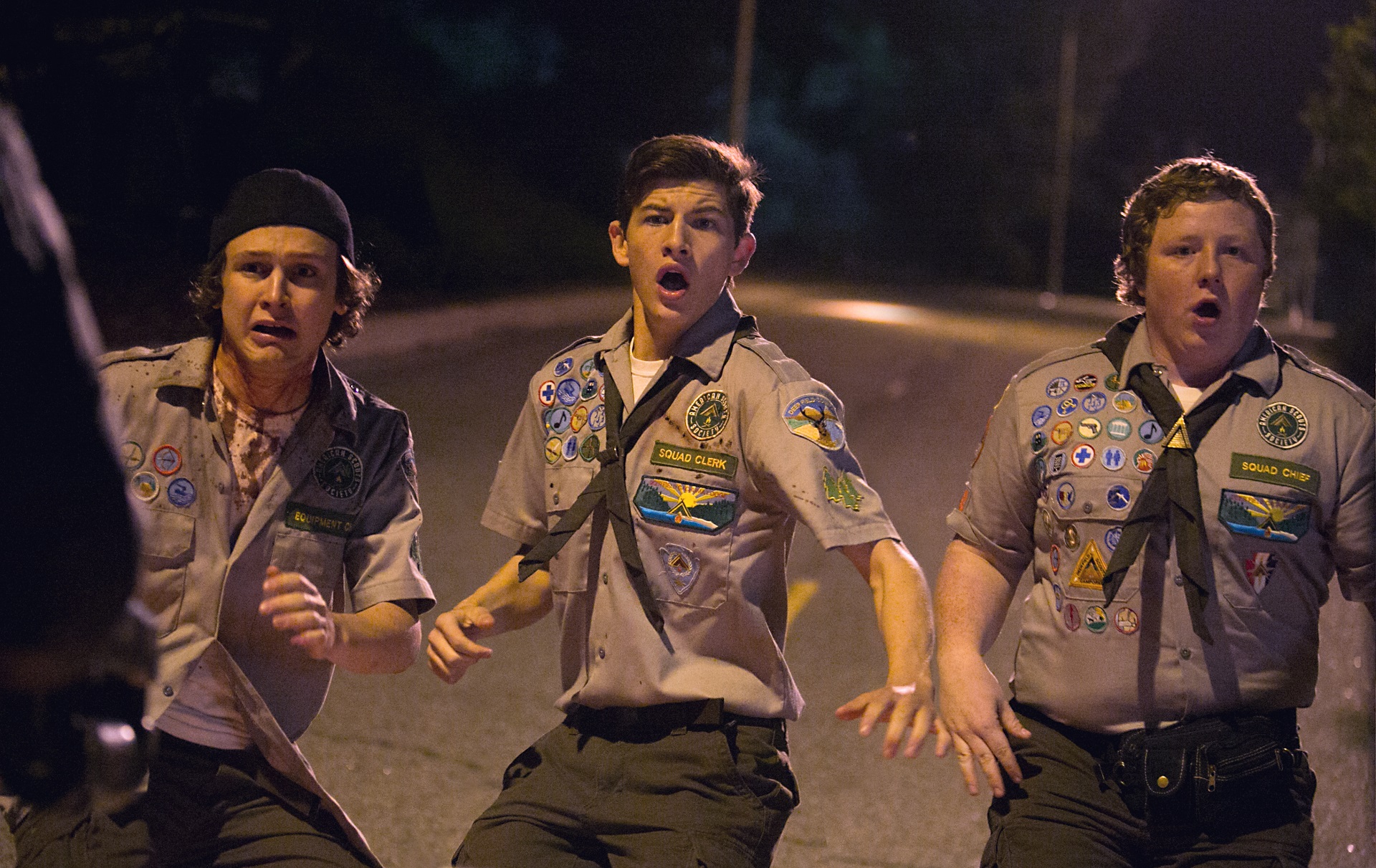 The great disappointment of the film is that it does very little with the concept. The scouts are on a wilderness expedition in one part of the film but almost all of the show is spent with two teenage guys bitching about how they are too grown up for this and pining for hot girls and/or wanting to be socially accepted – and only a couple of minor scenes about them employing their skills to improvise a solution.
For all that their being boy scouts so matters to the film, you could rewrite the scouts as regular kids and it would make little difference to what happens. Certainly, the three kids all play well and their characters are delineated with modestly credible arcs. However, the expectation the trailer left you with was of a group of naive kids holding off the zombies with their survival training, not about them struggling with adolescence and constantly telling us they are too grown up to be playing at scouts.
Nor is Scouts Guide to the Zombie Apocalypse the witty and amusing zombie film that it thinks it is being. Everything that takes place with the zombies has been done before and it offers no new moves or original takes, just ends up repeating the same old same old. (Not to mention irks the traditionalist in one by opting for fast-moving zombies). That places it in the sad case of being another entry in the gonzo take on the zombie film that feels like the filmmakers either haven't watched anything else the genre has tossed at audiences in the last five years or is just rehashing old moves thinking nobody will notice.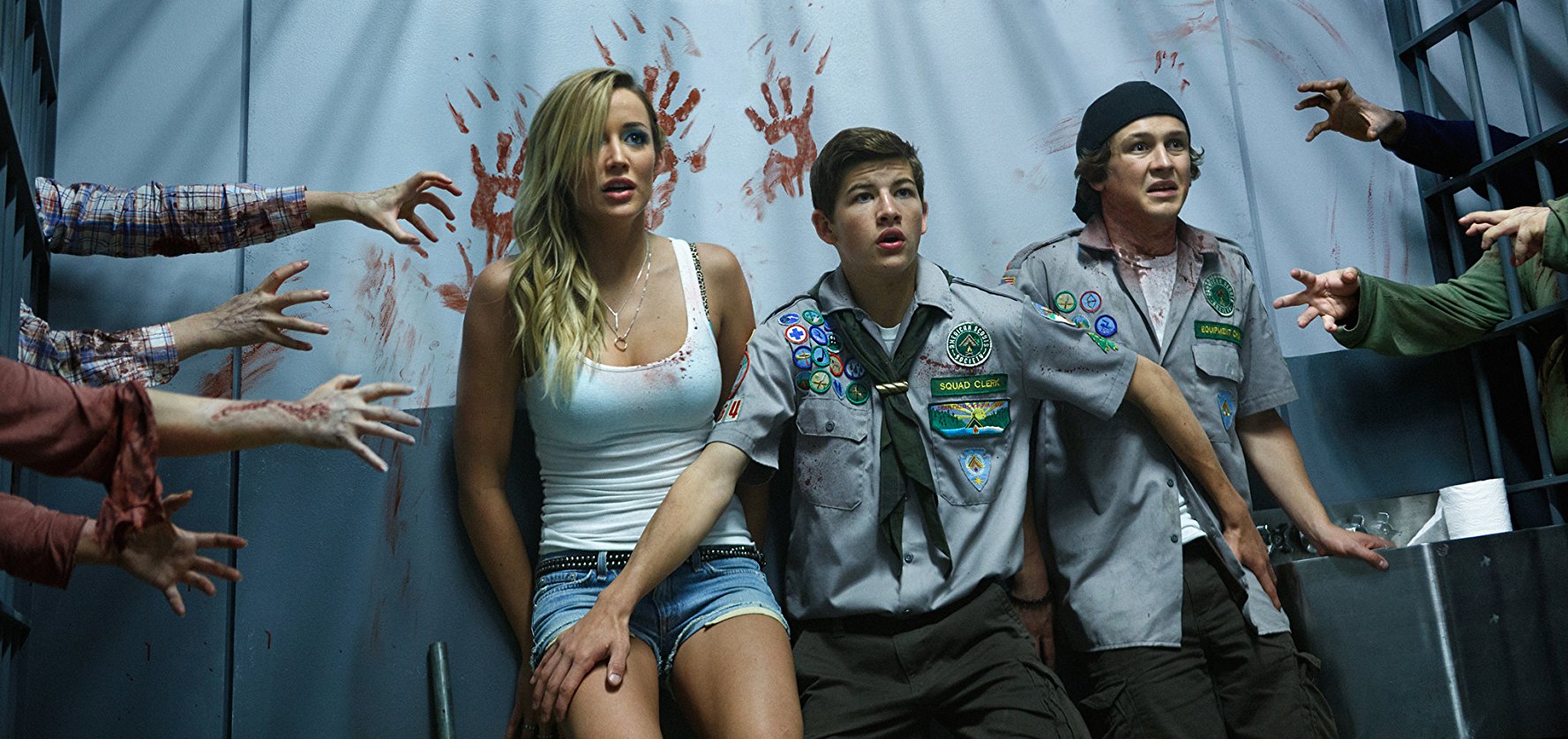 There is the mild amusement of a scene where the kids escape zombies by using a trampoline; another borrowed from Bud the zombie in George Romero's Day of the Dead (1985) but where here the kids find that he recognises Britney Spears tunes, which surely makes for some kind of sad comedown. Even though the film gets an R-rating and features some more adult humour, there is nothing in the gore department that even remotely pushes the envelope. While we do get a zombie stripper, she remains chastely covered throughout – the film feels exactly like the scene where one of the teen nerds sees the hot policewoman turned zombie's exposed boobs, squeezes them and then runs away for safety.
Scouts Guide to the Zombie Apocalypse was the third directorial outing for Christopher Landon. Christopher is the son of actor Michael Landon known here for I Was a Teenage Werewolf (1957) and elsewhere as a regular on tv's Bonanza (1959-73) and Highway to Heaven (1984-9). Christopher Landon made his screenwriting debut with Larry Clark's Another Day in Paradise (1998) and went onto write the likes of the werewolf film Blood and Chocolate (2007) and the teen psycho-thriller Disturbia (2007), followed by Paranormal Activity 2 (2010), Paranormal Activity 3 (2011), Paranormal Activity 4 (2012), Viral (2016) and Paranormal Activity: Next of Kin (2021) for Blumhouse. He made his directorial debut with the non-genre Burning Palms (2010), an anthology of tales that deal with sexual taboo lines, followed by Paranormal Activity: The Marked Ones (2014) and subsequent to this went on to Happy Death Day (2017), Happy Death Day 2U (2019) and Freaky (2020).
(Nominee for Best Makeup Effects at this site's Best of 2015 Awards).
---
---