---
Crew
Director/Screenplay – Joel Edgerton, Producers – Jason Blum, Joel Edgerton & Rebecca Yeldham, Photography – Eduard Grau, Music – Danny Bensi & Saunder Jurriaans, Visual Effects – Legion Studios (Supervisor – James David Haltin), Special Effects Supervisor – John Hartigan, Prosthetics Supervisor – Debbie Zoller, Production Design – Richard Sherman. Production Company – Blumhouse Productions/Blue Tongue Films.
Cast
Jason Bateman (Simon Callem), Rebecca Hall (Robyn Callem), Joel Edgerton (Gordon 'Gordo' Mosley), Allison Tolman (Lucy), Adam Lazarre-White (Ron), David Denman (Greg Pierson), Wendell Pierce (Detective Mills), Tim Griffin (Kevin 'KK' Keeler)
---
Plot
Simon Callem, a successful executive with a security consultancy firm, and his wife Robyn move from Chicago to California. While shopping, Simon runs into Gordon Mosley, a classmate from high school, although does not initially remember him. After swapping numbers, Gordon proves friendly, constantly finding reasons to come around and visit. They find his over-friendliness somewhat creepy. After he invites them back to his place for dinner, Simon takes it upon himself to tell Gordon that they don't want to be friends anymore. Immediately after, they find the fish Gordon gave them poisoned and their dog missing. Robyn starts to be mentally affected by the stress of thinking Gordon is stalking them. As Robyn digs deeper into what happened back at school, she comes to realise that the relationship between Simon and Gordon may not be what it seems.
---
In the 2010s, following the substantial successes of Paranormal Activity (2007), Insidious (2010) and various sequels to these, Blumhouse, headed by producer Jason Blum, has become a rapidly rising production company specialising in horror. Blum always operates by the dictum of making films on medium budgets – under $3 million usually – and aiming for theatrical release. They have enjoyed a number of successes. (See below for Blumhouse's other films).
The Gift is directed and written by Australian actor Joel Edgerton who also plays the part of the creepy stalker. Edgerton may not be a household face as yet but has had high-profile roles such as Owen Lars in the Star Wars prequels and has appeared in other mainstream-released films like The Thing (2011), The Odd Life of Timothy Green (2012), The Great Gatsby (2013), playing the Pharaoh in Exodus: Gods and Kings (2014) and Black Mass (2015). Edgerton has only directed short films before, although did write the scripts for Felony (2013), a disturbing film in which he plays a cop covering up the fact he ran a child down, the rather good Australian science-fiction film The Rover (2014) and Jane Got a Gun (2015). He subsequently went on to write/direct Boy Erased (2018) about gay conversion therapies.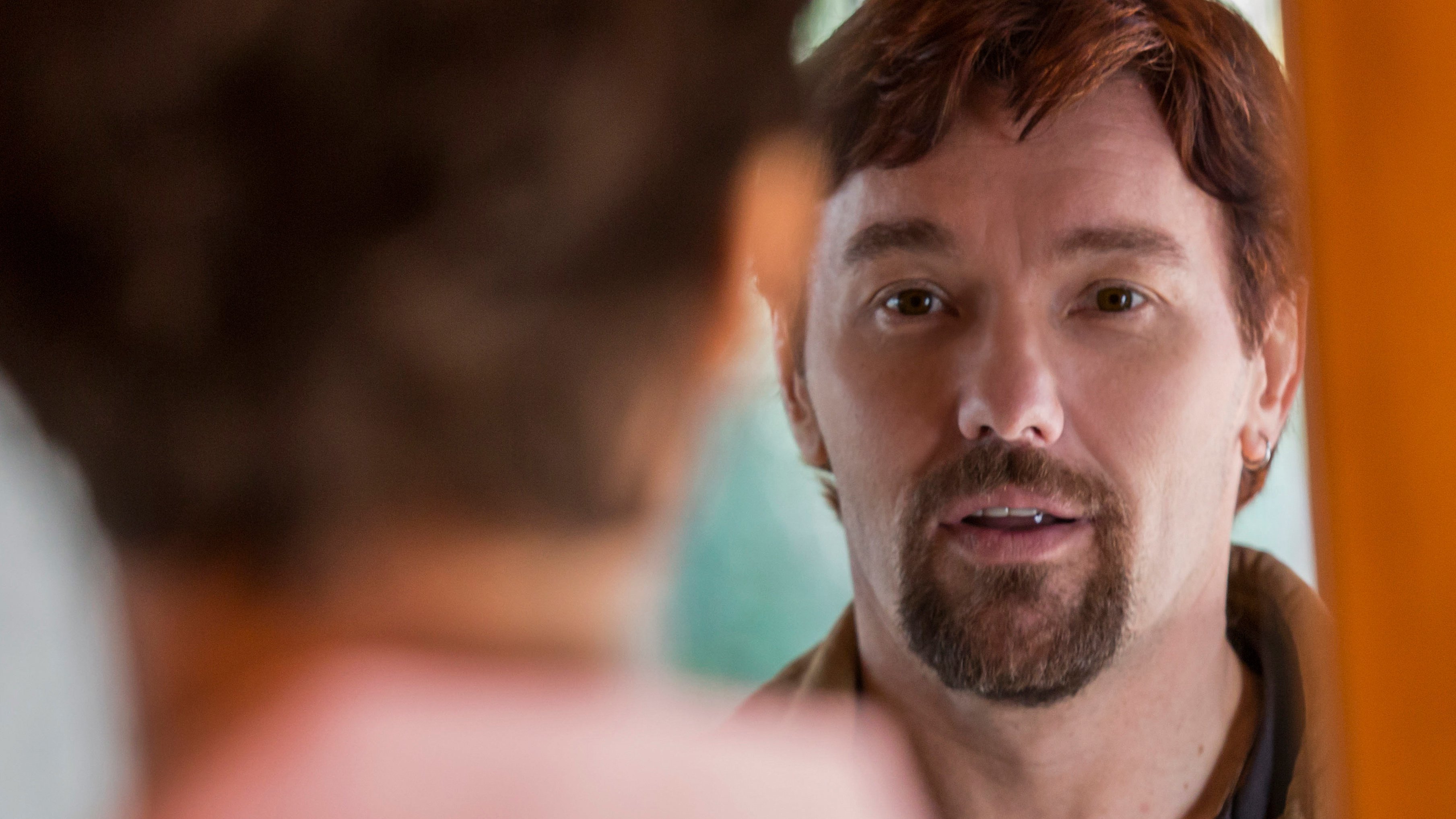 The Gift – no relation to the Sam Raimi clairvoyance film The Gift (2000) or the hundred or so other film the IMDB lists with the same title – is a psycho-thriller. It falls fairly much into the psycho-thriller standard of the initially easygoing friend who turns into an obsessed stalker – see also the likes of Single White Female (1992) and the work this most resembles, the French thriller With a Friend Like Harry/Harry, He is Here to Help (2000). Edgerton casts himself as the disturbingly stalkerish friend who is clearly not quite socially clued up from the point he is first introduced.
Edgerton sets the film up well. Jason Bateman in a rare non-comedy role is a likeable identification figure who has made a success of his life, the increasingly underrated British actress Rebecca Hall is his wife. The scenes introducing them and with Joel Edgerton inserting himself into their life come with a cool calm. This is not a film of big dramatics – or even for that matter much in the way of psychological stalking and pursuit as you might expect from a psycho-thriller in this vein. That said, there are some effective jolts – like when Jason Bateman returns to Joel Edgerton's home to confront him.
The interesting twist that the script then gives us is that everything is not as it initially seems. We expect that Jason Bateman and Rebecca Hall are the ordinary married couple whose lives are invaded by the unbalanced Edgerton. Only this is reversed part way in [PLOT SPOILERS] where it is revealed that Bateman bullied Gordo at school and essentially ruined his life with a series of lies. (Although you cannot help but wonder if that were the case, would Bateman not feel a twinge of guilt or remorse, at the very least a feeling of uncomfortableness, when Edgerton befriends him again?).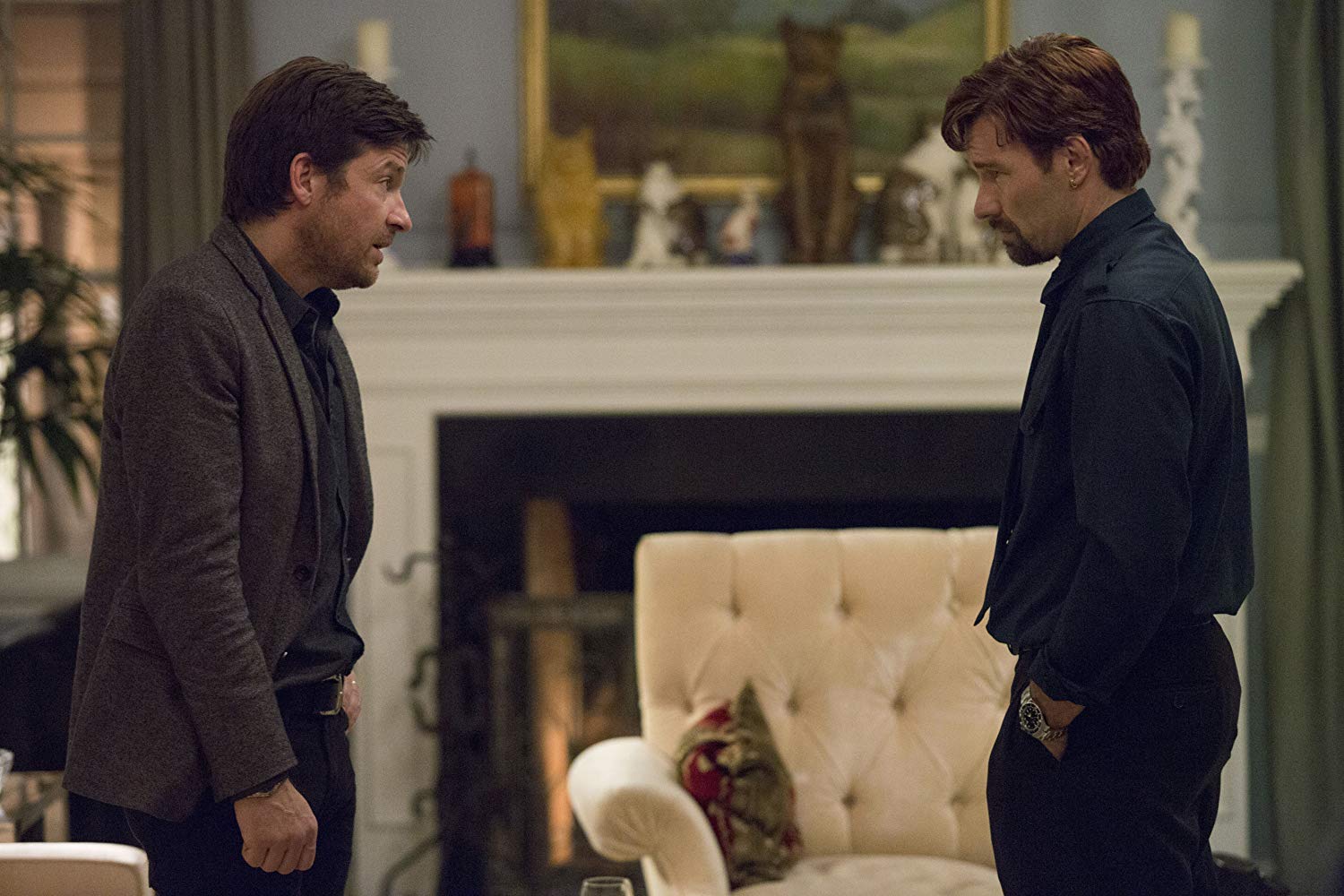 The ambiguity weaves throughout, all leading to a nasty sting ending wherein the meaning of the title becomes apparent. It works fairly well – although I felt that the fine and underrated Misbegotten (1997) did the same more effectively and took it much further. The Gift works okay, it is just a little mannered as psycho-thrillers go and you wish that it had been pushed for something that had more bite. You keep waiting for it to get its teeth in but it never does.
Jason Blum has produced a number of other genre films including:- Hamlet (2000), Paranormal Activity (2007) and sequels, Insidious (2010) and sequels, Tooth Fairy (2010), The Bay (2012), The Lords of Salem (2012), The River (tv series, 2012), Sinister (2012) and sequel, Dark Skies (2013), Oculus (2013), The Purge (2013) and sequels, the tv mini-series Ascension (2014), Creep (2014), Jessabelle (2014), Mercy (2014), Mockingbird (2014), Not Safe for Work (2014), Ouija (2014) and sequel, 13 Sins (2014), The Town That Dreaded Sundown (2014), Unfriended/Cybernatural (2014), Area 51 (2015), The Boy Next Door (2015), Curve (2015), The Gallows (2015), Jem and the Holograms (2015), The Lazarus Effect (2015), Martyrs (2015), Visions (2015), The Visit (2015), The Darkness (2016), Hush (2016), Incarnate (2016), The Veil (2016), Viral (2016), Amityville: The Awakening (2017), Get Out (2017), Happy Death Day (2017), The Keeping Hours (2017), Split (2017), Stephanie (2017), Bloodline (2018), Cam (2018), Delirium (2018), Halloween (2018), Seven in Heaven (2018), Truth or Dare (2018), Upgrade (2018), Black Christmas (2019), Ma (2019), Prey (2019), Don't Let Go (2019), Sweetheart (2019), Black Box (2020), The Craft: Legacy (2020), Evil Eye (2020), Fantasy Island (2020), Freaky (2020), The Hunt (2020), The Invisible Man (2020), Nocturne (2020), You Should Have Left (2020), Black As Night (2021), The Black Phone (2021), Dashcam (2021), Firestarter (2022), M3gan (2022), Mr Harrigan's Phone (2022), Nanny (2022), Soft & Quiet (2022), Run Sweetheart Run (2022), Sick (2022), They/Them (2022), Torn Hearts (2022), Unhuman (2022), The Visitor (2022), The Exorcist: Believer (2023), Five Nights at Freddy's (2023), There's Something Wrong With the Children (2023) and Totally Killer (2023).
---
---