---
Crew
Director/Screenplay/Producer – George Adams, Based on the Short Story The Fall of the House of Usher by Edgar Allan Poe, Photography – Samuel Calvin, Music – Michael Gordon Shapiro, Production Design – Kaitlyn Shelby. Production Company – Indican Pictures.
Cast
Billie D. Merritt (Morgan Segal), John Tupy (Roderick Usher), Theresa Santiago (Lady Usher), Michael Gibbons (Vincent Ellerby), Alyson Cristofaro (Liz), John Ferguson (Mr Usher), Kim Titus (Dr Phillips)
---
Plot
University student Morgan Segal realises that she is in love with her boyfriend Roderick Usher. He has to return home to be with his dying father. After debating what to do, Morgan decides to travel to the Usher home and be with him, even though he tells her that isn't a good idea. Arriving, Morgan finds Roderick's home a strange household where the curtains have to be kept drawn because of Mr Usher's ultra-sensitivity to light. There she meets the daunting figure of Roderick's mother Lady Usher who exerts strange control over her son.
---
Edgar Allan Poe's The Fall of the House of Usher (1839) is a masterpiece of mood and horror. The story creates an unmistakeable feeling of dread and at its centre has the memorably haunted character of Roderick Usher with his over-stimulation of the senses. The story has been filmed a number of times – see bottom of the page for a list of these.
This is a new version, which has been given the novelty of a gender flip. (Although this is not quite the case and the Lady Usher we get is not the one suffering from an over-acuteness of the senses). Let us make it perfectly clear – taking a pre-existing property and conducting a gender-flipped version of it is not a new and exciting version, it is a low effort version that merely recycles what has gone before and jumps aboard a current cinematic bandwagon for women's empowerment films.
The film makes substantial changes to the Poe story. In the story, the unnamed narrator goes to visit his old friend Roderick Usher, finding he is suffering a maddening over-stimulation of the senses that is driving him mad. Here Roderick becomes the young heir to the estate, while the traditional figure of Roderick and his over-stimulation issues becomes Roderick's father. In this film, the father is a relatively minor figure – a very old man who only appears in a couple of scenes (although he at least does get to quote from The Haunted Palace, the Poe poem inside the story, which no other screen version of Roderick has done). We do get a Madeline Usher, who is Roderick's sister and she does get to be buried alive, just not in the ways that Poe had any of these things happen in the story.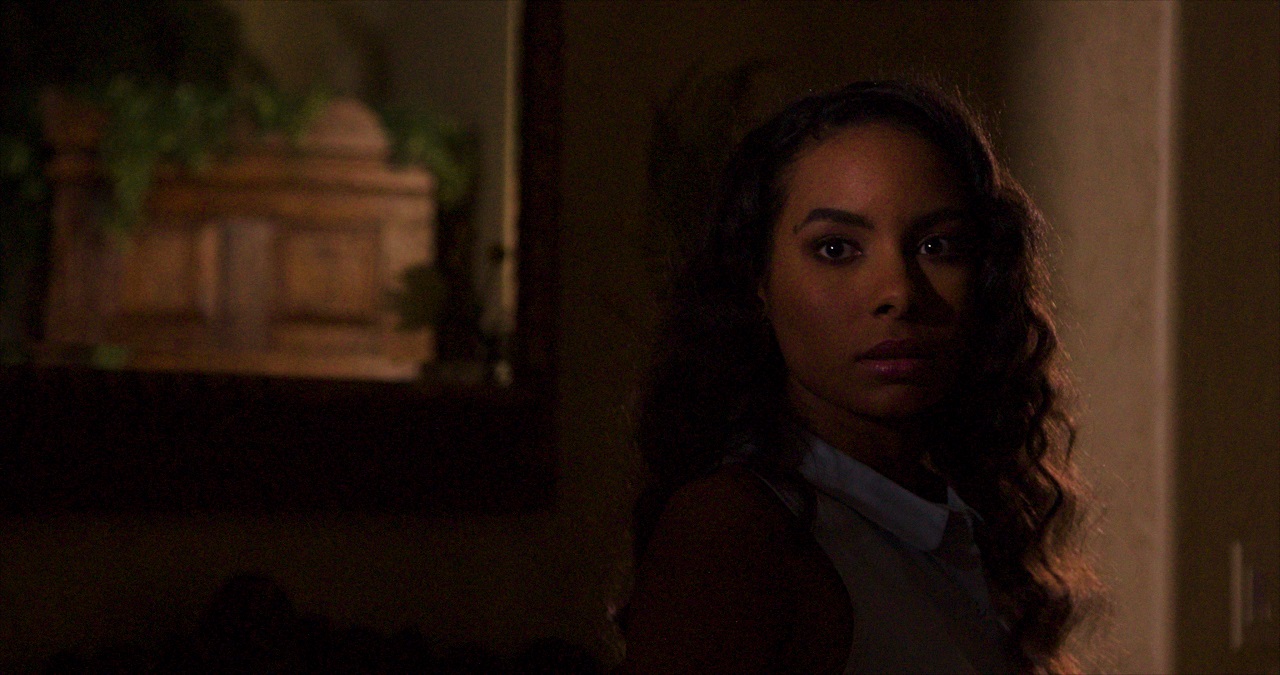 It soon becomes abundantly evident that we are watching an extremely bad film. Indeed, as Edgar Allan Poe adaptations go, Lady Usher is surely the Poe equivalent of The Room (2003). The dialogue is ridiculously random – only a few scenes in, Billie D. Merritt and roommate Alyson Cristofaro go on about Billie having B.O. and Alyson advocating having a little 'self-love', which leaves you going "WTF am I watching?" Upon meeting Lady Usher (Theresa Santiago), Billie D. Merritt is harshly interrogated before Santiago goes "Just kidding". If there is anything designed to deflate the mood of a Poe story, it is surely trying to inject lame humour into the all-important opening mood establishment.
And then there are the ridiculous sex scenes. We start with a passably tame one where Billie D. Merritt is with Roderick (John Tupy) who cries out "mother" in the midst of passion. In the very next scene, Billie goes to take a shower whereupon Roderick's mother Theresa Santiago comes in and starts going down on her – something at which Billie seems to have no particular objection. Not long after, Billie prepares to leave and then sees John Tupy with his mother where he has been forced to wear a dunce cap while she bares her breasts and makes him kneel down to her.
The film was evidently shot on a low-budget. Even so, the House of Usher we get, a moderate sized big house with laid-out gardens, cobbled walkways and driveways with neat white strips painted down the edges seems about the complete antithesis of Poe's house as an outward embodiment of a mood of despair and decay as it is possible to get. The costuming choices in the film are just as ridiculous – when it comes to her husband's funeral, Theresa Santiago wears a veil that towers three feet above her head.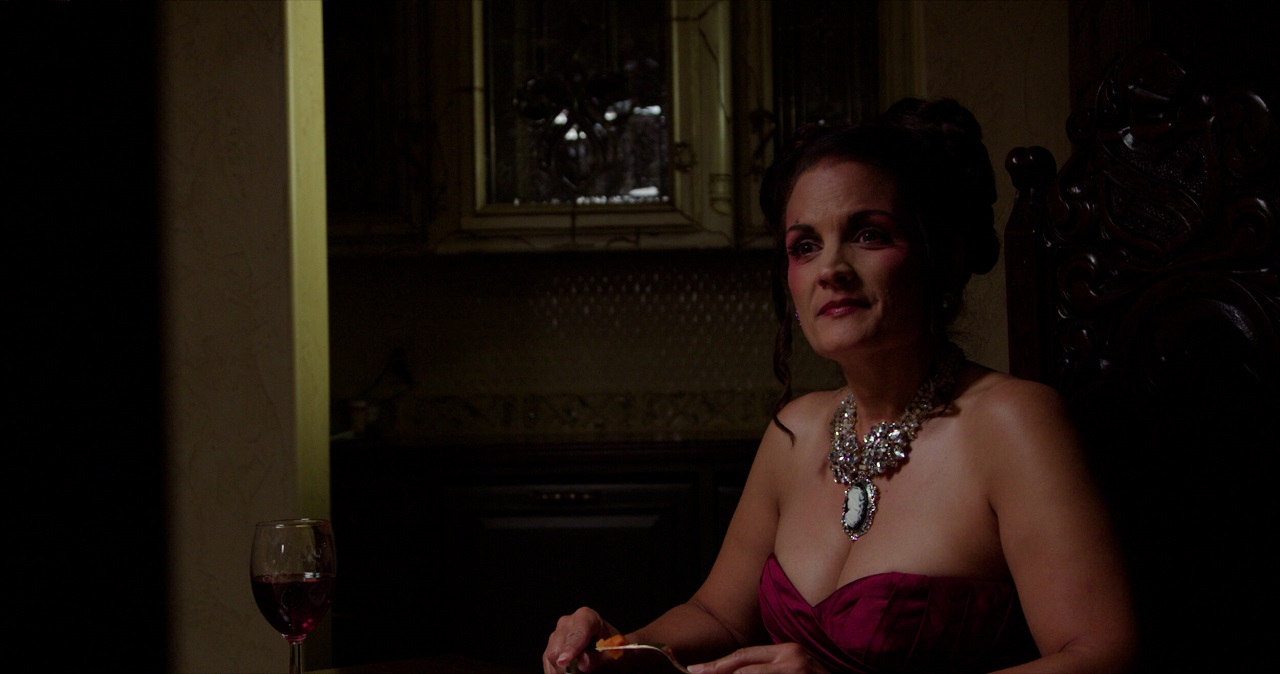 The film was made by George Edwards who has some credits as an extra and actor since the 1990s. Edwards has also directed the documentaries Panic Nation (2010) and Touche: A Blind Fencer's Story (2013), along with one previous dramatic film with Emerald, Texas (2014).
Other adaptations of The Fall of the House of Usher include:- – Jean Epstein's French silent version The Fall of the House of Usher (1928); The Fall of the House of Usher (1928), a short silent British version; a dreary and not very faithful British version The Fall of the House of Usher (1949); Roger Corman's The House of Usher (1960) starring Vincent Price; the inept tv variation The Fall of the House of Usher (1979) with Martin Landau; Jesus Franco's cheap The Fall of the House of Usher (1983) with Howard Vernon; Harry Alan Towers' cheap The House of Usher (1989) with Oliver Reed; Ken Russell's demented variation The Fall of the Louse of Usher (2002); the low-budget modernised The House of Usher (2006); David DeCoteau's softcore gay House of Usher (2008); and The Fall of Usher (2021); as well as an episode of the animated anthology Extraordinary Tales (2015).
(Winner Film in this site's Worst Films of 2020 list).
---
Trailer here
---