aka The Seven Brothers Meet Dracula
---
UK/Hong Kong. 1974.
Crew
Director – Roy Ward Baker, Screenplay – Don Houghton, Producers – Don Houghton & Vee King Shaw, Photography – Roy Ford & John Wilcox, Music – James Bernard, Music Supervisor – Philip Martell, Special Effects – Les Bowie, Makeup – Wu Hsu Ching, Art Direction – Johnson Tsau. Production Company – Hammer/Sir Run Run Shaw.
Cast
Peter Cushing (Professor Lawrence Van Helsing), Robin Stewart (Leyland Van Helsing), David Chiang (Hsi Ching), Julie Ege (Vanessa Buren), Shih Szu (Mei Kwei), Chan Shen (Kah), John Forbes-Robertson (Count Dracula)
---
Plot
1904. Kah, high priest of the Temple of the Seven Golden Vampires, travels from China's Sezechwan province to Transylvania to beg the help of Count Dracula in restoring vampiric vitality to the region, which has been missing since the Seven Golden Vampires went to sleep. Instead, Dracula decides to possess Kah and use his form. Professor Van Helsing is lecturing in China when he receives a visit from Hsi Ching who begs Van Helsing to accompany him to stop the Seven Golden Vampires who have resumed their activities. Financed by Vanessa Buren, a wealthy widow in search of adventure, Van Helsing, his son Leyland and Ching's brothers, who have vowed to destroy the Seven Golden Vampires, set out to Sezechewan. All along the journey they are beset by Kah's zombie armies.
---
After his seventh outing as Dracula for Hammer in The Satanic Rites of Dracula (1973), Christopher Lee announced he was going to hang his Dracula cape up and declared he would not put it back on "for anybody except Franco Zefferelli" – although he did subsequently recant on his word for the French comedy Dracula, Father and Son (1976). Hammer were faced with a problem – they had a lucrative film series on their hand, which still had some life left in it, but no star. Remembering back to when Christopher Lee refused to return for The Brides of Dracula (1960), they resurrected the idea of continuing the series using Peter Cushing's Van Helsing as the principal focus instead of Lee. The Legend of the 7 Golden Vampires became the initial flagship in what would have been a series of Van Helsing features – next up was the intriguing sounding Kali, Devil Bride of Dracula, which presumably would have taken Hammer to India. (Alas, Hammer closed shop before the title ever made it off the drawing board).
The script makes a valiant attempt to get around Christopher Lee's absence with an ingenious, if incredulous, scene where Dracula takes over the priest Kah's body, allowing Dracula to be played thereafter by a Chinese actor. John Forbes-Robertson, for all that he has been lambasted for not being Christopher Lee, is an effective Dracula, portraying the part with dignity. Unfortunately, he seems made up as a bad drag act – in bright red lipstick, plastered greasepaint and slicked back greying hair.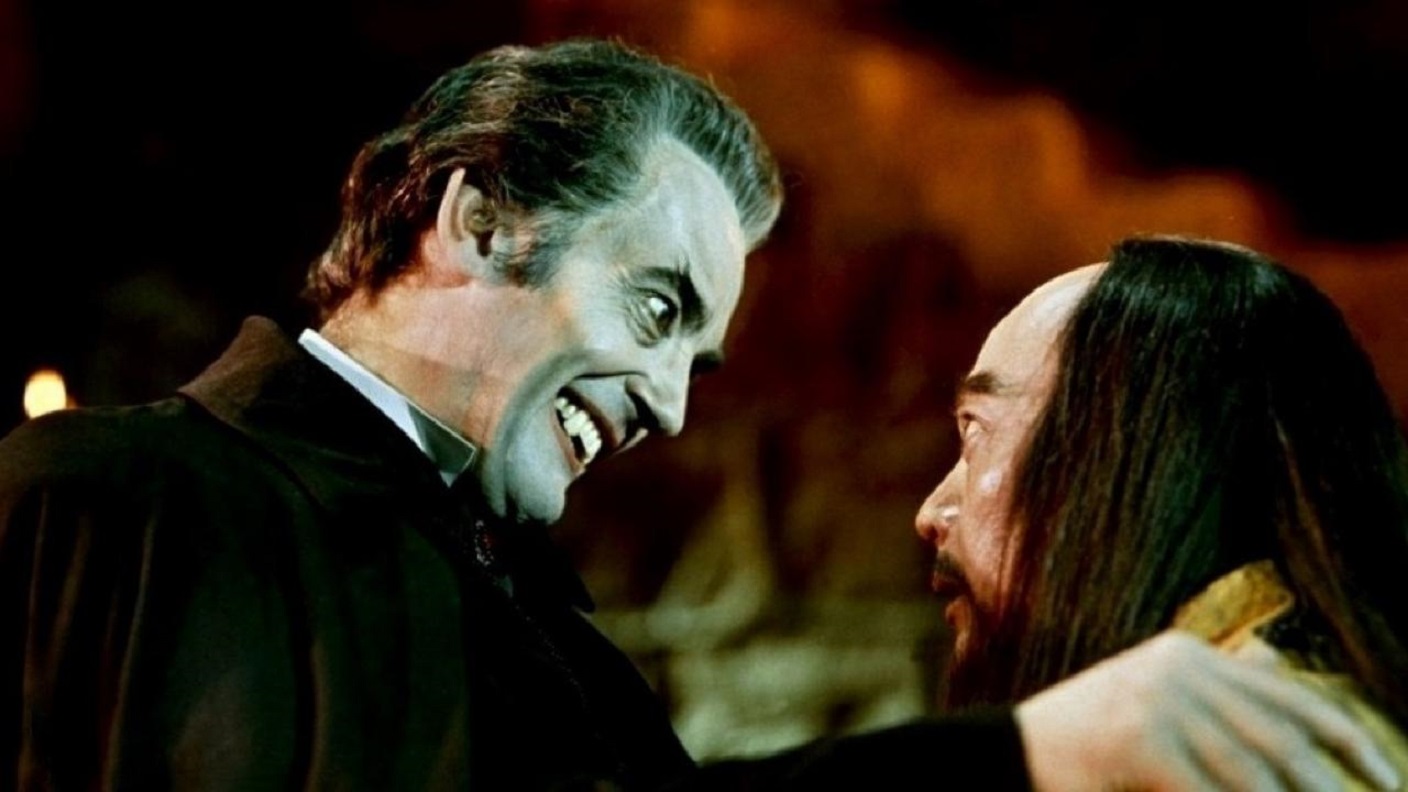 The Legend of the 7 Golden Vampires was a co-production between Hammer and Hong Kong film magnate Sir Run Run Shaw, head of the legendary Shaw Brothers, which produced numerous kung fu films during the 1960s, 70s and 80s. The co-production served to bring together the dominant pulp cultures of both countries, combining Hammer's horror product with the Hong Kong martial arts film, which was just starting to find popularity in the West around this time. This leads to some interesting cross-cultural effects – vampire mythology is expanded to include the vampire having an aversion to all religious iconography, not just a cross, allowing scenes where vampires are driven away by Buddhist shrines.
Roy Ward Baker conducts the action enjoyably. The martial arts displays are all highly entertaining, coming as they do with a great deal of violence, copious gouts of blood and many gratuitous inserts of bare-breasted Asian women. However, the two genres never mingle on an essential supernatural level – Tsui Hark had not emerged onto the Hong Kong scene as yet and the redolent period atmosphere of the Hammer staple does not easily jell with the hyped acrobatics of the Hong Kong martial arts film. The Chinese vampires look very physical – they only being stuntmen in masks – and as a result the film lacks the atmosphere that has been associated with Hammer manifestations of the supernatural. The plot never settles into being anything more than its collection of influences – the various players are brought together, there is a journey, some martial arts battles, Dracula appears at the end and that is about all there is to the film.
By this point, Peter Cushing was starting to show his age and looks gaunt, but goes through the paces with customary professionalism. Julie Ege is surprisingly good – this is probably the best role she was ever given in the handful of roles she played in English film and several Anglo-horror outings during the 1970s. She plays the strong women type well, although the story falls down when it pushes her into the background as the men do all the fighting – she is the sort of character that one can see eager to get into the action and start toting her own pistol.
Hammer's other Dracula films are:– Dracula/The Horror of Dracula (1958), The Brides of Dracula (1960), Dracula – Prince of Darkness (1966), Dracula Has Risen from the Grave (1968), Taste the Blood of Dracula (1970), Scars of Dracula (1971), Dracula A.D. 1972 (1972) and The Satanic Rites of Dracula/Count Dracula and His Vampire Bride (1973).
Roy Ward Baker became one of the prominent directors to rise in the latter decade of the Anglo-horror industry. Elsewhere, Baker made Quatermass and the Pit/Five Million Years to Earth (1967), Moon Zero Two (1969), The Vampire Lovers (1970), Scars of Dracula (1971), Dr Jekyll and Sister Hyde (1971) at Hammer; Asylum (1972), … And Now the Screaming Starts! (1973), The Vault of Horror (1973) at Amicus; and the post-Amicus The Monster Club (1980).
---
Trailer here
---