aka House of Crazies
---
Crew
Director – Roy Ward Baker, Screenplay/Based on Short Stories by Robert Bloch, Producers – Max J. Rosenberg & Milton Subotsky, Photography – Denys Coop, Music – Douglas Gamley, Makeup – Roy Ashton, Art Direction – Tony Curtis. Production Company – Amicus.
Cast
Robert Powell (Dr Martin), Patrick Magee (Dr Lionel Rutherford), Geoffrey Bayldon (Max Wells). Frozen Fear:- Barbara Parkins (Bonnie), Richard Todd (Walter), Sylvia Sims (Ruth). The Weird Taylor:- Barry Morse (Bruno), Peter Cushing (Mr Smith), Ann Firbank (Anna), John Franklyn-Robbins (Stebbins). Lucy Comes to Stay:- Charlotte Rampling (Barbara), Britt Ekland (Lucy), James Villiers (George), Megs Jenkins (Miss Higgins). Mannikins of Horror:- Herbert Lom (Dr Byron)
---
Plot
Dr Martin applies for a job as a psychologist at the Dunsmoor asylum for the incurably insane. He is told that the asylum head Dr Starr has gone crazy and had to be committed. Dr Starr now insists he is someone else and Martin can have the job if he can identify which patient is Starr. Martin interviews various patients and hears their stories. Frozen Fear:- Walter kills his wife Ruth so that he can get her money and be with his mistress Bonnie. He chops Ruth's body to pieces and places these inside a deep freezer. The severed body parts then come back to life to exact justice against he and Bonnie. The Weird Tailor:- The impoverished tailor Bruno eagerly accepts a commission from the mysterious Mr Smith to make a suit for his son. The suit is to be made of a strange gleaming material and Bruno is given exact instructions that it can only be constructed after midnight. However, when he delivers the suit, Bruno finds that Smith requires it for an occult ceremony to raise his son from the dead. Lucy Comes to Stay:- Barbara is released from a psychiatric institution and goes to stay with her brother George. Barbara's troublesome friend Lucy then appears, urging her to kill. Mannikins of Horror:- Martin interviews Dr Byron who believes that he can imbue the model figures he creates with his spirit and bring them to life.
---
Under producers Max J. Rosenberg and Milton Subotsky, Amicus Films was the most successful of the English companies that set out to jump on the horror film bandwagon that was kicked off in the late 1950s by Hammer Films. In between various psycho-thrillers and occasional forays into science fiction, Amicus's most distinctive output was a series of horror anthology films, beginning with Dr Terror's House of Horrors (1965). Amicus successfully milked the horror anthology a number of times – with Torture Garden (1967), The House That Dripped Blood (1970), Asylum here, Tales from the Crypt (1972), From Beyond the Grave (1974), The Vault of Horror (1973) and Milton Subotsky's later solo effort The Monster Club (1980).
Asylum was one of the best of Amicus's anthologies. The script comes from genre veteran Robert Bloch, author of the novel that became Psycho (1960), who adapts several of his short stories as he had also done in two of Amicus's other anthologies – Torture Garden and The House That Dripped Blood.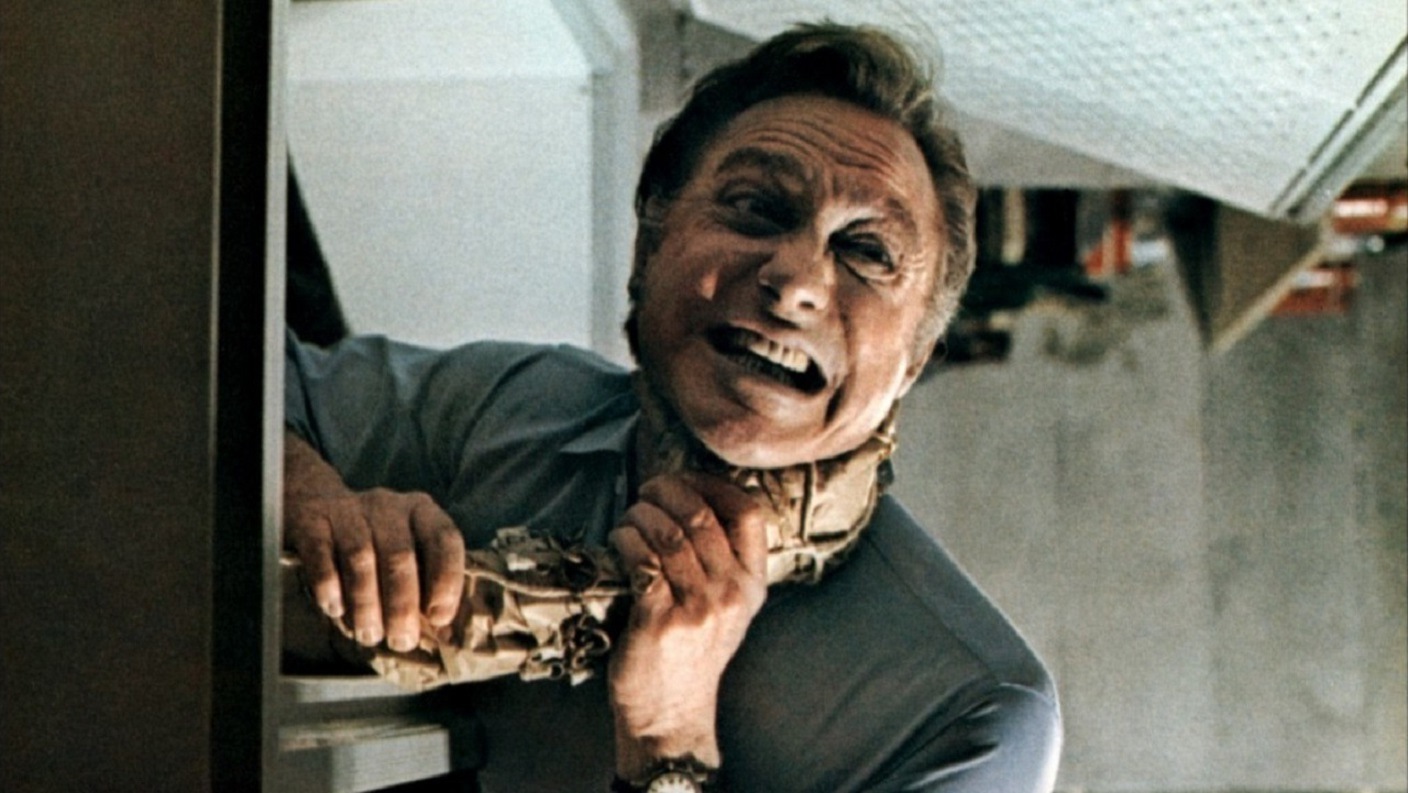 I have strong memories of many of the images from Asylum after seeing this on tv in my teens. Seen again today, Asylum still holds up well, if the pace is more sedate than I remember. The first segment has a wonderful grisliness that is pure E.C. Comics, containing some genuine shock images like when the head wrapped in brown paper first rolls through the door. There is a fine climax with the pieces of brown-paper wrapped body – a breathing head, a wriggling torso, and legs and arms – hopping around and grabbing Barbara Parkins by the hair.
The second episode is a well-sustained mood piece in the appearance of Peter Cushing's mysterious stranger, his cryptic instructions and the unveiling of the oddly glowing cloth. Roy Ward Baker obtains a weirdly funereal atmosphere, which hearkens towards something out of H.P. Lovecraft. Barry Morse gives a fine, frightened performance as the tailor. The episode is only weakened by a schlocky ending.
The third episode, featuring the perpetually unhappy Charlotte Rampling and 1970s no-talent blonde Britt Ekland is one that does not gain its full effect until the twist ending. There is a slight final piece with Herbert Lom bringing spirit-imbued toys to life. For once, the linking story is strong enough to stand on its own, arriving at a memorable twist ending. There is also an excellent score.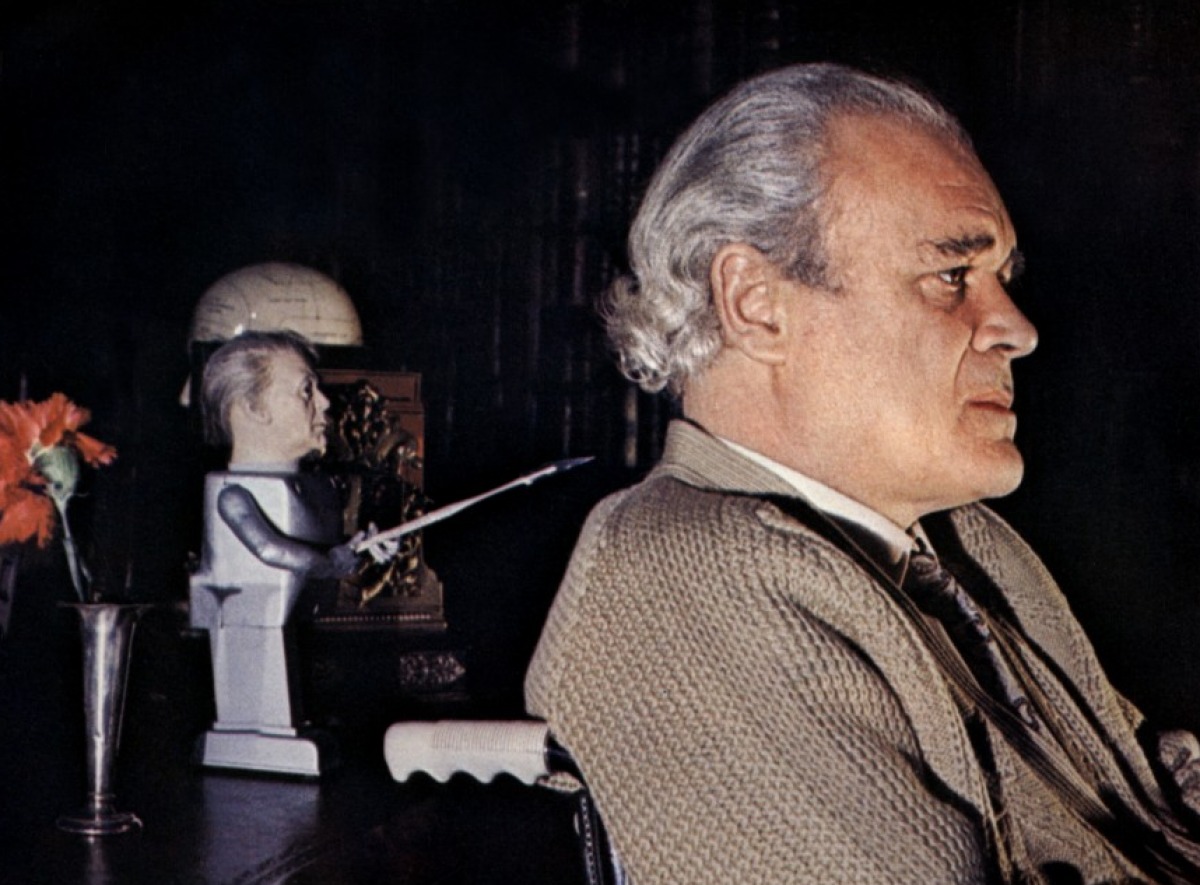 Roy Ward Baker became one of the prominent directors to rise in the latter decade of the Anglo-horror industry. Elsewhere, Baker made Quatermass and the Pit/Five Million Years to Earth (1967), Moon Zero Two (1969), The Vampire Lovers (1970), Scars of Dracula (1971), Dr Jekyll and Sister Hyde (1971) and Legend of the 7 Golden Vampires (1974) at Hammer; … And Now the Screaming Starts! (1973) and The Vault of Horror (1973) at Amicus; and the post-Amicus The Monster Club (1980).
Robert Bloch was most famous for writing the novel that became the basis of Psycho (1960). His other genre scripts are:- The Cabinet of Caligari (1962), Strait-Jacket (1964), The Night Walker (1965), The Skull (1965), The Psychopath (1966), The Deadly Bees (1967), Torture Garden (1967), The House That Dripped Blood (1970), the tv movie The Cat Creature (1973), the tv movie The Dead Don't Die (1975), The Amazing Captain Nemo (1977) and an episode of Three Dangerous Ladies (1988?).
---
---