---
USA. 1988.
Crew
Director – William Lustig, Screenplay/Producer – Larry Cohen, Photography – Vincent J. Rabe, Music – Jay Chattaway, Special Effects – Hollywood Special Effects (Supervisors – John Best, Bill Drysdale, Paul Staples & Laszlo Stumpf), Makeup Effects – More Than Skin Deep (Supervisor – John Naulin), Art Direction – Jonathan Hodges. Production Company – Shapiro Glickenhaus Entertainment.
Cast
Tom Atkins (Lieutenant Frank McRae), Bruce Campbell (Jack Forrest), Laurene Landon (Teresa Mallory), William Smith (Captain Ripley), Sheree North (Sally Noland), Richard Roundtree (Commissioner Pike), Robert Z'dar (Matthew Cordell), Victoria Catlin (Ellen Forrest), Erik Holland (Dr Gruber)
---
Plot
Police detective Frank McRae believes that a series of killings around the city are being conducted by a former cop but the idea is dismissed by his superiors. McRae takes this to the press but the news causes anti-police hysteria among the public. Amidst this, Ellen Forrest believes that her officer husband Jack might be the killer because he secretly goes out at night – although, he is in fact he is having an affair with undercover cop Teresa Mallory. When Ellen is murdered by the real killer, Jack is blamed. McRae presses forward with his theory, finding a trail that leads to former officer Matthew Cordell, a hero who ended up being jailed for supposed abuse of suspects' rights, where he was then killed by inmates. As McRae comes to discover, the badly mutilated Cordell is still alive and determined to make people pay for what happened to him.
---
Larry Cohen is one of the great independent genre directors of the late 1970s and early 1980s, having made the likes of It's Alive (1974) and sequels, God Told Me To/Demon (1976), Q – The Winged Serpent (1982) and The Stuff (1985), among others. From the late 1980s onwards, Cohen has dropped out from actively directing and these days only turns out scripts for the likes of Guilty as Sin (1993), the hilarious psycho sperm donor film Misbegotten (1997), Phone Booth (2002), Cellular (2004), Captivity (2007), the remake of It's Alive (2008) and Messages Deleted (2010). With Maniac Cop, Larry Cohen brought his quirky, highly individualistic sense of humour to bear on a film that soon developed into a slasher series of considerable inventivity. The director was William Lustig, who had made the notoriously nasty slasher film Maniac (1980) and a few other minor entries such as the action film Vigilante (1982) and the psycho-thriller Relentless (1989).
Maniac Cop is not a particularly great film. William Lustig's direction is efficient without being particularly memorable – he never mounts any of the spectacular actions sequences that either of the sequels do – although there is a good scene with Laurene Landon being pursued by Cordell while handcuffed to a cop he has just killed.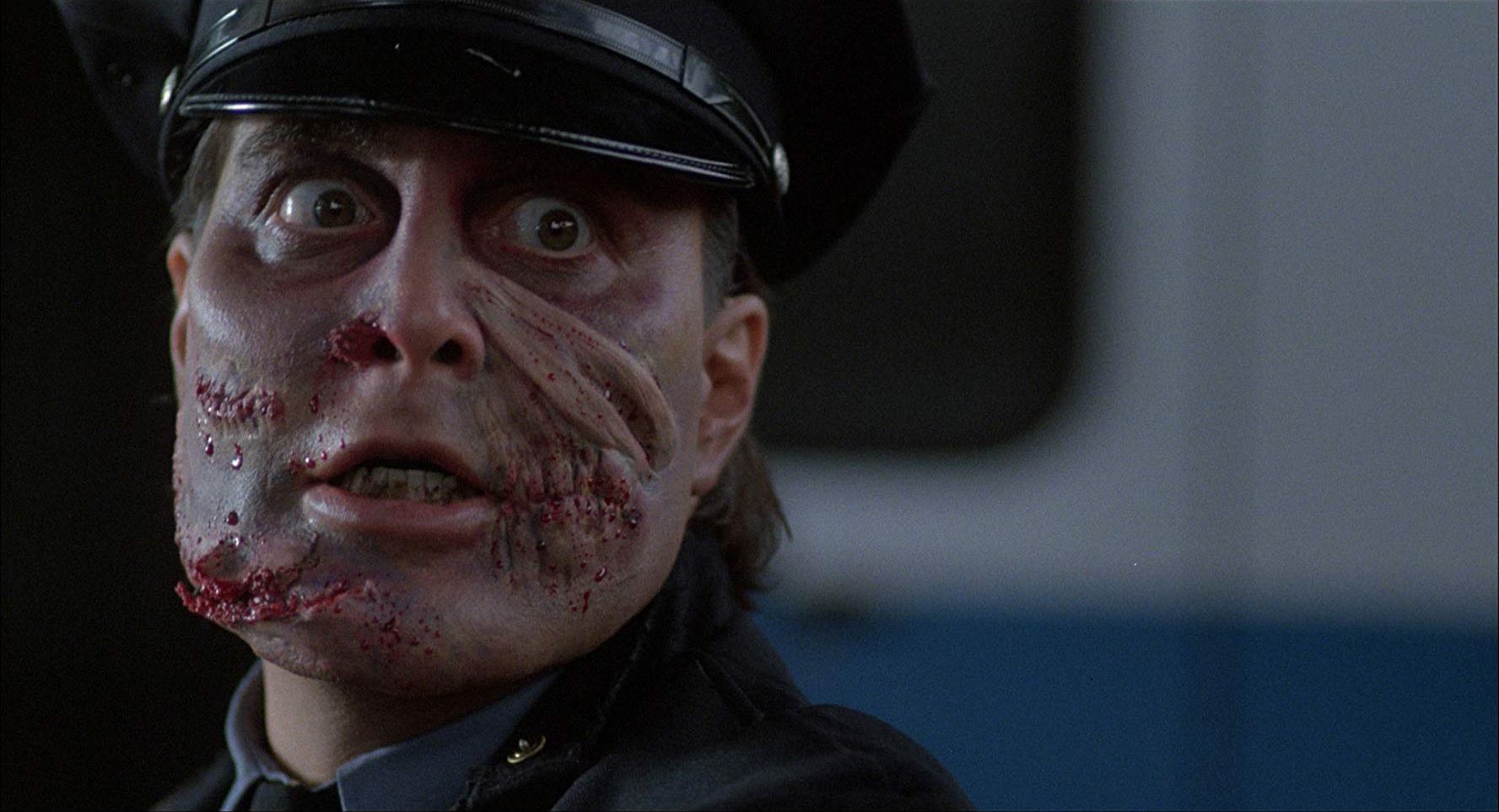 What raises Maniac Cop above the routine is the quirkiness of Larry Cohen's script. It is filled with Cohen's typically ironic humour – images like the victim drowned face down in wet concrete having to be drilled out with a jackhammer. Or how the captain and commissioner ignore Laurene Landon's warnings only to be killed by Cordell as they exit the lifts moments later; or having the innocent Bruce Campbell being further implicated as the maniac cop with every step he takes. Cohen also potently conveys the idea of a city where the people can no longer trust the police force that is supposed to be protecting them.
The script does however have a number of implausibilities, particularly during Tom Atkins's investigation where he manages during the opening few minutes to speciously deduce that a woman was killed by a cop solely by reasoning that nobody else would have the strength to kill her. At another point, he works out Cordell's name from overhearing a conversation between Cordell and Sheree North in which Cordell's name is not even mentioned.
The two subsequent and much better sequels were Maniac Cop II (1990) and Maniac Cop 3: Badge of Silence (1992). William Lustig and Larry Cohen also went onto make Uncle Sam (1997) about an undead military veteran.
---
---