---
Crew
Director/Screenplay – Fred Walton, Producer – Tom Rowe, Photography – David Geddes, Music – Dana Kaproff, Makeup Effects – Jonathan Blackshaw, Production Design – Chris August. Production Company – Pacific Motion Pictures/Krost-Chaplin/The Producers Entertainment Group Ltd..
Cast
Carol Kane (Jill Johnson), Charles Durning (John Clifford), Jill Schoelen (Julia Jenz), Gene Lythgow (William Landis), Jerry Wasserman (Detective Brauer), Kevin McNulty (Dr Schifrin), Cheryl Wilson (Mrs Schifrin)
---
Plot
Julia Jenz takes a babysitting job. As she settles in for the evening, a man comes to the door, asking her to let him in because his car has broken down. When she refuses, he asks her to call his auto club. She pretends to do so but he proves insistent. Someone then appears to be inside the house while he is still talking outside. Five years later, Julia is at university. She goes to the police, insistent that someone has broken into her apartment and is doing small things like opening windows and leaving different clothes in her closet. They dismiss her but she is believed by Jill Johnson who now works as a crisis counsellor. Jill brings former detective John Clifford in to investigate but they are unable to find any evidence to back up Julia's claims. Despite this, Jill is insistent that Julia is being stalked and determines to find answers.
---
When we think of the films that formed the original slasher cycle, people always cite Halloween (1978) and Friday the 13th (1980). The one they tend to forget sandwiched in the middle was Fred Walton's babysitter stalker film When a Stranger Calls (1979), which proved quite a reasonable hit during its day but is overlooked nowadays. It was later remade as When a Stranger Calls (2006). There was also this almost entirely forgotten sequel to the original, which aired on the Showtime Network and was then released to VHS. Director Fred Walton and stars Carol Kane, the stalked babysitter in the original, and Charles Durning, who played the pursuing detective, make return appearances.
The original When a Stranger Calls came with a great opening where Carol Kane was babysitting and started receiving anonymous phone calls that became more threatening in nature before a twist that revealed the killer was calling from inside the house. That was the essence of Fred Walton's original short film The Sitter (1978). He was given money to expand the short out to feature length and to pad out the running time added the second and third acts of the film built out around the pursuit of the escaped killer several years later.
Walton tries to replicate a similar opening hook here with babysitter Jill Schoelen tending two kids before an anonymous figure (whom we never see) comes knocking at the door, asking to be let in so that he can call the autoclub for help with his breakdown. She makes the pretence to call them in the hope he will go away but he proves persistent. He then appears to have entered the house at the same time as he is still talking outside the front door. It is a fine hook that offers something different. Walton rides the tensions with some expertise.
The second and third acts are arranged similar to the original and likewise take place several years later. Where the original had detective Charles Durning tracking the escaped killer in the second act and then a third act as he returned to target Carol Kane; this reverses the order and has babysitter Jill Schoelen being targeted again after five years and counsellor Carol Kane and detective Charles Durning teaming up to find him.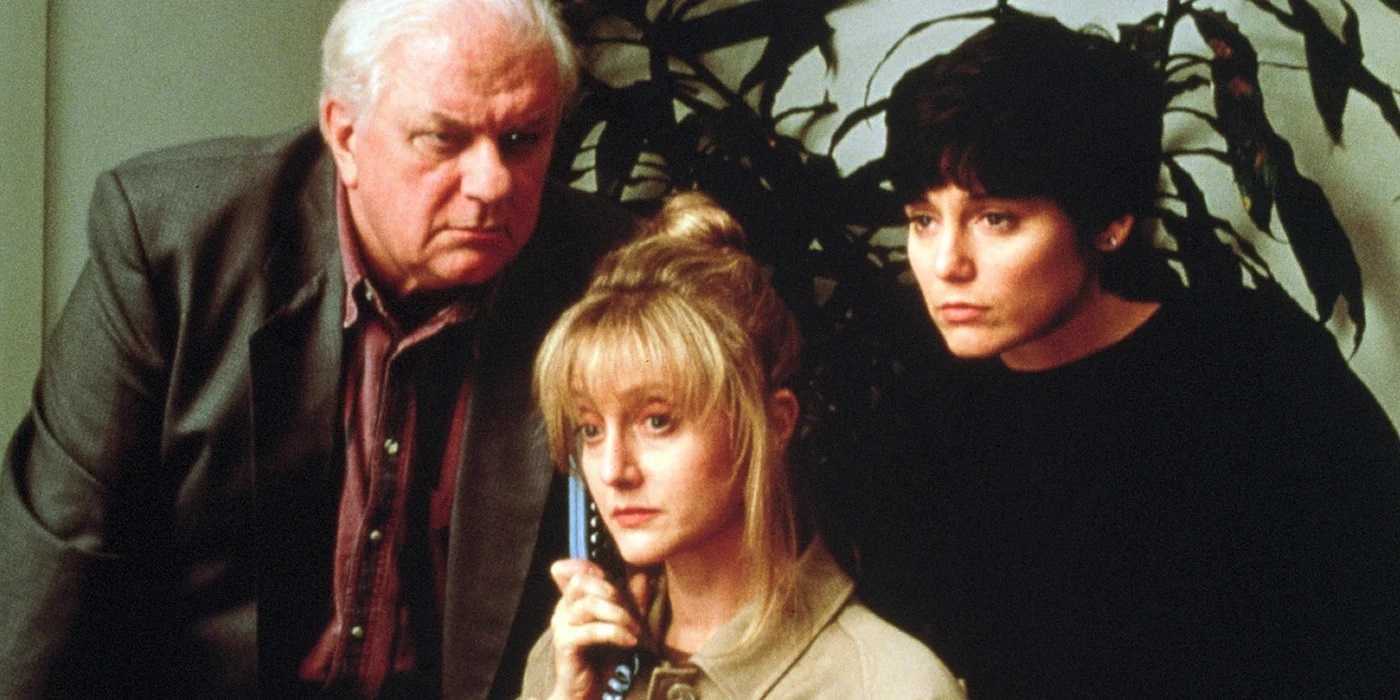 In between making the two films, Fred Walton had clearly done some reading on feminism. This is evident in particular in the scenes where Jill Schoelen's complaint is not taken seriously by an all-male police department. One good move the film makes is depicting Carol Kane's Jill as an abuse survivor who now works as a counsellor for a woman's help centre and teaches women's self-defence classes. This seems a perfectly logical progression from the first film (even if it ignores the third act of the original where she had settled down, married and had two kids, all of which seems to have been written out here). She even gets to thoroughly kick the killer's ass at the climax. Carol Kane also looks worn and haggard as though she has mostly been having sleepless nights since the original, not to mention goes at her performance with an obsessiveness that seems just a little crazy. (It seems hard at times to draw a difference between whether she is meant to a crusading heroine following a hunch or is obsessively trying to prove something despite a complete lack of evidence).
The script has the interesting idea of the killer gaslighting Jill Schoelen by making minute changes in her apartment – an opened window, a book moved on a shelf, a new shirt in the closet – that looks as though she is imagining it when she goes to the police. There are also the intriguing scenes where the killer has an ability to disguise himself by wearing camouflage clothing that blends into walls and shadows.
On the other hand, the thriller plot takes a nosedive from about the point that Charles Durning announces: "This is going to sound crazy – we're looking for a ventriloquist." And it is the absurdity of this idea, not to mention the film's ill-informed idea of how ventriloquism operates (with the killer having the seeming ability to project his voice all around various locations even when he is not in the room) that kills what otherwise seems a promising and original sequel.
Fred Walton's other films of genre interest are:– the slasher film April Fool's Day (1986), the excellent Catholic psycho-thriller The Rosary Murders (1987) and the radio talkback host psycho-thriller Dead Air (1994). Walton then went onto make a whole host of genre tv movies, including a remake of I Saw What You Did (1988), another psycho-thriller Trapped (1989), Homewrecker (1992) about a rogue AI, and The Stepford Husbands (1996).
---
---