---
Crew
Director/Screenplay – Frank Henenlotter, Producer – Edgar Ievins, Photography – Robert M. Baldwin, Music – Joe Renzetti, Makeup Effects – Gabe Bartalos, Animatronics Supervisor – Kenneth Walker, Production Design – Michael P. Moran. Production Company – Shapiro Glickenhaus Entertainment Corp.
Cast
Kevin van Hentenryck (Duane Bradley), Annie Ross (Granny Ruth Smoeller), Kathryn Meisle (Marcie Elliott), Heather Rattray (Susan Smoeller), Ted Sorel (Phil), Matt Mitler (Arty), Jan Saint (Lyle Barker)
---
Plot
Duane Bradley and his deformed Siamese twin brother Belial escape hospital and are given refuge by Granny Ruth Smoeller who runs a secret haven for freaks on Staten Island. There Belial finds romance with Eve, a bodiless torso. Duane also finds romance with Granny Ruth's daughter Susan but desires to leave. Their security is threatened by an intrusive tabloid journalist who is determined to obtain a story.
---
Low-budget director Frank Henenlotter made a unique debut with Basket Case (1982). Along with his even better follow-up feature, Brain Damage (1987), Frank Henenlotter for a time showed promise as a highly original low-budget talent. Alas, Henenlotter then disappeared as a director in the early 1990s, not making another film again until Bad Biology (2008), and now spends his time making documentaries on genre subjects with Herschell Gordon Lewis: The Godfather of Gore (2010) and That's Sexploitation! (2013) and the non-genre likes of Chasing Banksy (2015) and Boiled Angels: The Trial of Mike Diana (2018).
Here Henenlotter has clearly opted to take the commercial route in making a Basket Case sequel. Certainly, the budget on Basket Case 2 is much more substantial than the price of two used shoestrings that Henenlotter had on the original. However, with someone like Frank Henenlotter at the helm, Basket Case 2 is not merely a repeat of the first film. Henenlotter in fact takes the story into new and original territory to make the film a comic variant on Freaks (1932).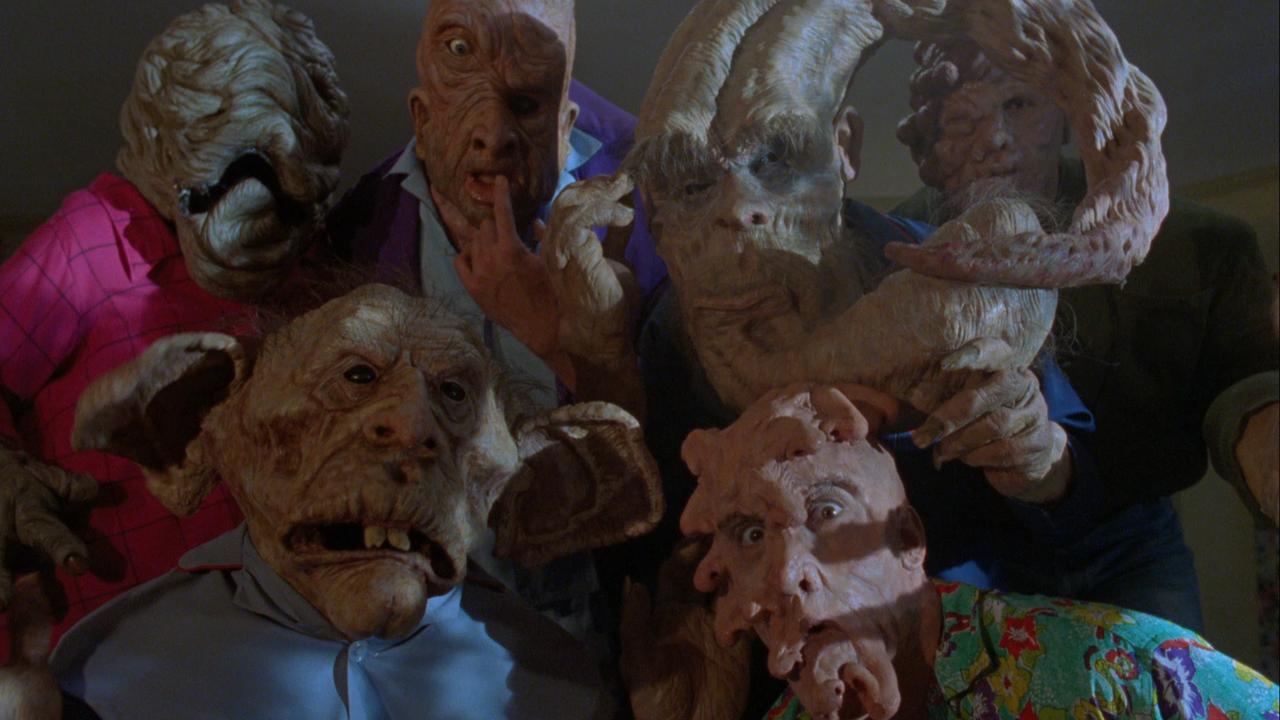 Of course, Frank Henenlotter's sympathies lie entirely with the freaks – the end credits, for example, insist on listing them as 'unique individuals'. Henenlotter makes the observation, in a none too subtle way, that they are normal on the inside and the outside world is freakish. The point is hammered home with lines like: "In a House of Freaks you'd be the one out of place." The female journalist receives a fate directly modelled on the ending of Freaks, whereupon she is told "Gee Marcy, you should see yourself – you're the freak now."
While lacking in a great deal of metaphoric finesse, Basket Case 2 is not without imagination. There are very Henenlotter-esque touches such as the sight of Belial undergoing analysis. Particularly notable is the vividly perverse climax, which features a love scene between two bodiless torsos; Kevin van Hentenryck going to consummate his love affair, only to find his love interest has been pregnant for six years with a creature that refuses to leave her womb; and he, as a result, becoming deranged, sewing Belial's torso back onto himself as the end credits roll on peals of maniacal laughter.
Gabe Bartalos contributes a series of way out makeups – people with half-moon shaped faces, multiple mouths and the like – although, while these may have looked amazing on the design board, they are in practice clearly only facial appliances.
This was followed by a third sequel from Frank Henenlotter with Basket Case 3/Basket Case 3: The Progeny (1991).
---
---