---
Crew
Director – William Lustig, Screenplay/Producer – Larry Cohen, Photography – James Lemmo, Music – Jay Chattaway, Special Effects Supervisor – Jim Carter, Makeup Effects – Dean Gates, Production Design – Gene Abel & Charles Lagola. Production Company – The Movie House Sales Co/Fadd Enterprises.
Cast
Claudia Christian (Susan Riley), Robert Davi (Detective Sean McKinney), Robert Z'dar (Matt Cordell), Michael Lerner (Commissioner Edward Doyle), Laurene Landon (Officer Teresa Mallory), Bruce Campbell (Officer Jack Forrest), Leo Rossi (Steve Turkell), Paula Trickey (Cheryl), Lou Bonachi (Detective Lovejoy), Clarence Williams III (Blum), Andrew Hill Newman (Citizen), Santos Morales (Convenience Store Clerk)
---
Plot
Police officers Jack Forrest and Teresa Mallory are deemed fit to return to duty following the Matt Cordell affair so long as they pass a mental health check. They are sent to departmental psychologist Susan Riley but are unwilling to give up on their story about the existence of Cordell. Jack is then murdered. Riley begins her own investigation and encounters Cordell as he starts killing police all over the city. Meanwhile, Cordell is befriended by serial killer Steve Turkell. When Turkell is arrested, Cordell bursts into the police station to free him, slaughtering police en masse, all as part of an ambitious plan to return to Sing Sing and exact revenge on those who disfigured him.
---
Maniac Cop (1988) was a lightweight but enjoyable B-budget psycho-thriller that worked largely through the characteristically quirky script from Larry Cohen, better known as the director of It's Alive (1974) and sequels and Q: The Winged Serpent (1982). It was expanded into a three film franchise, starting with this and followed by Maniac Cop 3: Badge of Silence (1992). This sequel reunites Larry Cohen, director William Lustig and original stars Bruce Campbell, Laurene Landon and Robert Z'dar.
The general low expectations of sequels leaves one completely surprised by what an extraordinary film Maniac Cop II is. It is one of the rare sequels that improves tenfold or more over its predecessor. Larry Cohen goes for broke on his script – it is immediately apparent during the opening, which offers an hilarious sequence where a petty hood holds up a convenience store only for there to turn out to be no money and he is reduced to forcing the clerk to scratch instant lotto tickets at gunpoint and happens to win $5000 just as the Maniac Cop arrives, slaughtering the clerk with the hood's gun, leaving the hood to then be arrested as the police arrive for a crime he did not commit.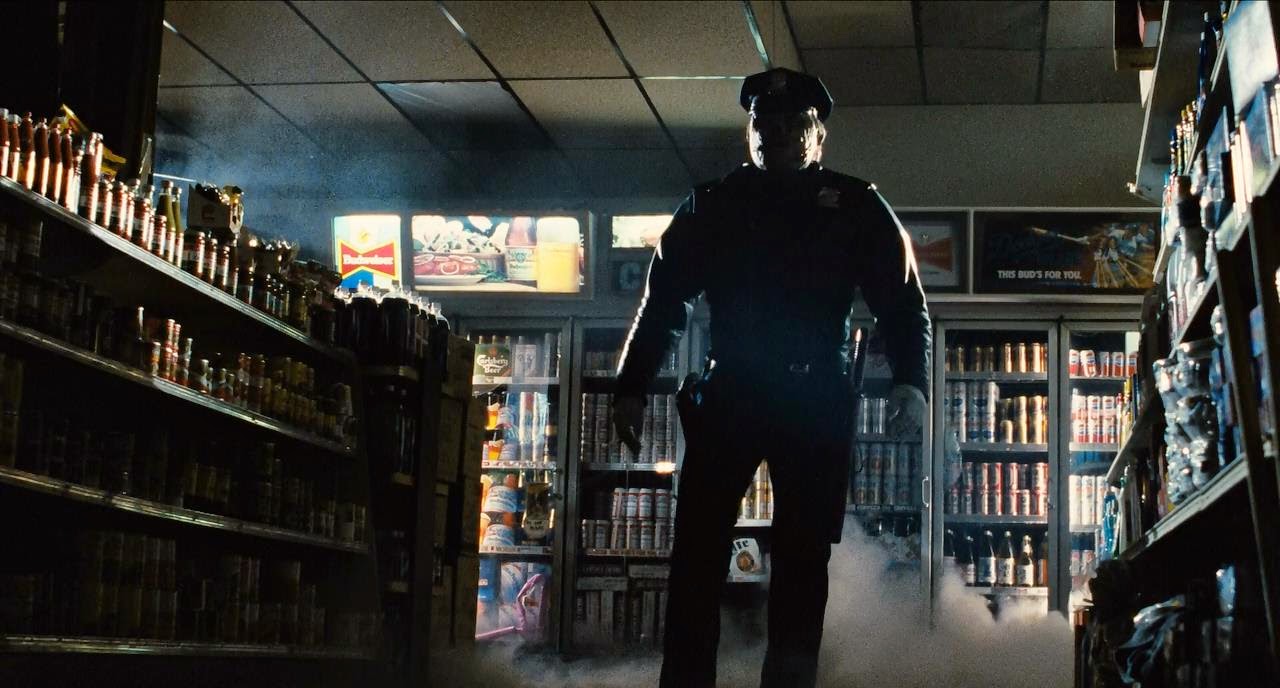 The film is filled with quintessentially Cohen-esque vignettes – the Yuppie dressing down the cop who is towing his car away or the breathtaking sequence where a blind news vendor describes how he lost his sight in a hand grenade explosion during the War that killed the other soldiers and left him buried in frozen corpses – "and that was just how the flesh of the killer felt." The most unusual plot development is where Cordell and the serial killer befriend one another in a Of Mice and Men relationship of sorts – there is even great pathos to the scene where Cordell struggles to simply say his name.
It is not just Larry Cohen's script but also William Lustig's direction that make Maniac Cop II an awe-inspiring B movie. Lustig directs enthralling sequences unlike anything that any other action director has ever dreamed up – a cop car pursuing a cab that is driving on its steel rims in a shower of sparks, or Claudia Christian handcuffed to the steering wheel of a runaway car and left to run while hanging along on the outside as the car heads into oncoming traffic.
There is a spectacular shootout in a police station that rivals the similar sequence in The Terminator (1984), a sequence that opens with the great image of cops shooting on a target range and the target range suddenly shooting back at the cops and Cordell emerging to stride down the aisle of the range. A remarkable film.
---
---