aka Matthew Blackheart: Monster Smasher
---
Crew
Director – Erik Canuel, Screenplay – Robert Engels, Created by Robert Engels, Roy Knyrim, John Schouweiler & Mark Villalobos, Producer – Lise Abastado, Photography – John Dyer, Music – Michel Corriveau, Digital Visual Effects – Hybride Technologies (Supervisor – Thierry Delattre), Special Effects – L'Intrigue, Makeup/Creature Effects – Adrien Morot, Makeup Effects/Prosthetics – Maestro Studios F/X Inc, Production Design – Raymond Dupuis. Production Company – Telescene Film Group/The Donners' Company
Cast
Robert Bogue (Matthew Blackheart), Jay Baruchel (Jimmy Fleming), Christopher Heyerdahl (Dr Jacob Mortes), Karen Elkin (Nancy), John Novak (Ruskin Stern), Kenneth Welsh (Dr James Franken), Ardon Bess (Blind Sid), Kim Feeney (Rita), Paul Cagelet (Young Glen), Una Kay (Helen Goldsworthy), Jayne Heitmeyer (Ava), Vlasta Vrana (Franklin Delano Roosevelt)
---
Plot
Matthew Blackheart storms into a comic-book store signing where young Jimmy Fleming has written a comic-book based on his life story. He sits down to read the comic-book. It tells of how Blackheart was created in 1944 by scientist Dr Franken under the orders of President Roosevelt in order to hunt monsters or 'bogies'. Blackheart was sent to Patagonia to deal with the bogies created by the evil Dr Mortes but during the fight ended up being trapped in cryogenic suspension. Thawed out in 1999, Blackheart returned to New York City to continue fighting bogies, although found himself somewhat at odds with the present day. Falling in with Jimmy, a young cab driver, Blackheart uncovered a plan by Dr Mortes, still alive and managing a recording industry empire, to take control of the political elite of the USA.
---
At a guess, Matthew Blackheart appears to have been made as a pilot for a tv series, which needless to say never went to series. It is possible that it took inspiration from the success of the tongue-in-cheek monster hunting in tv's Buffy the Vampire Slayer (1997-2003) around the same time.
There are also undeniable similarities between the titular monster hunter and Marvel Comics' Captain America who was likewise thawed out from the WWII era to continue his fight in the present-day. The comic-book connection extends even further than that with the film rather amusingly being visually styled as the equivalent of a filmed comic-book. The story is told by the hero as he sits down to read a comic-book of his own life story, while the frame frequently dissolves into comic-book panels and even comic-book onomatopoeia – "va-va-vroom" and the like – in the same visual effect that was employed by Ang Lee in Hulk (2003).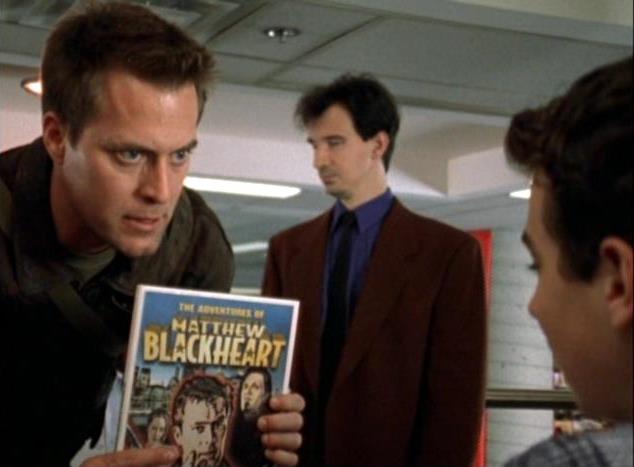 The dialogue has all been written as tongue-in-cheek cod-1940s tough guy purple prose that feels like it should come in dialogue balloons – "Knocking them back to the Stone Age is a leap forward", "You're not a bad guy for a girl" or the priceless "Someone broke your heart … I'm about to give you a dose of heartbreak motor oil." (It reminds of the witty genre pastiche of WWII GI movies, Zone Troopers [1986]). Hero Robert Bogue has been cast for his lantern jaw and ability to play with a perfect deadpan amid the wilful absurdities. The film derives considerable amusement from the hero's trying to deal with the present-day – his encounter with fake vampires at a Goth nightclub or attempts to use a cellphone.
The production appears to have been conducted on the cheap, with the photography in particular making it look like the entire film has been shot on video. The action is poorly choreographed. There are some occasionally decent cheap monster masks. The details about why and especially how the hero was created are a little vague but the film emerges appealingly. All in all it is certainly a better monster hunter pastiche than Van Helsing (2004) was.
Matthew Blackheart gives the impression of having been made around 1998-9 – there are references to the approaching millennium – but the film was not released until 2002 where it was shuffled off direct to tv. (It is unclear if it was originally intended as a tv pilot or a standalone film for theatrical/video release). The film was a Canadian production, although was co-produced by Richard Donner, the director of films like The Omen (1976), Superman (1978) and Lethal Weapon (1987). Screenwriter Robert Engels was a regular writer and producer on David Lynch's Twin Peaks (1990-1).
---
---