---
Crew
Director/Story/Producer/Photography – Richard Mogg, Special Effects – The Splatter Sisters. Production Company – RickMoe Productions
Cast
Kirk Munaweera (John Saurius), Kevin Paynter (Jimmy Johnson), Lauren Richardson (Sheriff Baily), Meghan Kinsley (Julie), Chanelle Fraser (Brooke), Max Ashby (Tommy), Martha Staus (Ty-Tanium), Nathan Ferguson (Bobby), Steve Ferguson (Billy), Richard Mogg (Chet Brockwell), Ken Sloan (Daddy), Eternity Sloan (Eternity), Lloyd Kaufman (Himself)
---
Plot
When a girl returns from the woods claiming that Bigfoot has eaten her boyfriend, Sheriff Baily calls in monster hunter John Saurius. Saurius has a personal vendetta against Bigfoot for tearing off his penis during a previous encounter and is determined to kill it. At the same, former child star Jimmy Johnson, who was known as The Kung Fu Kid, sees the news reports about Bigfoot and gets an idea to regain his fame. Planning to head into the woods and personally fight Bigfoot, he asks for five hot girls to accompany him as his camera crew, although his agent only sends one of these. The various parties meet up in the hunt for Bigfoot.
---
Bigfoot Ate My Boyfriend was the fifth feature film from Canadian director Richard Mogg. Mogg is an independent and makes films on next-to-no resources, ones that also make a virtue of their shoestring budgets. He has also made Easter Bunny Bloodbath (2010), Bangin' Vengeance (2011), Teenage Slumber Party Massacre (2014) and Massage Parlor of Death (2015).
In the Q&A that takes place after the screening at the Shivers Cinemafantastique festival, Mogg proves a lively and entertaining presence. Mogg grew up as a fan of Troma films – Troma head Lloyd Kaufman even has a brief cameo in an ad libbed part as a tv newsreader here after Mogg was able to corral him into shooting a scene following Kaufman's appearance at a local Tromafest. Mogg acknowledges a great debt of inspiration to Kaufman's DIY movie-making manual Make Your Own Damn Movie (2003). Mogg is very much a torch-carrier for the $1.98 school of filmmaking and speaks of how he works with the certain belief that movies are made by heart and personal passion as opposed to the necessity of large budget resources.
This approach is more than evident when it comes to Bigfoot Ate My Boyfriend. The film was put together on scanty resources and shot over a few days in outlying areas of Vancouver. It is a film that wears its lack of budget with pride. Bigfoot is played by several different actors in an ape suit that makes no pretence to being convincing – we're talking something that can give Robot Monster (1953)'s Ro-Man a run for its money here. The lack of makeup effects budget is hilariously spoofed in the lines describing people being eviscerated that fly in the face of any blood we see being spilt on screen.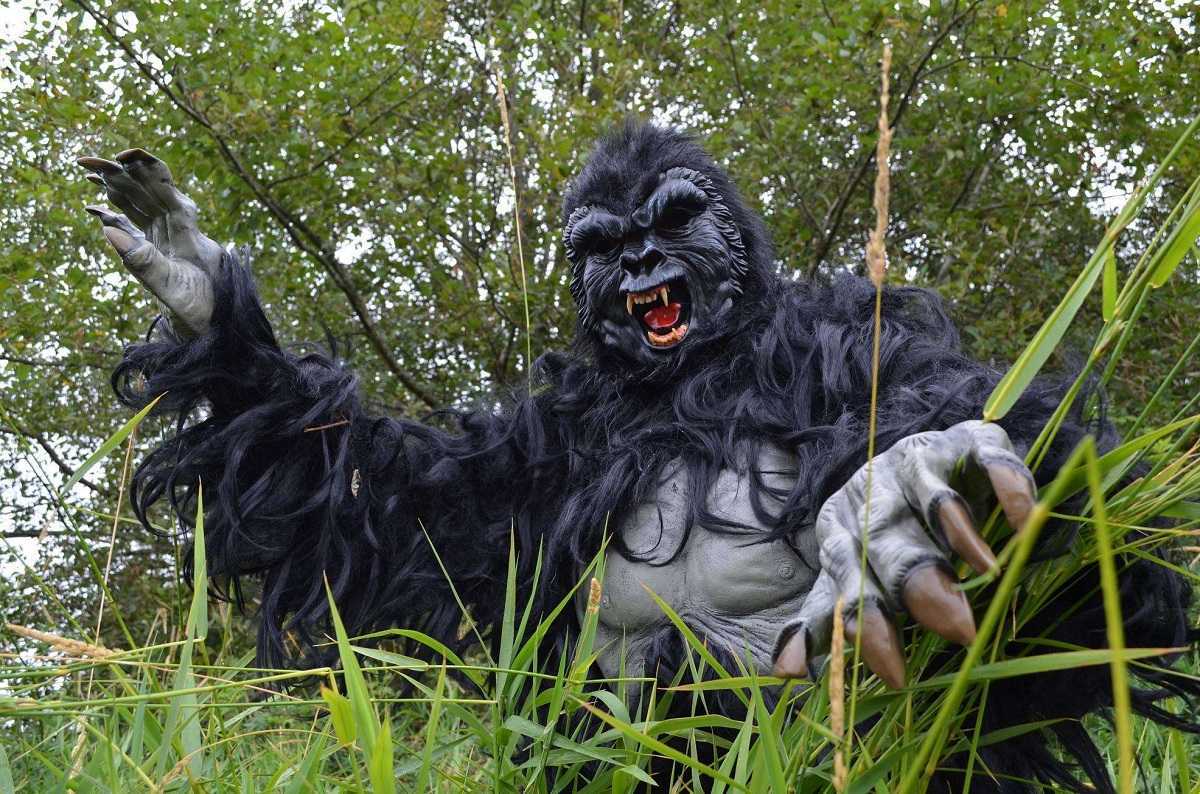 Most of all, Bigfoot Ate My Boyfriend is a film that shouts out its sheer good nature. Mogg and his cast have a great sense of comedic timing – something that many (most?) low-budget films either overstress or miss altogether. Mogg says how most of the film was made without a clear script but rather was one that he and his cast improvised. This leads to some very funny pieces, most notably Lauren Richardson as the sheriff – who keeps reminding you of the cops that turn up in Edward D. Wood, Jr films – where she gives what is either an unwittingly very bad performance or a very clever performance of someone pretending to give a bad performance.
The lines are frequently hilariously deadpan – Kirk Munareewa's "Some days you win, some days you get your junk ripped off" should be made up into a t-shirt. I suppose my favourite scene in a film that is filled with a good many side-splitting and extremely funny scenes was the one where Martha Staus shares beer and then takes a sexual tumble with Bigfoot on a picnic blanket.
Richard Mogg has promised a sequel in which Bigfoot crosses over and takes on the Easter Bunny from his abovementioned film.
(Screening at the Shivers Cinemafantastique Film Festival)
---
---