Maniac Mansion
(La Mansion de la Niebla)
---
Crew
Director – F. [Francisco] Lara Polop, Screenplay – Luis G. De Blain, Photography – Guglielmo Mancori, Music – Marcello Giombini, Special Effects – Anibal Balas, Eugenio Penalver & Pablo Perez, Makeup – Miguel Sese, Art Direction – Jamie Perez Cubero. Production Company – Mundial Films S.A./Tritone Filmindustria S.R.L..
Cast
Analia Gade (Elsa), Evelyn Stewart (Marta Clinton), Alberto Dalbes (Ernest), Andres Resina (Fred), Lisa Leonardi (Laura), Franco Fantasia (Porter), Ingrid Garbo (Amante), Yelena Samarina (Senora Tremont), Jose Luis Velasco (Chauffeur)
---
Plot
Various travellers become lost in the fog on the road to Milen and end up at a sinister old house. They are welcomed inside by the owner Martha Clinton, who tells how the local townspeople were killed off by a plague, or what may have been a vampire. As they group settle in for the night, various forces lurking around the house start to kill them.
---
The Murder Mansion is essentially a variant on the Old Dark House Thriller – a genre that was popular from the 1920s throughout to the 1940s in which assorted peoples would gather at a big gloomy old mansion usually for something like the reading of a will. Over the course of the evening, a mysterious figure would start killing off those gathered before being revealed to be one of the group.
This was a Spanish/Italian co-production made at the height of Euro horror. It does the same as the Old Dark House film, although opts for a quasi-supernatural series of happenings – a house that seems to exist in a twilight zone surrounded by mist; undead risen in the graveyard; talk of vampires possibly having killed off the local townspeople. There are assorted killings of those gathered.
The film eventually arrives at a Rationalised Ending that explains these away as being people wearing masks, although it is an ending where you are left uncertain for what purpose such a masquerade was being conducted.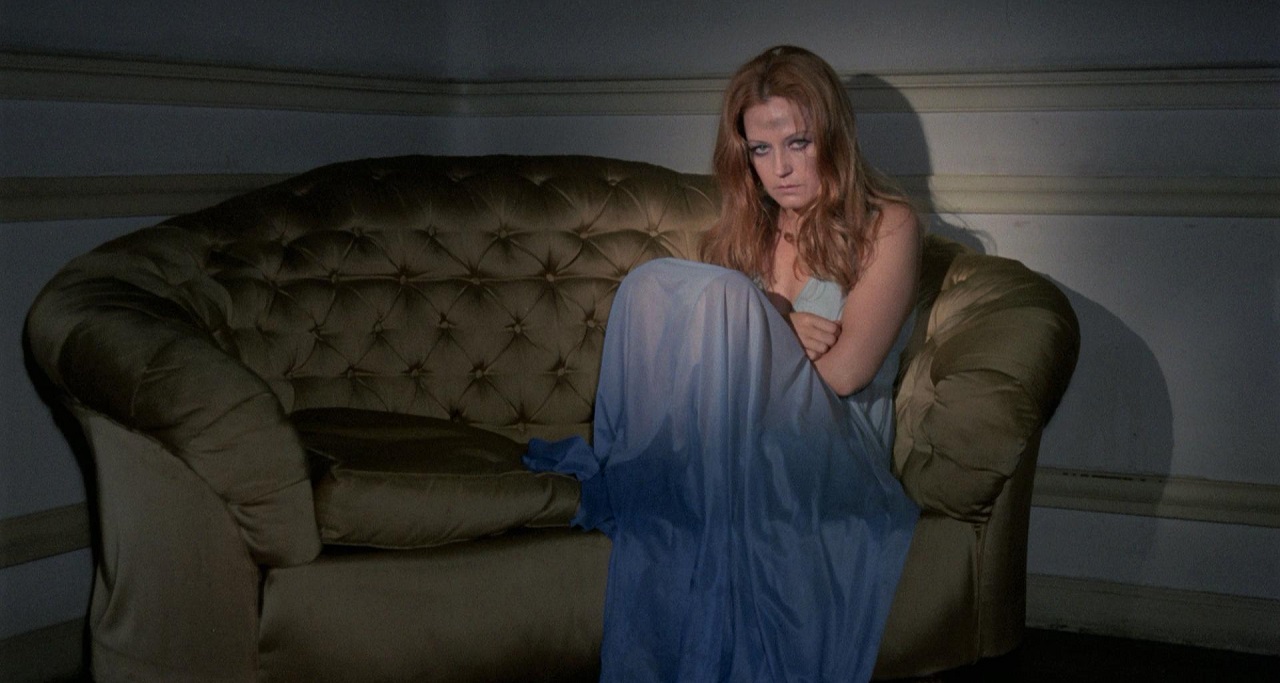 The main problem with the film is that nothing happens. It gets a group of characters assembled. After some slight spookiness with figures in the graveyard as they arrive at the house, we have almost an entire hour of inaction and non-happening. Most of this is taken up with various bitcheries and tensions between the assorted characters, none of whom end up being likable as people.
After the one-hour point, we do get some scenes wandering around the dark and gloomy cellars. The sinister seemingly zombified chauffeur enters a bedroom to attack one of the women at one point. After that, we do start to get some of the assembled characters being bumped off and the happenings proceed more in the direction of the promised horror film.
The great disappointment is that the version of the film in circulation in dvd release is one that was cut for tv airing. This becomes extremely obvious from the point that people start taking their clothes and the film coyly cuts away. A restored print would no doubt be far more interesting than the one available.
---
Trailer here
---