---
Crew
Director – Gene Wilder, Screenplay – Gene Wilder & Terence Marsh, Producer – Susan Ruskin, Photography – Fred Shuler, Music – John Morris, Special Effects – John Stears, Production Design – Marsh. Production Company – Orion Pictures.
Cast
Gene Wilder (Larry Abbott), Gilda Radner (Vicky Pearl), Dom de Luise (Aunt Kate), Bryan Pringle (Pfister), Jonathan Pryce (Charlie Abbott), Ann Way (Rachel), Eve Ferret (Sylvia Beachem), Paul L. Smith (Dr Paul Abbott), Jim Carter (Montego), Peter Vaughn (Francis), Jo Ross (Susan)
---
Plot
In the 1930s, Larry Abbott is the top radio star in the country with his 'Haunted Honeymoon' show. He announces his engagement to co-star Vicky Pearl but then becomes nervous and starts forgetting his lines on-air. His psychologist brother determines it is a condition that can only be cured by scaring him out of it and makes secret plans to stage something for the gathering at the family mansion that weekend. There Aunt Kate, the head of the family, announces she has made a will leaving everything to Larry. She also warns that one of those gathered in the house is a werewolf. Soon after, dead bodies begin turning up and strange things start happening to Larry.
---
Gene Wilder is a comedian of inexplicable appeal – it is difficult to see what audiences find in watching a grown man gibbering or giving a performance that leaps off into having him suddenly starting to shout every line of dialogue at the top of his lungs. Wilder came to fame through his collaborations with Mel Brooks – appearing in The Producers (1966) and Blazing Saddles (1974) and then co-writing Young Frankenstein (1974), before going solo as a writer-director of his own material. All of Gene Wilder's films consciously draw on Hollywood's past – Arthur Conan Doyle in The Adventures of Sherlock Holmes' Smarter Brother (1975) and The World's Greatest Lover (1977), which spoofed Rudolf Valentino, while The Woman in Red (1984) consciously took on Marilyn Monroe. Even Wilder's best work with Mel Brooks was parodies of old films – the Universal Frankensteins in Young Frankenstein and the Western in Blazing Saddles.
Similarly, Haunted Honeymoon takes on Old Dark House comedy-thrillers such as The Cat and the Canary (1939), The Gorilla (1939) and The Ghost Breakers (1940) – a genre that deserves to be left buried in the decade it came from if there ever was one. Naturally in the 1980s, when Jason and Freddy were the hot thing on the scene, all that Gene Wilder could do is bill his ridiculously dated effort as a comedy.
Unfortunately, all that Wilder has done is transplanted the genre, creaks and all, and updated none of it. He certainly lacks any style as a director or any cleverness as a comedian to enervate any of it in any way – there is none of the zany cleverness and relentlessly vulgar gags that there are in his works with Mel Brooks. Rather than parodying the Old Dark House genre, which certainly well and truly deserved it by this point, all that his cast do is repeat it.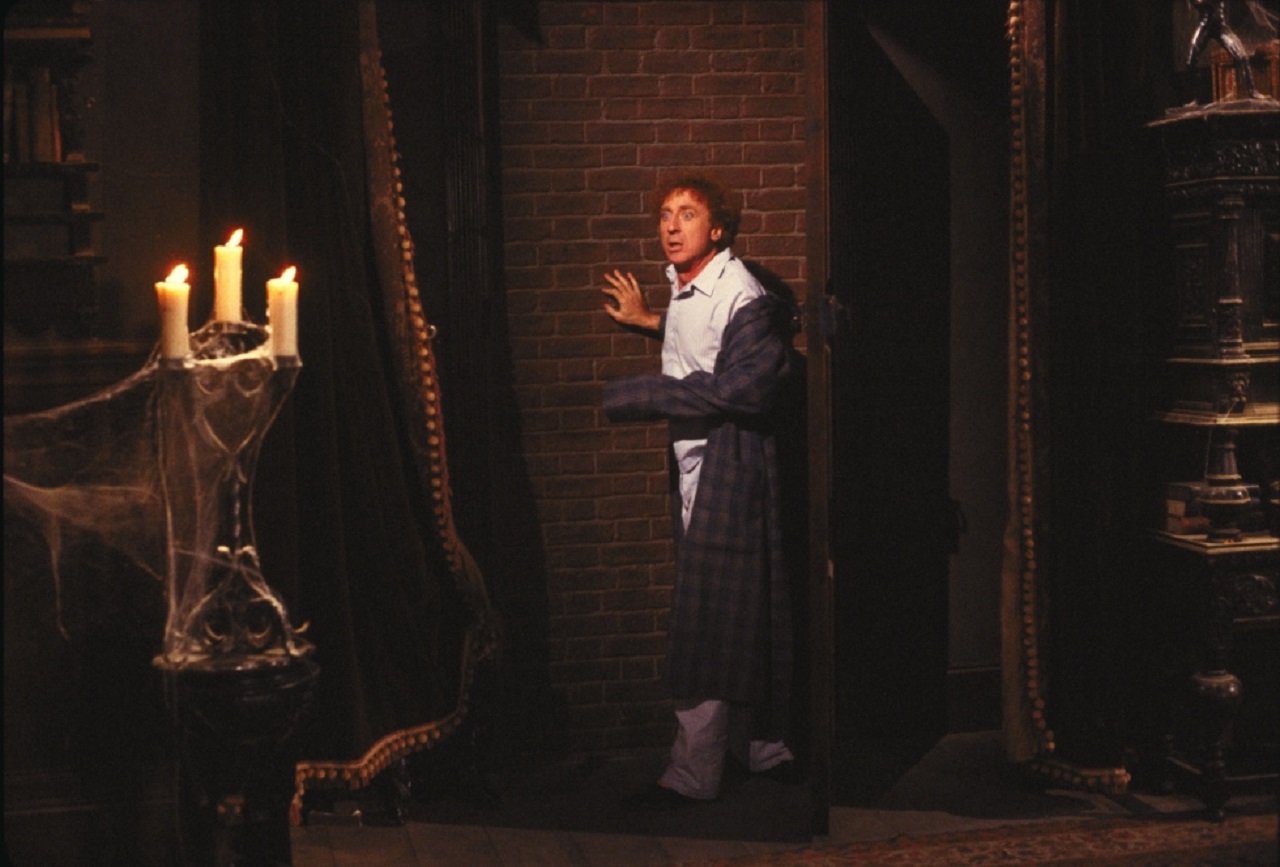 Wilder also mimics the absurdly contrived plots that instantly fall apart when considered from a logical point-of-view. If everything is a set-up, then how are some of the tricks with people walking down walls and including the person it is all being staged for walking through a mirror, achieved? If people are in on the gag, why do the others need to keep secrets from them? There is an extremely annoying twist ending akin to the old "It was all a dream" carpet-puller.
As director, Gene Wilder theatrically flaps a good many billowing curtains, cobwebs and corpse gags without producing any atmosphere. There is one okay effects scene with a sinister figure walking down a wall and Gilda Radner floating outside a window. In the end, Wilder fails wholly to disguise what is at heart only a dated, tatty comedy. Perhaps too busy behind the camera, he at least keeps his anile on-screen indulgences to a watchable minimum, which one supposes makes the film somewhat more preferable to the rest of his solo canon. Haunted Honeymoon would be Gene Wilder's final directorial outing.
---
---