---
Crew
Director/Producer – David Butler, Screenplay – James V. Kern, Story – David Butler & James V. Kern, Special Material Written by Andrew Bennison, Monte Brice & R.T.M. Scott, Photography (b&w) – Frank Redman, Music – James McHugh, Lyrics – Johnny Mercer, Special Effects – Vernon L. Walker, Art Direction – Van Nest Polglase. Production Company – RKO Radio Pictures.
Cast
Kay Kyser (Himself), Dennis O'Keefe (Chuck Deems), Boris Karloff (Judge Spencer Mainwaring), Peter Lorre (Professor Carl Fenninger), Bela Lugosi (Prince Sakano), Helen Parrish (Janis Bellacrest), Ginny Simms (Herself), Alma Kruger (Margo Bellacrest), Ish Kabibble (Himself)
---
Plot
It is Janis Bellacrest's 21st birthday. Janis's fiancee Chuck Deems invites the big band that he manages, The Kollege of Musical Knowledge led by Kay Kyser, to play at the birthday party being held for her at the Bellacrest family mansion. There the medium Prince Sakano holds a seance so that Janis's Aunt Margo can contact her dead brother. When the lights go out, Kay sees someone fire a blow dart to try and kill Janis. When lightning destroys the only bridge from the house to the mainland, Kay and the band members are forced to spend the night. They become involved as further attempts are made to kill Janis. As they search the mansion, they must deal with several seemingly ghostly phenomena and then expose a conspiracy mounted by Prince Sakano and several others to prevent Janis from inheriting her fortune.
---
You'll Find Out is an Old Dark House comedy. It was clearly inspired by the success of the Bob Hope The Cat and the Canary (1939) the year before. The 1939 version of The Cat and the Canary was successful in mixing the Old Dark House thriller with comedy and produced a number of imitators in the same vein. You'll Find Out sets out be the same type of Old Dark House comedy and offers up several scares in a rationalised plot, as was the convention of the day, that eventually reveals the ghostly scares as being mundane in origin.
As with The Cat and the Canary, which was set around the persona of Bob Hope, a popular entertainment figure of the day, You'll Find Out has been constructed around the presence of big band leader Kay Kyser. Although almost entirely forgotten today, Kay Kyser gained enormous popularity as a bandleader on his radio show Kay Kyser's Kollege of Musical Knowledge, which aired between 1938 and 1949. From there, Kyser's popularity spread to cinema screens where he starred as the lead character in a number of films beginning with That's Right, You're Wrong (1939). You'll Find Out was the second of these and was followed by the (non-genre) likes of Playmates (1941), My Favorite Spy (1942), Around the World (1943), Swing Fever (1943) and Carolina Blues (1944), as well as a short-lived tv series Kay Kyser's Kollege of Musical Knowledge (1949-50). In most of these, Kyser played himself in a plot written around his and the band's exploits.
The presence of Kay Kyser and his orchestra leads to several sappy routines. The film stands still at length several times for Kyser and his boys to conduct various musical numbers – the opening routine, for instance, goes on for about ten minutes. Indeed, You'll Find Out is more of a musical than it ever is a haunted house comedy. Kay Kyser himself is a balding, bespectacled, jumped-up personality with a high-pitched voice that these days would be characterised as the tightass nerd of the show. His hyped cheer is rather dreadful and dated, although You'll Find Out does emerge with an undeniable likeability.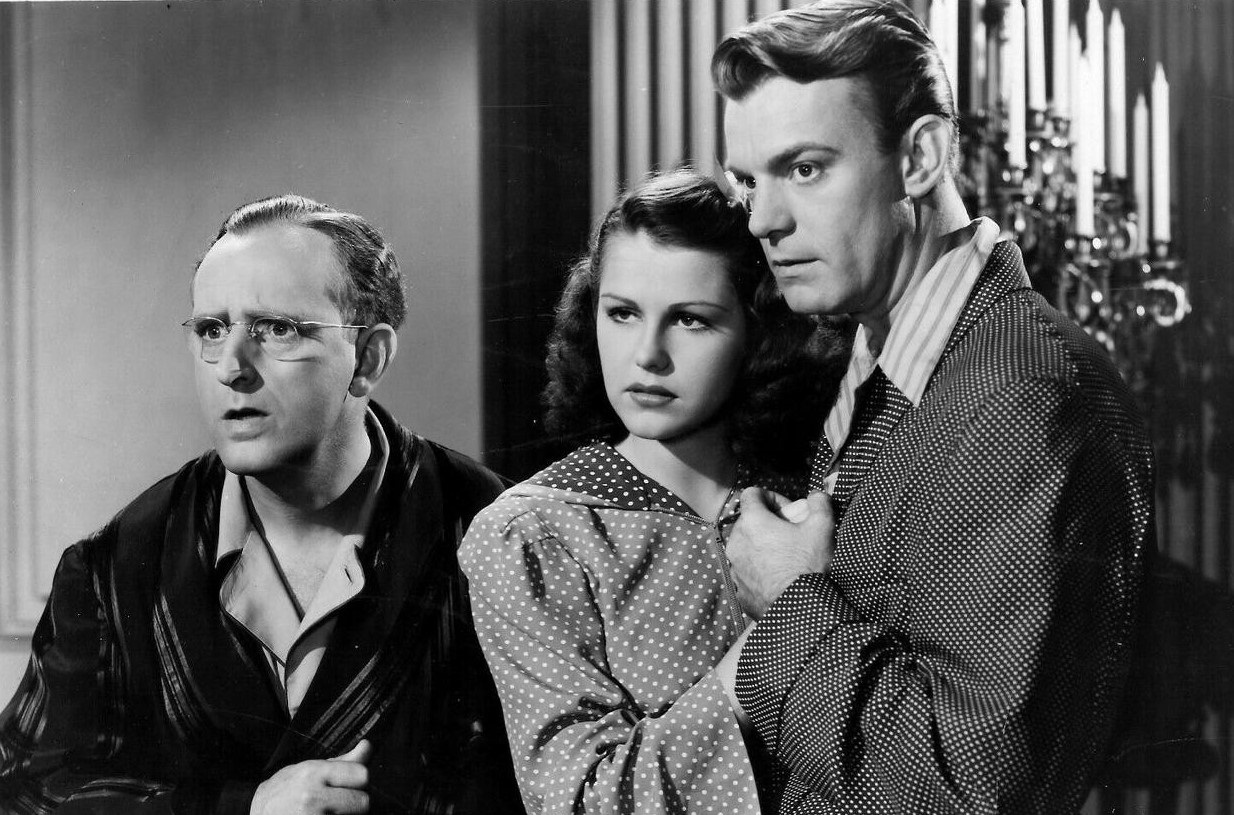 The Old Dark House angle is mostly relegated to some lame variants on slapstick bumblings around in dark cellars – people falling through revolving doors, Kay Kyser taking what he believes is a hand only to find it is a stuffed gorilla and such like. There is only one point where the film ever rises to a moment of genuine atmosphere and that is during the seance. With floating objects, glowing faces and spooky voices, these scenes momentarily achieve something eerie.
Of course, You'll Find Out's casting ace in the hole is the presence of Boris Karloff, Bela Lugosi and Peter Lorre, three of the reigning horror stars of the era, who bring a degree of dignity and professionalism to the exercise that the amateur bandsmen lack.
Director David Butler was a specialist in musicals and comedies in a career ranging between the 1920s and 1960s. In genre material, he also made Just Imagine (1930), the oddity that was the first science-fiction musical; an adaptation of A Connecticut Yankee (1931); and the Bob Hope-Bing Crosby screwball comedy Road to Morocco (1942).
---
---