---
Crew
Director – Arthur Lubin, Screenplay – John Grant, Robert Lees & Fred Rinaldo, Story – Lees & Rinaldo, Photography (b&w) – Elwood Bredell, Music Director – H. J. Salter, Musical Numbers Staged by Nick Castle, Art Direction – Jack Otterson. Production Company – Universal.
Cast
Lou Costello (Ferdinand Jones), Bud Abbott (Chuck Murray), Joan Davis (Camille Brewster), Richard Carlson (Dr Jackson), Evelyn Ankers (Norma Lind), Marc Lawrence (Charlie Smith), Russell Hicks (Bannister), William Davidson (Sidney 'Moose' Matson)
---
Plot
Two bumbling idiots, Chuck and Ferdie, are fired from their jobs as waiters and start up a gas station. There they are accidentally trapped in the car of mobster Moose Matson during a chase as he is pursued by Feds. Moose is shot, but just before he dies, he gives them a title paper that entitles them to a cut of his fortune. Along with several other fortune hunters, they head to a lonely mansion where Moose's loot is reputedly stashed. There they have to put up with both ghosts and other mobsters searching for the stash.
---
Hold That Ghost was one of Abbott and Costello's earlier comedies – in fact, the fourth of their 45 odd pairings up. It was their first venture into genre territory, prefiguring their later encounters with famous monsters beginning with Abbott and Costello Meet Frankenstein (1948). In this case, what they were influenced by was the comedic take on the Old Dark House genre created by the success of the Bob Hope vehicle The Cat and the Canary (1939) two years earlier.
Abbott and Costello are on snappy form and Hold That Ghost has much more creativity and energy than their later genre outings. There is a good of fun to be had in the opening scenes with the two as inept waiters in a restaurant. One of the comic highlights is Lou's slapstick dance with Evelyn Ankers in the middle of the film, an energetically choreographed piece with he catching his foot in a bucket, they slapping one another, engaging in water fights and the like.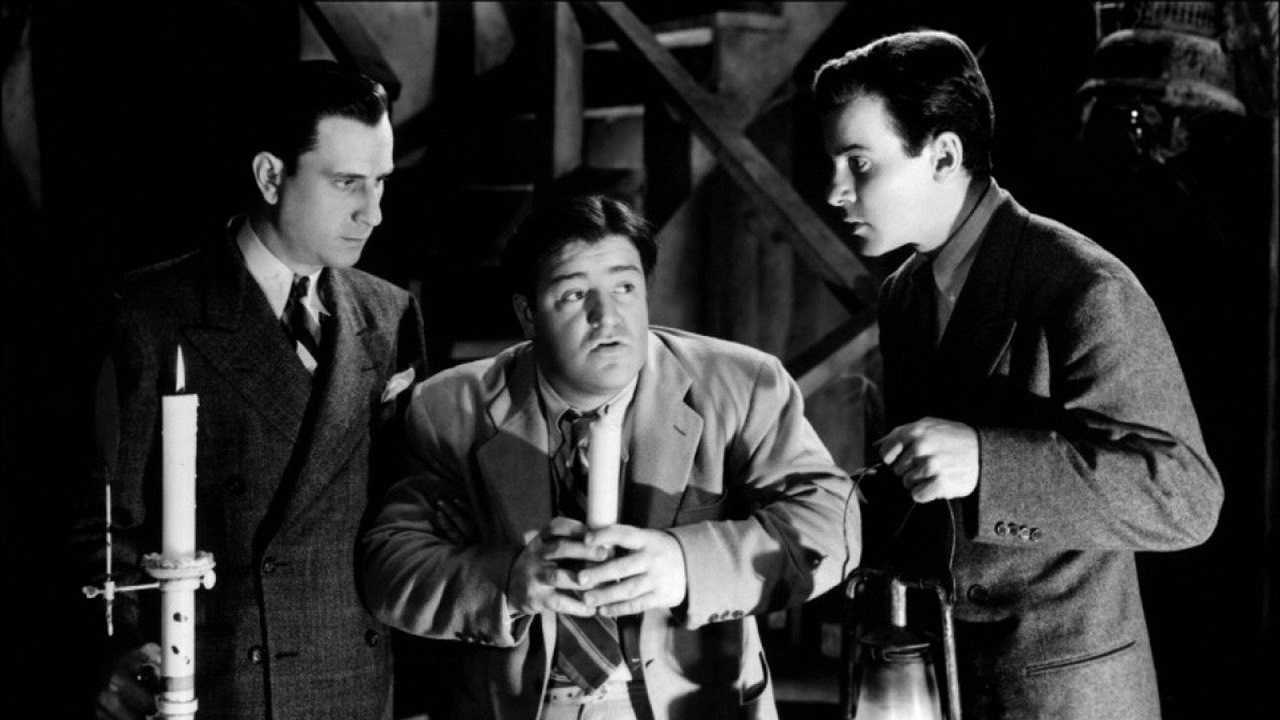 However, the inventivity wears down about the halfway point and the film devolves into some tedious knockabout involving vanishing bodies, a bedroom that changes into a casino and candles that mysteriously move when only Lou is looking. Most disappointingly, despite the title, the end resolution is mundane and there are no ghosts anywhere throughout the film. The film also features two performances from the excruciating Andrews Sisters.
Abbott and Costello's other genre outings were:– The Time of Their Lives (1946), Abbott and Costello Meet Frankenstein (1948), Abbott and Costello Meet the Invisible Man (1951), Comin' Round the Mountain (1951), Jack and the Beanstalk (1952) Abbott and Costello Meet Dr Jekyll and Mr Hyde (1953), Abbott and Costello Go to Mars (1953) and Abbott and Costello Meet the Mummy (1955). Lou Costello made one solo effort with The 30-Foot Bride of Candy Rock (1959).
---
Trailer here
---