---
Crew
Director – Richard Thorpe, Screenplay – John Van Druten, Based on the Play by Emlyn Williams, Producer – Hunt Stromberg, Photography (b&w) – Ray June, Music – Edward Ward, Art Direction – Cedric Gibbons. Production Company – MGM.
Cast
Robert Montgomery (Danny), Rosalind Russell (Olivia Grane), Dame May Whitty (Mrs Bramson), Merle Tottenham (Dora), Kathleen Harrison (Emily Terence), Alan Marshal (Justin Laurie), Matthew Boulton (Inspector Belsize)
---
Plot
Dora, the maid to wealthy, cantankerous old Mrs Bramson is about to be fired. She blames her problems on Danny, the man she is involved with who refuses to marry her. Mrs Bramson tells Dora to bring Danny to her so she can sort him out. However, when Dora brings Danny, he instead succeeds in charming Mrs Bramson her and she offers him a job. Mrs Bramson's niece Olivia becomes suspicious of Danny and his increasing influence over the house. She begins to suspect that he may be responsible for a murder in the area and that the mysterious hatbox he carries may contain a severed head.
---
Night Must Fall is a rather good psychological thriller. The film is adapted from a play by Welsh playwright Emlyn Williams, which was first produced on the London stage in 1935 and then a run on Broadway in 1936. Interestingly enough in both of these stage versions, the role of the psychopathic Danny was played by the play's writer Emlyn Williams. The role has been recast here with Robert Montgomery, although the film does retain Dame May Whitty who played Mrs Bramson in both versions, as well as two of the actors (Kathleen Harrison and Matthew Boulton) from the British version.
Although it adheres closely to the original stage play and its single setting, the film succeeds in being remarkably suspenseful. At the centre of the film is a performance from Robert Montgomery that is intensely threatening in its boisterous gregariousness from the outset. Although Montgomery's amazingly broad accent never succeeds in convincing for a moment, the performance is a fine one, he having the ability to change abruptly between charm and threat without ever losing his smile. The scenes where he succeeds in totally wrapping Dame May Whitty around his little finger by flattery are highly amusing. Indeed, the film is, if anything, one about the appeal that conmen have on their victims and how victims become targets of their own willing deception.
Skilfully using Robert Montgomery's performance, director Richard Thorpe builds a remarkable tension. Like the scene where Montgomery sits whistling as Rosalind Russell suddenly remembers how the killer was heard whistling in the woods. In another scene, Montgomery stands by the fire confronting Russell – no violence is present in the scene but an enormous amount of inherent threat is generated by simply having him whittle at a piece of firewood as he talks.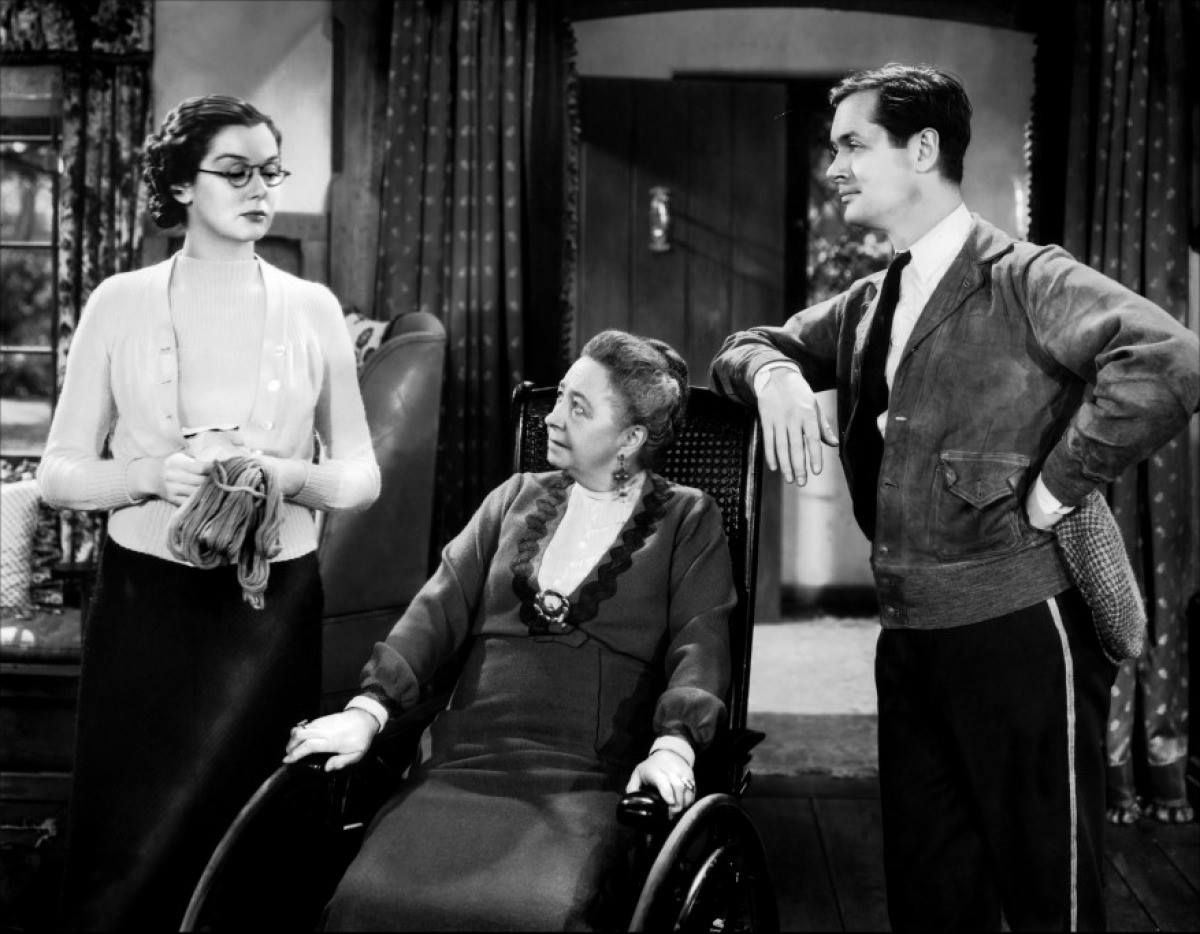 Quite a degree of sexual tension is generated too – although as had to be the case for the era of the Hays Code, nothing could ever be implicit – but the scene where Robert Montgomery confronts Rosalind Russell in the kitchen, saying he knows she returned because she wants adventure is one moment that comes close. Rosalind Russell's performance, a study in guarded suspicion, is one that is almost as good as Montgomery's.
The suspense is often undercut by a sense of humour – in the canny observations from the shrewd provincial characterisations of the servants, or like where the tour-guide turns up offering guided tours of the murder site, even lines like "They'll never find her," which immediately cuts to a scream outside the window as the body is found.
The film's psychological portrait – in seeing Robert Montgomery starting to crack under the weight of the guilt he carries – adds a particularly interesting dimension. However, it is after this point that the film seems to falter somewhat, giving some of the characters particularly ill-motivated actions – Olivia, for example, takes the hatbox back from the inspector when keeping it would surely be the crowning achievement in her psychological battle to prove Danny guilty, and for no apparent reason she hands it back to Danny – unopened too. (At this point the film could have branched out into a real cat-and-mouse game). Equally, the police inspector turns up with evidence that Danny was not only seen with the missing woman but absent from his room on the night of the murder – but lets him go after Danny offers a nominal lie to explain it away.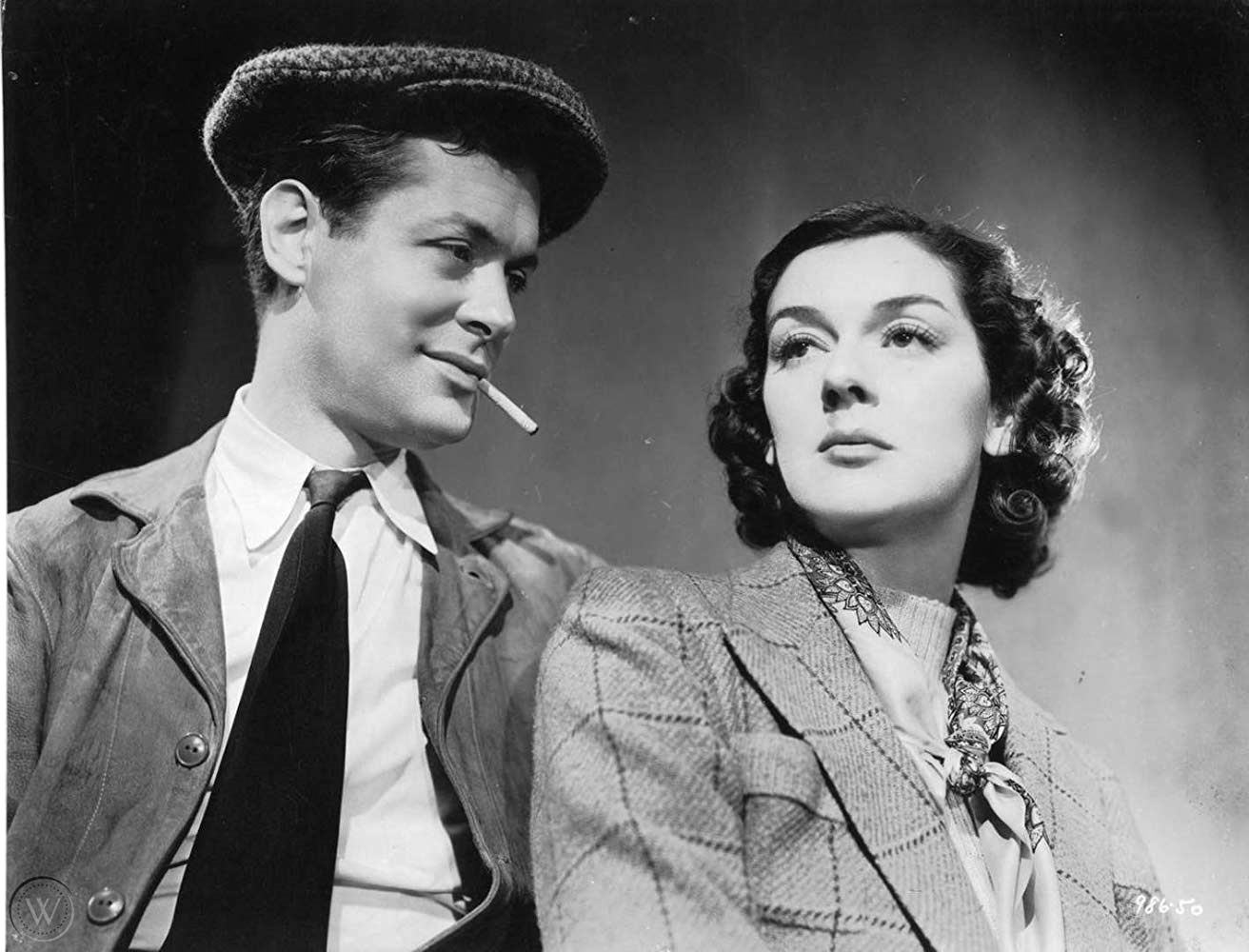 This is a film that would benefit enormously from a modern remake. It was remade, but not very well as Night Must Fall (1964) by director Karel Reisz with Albert Finney as Danny and Mona Washbourne as Mrs Bramson. There was also a television version produced in 1954 starring Terry Kilburn and with Una O'Connor as Mrs Bramson, while the play has also been adapted for radio. A modern remake would readapt the play for the 1990s, allowing the sexual tensions their natural reign and cutting out the woolly-headed motivations that the film's period allowed it to get away with.
Director Richard Thorpe had a career that lasted from the silent era during the 1920s to the 1960s. He made a number of classic films including The Prisoner of Zenda (1952), Knights of the Round Table (1953), Jailhouse Rock (1957), amid a great many B Westerns. In genre material, Thrope also made the mad scientist film Murder at Dawn (1932) and directed a number of the Johnny Weissmuller Tarzan films with Tarzan Escapes (1936), Tarzan Finds a Son (1939), Tarzan's Secret Treasure (1941) and Tarzan's New York Adventure (1942). he was also one of the original directors assigned to The Wizard of Oz (1939) but ended up being replaced.
---
---