---
Crew
Director – Fred Walton, Teleplay – Cynthia Cidre, Based on the Novel by Ursula Curtiss, Producer – Barry Greenfield, Photography – Woody Omens, Music – Dana Kaproff, Production Design – James Hulsey. Production Company – Universal Television.
Cast
Shawnee Smith (Kim Fielding), Tammy Lauren (Lisa Harris), Robert Carradine (Adrian Lancer), David Carradine (Stephen), Candace Cameron (Julia Fielding), Jo Anderson (Robyn Griffin), Robert Winley (Randy), Alan Fudge (Mr Fielding), Rosanna Huffman (Mrs Harris), Patrick O'Bryan (Louis)
---
Plot
Kim Fielding, a teenager recently moved to Los Angeles with her father and younger sister Julia, invites school friend Lisa Harris over for dinner while her father goes away for the night. Lisa only accepts because her boyfriend Louis is busy. Julia suggests they amuse themselves by making prank calls. One of the pranks the girls play is calling someone at random and saying "I saw what you did – and I know who you are." Meanwhile, musician Adrian Lancer is fired by the studio where he works. He invites girlfriend Robyn Griffin over and proposes to her unaware that she has only been wanting to get away from him. When she turns him down, Adrian snaps and strangles her. The girls happen to call Adrian just after he has killed Robyn and he becomes paranoid. Lisa is trying to encourage the virginal Kim to get a boyfriend. She suggests Kim call Adrian back and then invite herself over to his place. There however Kim leaves her handbag behind. The paranoid Adrian finds her address and follows her home with the intention of killing her.
---
This tv movie was a remake of I Saw What You Did (1965), a psycho-thriller made by promotional gimmick master William Castle. The original was premised around the idea of two teenage girls playing a prank in which they accidentally called up a man who had just murdered his wife to say "I Saw What You Did". I Saw What You Did came at a point where US television was conducting remakes of various other 1950s-60s psycho-thrillers with the likes of The Bad Seed (1985), What Ever Happened to Baby Jane (1990), Night of the Hunter (1991) and Pretty Poison (1996).
In many ways, I Saw What You Did makes much more sense as a film made in the 1980s rather than when William Castle made it back in the 1960s. The two girls are well cast with Shawnee Smith and Tammy Lauren, both before either became better known, and you could not think of two who are better suited to the role. With the freeing up of standards since the 1960s, the two are able to act more like believable teenagers, talk in a mildly PG-suggestive way and engage in a certain naughty glee in the pranks they play, whereas Castle's teenagers tended to act like teenagers at a party being chaperoned by very serious adults.
The script for the I Saw What You Did comes from Cynthia Cidre who went on to write In Country (1989), The Mambo Kings (1992) and develop the revival of tv's Dallas (2012-4). Cidre expends a lot of effort to try and make the improbable plotting contrivations of the first film work. Where the original had Audi Garnett improbably fixating on wife-killer John Ireland after just one phone call, this rewrites Shawnee Smith as an innocent who has never had a boyfriend finding the killer's voice sexy and making further flirtatious calls before she goes off to meet him. The purloined learner's licence that leads the killer to their address is also far more credibly rewritten as her being invited in to his house and leaving her handbag behind.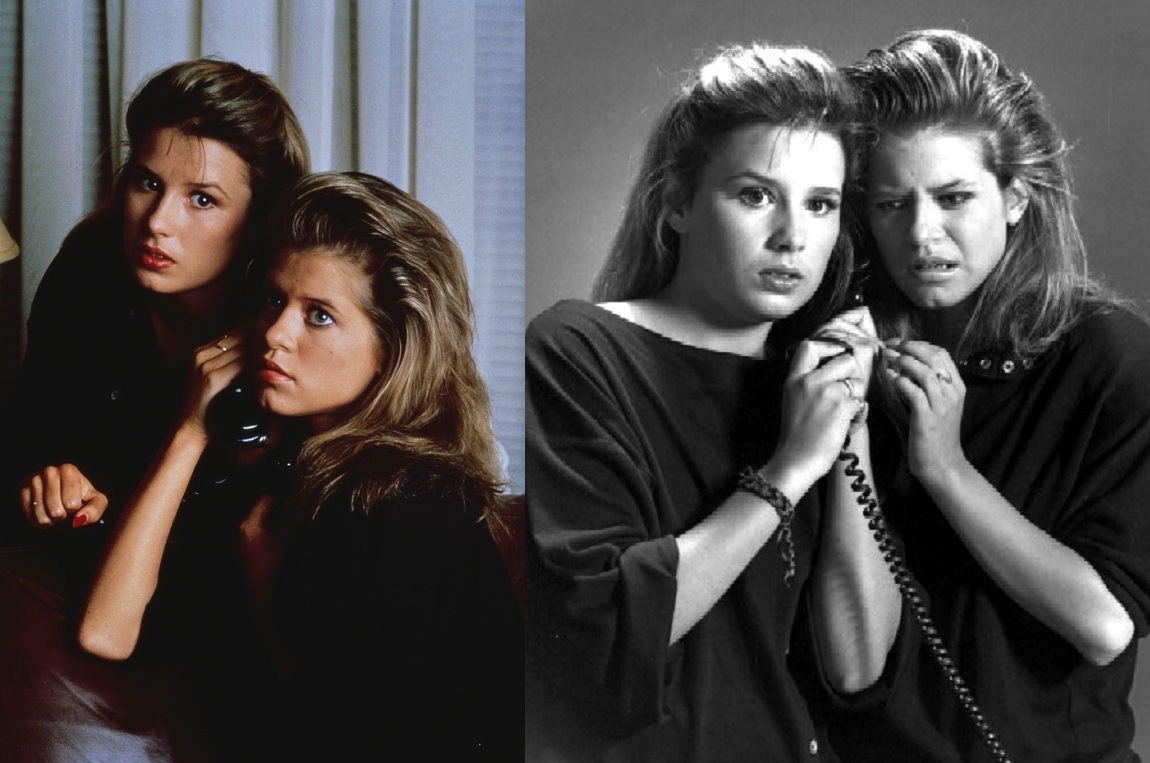 Cidre also makes the film into far more of a psycho film than the original was. The original was less of a psycho or psycho-thriller and more of an accidental murder mystery plot, whereas Cidre turns Robert Carradine into a full-blown psycho. He's even outfitted with cliche effects like having hallucinations of walls bleeding and silhouetted hands pushing against them, plus gets to kill others throughout.
The film's stunt novelty casting is pairing brothers (or more correctly half-brothers) Robert and David Carradine together. David doesn't really need to be there but plays with customary professionalism. (This sibling stunt casting caught on and was also used with the two Redgrave sisters in the subsequent What Ever Happened to Baby Jane remake).
Not to say that the remake does not have a few implausibilities of its own – like how Robert Carradine somehow manages to find time in the midst of police pursuit to fake his death in a burning car crash in the Hollywood Hills. Also you cannot help but think of the stern parental talking that Shawnee Smith is going to get when her father returns – "You mean you scraped the paint on my classic car while I was away… What do you mean you and your sister played pranks and accidentally invited a wanted murderer into the house … And then you managed to burn the entire house down?" Instead, all that Shawnee Smith gets is an all-forgiving kiss on the forehead as she is tucked in for the night.
Director Fred Walton also made the babysitter stalker film When A Stranger Calls (1979), the slasher film April Fool's Day (1986), the excellent Catholic psycho-thriller The Rosary Murders (1987) and the radio talkback host psycho-thriller Dead Air (1994). Walton then went onto make a whole host of genre tv movies, including the psycho-thriller Trapped (1989), Homewrecker (1992) about a rogue AI, When a Stranger Calls Back (1993), a sequel to his earlier film, and The Stepford Husbands (1996).
---
---