---
Crew
Director – Mitchell Altieri, Screenplay – Dan DeLuca & Jamie Nash, Story – Ken Arnold & Dan DeLuca, Producers – Jeffrey Allard, Ken Arnold, Dan DeLuca & Demetrea Triantafillides, Photography – Amanda Treyz, Music – Kevin Kerrigan, Visual Effects – Local Hero & Art Miroshin, Makeup Effects – Robert J. Haddy, Production Design – Chester Stacy. Production Company – Contender Films/Studio BOH/Indie Entertainment.
Cast
Max Gray Wilbur (Rajeeve/Justin), Ken Arnold (Ken), Kevin Jiggetts (Jiggetts), Kara Luz (Karen), Dan DeLuca (Luca), James Remar (Randall), Matt Servitto (Willy), Diona Reasonover (Penny), Matthew J. Bowerman (Rick), Travis Hudson (Matt), Gary Peebles (Blimpo)
---
Plot
Justin obtains a job as a night watchman at the offices of The Baltimore Gazette. He works alongside three other oddballs and misfits, Ken, Jiggetts and Luca. The others reluctantly agree to allow two morgue handlers to leave a mis-delivered coffin in the loading bay overnight. Their boss Randall opens it to discover that it contains the body of Blimpo, a famous clown who was recently killed in Romania. However, Blimpo is now a vampire and rises from the coffin. In short course, the night watchmen find the Gazette offices being overrun by vampires and they the only defence as the remaining humans are being slaughtered.
---
Mitchell Altieri was one half of the directing duo known as The Butcher Brothers, along with Phil Flores. The two first appeared with the vampire film The Hamiltons (2006), followed by the remake of April Fool's Day (2008), the original horror film The Violent Kind (2010) and The Hamiltons sequel The Thompsons (2012). Subsequent to this, Mitchell Altieri went solo to direct Holy Ghost People (2013), Raised by Wolves (2013), A Beginner's Guide to Snuff (2016) and Star Light (2020).
The Night Watchmen – which should not be confused with The Night Watchman (2016), another horror film that came out around the same time – is a horror comedy. There are surprising similarities between it and the earlier Bloodsucking Bastards (2015), which, like this, was set in an office building and concerned a group of employees fighting back as their co-workers were vampirised. Both films also featured the screenwriters playing roles on screen too.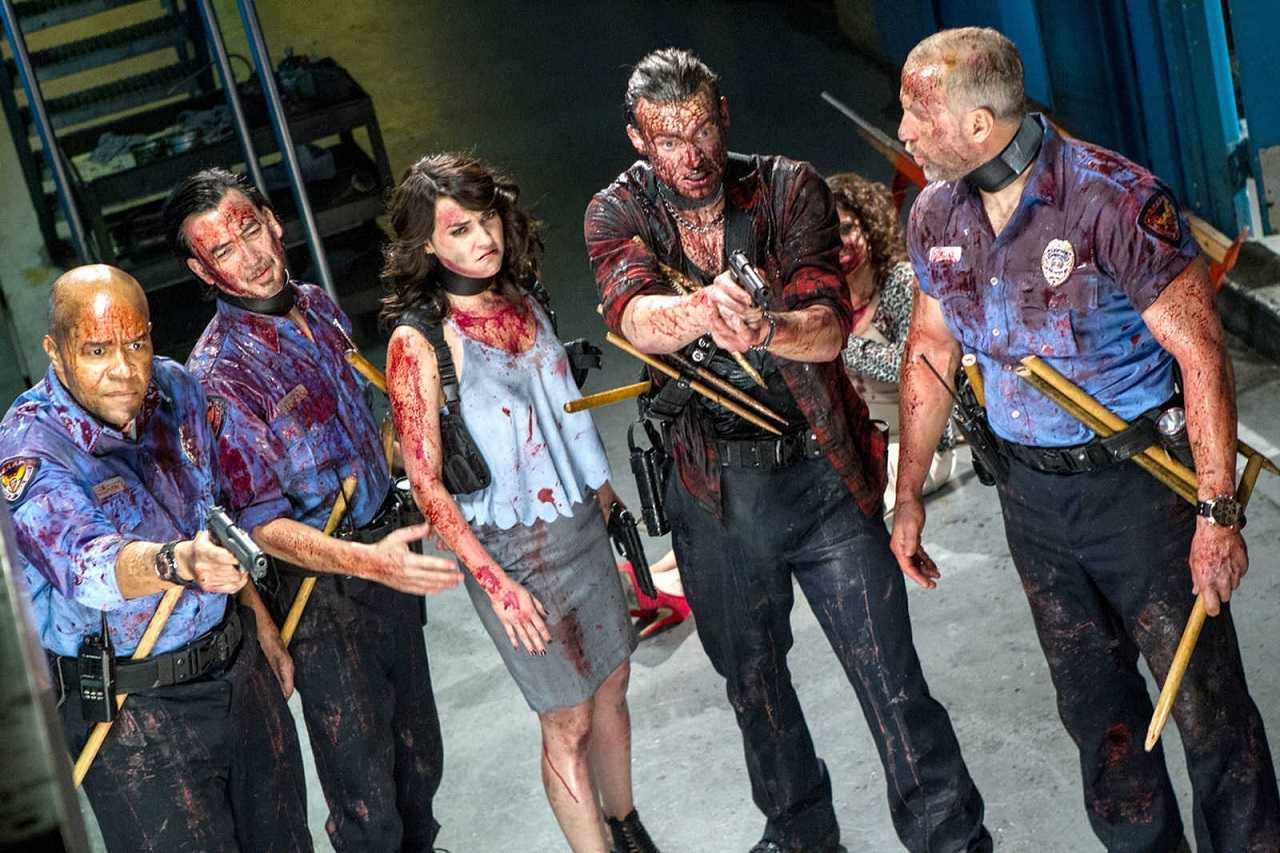 Bloodsucking Bastards was made by a stand-up troupe and so the emphasis was more on comedy; Mitchell Altieri comes from a horror background and naturally places the emphasis on the horror element. That said, both films end up coming out almost identical in plot and tone, This is Mitchell Altieri's first work in a comedy vein. He had previously co-directed the vampire films The Hamiltons and The Thompsons, although they seem a world of difference away from The Night Watchmen in that the vampires are played seriously there, for comedy here.
Altieri's comedy hand is frequently broad. The banter between the characters becomes overplayed. Kevin Jiggetts plays an African-American character whose only characterisation is that he delivers a series of malapropisms when he tries to speak ghetto. This joke becomes the whole of his character, while similarly the only characterisation that protagonist Max Gray Wilbur gets is that he used to be in a band. Equally, the gag about vampires giving off a smell like farts off when they are staked is repeated to the point of tedium. It's not a very funny film.
---
---