---
Crew
Director – Brian James O'Connell, Screenplay – Dr. God & Ryan Mitts, Producers – Brandon Evans, Brett Forbes, Colleen Hard, Patrick Rizzotti & Justin Ware, Photography – Matthew Mosher, Music – Anton Sanko, Visual Effects – The Graphic Film Company, Visual Effects Makeup – Monster Effects, Special Effects Supervisor – Mike Villalobos, Production Design – Jessica Mahnke. Production Company – Fortress Features/Maybe This Year Productions.
Cast
Fran Kranz (Evan Sanders), Joey Kern (Tim), Pedro Pascal (Max Phillips), Emma Fitzpatrick (Amanda Barron), Marshall Givens (Frank), Justin Ware (Andrew Pierce), Joel Murray (Ted Plunkett), Yvette Yates (Zabeth), David F. Park (Dave), Neil W. Garguilo (Mike), Zabeth Russell (Elaine), Sean Cowhig (Janitor), Parvesh Cheena (Jack)
---
Plot
Evan Sanders has been promoted to temporary assistant manager in a sales office amid a staff that slump through the day without caring. Evan is also having troubles with his girlfriend Amanda, the human resources head, after she told him that she loved him only for him to respond with a startled "no". Just when he is expecting to be appointed to the position full time, management gives the job to Max Phillips. Max was Evan's college roommates and Evan has an instant dislike at seeing him again. Evan finds the murdered body of a colleague in the bathroom but it has vanished when he returns with others. Strange things are happenings around the office and Evan and his best friend Tim make the discovery that Max is actually a vampire and is turning the rest of the staff into vampires in order to promote efficiency.
---
Bloodsucking Bastards is a film from the comedy troupe Dr. God, which consists of Sean Cowhig, Neil Garguilo, Brian James O'Connell, David Park and Justin Ware. Formed in 2008, Dr. God have become a regular improv institution in L.A.. All have pursued works elsewhere and Brian James O'Connell directed two other films before they came together to make Bloodsucking Bastards. The group co-write the script, O'Connell directs and all five members play supporting roles in the film. The same group subsequently returned to create/voice the animated series Hell Den (2019- ).
Bloodsucking Bastards resembles tv's The Office (2001-3) or perhaps more so the American version The Office (2005-13). A good half of the film consists of comically charting the screw-ups, boredom and slacking about of the various employees, Fran Kranz's anguish over having messed up Emma Fitzpatrick's declaration of love, and the introduction of Pedro Pascal as the asshole new department head that everyone hates. All of the cast etch some smart and well-drawn characterisations here. Some of the comedy generates from the fact that Fran Kranz keeps seeing dead bodies or people acting strangely and nobody takes him seriously or dismisses it as either a prank or him bitter at being sidelined for the promotion.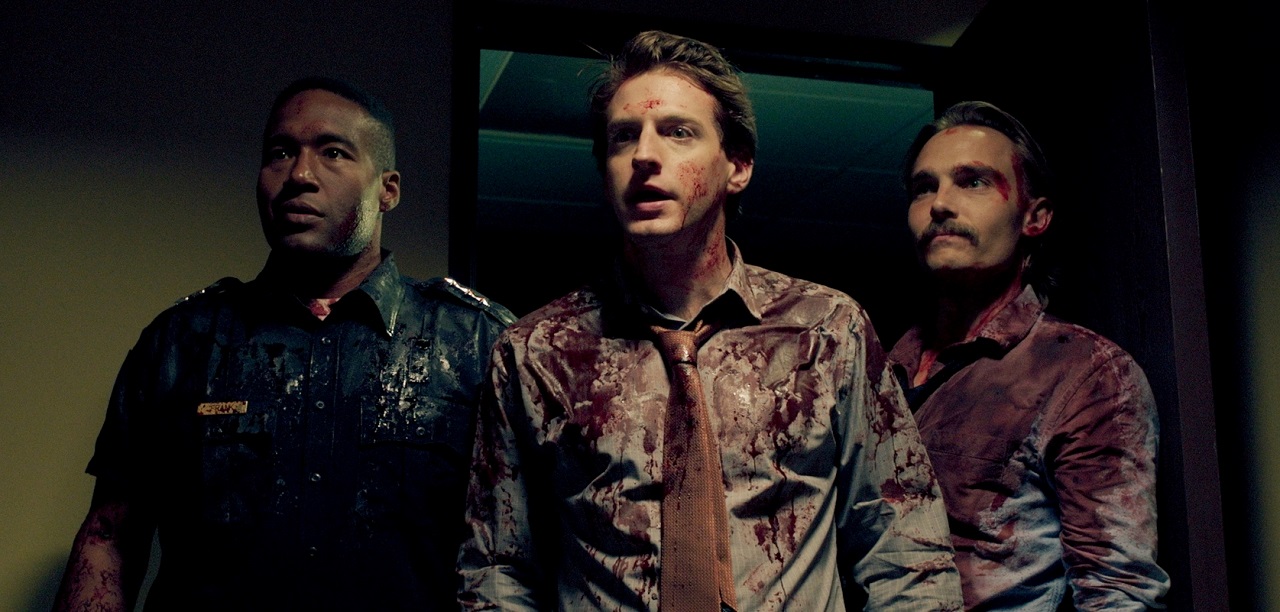 The twist that comes halfway through is that the office is being taken over by vampires. Bloodsucking Bastards then segues into a full horror comedy and becomes reasonably blood-drenched as the remaining humans make efforts to eliminate the vampires. There is something mildly amusing to the idea of a vampire spouting corporate management doublespeak and where vampirising the employees is seen as an efficiency measure.
The main problem with this is that it is more of a short film idea than a full comedy. The cast play it for reasonable mileage but the idea is eventually repetitive. Much of Brian James O'Connell's approach is aiming for easy gags and/or having the cast act with nonchalant deadpan or awkwardness to various things happening around them. It is very much an improv player's film – but it is also one where the material feels stretched in many of these scenes.
The same idea of a horror comedy about vampires taking over an office was played in the very similar subsequent The Night Watchmen (2017).
---
---