aka Bus Party to Hell
---
Crew
Director/Screenplay – Rolfe Kanefsky, Story/Producers – Michael Mahal & Sonny Mahal, Photography – Michael Su, Music – Christopher Farrell, Special Effects/Sets – Break All Productions (Supervisor – Joshua Brokaw). Production Company – Mahal Empire/CaniShootYou Productions/Red Cardinal Films, LLC.
Cast
Stefani Blake (Lara Swit), Shelby McCullough (Ivy Roberts), ViDonna Michaels (Reese Neptune), Sadie Katz (Joan Starrett), Richard Hochman (Alan Armstrong), Demetrios Alex (Peter Oates), Ben Stobber (Warren Fonda), Tara Reid (Darby Lewis), Michael Forsch (Lloyd Band), Robert Rhine (Bob McCready), Devanny Pinn (Kimberly Hudson), J. Spencer (J. Spanner)
---
Plot
Lara Swit gets out of a car in downtown Las Vegas after she refuses to grant sexual favours to the guy who gave her a lift. She accepts the offer of a ride on a party bus that is heading to the Burning Man Festival. The driver Joan Starrett takes a detour through the desert and then stops in the middle of nowhere claiming to be lost. As night falls, the bus is surrounded by Satanists demanding that the Chosen One come out. It appears that Joan has deliberately brought them here for this purpose and that the Chosen One is one of the group aboard the bus.
---
Rolfe Kanefsky is usually a director of softcore erotica and his output in this field includes several genre-related works with the likes of You Only Live Until You Die (1997), Alien Files (1998), The Erotic Misadventures of the Invisible Man (2003), Jacqueline Hyde (2005), Pretty Cool (2006), Emmanuelle in Wonderland (2012) and Adventures Into the Woods: A Sexy Musical (2015). Outside of this, Kanefsky has also made several regular horror films with There's Nothing Out There (1998), Corpses (2004), The Hazing (2004), Nightmare Man (2006), The Black Room (2016) and Art of the Dead (2019).
Party Bus to Hell – or Bus Party to Hell as the version I watched was titled – is a film where you have no illusions about what you are seeing. It plays out down around the level of a film from B-budget hacks like Fred Olen Ray and Jim Wynorski who usually specialise in similar combinations of topless women, gore or cheesy creature effects. Rolfe Kanefsky offers plentiful undressed women – he gets most of those in his cast to whip their clothes off throughout, along with numerous background scenes of the Satanists outside the bus, populated by half-nude or fetish-clad dancers. This is interspersed with assorted scenes of cheap gore.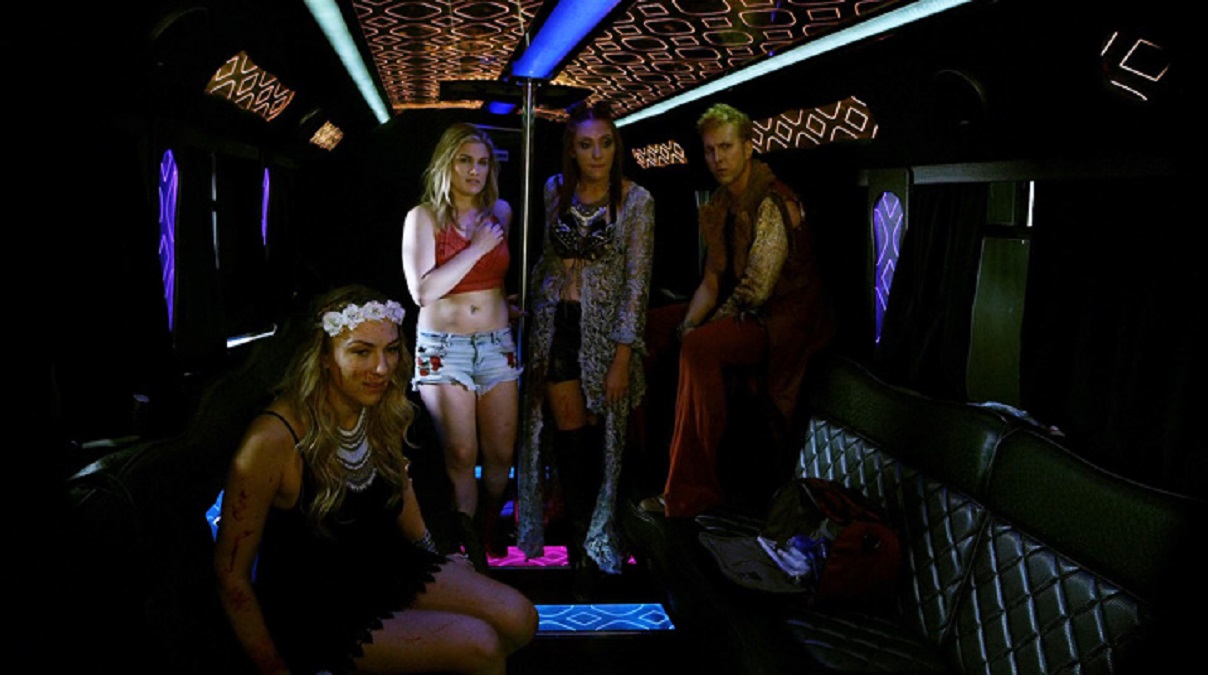 The film's spectacularly tacky height is a scene where Stefani Blake realises that she can prevent her fate as The Chosen One by losing her virginity and does so with Richard Hochman in the bus's hold at the same time as the others above are trying to remove the key from the innards of Shelby McCullough's corpse. Kanefsky tackily intercuts the penetration of Stefani with a scene where the group cut into the corpse spilling gouts of gore, which trickles through down into the hold and covers Stefani's body, while at the same time there is an orgy going on among the Satanists outside. All of this apparently causes Stefani to turn into a demon in mid-orgasm. At least you cannot accuse this of being a film that does not hold up to its title promise.
The film has been shot on the cheap – essentially the production has rented a bus and driven out into the desert and shot in and around it as it is parked there. That and what feel like several randomly included scenes with Tara Reid (looking well past her sell-by date) fighting off mummies in the desert for no particular reason I was able to discern.
One of the oddities of the film is that Rolfe Kanefsky pays homage to the drive-in classic Race with the Devil (1975), which concerned a group in an RV being pursued by devil worshippers. All of the characters here have names that are mix-up of the actors and their characters from Race with the Devil, as well as that of the film's director Jack Starrett.
---
---