---
Crew
Director – Julius Avery, Screenplay – Michael Petroni & Evan Spiliotopoulos, Story – Chester Hastings, Jeff Katz & R. Dean McCreary, Based on the Books An Exorcist Tells His Story & An Exorcist: More Stories by Father Gabriele Amorth, Producers – Doug Belgrad, Jeff Katz & Michael Patrick Kaczmarek, Photography – Khalid Mohtaseb, Music – Jed Kurzel, Visual Effects Supervisor – Greg Adam Strasz, Visual Effects –Alt VFX (Supervisor – Genevieve Camilleri & Colin Renshaw), Cutting Edge (Supervisor – Damien Thaller), Kojo (Supervisor – Marty Pepper), SlateVFX (Supervisor – David Booth) & UPP (Supervisor – Viktor Muller), Special Effects Supervisor – Paul Byrne, Makeup Design – Lynn Johnston, Prosthetics Designer – Tristan Versluis, Production Design – Alan Gilmore. Production Company – 2.0 Entertainment/Loyola Productions/TSG Entertainment.
Cast
Russell Crowe (Father Gabriele Amorth), Daniel Zovatto (Father Tomas Esquibel), Alex Essoe (Julia), Peter Souza-Feighoney (Henry), Laurel Marsden (Amy), Franco Nero (The Pope), Cornell John (Bishop Lumumba), Ryan O'Grady (Cardinal Sullivan), River Hawkins (Enzo), Bianca Bardoe (Rosaria), Alessandro Gruttadauria (Father Gianni)
---
Plot
1987. Father Gabriele Amorth, the official exorcist appointed by the pope, is recalled to The Vatican to be questioned over an unauthorised exorcism he performed in rural Italy but defends his actions. The Pope then personally asks Gabriele to go to Castile, Spain. There American woman Julia has inherited an old abbey following the death of her husband and is refurbishing it for resale. However, her young son Henry is exhibiting symptoms of demonic possession. In examining Henry and then attempting an exorcism with the aid of local priest Father Esquibel, Gabriele realises that he is dealing with a powerful demon who is playing a game to draw him there.
---
The real-life Gabriele Amorth (1926-2016) was an Italian-born priest who became the official exorcist of the Catholic Church. He was appointed under the reign of Pope John Paul II where he reportedly performed thousands of exorcisms. Amoth published several books, two of which, An Exorcist Tells His Story (1999) and An Exorcist: More Stories (2002), form the basis of the film. There was also the documentary The Devil and Father Amorth (2017) where William Friedkin, director of The Exorcist (1973), went to visit Amoth in an effort to determine the reality of demonic possession where we see scenes of Father Amorth performing an exorcism.
I place Father Amoth in the same category as other real-life paranormal 'experts' like Ed and Lorraine Warren whose story was filmed in The Conjuring (2013) and sequels – that is to say, I do not believe their claims about the reality of the supernatural, possession and the like. The Warrens were frauds who were more interested in their own self-promotion and frequently inflated if not fabricated their claims. I don't know the extent to which I can say the same about Father Amorth. However, in 2013, Amoth made the claim to have performed 160,000 exorcisms. With a start date of 1986, that makes an average of sixteen exorcisms per day every day for 26 years. Assuming no days off and that Father Amorth keeps a regular eight hour working day that evens out at about two exorcisms per hour for 26 years straight. My teeniest suspicion here is that Father Amoth may have been wildly exaggerating his numbers.
And then there are some of Father Amorth's proclamations – that Adolf Hitler, Josef Stalin and ISIS were possessed by demons; that the Harry Potter phenomenon is a gateway to black magic and Satanism; and that an interest in yoga and transcendental meditation leads to other religions, which are of The Devil. These are ideas that place Amorth's views into crackpot territory. However, when someone is voicing views like this, you have to wonder how much of what else they are saying falls the same way. Shouldn't exorcisms and the very nature of demons be looked at in a sceptical light and some serious questions asked – is there any existence of demons? Is there any proof of the actuality of Christianity? And even if we assume that these are a given or a maybe, then are you prepared to accept that the Catholic Church is the voice of God on Earth? If so, then you have to accept that the Church with its infallible leader and his decrees against divorce, contraception, homosexuality and the cover-up of sexual abuse by the priesthood is all rightfully ordained. You either accept one and the house of cards that comes with it. Or not, but you don't get to cherry pick which bits might be true.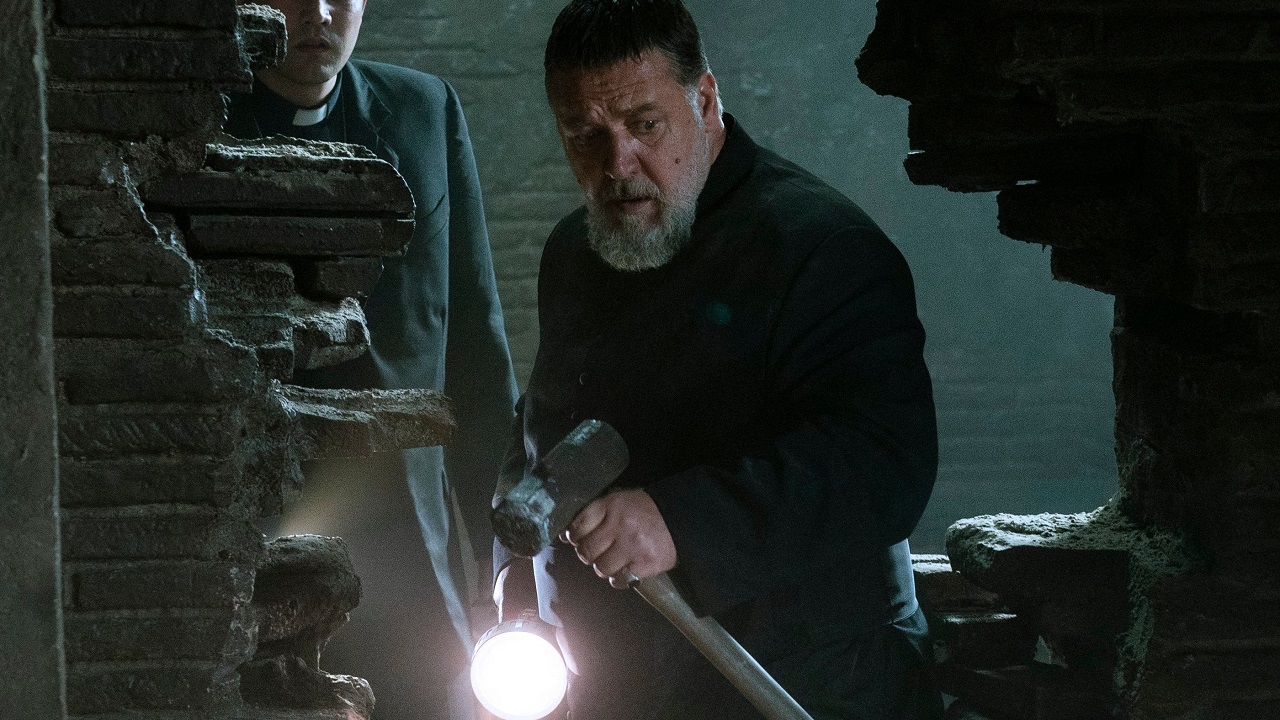 The Pope's Exorcist is nominally a film based on Father Amorth's life. It touches base with certain biographical details – his being appointed by The Pope (who should be John Paul II); mention made that he trained as a lawyer; flashbacks to him as a freedom fighter during World War II (where the Italian fascists he was fighting for some reason are wearing Nazi swastikas). The whole idea of the priest haunted by Nazi atrocities during World War II takes the film back to Exorcist: The Beginning (2004) and Dominion: Prequel to The Exorcist (2005). Mostly though, what we have in the film when it comes to the story of the exorcism in Castile and Amorth coming up against a powerful demon should be considered more of a fiction than it can ever be regarded as a biography of the real Father Amorth. This places the film into the territory of Films That Make Dubious Claims to Be Based on True Stories.
The Exorcist produced three sequels and there were a great many copycat films for several years after, while the genre underwent a major revival during the 2000s. Ever since the success of The Exorcism of Emily Rose (2005), there have been a surprising number of possession films that make claim to being based on true stories with the likes of Blackwater Valley Exorcism (2006), Anneliese: The Exorcist Tapes (2011), The Rite (2011), Deliver Us From Evil (2014), The Exorcism of Anna Ecklund (2016), The Crucifixion (2017), The Conjuring: The Devil Made Me Do It (2021) and The Exorcism in Amarillo (2021). (For a more detailed overview see my essay Possession Films).
With its claim to being based on a true story and the story of the exorcist who was appointed by no less than the pope, you expected The Pope's Exorcist to do unique and amazing things – to give an insight into the exorcism process armed with insider knowledge that would blow away all the other competition. Only the film doesn't. It merely parrots what has gone before. As such, we get all the standard possessed with cracked faces taunting the priests in a deep voice, digging into their guilty pasts and goading them with their sins; crosses spontaneously turning upside down; exploding stained glass windows; people being levitated and slammed into the wall; words appearing on the possessee's chest; a spider walk sequence; as well as the climactic scenes where the priest takes the demon into himself. Even the Pope (Franco Nero) gets to projectile vomit blood over another other priest (who just happens to be the one who criticised Father Amorth). There is the odd novelty trick amid this like the demon possessing two people at once, or the image of Alex Essoe being down inside her bed, although that is one lifted from A Nightmare on Elm Street (1984).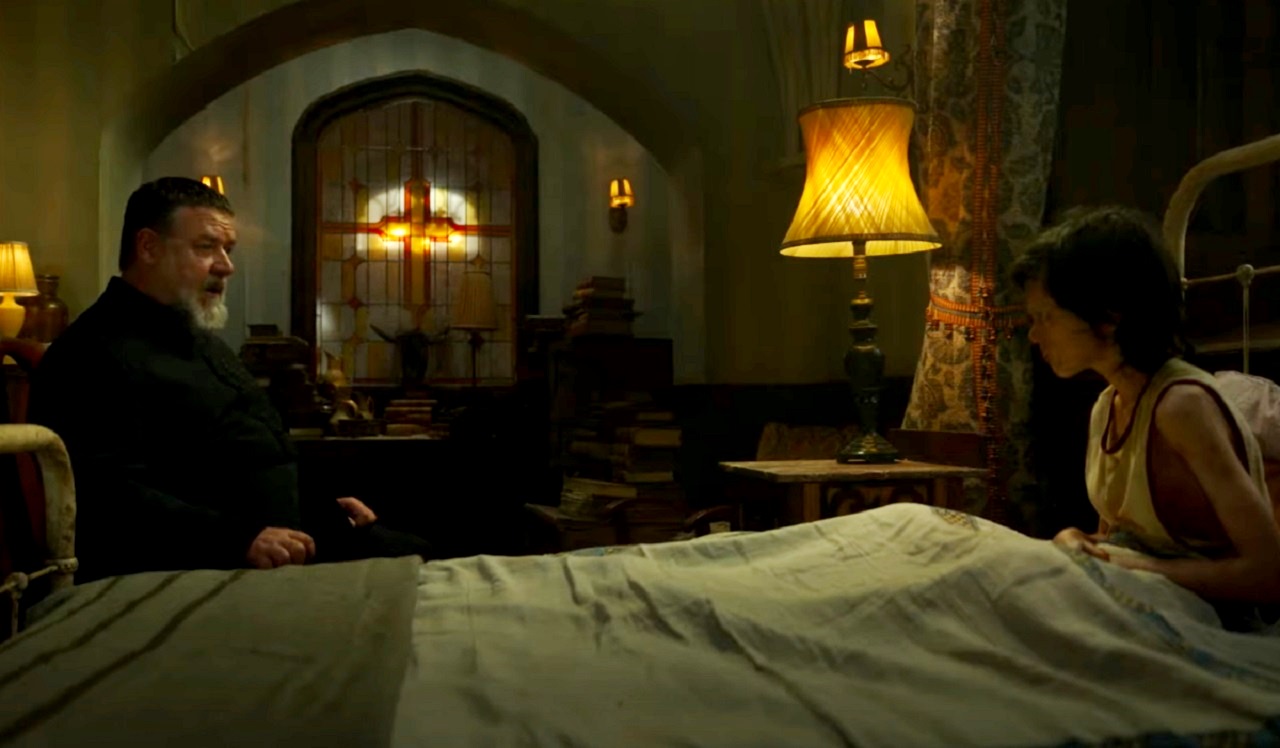 Where the film does work is in the casting of Russell Crowe. Some critics have picked apart Crowe's accent – I don't have enough knowledge of Italian to be able to say. Nevertheless, Crowe takes every opportunity to play to the gallery and owns the show with his wily sense of humour and irreverence. He gets a barnstormer of an introduction scene where he walks into an Italian village and convinces a demon to leave the body of a youth and into a pig. Due to Crowe, I engaged with the film more than I was expecting to do.
The Pope's Exorcist does appear to come from believers. At least, screenwriter Michael Petroni has circled around Catholic and Christian themes in a number of other works including his scripts for the films The Dangerous Lives of Altar Boys (2002), The Chronicles of Narnia: The Voyage of the Dawn Treader (2010), The Rite (2011) and the tv series' Miracles (2003) and Messiah (2020). This may well be why the film diverts off into a case of Catholic apologetics in mid-film that definitely raises your eyebrows. Here we have Father Amorth make the discovery that an exorcist was possessed in the 14th Century, which led to the Spanish Inquisition and centuries of atrocities. It is a unique way of spinning things and redeeming the church's image ie. the 'real' church was innocent of wrongdoing, the rest was due to a demon that infiltrated its ranks. To be fair, some of this was not too far from beliefs upheld by Father Amorth who accused the church of hiding a coterie of sexual abusers and worse long before it all came out into the open. But the bald-face apologetics of it are kind of ummmm.
The Pope's Exorcist was the fourth film of Australian director Julius Avery. After emerging with Son of a Gun (2014), Avery has made several Hollywood films with the WWII Nazi mad science film Overlord (2018) and the Sylvester Stallone superhero film Samaritan (2022).
---
Trailer here
---