---
Crew
Director – Fred Olen Ray, Screenplay – Sherman Scott, Producer – Victoria Till, Photography – Gary Graver, Music – Chuck Cirino, Animation – Streamline Film Manufacturing. Animation Director – Mark Heller, Creature Design – Chas Balun, Makeup Effects – Jose Castro. Production Company – American Independent Productions, Inc..
Cast
Monique Gabrielle (Megan), Madison Stone (Roxanne), David Carradine (Gideon Fisk), Dick Miller (Burt Wentworth), Suzanne Ager (Terry), Stacey Nix (Jan), Arte Johnson (Mr. Hinchlow), Don Dowe (Biff), Michelle Bauer (Mrs. Burt)
---
Plot
Burt Wentworth hires four girls for the clean-up of a house that is about to be sold. From the neighbour Mr Hinchlow, the girls learn the house has a reputation for murder, madness and driving its owners out. While cleaning up, the girls find a trunk in the basement containing an ancient book. Later that night, they read from the incantations in the book. As they go to sleep, the illustrations in the book come to life, manifesting a demonic toon. The toon possesses Roxanne and drives her to start killing the others girls and visitors to the house.
---
Fred Olen Ray is one of the most prolific directors of all time with some 140 plus films to his credit between 1978 and the present. Olen Ray has almost always worked in exploitation – he started making films for the drive-in circuit, moved on into the video revolution and later cable markets. All of his films are either B-budget science-fiction, horror, action films or works of softcore erotica, sometimes all of the above, although in the 2010s he has taken to making Lifetime thrillers and family-friendly Christmas tv movies. Olen Ray was the most well-known proponent of the Scream Queens fad of the 1980s featuring minimally talented girls who would whip their tops off at the drop of a hat. One of the virtues of Olen Ray's films are his employing a cast of former name actors, lots of genre in-jokes and sometimes an appealingly cynical sense of humour. (A full list of Fred Olen Ray's genre films is at the bottom of the page).
Evil Toons was made not long after the success of Who Framed Roger Rabbit? (1988). Roger Rabbit popularised the idea of the Toon – in which cartoons characters interacted with live-action actors. There were a number of copycats of Roger Rabbit over the next few years with the likes of Volere Volare (1991), Cool World (1992) and Space Jam (1996). In typical Fred Olen Ray manner, he offers an adult take on Roger Rabbit and has a demonic toon possess a stripper. There is a certain amusement to the idea of an R-rated toon – it is like the scene in The Mask (1994) where a cartoonified Jim Carrey starts manifesting steam come out of his ears and his jaw hits the floor at seeing Cameron Diaz taken to the next logical level.
In actuality, the toon element consists of only one scene about a quarter of the way into the film where Madison Stone gets possessed by the toon and another at the end where the toon demon is despatched. In fact, the toons are not that important to the film – you could easily take them out and have a regular film about demonic possession. However, the 'evil toons' idea is a great selling point.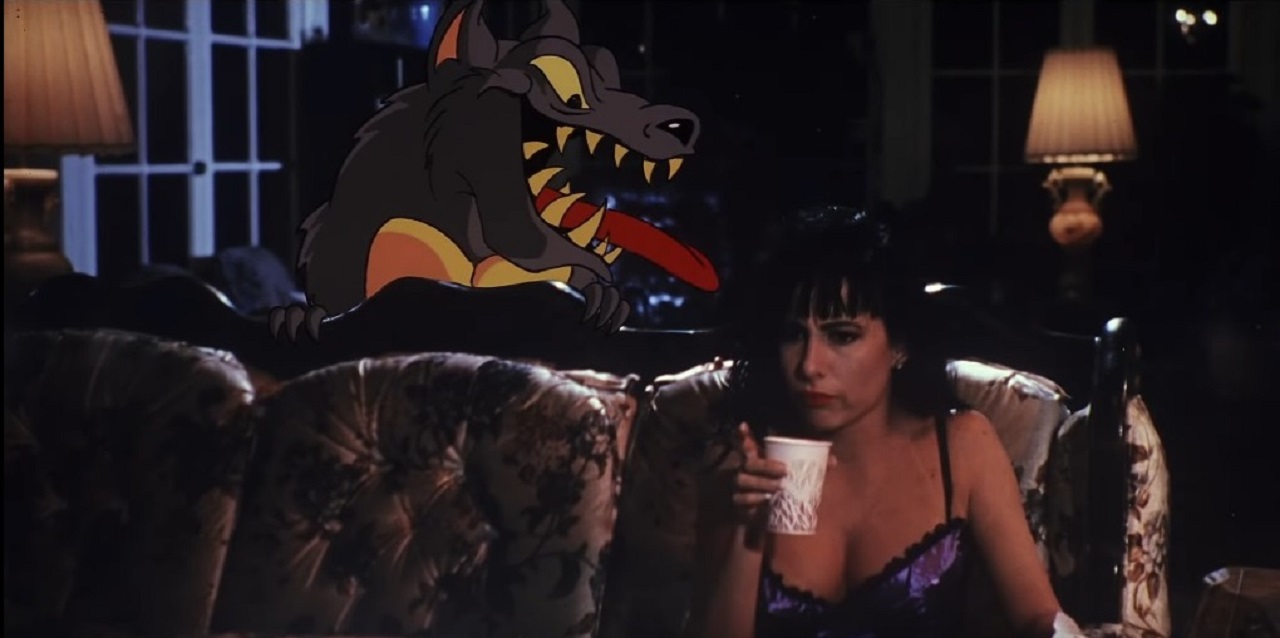 The film is made on the cheap and essentially shot around a house that Olen Ray has attained use of as a location. The four girls are all played by actresses that have a history of adult material and predictably get their tops off at regular intervals throughout (although nothing further than that). Expectedly, none of them are particularly good actresses, although at least former Penthouse Pet Monique Gabrielle plays the role of the wide-eyed innocent with a certain conviction (at least until she gets her clothes off).
As usual with Olen Ray, he gets in appearances from actors with a former genre history. The most high-profile of these was David Carradine as a demon hunter of sorts (not much is explained about who he is), where Carradine gives a serviceably gruff, stodgy delivery. The most amusing is Dick Miller, a former Roger Corman bit player who gained a cult following in the 1980s after being brought out of mothballs by Joe Dante. Here Miller plays a crusty shyster of a cleaning company operator. The most amusing scene has Miller sitting at home watching A Bucket of Blood (1959) on tv, the film in which Miller had his first starring role and has become a cornerstone of the Miller cult, while getting to toss off the line "How come this guy never got an Academy Award?"
Fred Olen Ray has made a lengthy list of genre films. These include:- The Brain Leeches (1977), The Alien Dead/It Fell from the Sky (1980), Scalps (1983), Biohazard (1984), The Tomb (1985), The Adventures of Taura: Prison Ship Star Slammer (1986), The Phantom Empire (1986), Cyclone (1987), Beverly Hills Vamp (1988), Deep Space (1988), Hollywood Chainsaw Hookers (1988), Warlords (1988), Alienator (1990), Bad Girls from Mars (1990), Spirits (1990), Haunting Fear (1991), Scream Queen Hot Tub Party (1991), Wizards of the Demon Sword (1991), Little Devils (1993), Dinosaur Island (1994), Mind Twister (1994), Possessed By the Night (1994), Attack of the 60 Foot Centerfolds (1995), Cyber Zone/Droid Gunner (1995), Invisible Mom (1995), Star Hunter (1995), Night Shade (1996), Passionate Revenge/Friend of the Family II/Hell Hath No Fury (1996), Hybrid (1997), Little Miss Magic/Kidwitch (1997), Billy Frankenstein (1998), Dear Santa/My Dad Santa (1998), Illicit Dreams 2 (1998), Invisible Dad (1998), Active Stealth (1999), Fugitive Mind (1999), Invisible Mom 2 (1999), The Kid with X-Ray Eyes (1999), Prophet (1999), Critical Mass (2000), Sideshow (2000), Kept (2001), Stranded (2001), Venomous (2001), Thirteen Erotic Ghosts (2002), Final Examination (2003), Bikini-a-Go-Go/Curse of the Erotic Tiki (2004), Genie in a String Bikini (2004), Haunting Desire (2004), Teenage Cavegirl (2004), Glass Trap (2005), Tomb of the Werewolf (2005), Bikini Girls from a Lost Planet (2006), Bikini Pirates (2006), Ghost in a Teeny Bikini (2006), Bewitched Housewives (2007), The Girl With Sex-Ray Eyes (2007), Nuclear Hurricane (2007), Super Ninja Bikini Babes (2007), Polar Opposites (2008), Solar Flare (2008), Tarzeena, Queen of Kong Island (2008), Voodoo Dollz (2008), Dire Wolf (2009), Silent Venom (2009), Bikini Frankenstein (2010), Bikini Jones and the Temple of Eros (2010), Housewives from Another World (2010), Turbulent Skies (2010), Twilight Vamps (2010), Lady Chatterly's Ghost (2011), Little Witches (2011), Rewind Time Machine (2011), Super Shark (2011), Dirty Blondes from Beyond (2012), Abner the Invisible Dog (2013), After Midnight (2014), Unwanted Guest (2016), Stage Fright (2017), The Twin (2017) and Piranha Women (2022).
---
Trailer here
---