---
Crew
Director/Screenplay – Peter Sullivan, Story – Chris Regina & Justin Smith, Photography – Stuart Brereton, Music – Matthew Janszen, Visual Effects Supervisors – Bennique Blasini & Steven M. Blasini, Visual Effects/Animation – SFX Imageworks, Makeup Effects – Vincent Guastini, Production Design – Stephanie Hass. Production Company – Hybrid LLC.
Cast
Barry Watson (Michael Young), Esme Bianco (Rachel Young), Gavin Lewis (Jacob Young), Mark Lindsay Chapman (The Stranger), Eric Etebari (Father Francis), Jaime Gomez (Detective Ezequiel Villa), Ian Hyland (Jeremy Francis), John Colton (Priest)
---
Plot
Husband and wife Michael and Rachel Young are shocked to discover they have run down their son Jacob while backing their vehicle out of the drive. He dies in hospital. Afterwards they meet a stranger who says he can bring Jacob back from the dead and demonstrates by reviving a dog that Michael has also run down. The Stranger requires them to steal Jacob's body from the graveyard whereupon he brings Jacob back to life. Soon after, Michael begins to realise that there is now something sinister about Jacob. Everyone around them who opposes Jacob starts to be killed in terrible accidents. Michael then meets a priest whose own son came back from the dead and had the same experience. He urges Michael to kill Jacob because he has become the Devil's son.
---
Peter Sullivan is a prolific director and writer of movies made for tv. He has made some eighty films since the 1990s, which usually fall into the schmaltzy Christmas-themed or occasionally the cute animal and thriller variety. He has written (but not directed) one or two that full under the Moria purview – Hydra (2009), Killer Mountain (2011), Jersey Shore Shark Attack (2012), Chupacabra vs the Alamo (2013) and several of Pierre David's Perfect– films and did subsequently go on to direct The Sandman (2017) and Cucuy the Boogeyman (2018). Ominous aired as a movie on the US Syfy Channel.
The title is another of several that have sought to copy Insidious (2010) in naming themselves after a sinister sounding adjective. In actuality, Ominous is no more than a ripoff of The Omen (1976) in which we have a Devil Child and series of novelty deaths to all who surround him. Unlike The Omen and imitators, Ominous abandons any suggestion of diabolical pregnancy or adoption and takes a few leaves from Pet Sematary (1989) in which a child is brought back from the dead but no longer quite the same.
The elements are generic and the plot unfolds by formula. The biggest credibility gap that bugged me was how father Barry Watson runs down both his son and a dog in short course, while is also mentioned has a drinking problem (and it is implied was drinking when he got into the car) and yet fails to be prosecuted or at the very least have his licence suspended.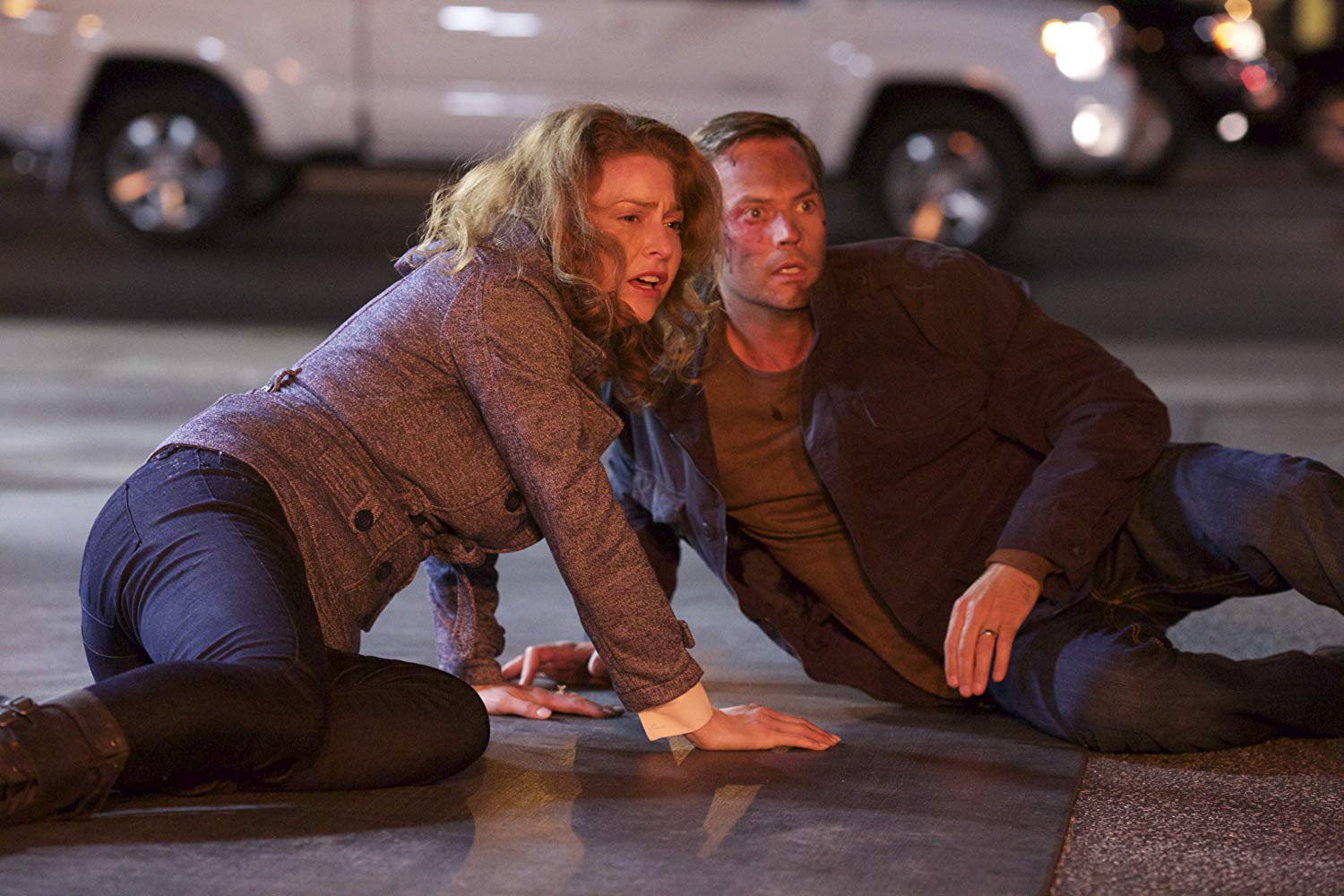 On the plus side, Peter Sullivan creates some amusing novelty deaths. Like the scene where the priest (John Colton) is knocked in the head by a falling crucifix in the midst of giving a sermon and catches on fire from the nearby candles as he falls, while Eric Etebari follows the family as they leave and young Gavin Lewis pops his finger at him from the back window of the departing car causing the stained glass windows of the church to explode. In another scene, Barry Watson follows a man into a diner and goes out the back to find the man's body has been sliced and hung in plastic bags in the meat locker (all apparently in the thirty seconds or so it took Barry to enter the diner). Or where he finds Etebari crucified on a pillar in an empty warehouse as Gavin Lewis commands the barbed wire to form a crown of thorns.
On the other hand, some of these novelty effects fall down due to lack of budget – a scene were Gavin Lewis raises a storm against a bunch of bullies in a playground fails due to the cheap optical effects used to create the storm.
---
---