---
USA. 2017.
Crew
Director – Susan Lacy, Producers – Susan Lacy, Jessica Levin & Emma Pildes, Photography – Eddie Marritz & Sam Painter. Production Company – Pintimento Productions.
Cast
J.J. Abrams, Leah Adler, Bob Balaban, Christian Bale, Eric Bana, Cate Blanchett, Drew Barrymore, Steven Bochco, James Brolin, Bill Butler, Rick Carter, Francis Ford Coppola, Peter Coyote, Daniel Craig, Tom Cruise, Daniel Day-Lewis, Brian De Palma, Leonardo DiCaprio, Laura Dern, Richard Dreyfuss, David Edelstein, Sally Field, Ralph Fiennes, Harrison Ford, David Geffen, Jeff Goldblum, Tom Hanks, J. Hoberman, Dustin Hoffman, Holly Hunter, Annette Insdorf, Michael Kahn, Janusz Kaminski, Lawrence Kasdan, Jeffrey Katzenberg, Kathleen Kennedy, Ben Kingsley, David Koepp, Tony Kushner, George Lucas, Laurie MacDonald, Frank Marshall, Janet Maslin, Melissa Mathison, Todd McCarthy, Ron Meyer, Dennis Muren, Liam Neeson, Walter F. Parkes, Michael Phillips, Martin Scorsese, A.O. Scott, Sid Sheinberg, Anne Spielberg, Arnold Spielberg, Nancy Spielberg, Steven Spielberg, Sue Spielberg, Tom Stoppard, John Williams, Oprah Winfrey, Robert Zemeckis, Vilmos Zsigmond
---
If the title on its own is not self-explanatory, this is a documentary about director Steven Spielberg. Spielberg was made for HBO by Susan Lacy, who has worked in documentary, most notably as producer on the long-running PBS series American Masters (1985– ). She obtained some thirty hours of interview time with Spielberg as he reflects on his life and films. She was also able to go on set during the making of Bridge of Spies (2016). Into the bargain, she gets interviews with a substantial number of people who have worked with Spielberg, including quite a number of Hollywood A-listers, and members of Spielberg's family. Oddly, the one person we hear nothing at all from is Spielberg's wife Kate Capshaw.
The film opens on Spielberg talking about Lawrence of Arabia (1962) and how David Lean's epic-sized canvas wowed a young Spielberg with a desire to make movies. The documentary then jumps about in time into the making of Jaws (1975) and spends some time dealing with the logistical nightmare it was – the mechanical shark sinking on the first day, the shoot overruns – and Spielberg's ingenious solutions to make the film into more of a psychological work with the shark represented by the barrels or, as John Williams explains, the distinctive music getting louder to represent the shark getting closer.
Spielberg is also somewhat selective over which of Spielberg's films it chooses to focus on. We get all the major hits – Jaws, Close Encounters of the Third Kind (1977), Raiders of the Lost Ark (1981), E.T. – The Extra-Terrestrial (1982), Jurassic Park (1993), Schindler's List (1993) and Saving Private Ryan (1998). There is the tendency to focus more on Spielberg's serious works – Schindler's List, Saving Private Ryan, Munich (2005), Lincoln (2012) – right down to discussions on shot and lighting choices in Schindler and Munich. Not to decry that all of these are fine works but I suspect that the greater scope of history will consider Munich, which was not a runaway box-office hit, as one of Spielberg's minor films. Of Always (1989), Hook (1991), The Lost World: Jurassic Park (1997), The Terminal (2004) and Indiana Jones and the Kingdom of the Crystal Skull (2008) we get no mention at all. The first two Indiana Jones sequels are mentioned in passing. Amistad (1997), Catch Me If You Can (2002), The Adventures of Tintin (2011), War Horse (2011) and The BFG (2016) are only represented by footage, while A.I. (Artificial Intelligence) (2001), Minority Report (2002) and War of the Words (2005) are glossed over as group discussion of Spielberg's turn towards a more darker and dystopian view post-9/11.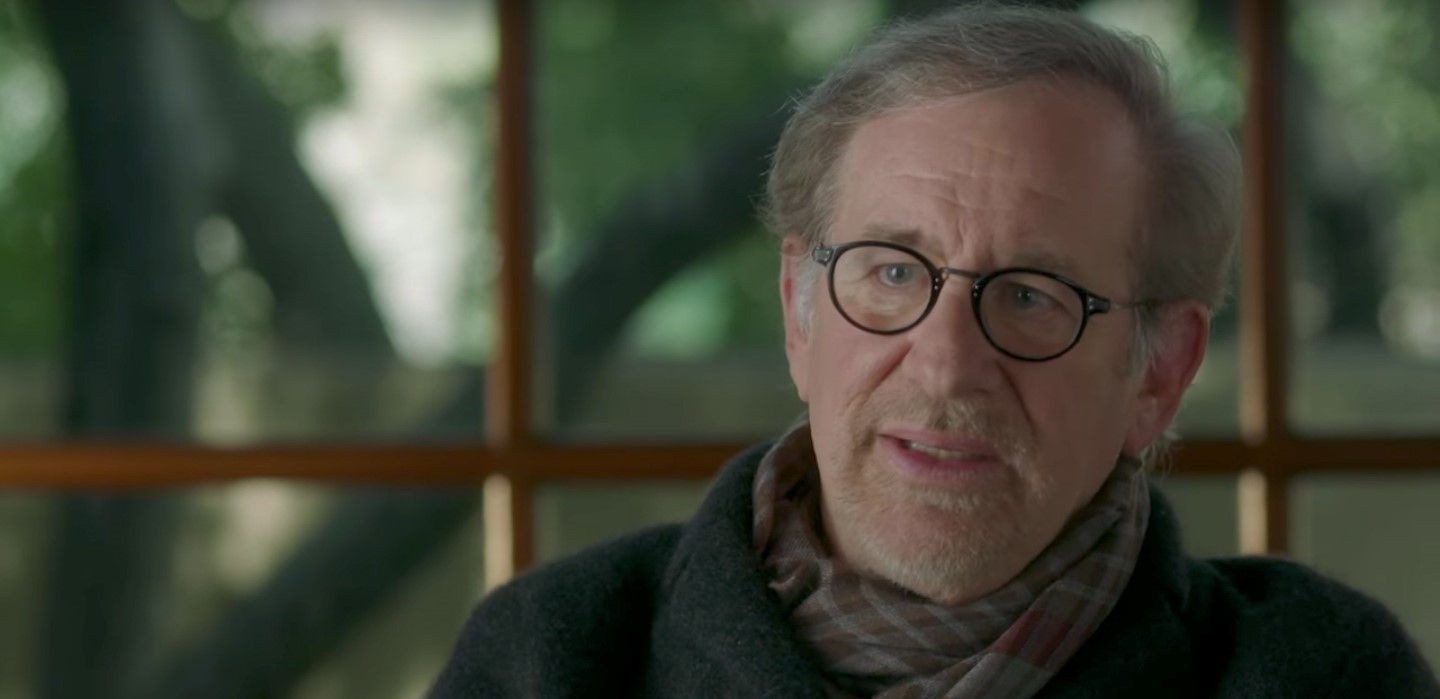 For me, I found the film interesting for its in-depth discussion of Spielberg's earlier work – Duel (1971), The Sugarland Express (1974), Jaws and Close Encounters. Not to mention, that we get brief clips from some of his home movies, including war movies made as a kid, the fabled Firelight (1964), which became the embryonic Close Encounters, and Amblin' (1968), even some of his Joan Crawford episode of Night Gallery (1969-72). Spielberg makes the fascinating analysis of Duel that it represents his own school bullying experience – "The truck was the bully" and he by extension the driver perpetually trying to flee. Close Encounters seems his most personal film from this era and Spielberg explains it as being inspired by being taken to see a Perseid Meteor Shower by his father as a kid, his own obsession with his artistic vision at all cost and the split of his parents when he was a teenager. He mentions how the scene where the kid comes in on Richard Dreyfuss in the bath and yells "Crybaby" was a direct replication of how he similarly reacted to his own father crying after announcing he and his mother were splitting up.
The film also crafts an interesting arc that shows Spielberg's maturation from populist works that made him famous towards efforts such as The Color Purple (1985) and Empire of the Sun (1987) that seem to be him trying to make awards-friendly fare that deals with more serious subject matter. The filmmakers see this as having arrived with Schindler's List and devote the most time of any film in the documentary to the discussion of that. What is interesting is the backstory of Spielberg's personal journey that lay beneath it. He talks about how he denied his Jewish background as a kid to fit in but with his marriage to Kate Capshaw began to accept and reconnect with this.
I don't think Spielberg uncovers much that was not known by the general public. Nor is it a work that ever goes in search of muck on Spielberg who has survived with a squeaky clean reputation in Hollywood for five decades now. Spielberg does sort of repeat the story about him walking in on a Universal Studios tour and taking over an empty office, which has been debunked – see Snopes on the legend – although the documentary does at least counter Spielberg's partial retelling with others who pour some doubt on the story. Most of the discussion of Jurassic Park concerns on the effects and trying to figure out how they would be conducted. The one quibble I would have here is that you get an impression from the documentary that Jurassic Park created CGI effects. While it did popularise them to a massive extent, the documentary's focus tends to neglect that it was not the first CGI film and overlooks the pioneering work by James Cameron in The Abyss (1989) and especially the highly influential Terminator 2: Judgement Day (1991), as well as others before him.
The surprisingly emotional story that does come out is how much of Spielberg's films were influenced by the split of his family in his teens. We see reflected the desire for parental reconciliation or families coping in the aftermath of split-ups in works like E.T., Indiana Jones and the Last Crusade (1989), Catch Me If You Can and War of the Worlds. Spielberg's family open up and explain how his mother fell in love with another man but his father decided that he should be the one to leave as it would be easier on him than Spielberg's mother. The touching story of the film is how we learn that Spielberg reconciled with his father in later years – even made Saving Private Ryan as a tribute to his serving in World War II – and even how both his mother and father came back together again in their senior years.
---
Trailer here
---