---
Crew
Director/Screenplay – John Duigan, Producer – Paul Trijbits, Photography – Slawomir Idziak, Music – Charlie Mole, Production Design – Charles Garrad. Production Company – Two Left Shoes Films/Portman Entertainment/Sky Pictures/The Isle of Man Film Commission/Trijbits Productions.
Cast
Jessica Alba (Chloe Keane), Iain Glen (Stan), Jeanne Tripplehorn (Rachel), Ewen Bremner (Gordon), Kevin Whately (Clive Meyers), Mischa Barton (Theresa), Gary Love (Ned), Oliver Milburn (Toby), Gina Bellman (Eve), Amy Phillips (Michele)
---
Plot
Chloe Keane, an American model living in London, accepts a date with a guy to go to a party at former rock star Stan's house in Devon. The next morning she wakes from a drugged sleep only to find that her date has abandoned her there with Stan and his strange family. Stan then handcuffs her to a bed. As he and his family try to decide what to do with her, Chloe tries to obtain help from an obscene cellphone caller that harries her.
---
Paranoid is directed and written by English director John Duigan, who previously made Sirens (1994), a silly film that offered up numerous naked female bodies and a banal discovery of sensuality theme on the pretence of trying to be a serious film about art and morality, and then picked up with Lawn Dogs (1997), which offered a series of sharp and biting observations on class conflict in America. Duigan had earlier ventured into genre material in Australia with One Night Stand (1984) about a group of youths confronting the news of nuclear war.
Paranoid quickly falls into familiar genre patterns – there is the beautiful model who is being stalked and voyeuristically watched – a la the likes of Snapshot/The Day After Halloween (1979), The Seduction (1982) and sundry tv movies – who then gets drugged and made a prisoner – a la The Collector (1965) and sundry copies. However, the title is a misnomer as John Duigan's direction is too laidback to generate any tension, let alone a sense of paranoid dis-ease.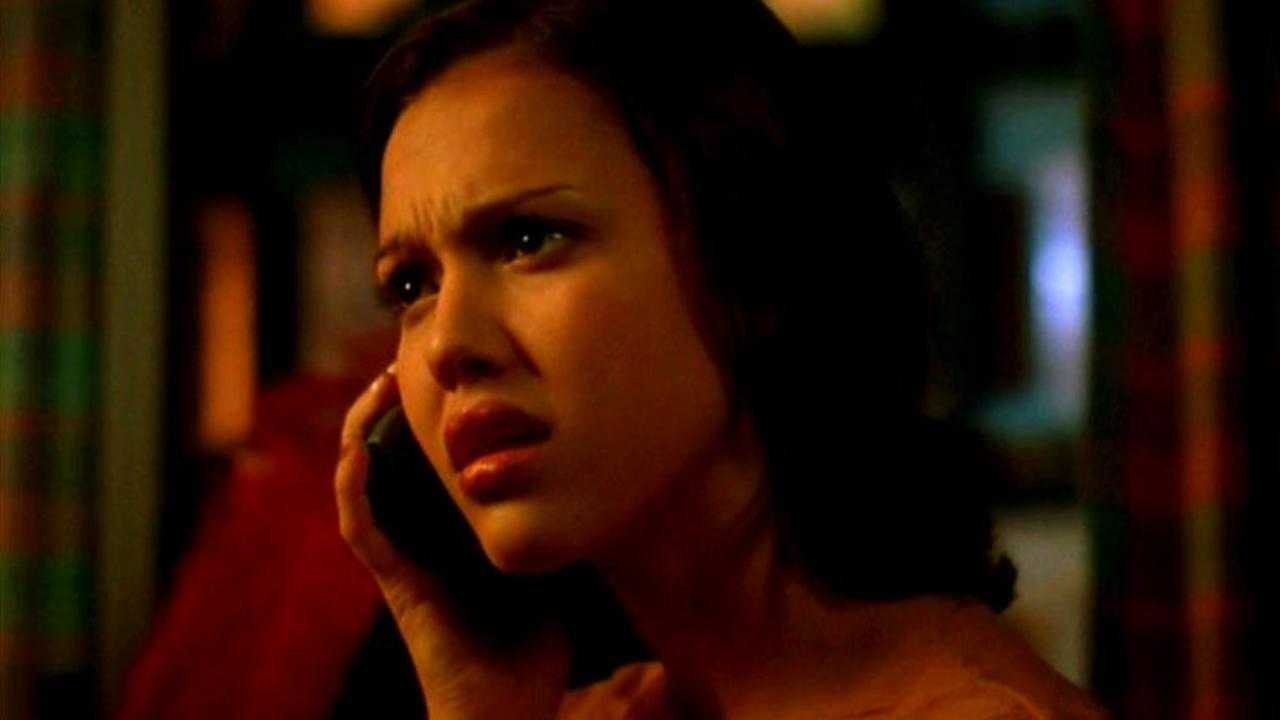 The film does eventually develop one or two interesting twists – like where Jessica Alba's rescue suddenly becomes dependent on persuading an obscene phone-caller to come to her aid or the surprise attempts of the deaf-mute daughter to alert the police. There are some often subtly directed pieces – the casualness with which Iain Glen slips the cuff on Jessica Alba's wrist and how her entire situation changes in a single moment, or Jeanne Tripplehorn's finding the cellphone ringing and asking "Are you a gymnast?" which trails off with unnerving casualness into a conversation about how gymnasts can damage their spines.
Jessica Alba, who would later the same year become the heroine in James Cameron's Dark Angel (2000-2) tv series and subsequently go onto A-list fame in films like Fantastic Four (2005), Into the Blue (2005) and Sin City (2005), is not a particularly sympathetic or likable heroine. There is however good support from Scottish actor Iain Glen, an actor who at this point always seemed on the verge and certainly deservous of but never found international stardom, and Jeanne Tripplehorn, an American actress who seems to spend a good deal of time in British films these days.
---
---